Ohio State Basketball: Final Regular Season Grades for Buckeyes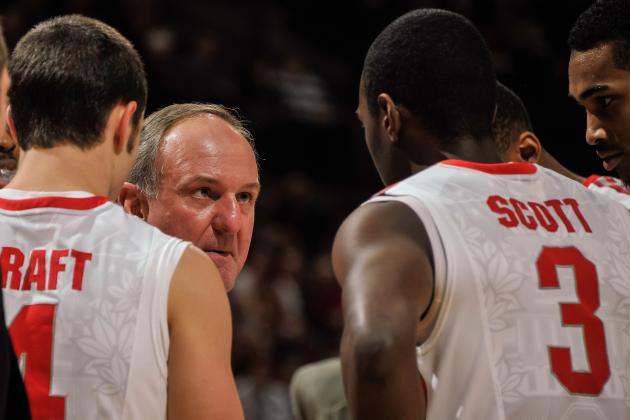 Jamie Sabau/Getty Images

It was just a mere three weeks ago that this year's version of the Ohio State basketball team was considered a solid but not spectacular entity that was good enough to take care of business against poor teams but not great enough to knock off the country and conference's elite.
That mindset has drastically changed over the season's final five games.
Suddenly, the Buckeyes are a No. 2 seed in ESPN's Bracketology and victories over the likes of Indiana, Michigan State, Minnesota, and Illinois have propelled them to a second place finish in the treacherous Big Ten.
Thad Matta has pushed all the right buttons recently, and the defense has given birth to this momentum. However, any tournament selection committee will tell you that it is the body of work that really counts.
With that in mind, read on to see the final regular season grade for each Buckeye and an overall mark.
Begin Slideshow

»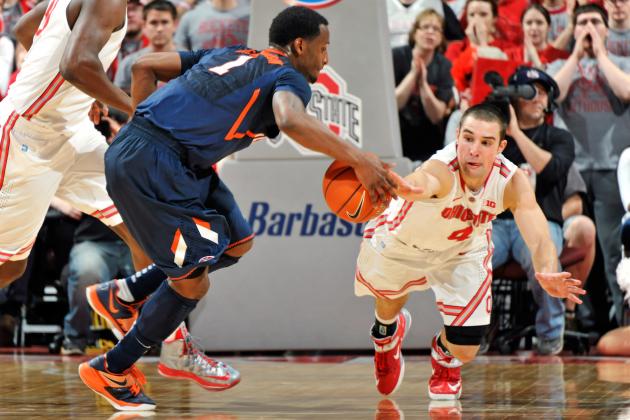 Jamie Sabau/Getty Images

Aaron Craft's value to the Ohio State basketball program cannot be fully captured by his passable statistics.
Yes, he averaged nearly 10 points, 4.5 assists, four rebounds, and two steals a game, but he is the emotional and on-floor leader of this Buckeye team. He coaches his teammates more than anyone not named Thad Matta and has no issues with setting aside personal achievements in order to ensure victory.
As good as Deshaun Thomas has been on the offensive side of the ball, Aaron Craft is Ohio State's most valuable player.
He spearheads one of the nation's stingiest defenses and has started to embrace his strengths as an offensive player. He is limiting his three-point attempts, looking to drive the lane more often and setting up teammates efficiently.
When considering the entire season, his early shooting struggles certainly come to mind (hence the A-), but Craft is an asset any coach would love to have in the arsenal once the ever important bracket is released.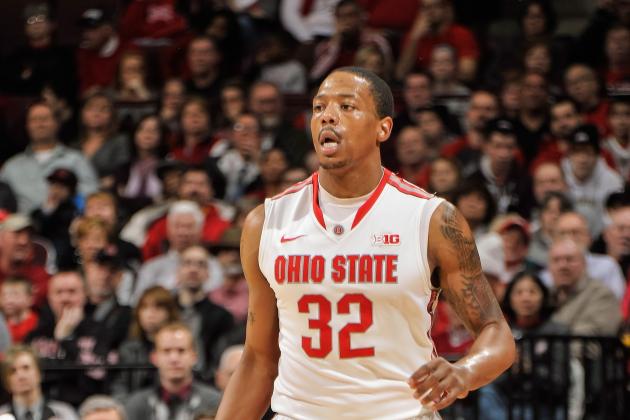 Jamie Sabau/Getty Images

Lenzelle Smith Jr. is perhaps the most overlooked player on this year's Buckeye team, and because of that many fans don't recognize his importance to the squad's overall success.
Smith leads all regulars in three-point percentage, is a solid perimeter defender, is second on the team in scoring, rarely turns the ball over and is arguably the best rebounder on the roster. Only Deshaun Thomas grabs more boards a night than Smith, and if size and position are factored in the case can be made that Smith is Thad Matta's best at hitting the glass.
The thing holding Smith back from more recognition (and possibly playing time in March) is his inconsistency. He can rack up 20-plus points on any given night (see the recent trip to Northwestern) but also has the tendency to disappear at times.
If Smith can find the consistent approach that has been eluding him for much of the year, he will make his presence felt in March.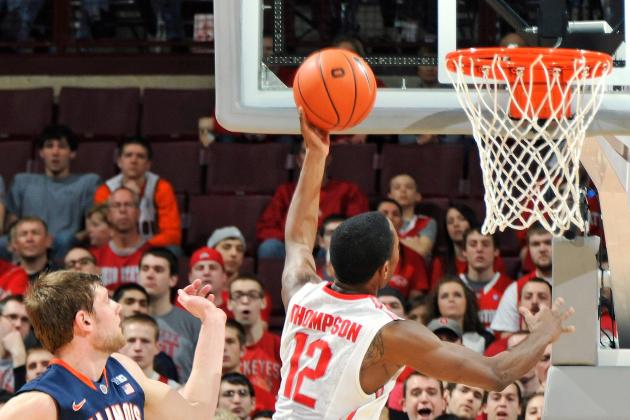 Jamie Sabau/Getty Images

Sam Thompson exceeded expectations this season from the very beginning. Many fans and people around the program thought LaQuinton Ross would seize the starting small forward job coming out of offseason practice, but it was Thompson who earned the nod thanks to his defense and athleticism.
He has parlayed that opportunity into a fairly productive campaign that includes nightly averages of seven points, 3.5 rebounds, one assist and nearly one block and one steal. His length and quickness make life difficult for opposing ball handlers and his jumping and dunking abilities have wowed Buckeye fans at the end of blowout wins.
Thompson still isn't a great jump shooter, but his long-range shot has become much more formidable in the past few weeks. If he continues to improve on his three-point attempts, opposing defenders will have to push up on him, which will open up the lane for more driving attempts.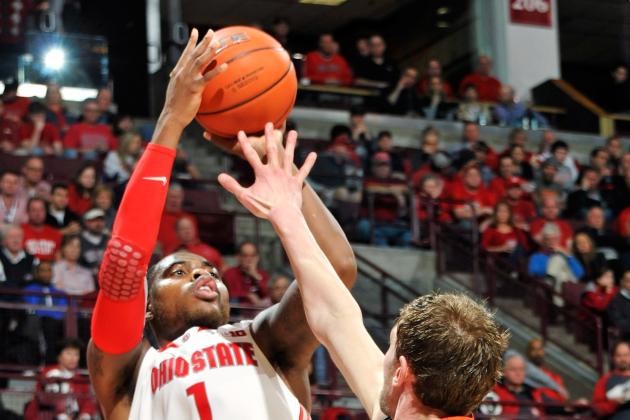 Jamie Sabau/Getty Images

There has been some distress in Buckeye Nation recently about Deshaun Thomas' shot selection and dipping percentages, and rightly so, but don't let that overshadow the type of season Ohio State's go-to man has accumulated.
Thomas leads the Big Ten—indisputably the nation's best conference—in scoring and free-throw percentage, and he has done so by being the primary and secondary focus of opposing defenses. He is still shooting a solid 44 percent from the field and is capable of making critical threes when the time calls for it (see the late dagger at Indiana).
Thomas also leads the Buckeyes in rebounding and is gradually becoming a better defender as his career continues. He played arguably the best defensive game of his collegiate tenure in Bloomington to help the iron curtain of Aaron Craft and Shannon Scott shut down the Hoosiers.
The overall shot selection is still something to keep an eye on as March develops, but Thomas is as reliable of a scorer as can be found in the Big Ten. The only question now is whether he returns to Columbus for his senior season.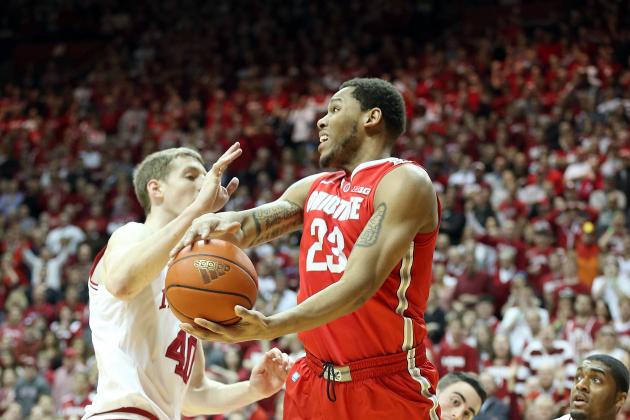 Andy Lyons/Getty Images

Amir Williams is the only definitive disappointment out of the eight players that are regulars in Thad Matta's rotation.
He plays much smaller than his 6'11" frame, has struggled to establish himself on either end of the floor, often looks like he is playing with zero emotion whatsoever and frequently gets beaten on the blocks by smaller opponents.
He is the team's tallest player but grabs a mere four rebounds per game, which is less than the starting shooting guard (Lenzelle Smith Jr.) and his backup (Evan Ravenel) who is significantly shorter than Williams.
Williams also turns it over one time per game, which is a bit high for a center that is rarely part of the offensive game plan.
Williams' limited impact wouldn't be quite so disappointing if he didn't have so much surrounding hype coming out of high school. He was a McDonald's All-American that was supposed to serve as a replacement for Jared Sullinger.
The only good news for Buckeye fans is Williams still has two seasons in Columbus to turn things around. But if he is going to tap into that potential he should probably do so soon.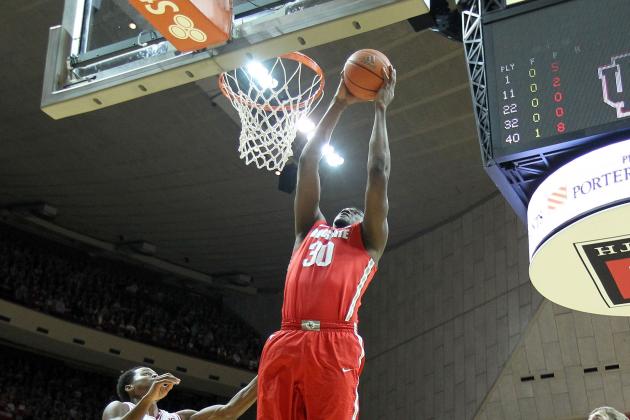 Andy Lyons/Getty Images

There is not much difference between the stat lines of Amir Williams and Evan Ravenel outside of Ravenel's 5.3 points per game to Williams' 3.9, but the senior Ravenel has been much less disappointing.
The reasoning behind that distinction is a byproduct of the expectations each brought with them to Columbus. Ravenel was a Boston College transfer who was supposed to give Thad Matta energy and formidable post defense for two seasons. Williams, as mentioned in the previous slide, was a bona fide McDonald's All-American with enough talent to be a force in the Big Ten.
Despite being shorter in stature, Ravenel has given Matta better rebounding numbers and has established himself as a scoring threat lately. He was tremendous in the monumental victories over Michigan State and Indiana and played solid defense against Derrick Nix and Cody Zeller.
Look for Ravenel to get the lion's share of the minutes in the post during both the Big Ten and NCAA tournaments.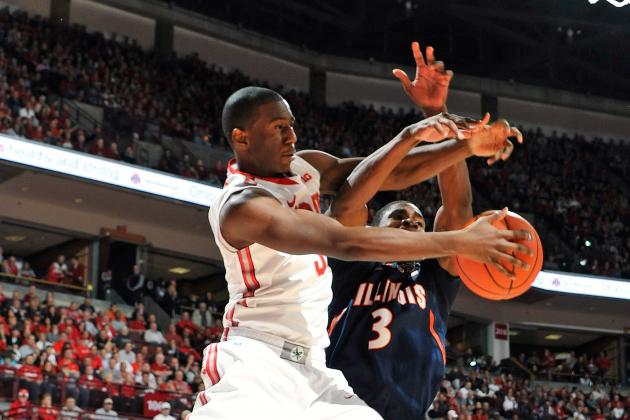 Jamie Sabau/Getty Images

Shannon Scott isn't a great shooter (from the field or the free-throw stripe), but he does everything else in an effective manner.
He is averaging slightly less than two steals a game, has a three-to-one assist-to-turnover ratio and chips in on the glass (nearly three rebounds a game). He is also capable of driving the lane and using his speed with the ball to get himself easy looks at the rim.
However, Scott earns the B + for one reason—his newfound role as Robin to Aaron Craft's Batman on the defensive side of the ball. The argument can be made that the Craft and Scott combination is the best defensive backcourt in the country, and it is just starting to click down the stretch of the season.
Craft has the lateral quickness and bulldog mentality when guarding the perimeter, while Scott has the pure speed and athleticism to accumulate his own defensive recognition. When the two have combined this season, teams such as Indiana and Michigan State have had fits trying to score.
How Scott and Craft defend will likely determine how far the Buckeyes advance in the two tournaments on deck.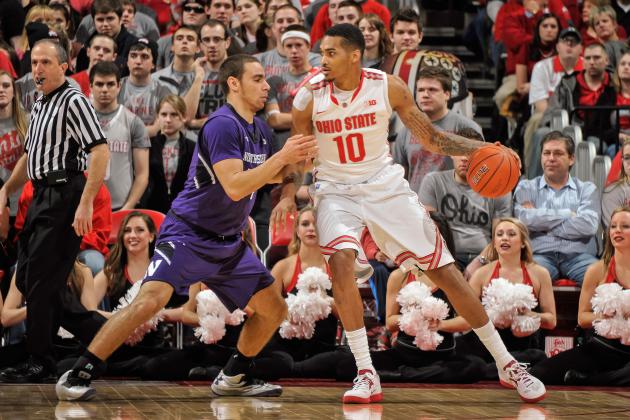 Jamie Sabau/Getty Images

Any Ohio State fan that has watched LaQuinton Ross play basketball knows there is a tremendous amount of talent waiting to be consistently utilized. The frustrating part is that Ross hasn't performed on par with that talent enough to earn more playing time.
He is averaging 7.3 points and slightly less than three rebounds a game, which are passable stats for someone playing 16 minutes a night, but underwhelming for a player with Ross' talent level. He has a couple of break out games under his belt, but not enough to merit a higher grade than a B -.
Ross' turnovers are also concerning considering how little he sees the floor. He is coughing the ball up nearly two times a night, which is more than anyone on the team including Aaron Craft (who handles the ball more than anyone else and is still below two a game).
Talent often wins out in March, so perhaps Ross can carry the Buckeyes over the top once or twice, but Ohio State fans will more than likely have to wait until next season to see the Ross they were hoping for when he came to Columbus.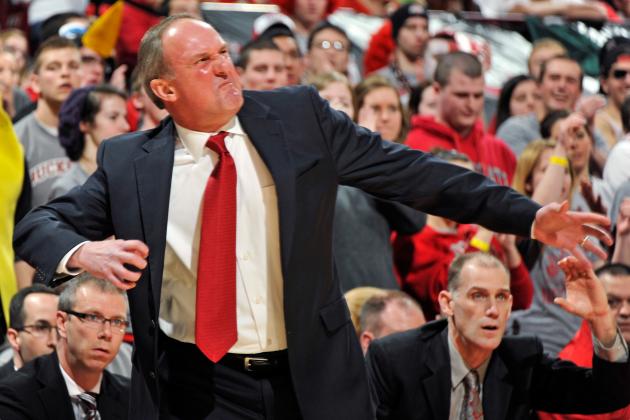 Jamie Sabau/Getty Images

Ohio State's season has been far from perfect, but the final five games completely altered the trajectory of the entire campaign.
Considering where the mindset and tone surrounding the Buckeyes stood after getting blown out at Wisconsin, it is a testament to Thad Matta's coaching abilities and the willingness of every player to accept a certain role that they are a legitimate Final Four candidate again. The team is playing with heart and a determination that simply wasn't there earlier in the year.
Ohio State's resume, which had been held back by a 1-7 start against the RPI Top 50, suddenly looks formidable enough to earn a No. 2 or 3 seed in the NCAA tournament. Whether Matta and company can parlay that into a deep run is yet to be seen.
There is a chance that the bumps and bruises the Buckeyes earned along the way this season will only serve to make them stronger in March. It's hard not to feel confident about the final product if you are an Ohio State fan.