Boise State Football: Spring Practice Position Battles Tracker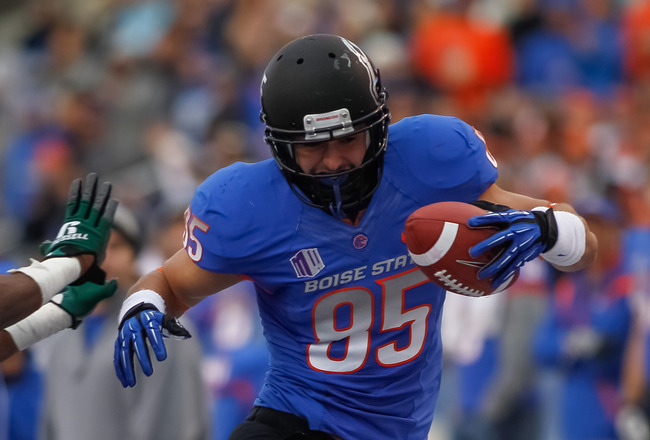 Otto Kitsinger III/Getty Images
Chris Petersen is heading into his eighth season as the head coach of Boise State looking for a solid spring to launch the Broncos into another successful fall.
Replacing the talent that was lost after 2012 will be difficult, but this is a look at how those positions will be filled this spring. We will also follow the Broncos throughout spring and bring the latest news from Boise throughout the next five weeks of practice.
The spring game is set for Saturday, April 13 at 5 p.m. MT, but before it kicks off, this will be your guide to the news and developments out of Boise.
Note: This slideshow will be updated with the latest news, position battles, injuries and more.
Latest News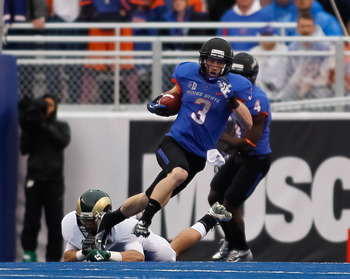 Otto Kitsinger III/Getty Images
Update: April 3
The Broncos returned to the practice field on Tuesday after a long 10 day layoff for spring break.
Chris Petersen was happy to have his team back on the field, but he wasn't happy with the effort. He had this to say about the practice (h/t Idaho Press):
It was average at best. We'll have to maybe rethink our spring break plan in terms of whether we take spring break in the middle. We tried to give them a day off before we got back, and again it wasn't terrible, but it was average and that's not what we're trying to get done at practice, being average.
Linebacker Blake Renaud agreed with his coach that a layoff during spring may not be the best move.
He told the media (h/t Idaho Press) "I think maybe everyone was a little rusty after spring break. I'd rather do spring break after the whole spring ball thing. It just seems weird coming back. I'd rather not to have the break in the middle of it."
Next season will likely bring a change to the practice schedule.
Also of note is the return of helmet stickers for achievements this spring, and Japanese coaches from Hosei University. The coaches from Hosei are modeling their program after Boise, and they have attended spring practices in the past as they attempt to learn the winning ways of Petersen.
Freshman receiver D.J. Dean is out for the 2013 with a torn ACL (h/t Idaho Press).
Update: March 13
Boise State's spring training is now underway with the secondary being one of the primary focuses for this coaching staff.
Head coach Chris Petersen told the media (NBCSports) "We've got two corner positions that are quite wide open. It's awesome to really watch those guys go at it because that is such a critical position." Petersen likes the talent on campus this spring, but don't count out the incoming freshman.
Petersen also told the media that "We've also got some guys coming in this fall that we like quite a bit."
The secondary quandary won't be settled this spring.
The quarterback race was also a topic of discussion. Petersen had good things to say about incumbent Joe Southwick.
When asked about his spring progression Petersen had this to say:
I think he's in a great groove right now. He's confident because he knows he got better as the season went on. I'm excited to watch him as much as anyone through the spring.

When you get a fifth-year senior at that position who has done some good things, the average fan may not see it, but as coaches we'll know. If he can take that next little step, he's going to be an extremely effective and efficient player and play at a very high level.
What was thought to be an open competition to start the year appears to be Southwick's to lose.
Check back for more updates out of spring camp.
Update: March 11
Boise is set to begin spring practice today according to the Broncos athletics website, Broncosports.com.
According to the report, the Broncos will take five weeks to go through 15 spring practices, with seven taking place over the next two weeks.
Boise will take a break during spring break at the end of March and then return to the field in April before the mid-April spring game.
Check back for more updates out of Boise throughout spring.
Key Offensive Battles to Watch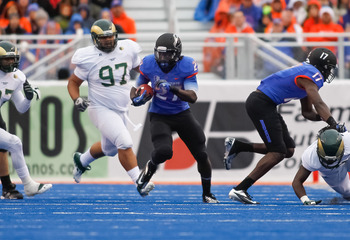 Otto Kitsinger III/Getty Images
Running Back
Jay Ajayi (So.) vs. Derrick Thomas (Jr.)
The Broncos saw Jay Ajayi rise to the top of the backfield last fall and become a leader behind D.J. Harper.
This spring he will be in a battle for the starting running back position with Derrick Thomas. Thomas is a JUCO transfer hungry for snaps.
Expect this battle to produce two solid stars for the Broncos backfield heading into the summer.
Projected Starter: Jay Ajayi
Actual Starter: TBD
Tight End
Gabe Linehan (Sr.) vs. Holden Huff (So.)
Last year saw Holden Huff step up as a second option at tight end when Gabe Linehan fell to injury. Heading into the spring they will battle for starting snaps at tight end.
Huff is very athletic, but Linehan is a beast on the field.
Expect Linehan to be the favorite, but Huff will see plenty of snaps as his 6'5" frame makes him a rangy option in the passing game.
Projected Starter: Gabe Linehan
Actual Starter: TBD
Key Defensive Battles to Watch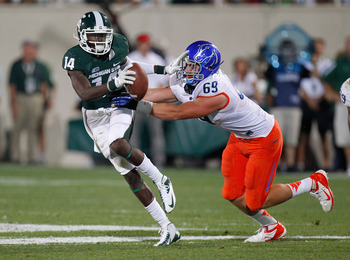 Gregory Shamus/Getty Images
Cornerback
Donte Deayon (So.) vs. Cleshawn Page (Jr.) vs. Deon'tae Florence (Jr.)
The Broncos are looking to replace both starting corners heading into the spring.
On one side there is experience with rising senior Ebo Makinde, but the other side is open for competition.
Donte Deayon is a talented rising sophomore, but with the experience of incoming JUCO transfer Cleshawn Page, Deayon will have an uphill battle for the start.
Projected Starter: Cleshawn Page
Actual Starter: TBD
Linebacker
Blake Renaud (Jr.) vs. Dustin Kamper (Sr.)
The Broncos defense is replacing both starting linebackers this spring with one slot open for competition.
Boise will be looking for separation between Blake Renaud and Dustin Kamper this spring.
Kamper has been a disappointment so far, but he is looking for this spring to provide a launching pad to a strong career finish in 2013.
At this point Renaud looks to be the leader.
Projected Starter: Blake Renaud
Actual Starter: TBD
Defensive Tackle
Tyler Horn (Jr.) vs. Armand Nance (So.) vs. Tutulupeatau Mataele (Jr.)
The Broncos are looking to replace starting defensive tackle Darren Koontz this season.
Heading into the spring, Tyler Horn and Armand Nance appear to be the frontrunners for the job, but incoming JUCO transfer Tutulupeatau Mataele is looking for immediate playing time.
Expect a three-way battle to ensue this spring with Horn likely emerging as the starter.
Projected Starter: Tyler Horn
Actual Starter: TBD
Early Enrollees' Spring Grades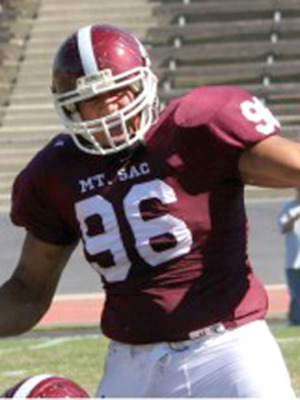 Photo via 247Sports
Tutulupeatau Mataele, DT, 6'3", 285 lbs (3-star)
Mataele is an incoming JUCO that will challenge for the starting defensive tackle position this spring.
The Broncos need a strong presence on the inside, and Mataele fits the bill well. He may not earn the start, but he will earn playing time immediately.
Post Spring Grade: TBD
Cleshawn Page, CB, 5'10", 190 lbs (2-star)
Cleshawn Page is looking to compete for playing time at corner immediately this spring. Both starting corners for the Broncos departed after the 2012 season, and there is limited experience in the secondary.
Page is a JUCO transfer that has quality collegiate snaps. Don't be surprised if he exits spring as a starter at one of the corner positions.
Post Spring Grade: TBD
Derrick Thomas, RB, 6'1", 210 lbs (3-star)
Boise is losing a star in D.J. Harper at running back, but rising talent and incoming JUCO Derrick Thomas should fill the void well.
Expect Thomas to challenge Jay Adayi for the starting position this spring and at the very least, earn carries as a backup this fall.
Post Spring Grade: TBD
Tyler Rausa, K, 5'10", 180 lbs (2-star)
Tyler Rausa was signed to step in and start at kicker. He will battle rising junior Dan Goodale for the starting position.
Post Spring Grade: TBD
Sleepers to Watch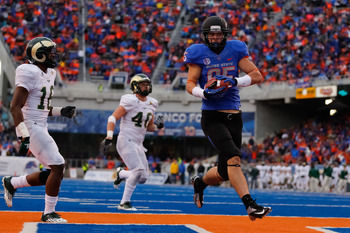 Otto Kitsinger III/Getty Images
Holden Huff, Tight End
Holden Huff will head into the spring expected to be the second option at tight end for the Broncos.
Last year in a secondary role, he caught 17 passes for 250 yards and four touchdowns. This year he will battle Gabe Linehan for starting snaps and could win the job this spring.
Huff has all the intangibles that the Broncos are looking for in a starting tight end, and thanks to a strong finish to 2012, he is already in the minds of the coaches.
Look for Huff to make a major impact on the offense this fall and for it to become apparent this spring.
Derrick Thomas, Running Back
The Broncos have relied on a one-two punch at running back for the past few seasons, and the hope is that this spring JUCO transfer Derrick Thomas proves that he can be one of those two backs.
He brings an impressive resume from Butler Community College and is looking for snaps this spring.
Expect Thomas to prove his worth to the Broncos program and to become a leader for the offense out of the backfield heading into the summer.
Keep Reading

Boise State Football: Like this team?