4 Questions Facing the New York Rangers in the 2nd Half of the NHL Season
Rob Carr/Getty Images

After dropping four straight with Rick Nash out of the lineup late in February, the Rangers have turned it around, picking up two points in five of their last seven games.
Nash and captain Ryan Callahan have taken their games to the next level and, as a whole, the team is forechecking in tandem, which has allowed them to sustain pressure in the offensive zone and create chances below the hash marks.
These are all good signs for the Blueshirts as they head into the second half of the season. All points are valuable and wins are even more vital because of the dreaded three-point games.
But just because they team is playing better doesn't mean the remainder of the season will be smooth sailing. Tonight in Buffalo they produced another dud. There are still a number of questions marks for this team that are going to have to be answered by season's end, maybe even sooner.
More questions may present themselves as the season progresses, but right now these are the four questions facing the New York Rangers as they prepare for the second half of this shortened NHL season.
Begin Slideshow

»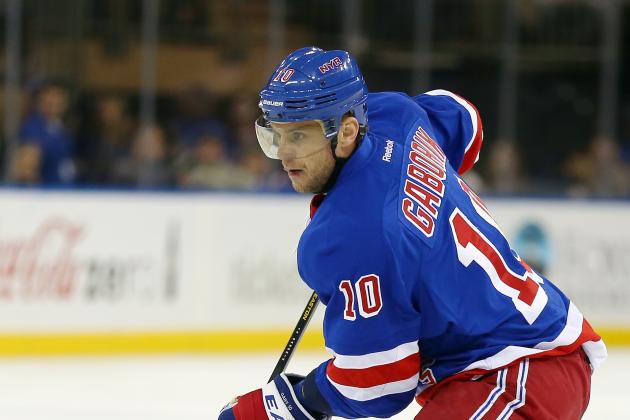 Elsa/Getty Images

The point of acquiring Rick Nash last summer was to give the Rangers not one, but two elite scoring options. This would allow them to have either two first lines, if you will, or one overpowering first line.
Nash has performed as advertised, but it's Marian Gaborik, the other elite scoring option, who has fallen short of the mark.
His 41 goals in 2011-12 were good enough for third in the league, behind only Steven Stamkos and Evgeni Malkin. In 2009-10 he had 42, so we not only know that Gaborik can score, but he can score in a John Tortorella system.
But so far in 2013 he's got eight goals and nine assists in 24 games, though those stats can be a bit misleading. Five of those goals came in two multi-goal games during the first five games of the season. Since then he's only had three in 20 games.
It's not just about the stats with Gaby either. Despite his lack of scoring production, a player of his skill level should be able to facilitate offense even if he's not receiving statistical merit for it. This is something Nash was doing earlier in the year when he was having trouble finding the net, but it's something Gaborik has not been able to do. He also doesn't look engaged, is shying away from contact and can't seem to hold on to the puck.
We know Gaborik may not be a game-breaker, per se, but he's a guy who's expected to score a lot of goals. If he can't do that, then the Rangers will find themselves in a predicament similar to that of last year; they'll be short on goals.
Gaborik has got to get going; much of the team's success falls on his shoulders. He's a question mark this team cannot wait too much longer on an answer for.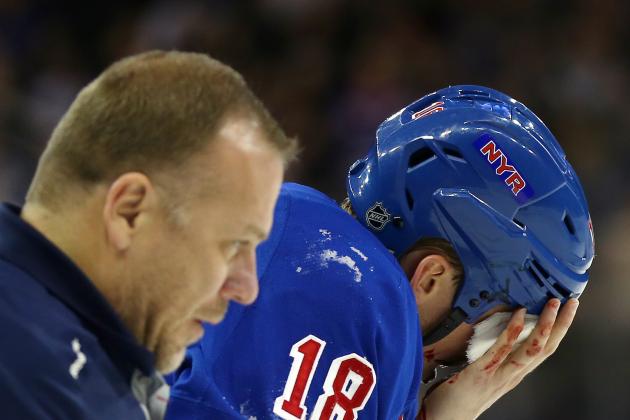 Elsa/Getty Images

On March 5th, in a game against the Philadelphia Flyers, Rangers defenseman Marc Staal was struck by a puck near his right eye. The initial belief was that the injury was not career-threatening, but Staal would be out indefinitely.
This unfortunate occurrence has put them Rangers' blue line in a similar position to last season. It was during training camp for the 2011-12 season that the Rangers decided to sit Staal because he was experiencing post-concussion syndrome, thanks to a hit by his brother, Eric, late in the 2010-11 season.
The Rangers performed well without their top blueliner and were one of the top teams in the league by the time Staal returned, almost halfway through the season at the 2012 Winter Classic.
And though the team had Staal back for the remainder of the regular season and playoffs, he really wasn't himself. It wasn't until the Conference Finals against the New Jersey Devils that Staal really found his game.
The question is: Can the Rangers perform as well without Staal this year as they did last year?
They'll miss him, no doubt, and even more so because he was playing really well. He brings so much to the table and he really cannot be replaced by one player, so the rest of the defensive corps are going to have to step up collectively.
Last year we saw the emergence of Dan Girardi and Ryan McDonagh in Staal's absence. Look for those players to step up yet again, as well as Michael Del Zotto.
The major cause for concern is the fact that the Rangers may not have Staal for the playoffs at all this season. And although he wasn't 100 percent in last year's, he's still a better option at 75 percent than Matt Gilroy, Steve Eminger, Stu Bickel and Roman Hamrlik are at full health.
In 2011-12 they missed him for the first three months of the season. This year he could be gone for the remainder of the season, and his absence late in the season and in the playoffs will be felt.
Can the Rangers' defense step up when it really matters?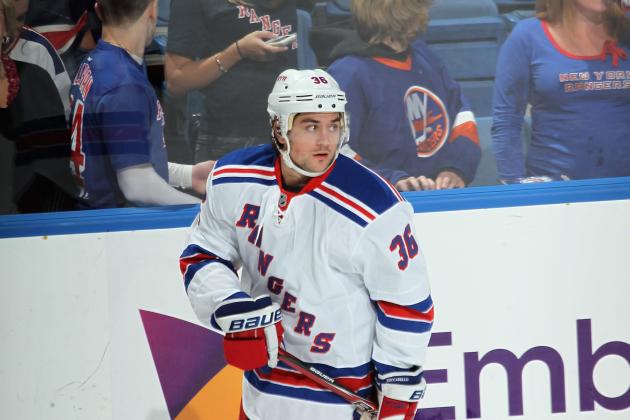 Bruce Bennett/Getty Images

The NHL trade deadline this season is at 3 p.m. EST on April 3rd, which is now less than one month away, and Rangers general manager Glen Sather must seriously begin to explore his options.
There may not be very many this year, considering the cap predicament the Rangers find themselves in. They've only got approximately $1,444,149 worth of cap space. The combination of the cap decrease for next season and the amount of players hitting both restricted and unrestricted free agency before then leaves the Rangers with few options other than a late-season rental.
Also to consider is the fact that the Rangers currently have a total of 49 players under contract, with 50 being the league maximum.
Finally, the Rangers don't have much to move at this point. No first-round pick, no young talent they would really be willing to part ways with and many of their big contracts have either no-movement or no-trade clauses.
With the acquisition of Roman Hamrlik last week, the Rangers now have nine defensemen. So unless the defense crumbles in the absence of Marc Staal, I wouldn't bet on the team adding another blueliner.
But they could use some added offensive depth.
In this condensed season, many teams still feel they're in it. Only a handful of teams will consider themselves sellers come April 3rd, so there won't be many choices.
You'd have to think teams like Calgary and Florida will be sellers, but what do they have that the Rangers could use? Stephen Weiss would have been a good option, but he'll miss the remainder of the season due to injury.
As for Calgary, Jarome Iginla would be ideal, but the Rangers don't have the cap space or the assets to get it done.
If you thought last year's trade deadline was boring, then don't expect much this season. The standings are too compact and overall team depth is something hard to come by these days.
We'll see what the Rangers do, but it looks increasingly more likely that the Rangers would be best off re-signing restricted free agent Mats Zuccarello.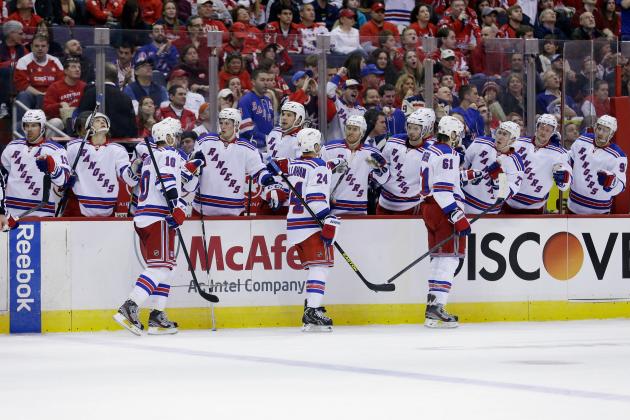 Rob Carr/Getty Images

So far this season we've seen ups, we've seen downs, but for much of the year it's been middle-of-the-road quality from the Rangers.
And that's why they find themselves in eighth place, right in the thick of it.
We know what this team is capable of. They proved it last year and at times this year, too. But if the Rangers are going to return to the elite of the NHL and make some serious noise in the playoffs, they're going to have to be more consistent.
It was one of their hallmarks last season. Opponents always knew what they were going to get when they stepped on the ice with the Rangers: consistent, hard-nosed, in-your-face hockey.
But up until about seven games ago we weren't seeing enough of it.
They've made a habit of allowing teams dictate the play while they waited around for Rick Nash to save them. Some people get sick of hearing it from Torts in the postgame pressers, but this team needs to forecheck and create opportunities down low if they're going to win games. It's finally happening on a more consistent basis.
But it's got to continue. Like Torts says, it's all a process. They've got to take it one game at a time; be prepared every night and stay true to their identity. Games like tonight's against Buffalo are a reminder that there is still work to be done.
I'll admit I was doubting this Torts' system a few weeks ago. I thought this team could play more of a puck possession game to generate some more offense, but I was wrong. Torts continues to prove that, if he can get his team to buy into his system, this team will win games.
It's been a good stretch here for the Rangers, but they're going to have to keep it up. Their consistency in the second half of the season will determine where they finish in the standings.