20 Tips for Getting a Sports Tattoo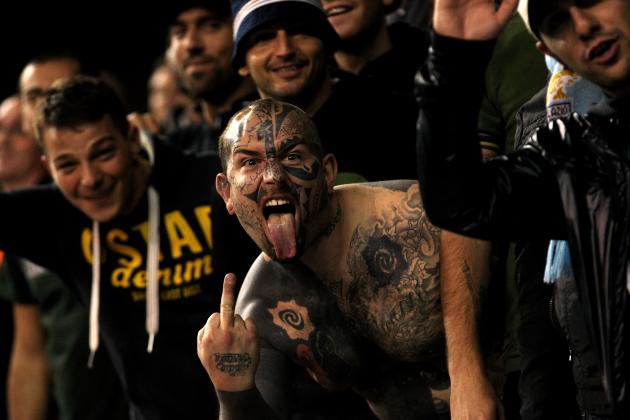 Scott Heavey/Getty Images

Ah, the tattoo. Outside of a very small segment of society who pull one (much less many) off—musicians, some models, tattoo artists—is there any form of self-expression that fails more often or more spectacularly?
Like the damage caused by smoking cigarettes, there is no mystery about what happens when that beefy, handlebar-mustached dude applies the needle to your skin. They are, for all practical purposes, forever.
And even if you've come up with the most amazing tattoo concept to ever pop into a twenty-something's somewhat inebriated brain, that doesn't mean the result is going to appear like it was telepathically etched from your imagination. If Facebook and Twitter have taught us anything, it's that a shocking percentage of America have spelling skills that fall below the fifth-grade level.
While that brilliant design featuring your new boyfriend Derp's face tramp-stamped onto the small of your back and winking at your caboose is rife for error—nobody cares who you or Derp are to begin with—no subject matter leads to more tattoo disasters than sports.
This is because sports—the athletes, the teams, the organization—are fluid. Not only is it very possible your favorite athlete will become irrelevant over your lifetime, but they could very well fall out of favor; as in you hate them at some point.
Your ex-wife Dina's erratically scripted name may haunt your forearm forever, but at least you were married to her. Even if you are married to the sports concept in spirit and the artist faithfully captures the idea somewhere on your facade...the image is going to melt, fade and become something creepy or functionally abstract.
Honor the next Gino Torretta at your own peril, and if you need one last reminder why you should reconsider—or at least follow some helpful guidelines—stay right here.
These are 20 tips for getting a sports tattoo.
Begin Slideshow

»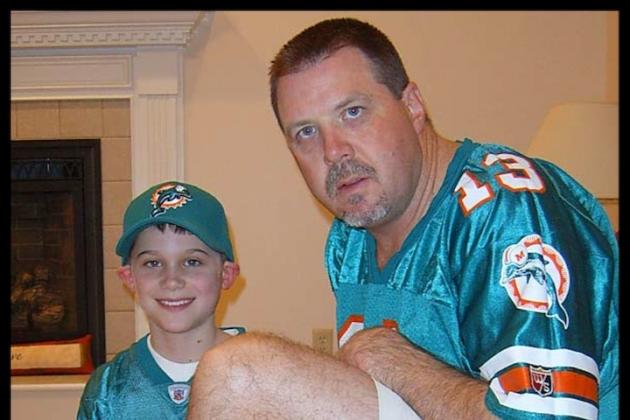 Image via Don Tapley
But if you must…
Don't get a Dolphin tattooed on your ankle unless your an 18-year-old girl.
That one is a little specific, but as you can clearly see, some man with an embarrassed son did it at some point. If he's not already embarrassed, you know he will be eventually.
This can actually be expanded to encompass all men and all ankle tattoos. It doesn't matter if it hurts more because it's closer to the bone. It is just as girly.
Ankle tattoos are for the ladies. So figure something else out, please.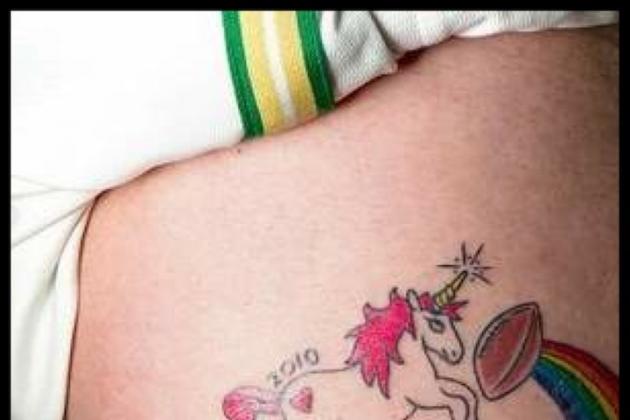 Image via omaha.com
But if you must...
Don't do it because you lost a bet—none of your bros would've gone through with it, so why are you?
Maybe you're thinking that your particularly group of bros are all such stand-up guys that there is no way on earth one of them would welch on a bet.
That's adorable! But they definitely would. If you think anyone else in this guy's fantasy football league would've gone through with the unicorn tattoo—think again.
You're looking at a lifetime of regret right there.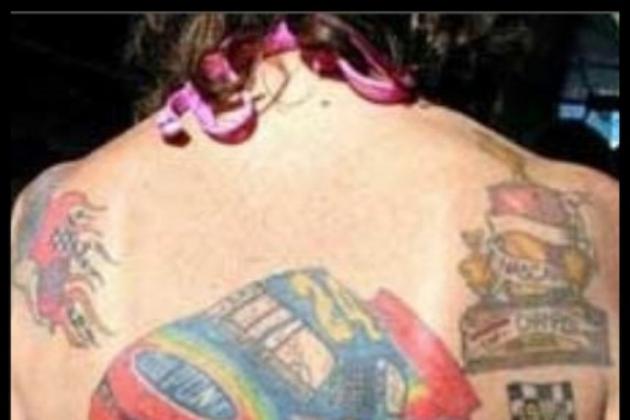 Image via thechive
But if you must...
Keep in mind that everything starts to expand at a certain point and plan accordingly.
There are very few parts of the body that aren't prone to expansion as the years pass by. After a long enough time it doesn't even matter if you stay in shape—something is going to shift or sag eventually.
Which is why large, colorful tattoos that very strictly define a space are a bad idea. Give yourself a little breathing room. Otherwise you'll look old and saggy beyond your years.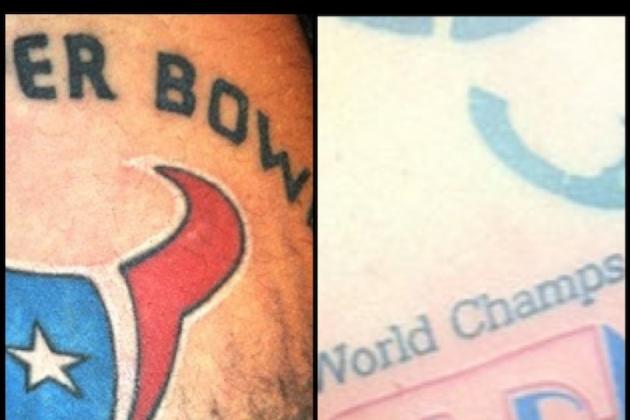 Images via houstonchronicle & bigleaguescrew
But if you must...
Cool your jets and see how things shake out before you go counting your chickens.
One of the worst sports tattoo faux pas you can make is commemorating a championship that never happened. Well...technically it did happen...just not for your team.
People end up with these tats for one of three reasons:
They're cocky: There may be games yet to be played, but the ending is already a foregone conclusion.
They're desperate: When things start to head downhill, may people believe they can will their team to a championship through various means.
They're stupid: Maybe they got confused about a date or saw an Onion headline and thought things turned out differently.
Which one of these three people do you want to be? How about none of them.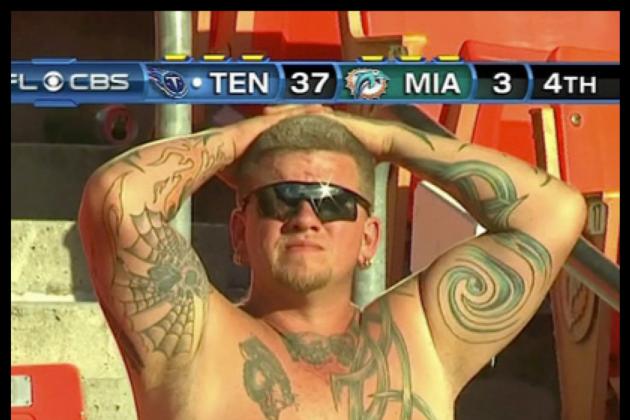 Image via Deadspin
But if you must...
Try to maintain a little dignity.
Sometimes this one is far easier said than done—we all know that being a fanatic about anything comes prepackaged with a little indignity. But there are completely different levels.
Painting your face, creating elaborate signs, buying personalized team gear with your name and the number 69 on it—these are varying degrees of acceptable levels of indignity.
Commemorating a championship season from over 30 years ago that you are too young to even remember and plastering it permanently across your beer belly next to your bowling tattoo and under your nipple rings—this is not acceptable.
That kind of behavior is downright self-nullifying.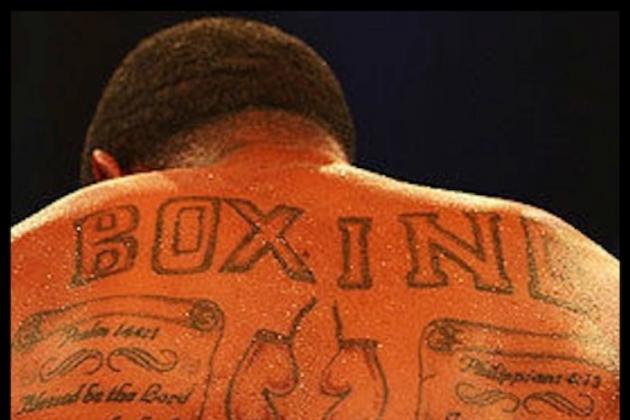 Image via Getty
But if you must...
You also don't want to under-think it. If something looks a little too busy and/or can't be read in less than 10 seconds, consider subtracting something.
Don't overthink it! Which is really not a problem that most people who get sports tattoos have—but it certainly can happen. Don't get too bogged down with details.
So you're a boxer and you've landed on the word "BOXING" in big block letters with a pair of gloves hanging below? Maybe that seems a little…surfacey. (Not a real word.)
So you decide to add a little much-needed depth via two very text-heavy scrolls on either side of your back that are difficult to read and aren't the same length. Now you've gone too far the other direction.
Next time think it through. Brainstorm with friends. Maybe sketch a few drafts before committing.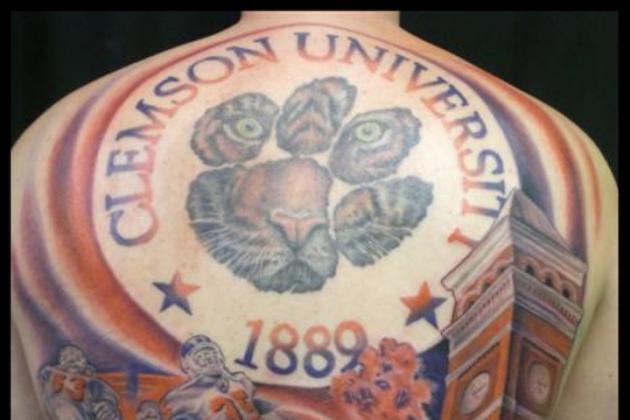 Image via cockytalk
But if you must…
Bring along a dictionary or some other reliable point of reference for the tattoo artist if this monstrosity is going to include any letters whatsoever.
Your first instinct might be to just trust that he/she knows how to spell, but think of all those dotted red lines you saw last time you typed something longer than a few sentences.
If you mix up "public" and "pubic" all the time, what makes you think that surly human being covered in tattoos and various silver appendages is immune from that kind of mistake?
Nobody is going to be impressed by your dedication to the Stealers. Or that you've had season tickets to see the Natinals since they first came back to DC. Think ahead!
Bad spellers of the world untie!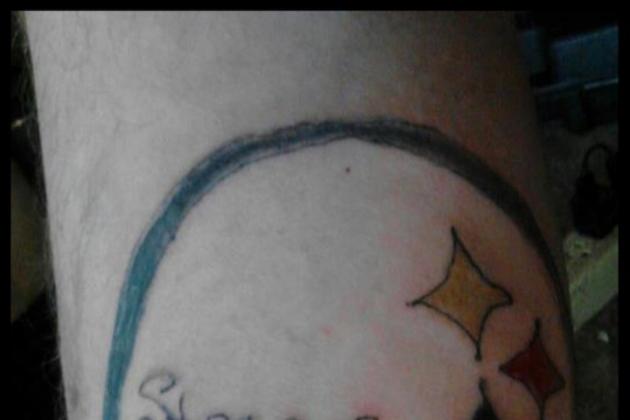 Image via Reddit
But if you must...
Be sure to look over your tattoo artist's body of work before sitting down to let him painfully jab a picture of something on your skin with needles that will last forever.
Does his gallery look like that of a skilled artist who has been able to accurately recreate various images on a large number of people dating at least a few years? Then go ahead.
But what if his portfolio consists of just 18 tattoos (19, including your future bad decision) that look like crudely done prison tattoos? Perhaps you might want to keep looking.
Lest you end up with something as horrific as this Steelers tattoo—that was obviously a "Stealers" tattoo before the flawless correction.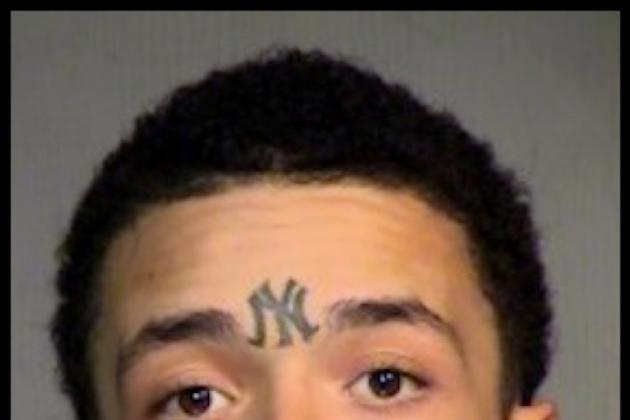 Image via phoenixnewtimes
But if you must…
Remember that tattoos are one of the many ways used by law enforcement to identify your criminal ass.
If you're ever arrested and booked into jail, the police create a detailed log of all you're identifiable features—including body art.
Not really a big deal if you don't make a habit of breaking the law. But it's kind of a big deal if one of your hobbies is hiding out from the cops.
One of the worst things a career criminal can do (besides all of terrible crimes they commit) is get their face inked.
At least it wasn't a Mets tattoo.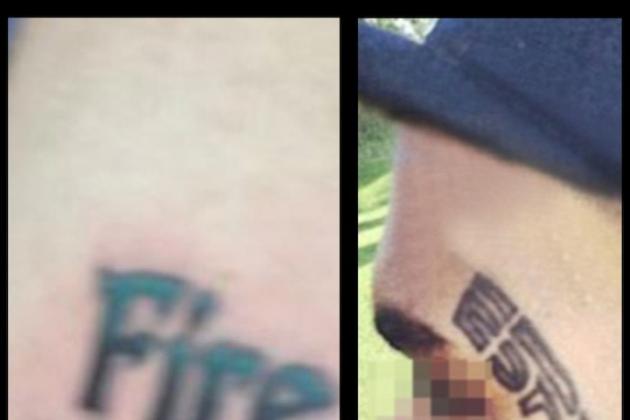 Images via @De_Bow72 & blacksportsonline
But if you must...
Say to yourself: Then what?
This applies to people who are thinking of getting inked for a very specific reason or to accomplish a certain goal. Whatever your end point is now certainly won't give you piece of mind later.
It may seem like a great idea to get a "Fire Andy" (Reid) tattoo in exchange for X amount of retweets on Twitter. Now you've got your retweets and Andy Reid was fired. Was it worth it?
It may seem like a foolproof plan to get "ESPN" tattooed prominently on your face because you decided on a whim you'd like to be on SportsCenter. Okay, you were…once…a few years ago. How's that tattoo treating you today?
Not so good, huh? Didn't think so.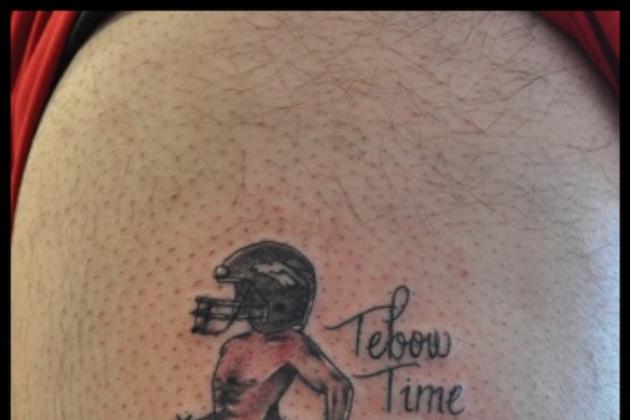 Image via blacksportsonline
But if you must...
Try to get something timeless, rather than a flash in the pan.
Trying to predict something relatively current that will become timeless isn't an exact science. Betting on futures is a hit-or-miss proposition—but you can still use common sense.
There's no question that back in 2011, (then) Broncos quarterback Tim Tebow was one of the biggest things in sports—he made Skip Bayless feel like a girl again!
But if common sense allowed you to get a Tebow-as-a-centaur tattoo with the words "Tebow Time" right next to it—you need a responsible party charged with caring for you around the clock.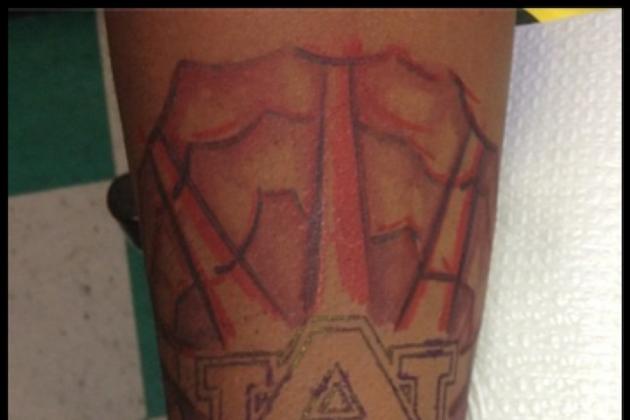 Image via c_lee_11 [Instagram]
But if you must...
Make sure your decision is final. Like final final.
This actually works on two levels:
Make sure your decision to get a stupid sports tattoo to begin with is final. Make a list of all the pros and cons and really think about it before paying someone to stab you repeatedly with needles for several hours. Do you really want to spend the next months rubbing Vaseline on your butt?
Or...
Make sure your decision on the on the actually tattoo is final. Which means the decision behind the decision needs to be set in stone too! Oh—so you decided to commit to Alabama? Excellent choice. You should've definitely made it before you got that Auburn tattoo.
Waiting won't kill you...at least when it comes to making a responsible decision. It can kill you under other circumstances.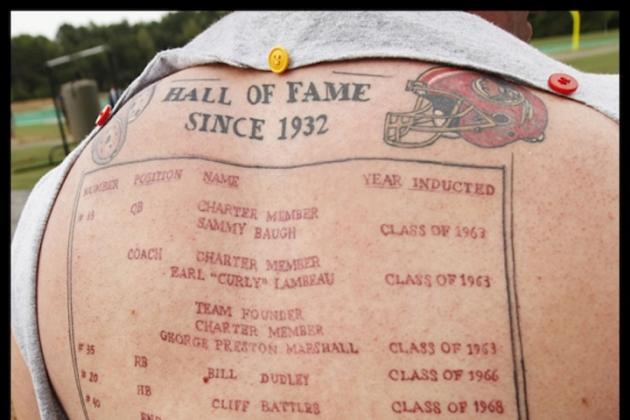 Image via washingtonpost
But if you must...
Remember to leave some room for the future.
So you've weighed all the possibilities and still decided to get that elaborate tattoo that basically turns your back into a shrine commemorating a certain aspect of your team's history.
And try as they might, nobody in your life has been able to talk any sense into you because you've been planning the details of this tattoo in your head since junior high.
Yet in all that planning and commemorating of history, you forgot one important detail: The future! If you've barely scraped middle age but your back is completely covered in Hall of Fame players—what about the class of 2013…and beyond?
Where do they go? Your butt? Please say they don't go on your butt.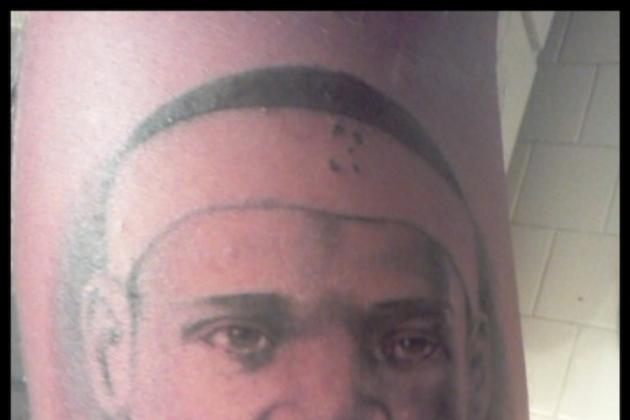 Image via @AyYoNateOh
But if you must...
Make sure to make your tattoo artist draw it on paper before he draws it on you—particularly if it's a portrait. This seems fairly self-explanatory, but it's shocking how many horrifying tattoo portraits are haunting the limbs of people everywhere.
Drawing a face isn't easy. It doesn't matter how many dolphins, roses, skulls or absurd sets of angel wings a tattoo artist has displayed on the wall. Drawing a skull isn't the same as drawing a face.
If you are completely insane and can't live without gigantic tattoo of LeBron James on your leg—then you are even more insane if you don't require the tattoo artist to demonstrate he can produce something that won't give you nightmares.
Same holds true if you are insane and can't live without a tattoo on your ass depicting Eli Manning giving Peyton Manning a noogie. But remember that portrait tattoos are almost always terrible even when done right—and yours will definitely be done wrong.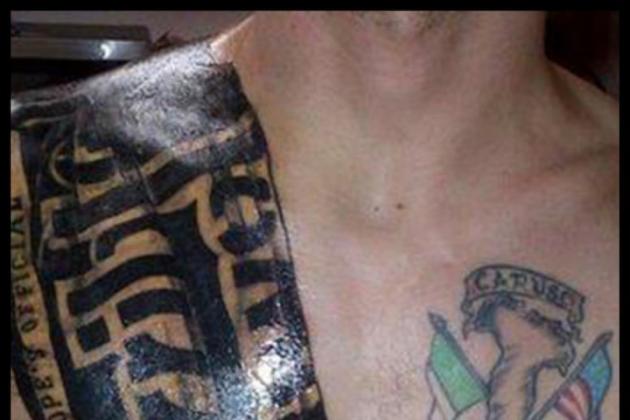 Image via @434Caruso
But if you must...
Think ahead and try to space your ink properly—don't bunch ridiculously mismatched tattoos.
You've probably seen this plenty of times. Some shirtless weirdo has a bunch of terrible tattoos, but instead of spreading the wealth around, they're grouped awkwardly in unrelated clusters.
The inexplicably black, nipple-engulfing terrible towel tattoo is obviously a terrible decision on its own—but wretchedness is really compounded by its proximity to the faded Italy sprouting the Italian and American flags tattoo on the right.
Why not get Italy on your arm? Or the terrible towel on your back? Or get neither...nowhere. That would be so much better.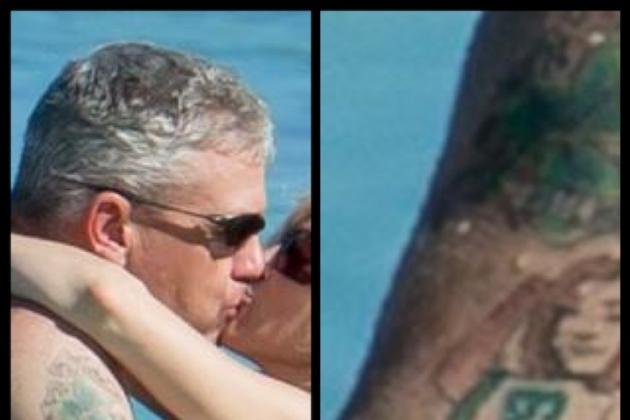 Images via NY Post
But if you must…
Consider the potential audience.
For most people, getting a ridiculous tattoo isn't a big deal if it's located somewhere on the body that is usually covered comfortably by business clothes.
So who cares if you got that tat of a topless version of the redhead from The Little Mermaid on your shoulder? Nobody who shouldn't see it is going to see it.
That is not necessarily the case for those living in the public eye. Maybe you'll be able to hide. Maybe you won't. Do you really want to take that chance?
So before you get a tattoo of your wife wearing nothing but a Mark Sanchez jersey and a smile, you should probably ask yourself this: How would this look on the cover of the New York Post?
The answer is terrible…it's going to look just terrible.
Image via thechive
But if you must...
Consider your life outside being a sports fan.
For example, do you do anything in the world aside from root for the Raiders? Do you have a job or value the fact that strangers won't flee in fear when they see you approach?
If so, imagine how the tattoo you have in mind would go over in various scenarios. Would it make children cry? If so, is that something that you want?
The only thing the guy in this photo is qualified for is rooting for the Raiders and being in a gang and/or prison.
You don't want to get pigeonholed like that.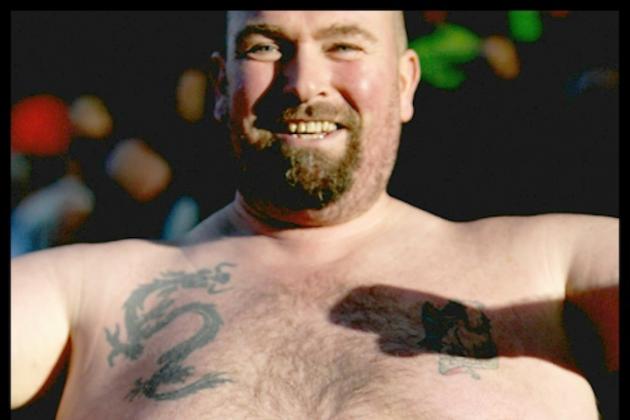 Image via Getty
But if you must…
Consider what it is you're going to be showing off all the time. Maybe you've got a really great body image and unshakable self-esteem—congratulations.
We're all very impressed and perhaps you should teach a class at The Learning Annex to impart your secrets on less confident people. Teenage girls would really benefit from this sort of thing.
Although you may recall that you are not the only person on earth. Just because you're comfortable bearing your gut and man breasts all afternoon doesn't mean everyone else can handle that scene.
Try thinking about your fellow man for once in your life, dammit.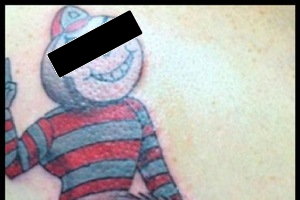 Image via Deadspin
But if you must…
For the love of God, think of the children! Seriously—think of your children. If you think a kid isn't going to ask you about that, you're wrong. They ask questions about everything.
Sure it seems like all fun and games right now, but how are you going to explain to your kid why Brutus Buckeye is engaging in non-consensual bestiality with the Michigan Wolverine?
Why he's doing it? How he's doing it? What it means? When you got it? Where did you get it? How did you come to such a stupid decision? What does mommy think?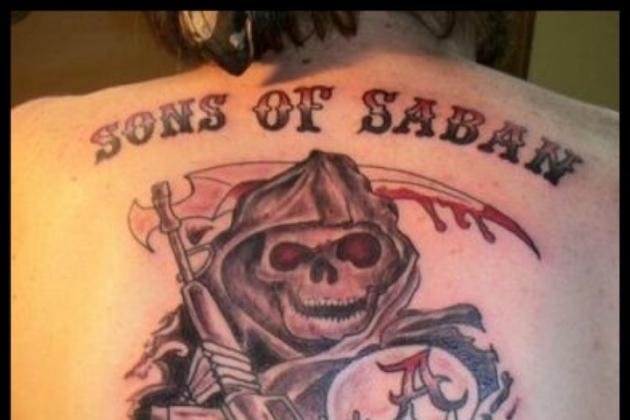 Image via @KellyFGross
But if you must...
Remember that nothing lasts forever—except your gigantic back tattoo.
Tim Tebow. The Atlanta Thrashers. The XFL. Ozzie Guillen with the Marlins. The Penguins triangle logo redesign. Tiki Barber in broadcasting. Brock Lesnar's MMA career. Almost everything in sports is fleeting.
There's no question that things in Tuscaloosa have been going pretty dang well since Nick Saban came to town. Alabama has won three of the last four BCS Championships and for some fans it probably feels like the Tide will never stop Rolling.
And Sons of Anarchy has had a pretty good run on FX so far. It's been airing since 2008 and season six is set to premier later this year. After seven years it's easy to take for granted that another season is automatically in the pipeline.
But what happens when Saban does leave 'Bama? He's certainly not going to die at his desk at the age of 96 after winning his 30th consecutive championship. He's probably going to leave and coach elsewhere at some point—maybe even an SEC rival?
And then Sons of Anarchy finally concludes after season seven—as is the speculation. Imagine that 10 years from now Nick Saban has won four consecutive championships with Auburn and Sons of Anarchy is nothing but a vague memory for most people.
At least you'll always have that nonsensical back tattoo that inexplicably combines the two and makes everyone who sees you shirtless wonder if you were raised by wolves. Or television. Or first by wolves and then later by television because it adopted you.
**Speaking of people raised by wolves and television—follow me on Twitter: Follow @blamberr