Carolina Panthers: Best Free-Agent Signings in Team History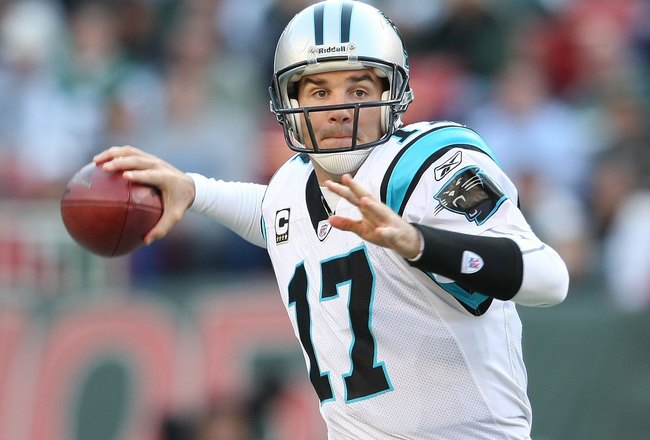 Delhomme was signed in free agency and became one of the most beloved players in team history.
Nick Laham/Getty Images
The free-agency period is here, and the Carolina Panthers will hope to find some help by re-signing their own players and bringing in players from around the league. With their financial constraints, the Panthers may not have enough room to sign a big-name player this year.
That doesn't mean they won't bring in someone they feel can help their team.
History has proven they have been able to find players to shore up their needs and move the team forward in postseason play. Not all of them have been elite players, but all have left their mark in Carolina lore.
This list provides all of Carolina's free agent signings since 1995 and the impact each has left during their tenure with the Panthers.
1995: John Kasay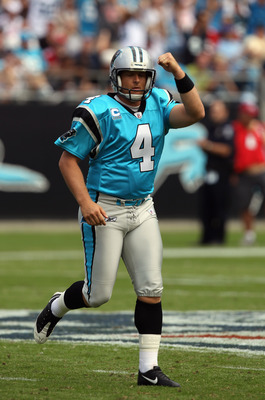 Streeter Lecka/Getty Images
After Carolina was awarded a franchise prior to the 1995 season, the Panthers were able to bring in a plethora of free agents mostly due to those players' former teams not protecting them during the expansion draft. The first wave of free-agent signings produced many notable names, but only a few left a great impression on the team and the fans.
One of those players was John Kasay.
Kasay was a free-agent kicker released by Seattle before arriving in Carolina. He would finish out his career with the Panthers as the last remaining original Panther in 2010. When he was released following the 2010 season, he was the team's all-time scoring leader with 1,482 points.
Aside from being the last original Panther and the team leader in scoring, Kasay may be remembered for his botched kickoff in Super Bowl XXXVIII against New England. With the score tied and the Panthers and Patriots on the brink of the Super Bowl's first overtime game, Kasay made an errant kick that went out of bounds setting up the Patriots at their own 40-yard line.
This would allow New England to move into field-goal range and kick the game-winning field goal.
Kasay was and still is a fan favorite. With the uncertainty at kicker over the past two seasons, many fans miss the reliability that Kasay presented even in his later years when his leg wasn't nearly as strong.
It is unlikely Carolina will find a player that will match Kasay's longevity and durability anytime soon, but he showed how invaluable signing the right free agent could be for a franchise.
1995: Sam Mills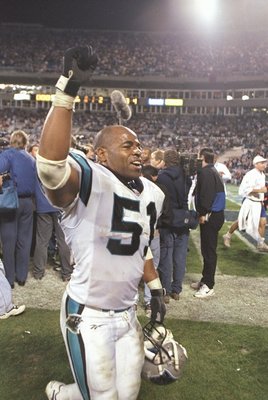 Sam Mills may be gone, but Carolina continues to Keep Pounding.
Craig Jones/Getty Images
Perhaps the most inspirational player in team history would be former linebacker Sam Mills. Mills came over to the Panthers in their expansion year and made an impact both as a player (1995-1997) and as a coach.
He made his mark in the team's inaugural season by intercepting a pass against the New York Jets and returning it for a touchdown. The play secured the Panthers' first-ever victory. Mills earned Pro Bowl honors in 1996, the same year Carolina played Green Bay for the NFC championship. Additionally, Mills holds the NFL record for being the oldest player to recover a fumble and return it for a touchdown at 37 years, 174 days.
After his playing career was over, Mills was brought onto to the Carolina Panthers coaching staff. He would later be diagnosed with intestinal cancer and despite the chemotherapy, he continued coaching. Mills was best remembered for his "Keep Pounding" speech during the 2003 playoffs against Dallas. That saying now adorns the inside collar of Carolina's jerseys.
Sam Mills died on April 18, 2005, but his legacy lives on. His jersey No. 51 was retired by the Panthers. He is the only player to be inducted in the Carolina Panthers Hall of Honor.
1996: Eric Davis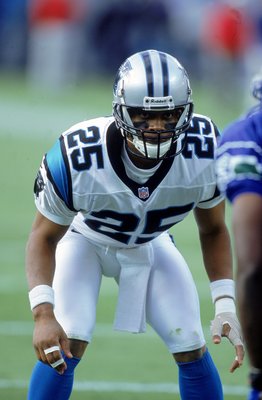 Davis was one of the best DBs in team history.
Scott Halleran/Getty Images
Davis was a longtime staple of the San Francisco defensive secondary before signing with the Panthers in 1996. He made the most of his five seasons with the Panthers, appearing in all but two games. He was part of the playoff team that met Green Bay for the NFC championship later that year.
He would garner Pro Bowl and All-Pro honors for his performance that year.
The most telling stat about Davis' career with the Panthers was the five interceptions he recorded each year with Carolina. He left the team with 25 picks, which is quite impressive for a defensive back considering he did all that in just five seasons (current team leader Chris Gamble would record 27 in nine seasons with the team).
Davis embodied the type of defensive back every team craves. He made opposing quarterbacks think twice about throwing in his direction.
He arguably enjoyed his best football as a member of the Panthers and retired two years after leaving Carolina.
1996: Steve Beuerlein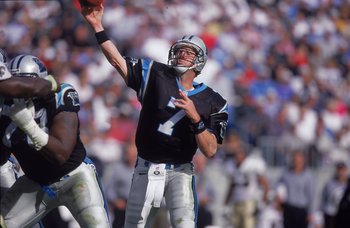 Before Jake, there was Steve.
Craig Jones/Getty Images
Steve Beuerlein was brought in for the purpose of backing up Kerry Collins as the Carolina Panthers quarterback. The moved proved be a good one as Beuerlein played in four games for the injured Collins during the 1996 season and sported a record of 3-1.
Big wins over the Houston Oilers and San Francisco 49ers were instrumental in allowing the Panthers to lock their division and finish the season at 12-4. Their run ended at Green Bay, but Beuerlein's efforts were huge in getting them to that point.
Beuerlein saw a lot of relief duty in 1997 and even seemed to play better than the oft-injured Collins, who suffered a broken jaw in the preseason. That season would allow for Beuerlein to become the starter. Despite a poor record that year, Beuerlein's stats were respectable.
1999 was a career year for Beuerlein, who led the league in passing yards with 4,436 yards and completions with 343. He was second to MVP Kurt Warner in passer rating and touchdowns (94.6 and 36 respectively). However, the Panthers finished 8-8 and missed the playoffs.
The 2000 season would be Beuerlein's last, but he still played well despite being sacked a league-leading 62 times. He still threw for 3,730 yards and 19 TDs. However, he did throw 18 interceptions and the team finished 7-9.
Beuerlein was released, much to the chagrin of the fanbase. When he left, he owned team records in most career attempts (1,723), completions (1,041), passing yards (12,690), passing touchdowns (86), highest completion percentage (60.4 percent), and highest passer rating (87.7). Beuerlein still owns many team season records which include passing yards (4,436), touchdowns (36), attempts (571), completions (343), completion percentage (63 percent) and passer rating (94.6).
Despite the mediocre records of the Panthers, Beuerelein proved how important a quarterback can be to a team, and had he been afforded some better support in his later years with Carolina, the Panthers may have won more games.
1996: Wesley Walls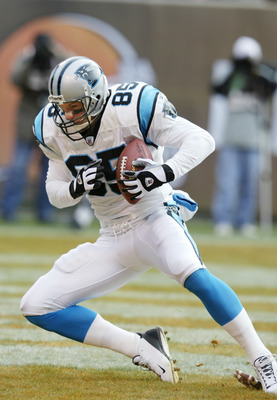 Walls was the best at his position in team history.
Tom Pidgeon/Getty Images
Wesley Walls is arguably the best tight end in Carolina history.
Until the Panthers traded for Greg Olsen and signed Jeremy Shockey via free agency, they never really had a tight end that was as good as Walls. After two seasons with New Orleans, Walls signed with the Panthers and emerged as one of the league's best receiving tight ends.
From 1996 to 2001, Walls made five Pro Bowl appearances. Had he not been injured for half of the 2000 season, he could have probably made a sixth. During his time with Carolina he was a four-time All-Pro.
Walls proved to be a reliable target as he caught 61 passes for 713 yards and 10 touchdowns in this first year with the Panthers. He would accumulate at least 500 receiving yards during his first four seasons with Carolina.
When Walls was let go after the 2002 season, the Panthers never really could find another tight end that could fit the mold of a solid receiving tight end, having opted to use mostly blocking tight ends until Olsen and Shockey were acquired in 2011.
2003: Jake Delhomme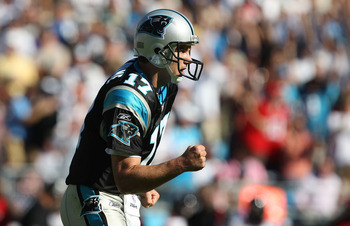 Jake was probably the best QB in Carolina history.
Streeter Lecka/Getty Images
Jake Delhomme will always hold a special place in the hearts of the Carolina faithful. The moment he took over and led the Panthers to a come-from-behind win in Week 1 of the 2003 season against Jacksonville, everyone knew he was special.
Delhomme would lead Carolina to their first and only Super Bowl appearance that year and would be the Panthers' field general from 2003 to 2009. After all was said and done in Carolina, Delhomme had a few team records to show for his efforts.
Those records include career passing yards (19,258), career passing touchdowns (120), most interceptions (89), career completions (1,580), fourth-quarter comeback wins (17), career game-winning drives (23), best record for a starting QB (53-37), most fourth quarter comeback wins in a season (five in 2003), most game-winning drives in a season (eight in 2003) and most wins in a single season by a Panthers starting QB (12 in 2008).
In addition to his team accolades, he owns the Super Bowl record for longest touchdown pass (85 yards to Muhsin Muhammad in 2003).
Following the 2008 season that saw Carolina get upset at home by eventual NFC champion Arizona Cardinals, Delhomme signed a five-year deal that many felt would guarantee his career would end as a Panther. However, his performance was shaky in Week 1 of 2009 and he struggled most of the season before breaking his finger against the New York Jets and being placed on injured reserve.
A few months later, Delhomme would be released as part of the veteran purge prior to the start of Ron Rivera's tenure as head coach. The emotional press conference held by Delhomme and former coach John Fox will always burn in the memories of the Carolina fans.
Delhomme found great success in Carolina and was a team captain, team leader and a positive influence on and off the field.
2003: Ricky Proehl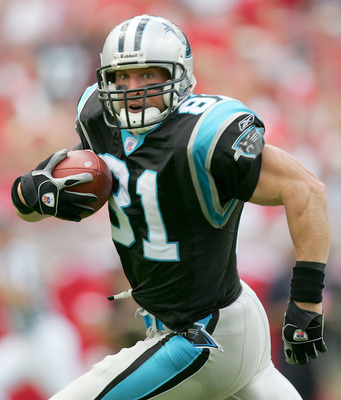 Proehl proved to be reliable in the clutch.
Andy Lyons/Getty Images
Ricky Proehl went about business with Carolina rather quietly. He spent three seasons with the team, two of which resulted in deep playoff runs. His contributions in 2003 helped spearhead the Panthers to the Super Bowl that year, starting by catching the game-winning touchdown in the comeback victory over Jacksonville in Week 1 of that season.
He caught 86 passes for 1,327 and eight touchdowns as a wide receiver for the Panthers and left his mark in the postseason as well.
Proehl was the receiver Jake Delhomme found late in Super Bowl XXXVIII to tie the game. Had the Panthers won it, that play would be viewed as the biggest in team history.
After retiring, Proehl was hired as an offensive consultant for the Panthers in 2011 and was later named the receivers coach.
2003: Stephen Davis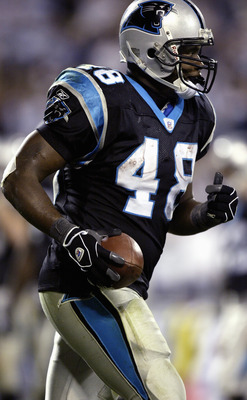 Who knows what kind of career Davis would have had in Carolina if injuries didn't sideline him.
Craig Jones/Getty Images
Before the Carolina Panthers introduced the NFL to "Double Trouble," their rushing attack was generated by Stephen Davis. Davis had spent his career in Washington. A graduate of Spartanburg High School, he relished the idea of playing near his hometown.
Like the other free-agent signings of 2003, Davis' contributions helped the Panthers reach the Super Bowl. He led all rushers with 315 yards in the postseason of that year. He finished in the top three of the MVP voting at the end of the season.
His stats were impressive in his first year with the Panthers: He rushed for 1,444 yards and eight touchdowns.
Unfortunately, he would not rush for over 1,000 yards after that as injuries took a toll on him, causing him to miss most of the 2004 season. He would rebound slightly in 2005 by rushing for 549 yards and scoring 12 touchdowns despite the low rushing total.
2005: Ken Lucas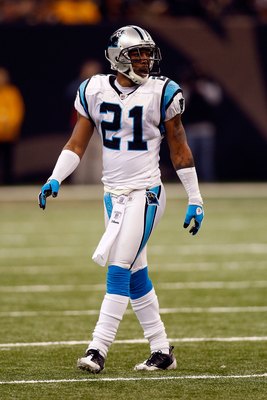 Ken Lucas had a good run in a Panthers uniform.
Chris Graythen/Getty Images
Ken Lucas signed as a free agent with the Panthers at the start of the 2005 season. Teaming with former Carolina cornerback Chris Gamble, the Panthers had one of the best secondaries in the league for the year. Lucas and Carolina, were very close to reaching the Super Bowl only to fall short against Lucas' former team, the Seattle Seahawks.
His debut with his new team was an exceptional one. He picked off six passes over the course of 15 games and even recorded two more interceptions in the playoffs.
Unfortunately, Lucas may be best remembered for his training camp altercation with Steve Smith in which Lucas received a black eye and a broken nose. The situation was diffused soon after as Lucas took the high road and forgave Smith.
2011: Jeremy Shockey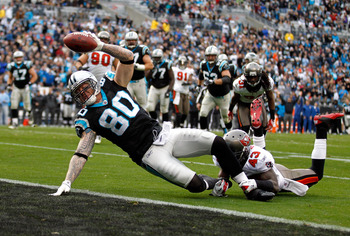 Shockey doing what he was brought in to do...catch passes and score.
Streeter Lecka/Getty Images
Jeremy Shockey only spent one season as a member of the Carolina Panthers organization, but he made the most of his short time in a Panthers uniform. He combined with fellow tight end Greg Olsen for 995 receiving yards and nine touchdowns.
This was important as they helped bring along then-rookie quarterback Cam Newton and helped him achieve AP Offensive Rookie of the Year honors.
Many fans felt that Shockey would return in 2012, but the team did not re-sign him.
It should be noted that the off-field antics of Shockey were a bit of a concern coming in, but he kept himself in check during his one-year stay with the Panthers. If Olsen wasn't brought in as a long-term option, it is safe to assume Shockey would have spent another year or two with the team.
2012: Mike Tolbert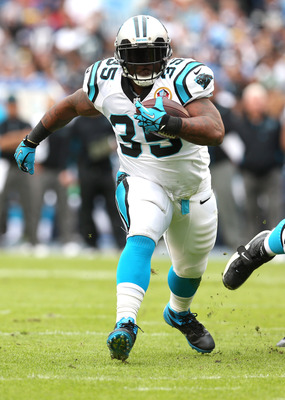 Tolbert didn't have many yards in 2012, but he found paydirt seven times.
Stephen Dunn/Getty Images
Who takes considerably less money to play for a team that has a lot of upside and features one of the game's best up-and-coming quarterbacks?
Mike Tolbert.
Turning down millions from San Diego in favor of playing for the Carolina Panthers, Tolbert got off to a slow start but started warming up down the stretch. He had more receiving yards (268) than rushing yards (158), but still recorded seven touchdowns.
Tolbert still has three years remaining on his contract, and if he can continue to bruise opposing defensive lines, he could be a valuable piece of a very loaded backfield for the next few years.
He showed a lot of people what he is capable of while with the Chargers and in the last few weeks of the 2012 season, so he could very well turn out to be one of the best signings in the history of the franchise.
Best of the Rest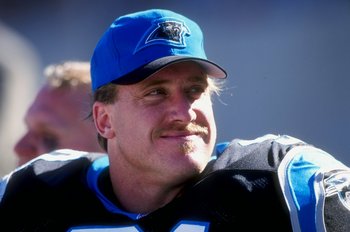 Kevin Greene was an unique individual.
Vincent Laforet/Getty Images
There are a few other players that deserve an honorable mention. They have left an indelible mark on not only the team but the fans as well.
Frank Reich (1995)—The first Panthers quarterback started most of the games of the inaugural season until Kerry Collins was handed the reigns. He only spent one season in Charlotte (or rather Clemson, as the team played its home games in Clemson's Death Valley).
Kevin Greene (1996)—He was arguably the most entertaining player in team history in terms of both play and personal antics. Greene thrived in Dom Capers' 3-4 scheme and helped make the 1996 Carolina defense one of the league's best. An interesting side note about Greene: He made a few appearances as a wrestler on the now-defunct WCW.
Patrick Jeffers (1999)—Jeffers never really had much of a career as a football player. However, he did have a career year in his first season with the Carolina Panthers. He had 63 catches for 1,082 yards and 12 touchdowns in 1999. What makes this more amazing is that his career totals were 98 receptions, 1,563 receiving yards and 14 touchdowns.
Ma'ake Kemoeatu (2006)—The reason he gets a mention is because when he was healthy, he was a fine defensive tackle. The Panthers have yet to really find anyone to replace him since he was released a few years ago. Recently, he was a part of the Baltimore Ravens Super Bowl-winning team.
Keep Reading

Carolina Panthers: Like this team?