UFC 158 Primer: 3 Reasons to Root for Nick Diaz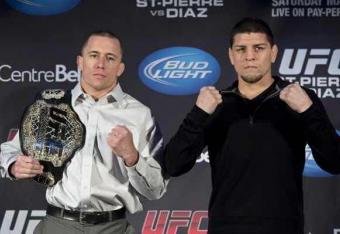 canada.com
Mark J. Rebilas-USA TODAY Sports
At UFC 158, Georges St-Pierre will be squaring off against Nick Diaz in a tale of two very different men with different personalities but one goal: to be the UFC welterweight champion.
For a very long time, the sport of MMA needed a group of champions who established their dominance in the sport with long title reigns, giving those divisions a familiar face and thereby humanizing it.
Fans long to have someone they can identify with in a sport where the cage itself is just as big a star as the men who fight within it. They need someone they can follow who rises to the occasion and does things they cannot, because the sport of MMA is not the purview of the ordinary man.
Indeed, it takes extraordinary men to rise to any heights in the sport, and as they rise they inspire their fans, even if in the end that inspiration is spent living vicariously through them.
These men usually come in two types: the respectable, honorable, and upright champion, who is dominant and dangerous while upholding the sport and themselves with dignity—men like current champion Georges St-Pierre.
And then there are other men who rise up, unconcerned with public perception or any false pretense of civility; tough as a coffin nail and only wanting to prove they are the best by beating down everyone put in front of them with an authority that seems like prejudice.
Men like Nick Diaz.
The UFC has been well-served by GSP, who has defended the welterweight title six consecutive times: a record for the division.
He's intelligent, personable, friendly, utterly professional and incredibly passionate about his position in the sport—everything you'd want in a champion who has displayed the level of dominance that he has.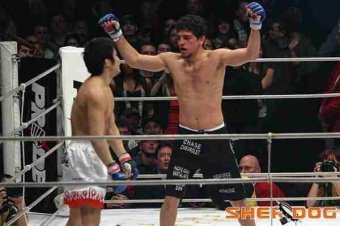 sherdog.com
Really, he's everything that Diaz isn't. In fact, GSP is the anti-Diaz, for all the right reasons.
Diaz has been rude, unprofessional, antagonistic, and at times has displayed behavior that was awful at best and detrimental to the sport at worst.
So why should anyone root for Nick Diaz to upset GSP and become the next champion at 170?
One reason is because as much as I like GSP and love what he stands for, he has managed to take a sport that is incredibly dynamic and unpredictable and make it… well, very predictable.
He has developed a very successful formula to win his fights that plays to his considerable strengths and allows him to dominate his opposition in such a way that his performances possess a kind of mechanical, mathematical execution and conclusion.
Diaz, on the other hand, is a dogged fighter who possesses a crowd-pleasing style built around engaging his opponents on the feet via a relentless attack of punches in bunches.
Diaz is more than happy to eat a punch in order to land one, and he is constantly going for the finish.
In truth, the fact that he does have flaws—he has been knocked down on more than one occasion and he can be taken down—but ignores them for the sake of aggression lends each fight a sense of doubt and unpredictability inherent to the sport, and that is the best kind of drama in the world for fight fans.
The only thing predictable about a Diaz fight is that he is going to come forward and attack with the intent of doing serious damage; how his opponent will react to this is another exciting variable.
Another reason is that Diaz harbors a kind of attitude about being a fighter that, while seeming somewhat childish or thuggish, is also pure, unrehearsed and honest—something the fans can understand, no matter if they agree with it or not.
Once again, his flaws as a man would make him a compelling champion because he takes everything personally, and that kind of passion would be amplified if Diaz were to capture the title.
He's often spoken of feeling slighted by the powers that be for not getting the attention he deserves; if he were to win the belt, he would be getting all the attention he could handle, possibly more.
How would he deal with it all? I have no idea, but good or bad, it would be polarizing, and that is the exact kind of thing that attracted millions of fans to the sport of boxing when Mike Tyson was king of the hill.
Finally, while GSP has helped the sport grow to massive levels of popularity in Canada and just about everywhere else, fans are no longer expecting anything dramatic from his title fights.
It's no longer a matter of wondering what GSP is going to do to his opponents, but what they can do to him; if they can offer up anything that will take exception to the norm and give the viewing public cause to pause and consider that maybe, just maybe, a true fight might break out in the middle of a grappling match.
No one should fault GSP for playing to his strengths and it is not up to him to give fights away just to make them exciting. If no one can find a way to defeat him, then that is their problem, not his.
But in a sport that is supposed to by synonymous with excitement and unpredictability, if Diaz can upset GSP, it would help remind us why we came to love the sport so much in the first place.
And it just might set up one of the greatest trilogies the division has ever seen.
This article is
What is the duplicate article?
Why is this article offensive?
Where is this article plagiarized from?
Why is this article poorly edited?