Highlighting This Week's Most Important Scheduled Pro Day Workouts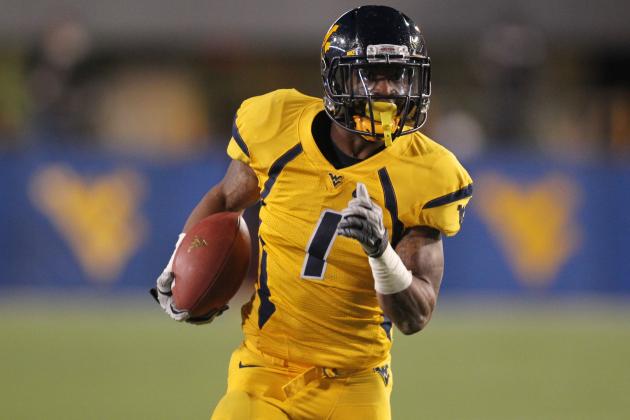 Charles LeClaire-USA TODAY Sports

Pro Days don't make or break an NFL draft prospect, but they're certainly a vital part of the process.
Guys look to improve their numbers from the Scouting Combine with head coaches, general managers and scouts on campus.
Let's take a comprehensive look at which colleges will hold their Pro Day this week and the must-watch prospects who'll participate.
Begin Slideshow

»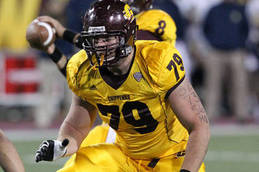 Courtesy: MLive.com
Central Michigan
Player to watch: OT Eric Fisher
Eric Fisher is one of, if not the top left tackle in the 2013 draft class. At 6'7'' and 303 pounds, this Chippewa product has a prototypical blindside protector frame as well as a coveted blend of power and agility to negate edge-rushers.
There's a distinct possibility he's the No. 1 overall pick, and if not, it'll be a shocking development if he falls out of the Top 10.
Penn State
Players to watch: OLB Gerald Hodges, DT Jordan Hill, LB Mike Mauti
The Nittany Lions don't boast any elite draft prospects this year, but that doesn't mean their Pro Day will go unwatched.
Gerald Hodges isn't the most fleet-footed outside linebacker, but he was consistently around the football in college and displayed decent range and comfort in coverage. Jordan Hill doesn't have an elite skill set on the interior of a defensive line, but his motor is non-stop, and he uses his smaller stature to push back bigger offensive linemen.
Mike Mauti epitomizes leadership at the inside linebacker spot and does everything well. Knee injuries will likely be the reason he drops in the draft.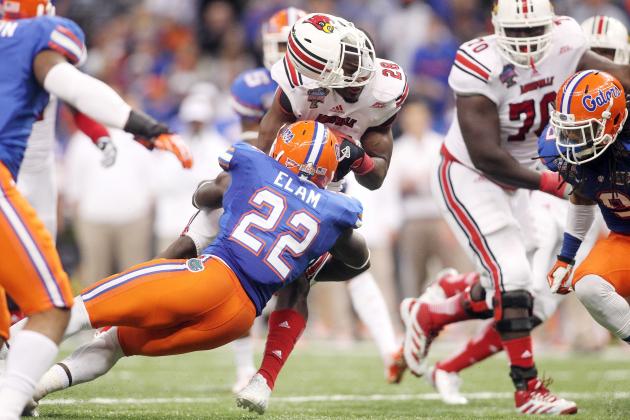 USA Today Sports

Florida
Players to watch: DT Sharrif Floyd, S Matt Elam, OLB Jelani Jenkins, ILB Jon Bostic, RB Mike Gillislee, OT Xavier Nixon
Sharrif Floyd has significantly benefited from Star Lotulelei's heart condition, and the 20-year-old penetrating defensive lineman who wreaked havoc in the SEC now is considered a top-5 pick. When he plays low, he's a true line of scrimmage disruptor who could flourish in a 4-3 alignment.
Matt Elam charges to the football and tackles with reckless abandon—he projects to be a run-stuffing strong safety at the next level and should be a good one at that. Jelani Jenkins has an injury history, but he plays fast on the perimeter of a defense, something that's needed with the abundance of spread attacks in today's NFL. Jon Bostic doesn't "wow" on tape, however, he showcased plenty of range from his inside linebacker spot in college.
Mike Gillislee is an ideal new-age runner who can pound between the tackles but is better when he can bounce it outside. Although he doesn't have blazing speed, his lateral quickness will entice many teams.
Xavier Nixon may be the most interesting Gators prospect. At 6'6'' and 321 pounds, his athleticism is stunning, and when he appears to dedicate himself, he can be downright dominant on the left side of an offensive line. If his inconsistencies can be cleaned up, he'll be a late-round pick who blossoms into an elite left tackle. Then again, he could be out of the league in a few years.
Kansas State
Players to watch: LB Arthur Brown, WR Chris Harper
Arthur Brown may not be a well-known name, but he's a favorite in the draftnik community. Displaying sound recognition skills, blistering speed and a seemingly innate ability to sift through traffic and avoid blocks, Brown is one of the most complete linebackers in the class. As an added plus, he's a fluid athlete who can run with tight ends and even slot receivers. A shoulder injury kept him from full participation at the Scouting Combine, but he's expected to work out at his Pro Day.
Chris Harper is a big-bodied wideout at 6'1'' and nearly 230 pounds, and he plays with an edge on the outside. Although he doesn't have tremendous speed or quickness, he can find a niche as a possession receiver in the NFL who occasionally busts a big play.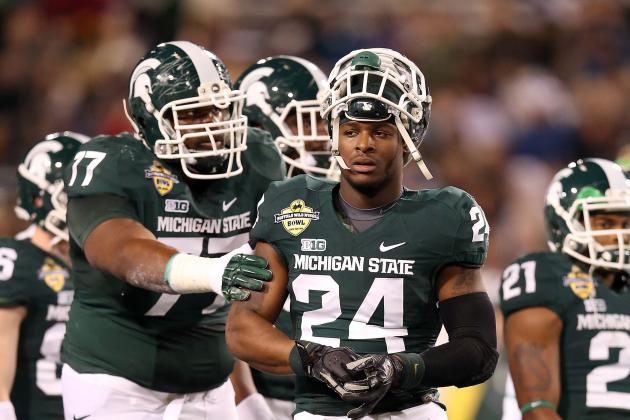 Christian Petersen/Getty Images

Alabama
Players to watch: G Chance Warmack, OT D.J. Fluker, CB Dee Milliner, DT Jesse Williams, LB Nico Johnson, C Barrett Jones*, RB Eddie Lacy*
Chance Warmack is arguably the most polished and certainly the most devastating guard prospect in this year's draft. He possesses a fine combination of immense size and unimaginable agility and should go in the top 20.
D.J. Fluker can be dominant as well, but occasionally has stretches of uninspiring play. He'll own a pass-rusher eight plays in a row, then get beat on two straight. At 6'5'' and 340 pounds, he's quite the imposing figure.
Dee Milliner has size (6'0'', 201 pounds), scintillating speed (4.37 in the 40-yard dash), and was a steady outside cornerback during his Alabama career. He could go as high as No. 2 overall to the Jacksonville Jaguars.
Jesse Williams isn't being placed in the elite defensive tackle prospect category, but he's an exceptionally strong, disruptive interior lineman. At 6'3'' and nearly 325 pounds with his never-tiring motor, Williams could find a home with a team in need of a space-eating nose tackle.
Nico Johnson will be drafted due to his collegiate pedigree, but he leaves a lot to be desired in the athleticism and playmaking departments. However, he's undeniably a fundamentally-sound inside linebacker who can be a spot starter early in his career.
Barrett Jones is a high-intelligence interior offensive lineman who doesn't boast tons of anchoring power, but his versatility will make him an asset in the NFL. He's only expected to bench at his Pro Day, as he recovers from a foot injury.
Eddie Lacy's stock inflated following a productive national title game in which he showcased power, vision and surprising cutting ability. A lingering hamstring injury will likely keep him off the field, however.
*injured
Cincinnati
Players to watch: TE Travis Kelce, OLB/DE Walter Stewart
Travis Kelce has been compared to New England Patriots tight end Rob Gronkowski due to his size (6'5'', 255), mauling nature as a run-blocker and natural ability as a pass catcher. He is far from a quick-twitch athlete, but he can box out smaller defenders in the red zone and make his presence felt down the seam. Although he only has one year of production to sell to NFL teams, he has a nice set of skills and upside.
Walter Stewart has a medical red flag (spine) that kept him from performing at the Scouting Combine. However, at 6'4'' and 246 pounds, he fits into that hybrid pass-rusher mold and his fluidity as an athlete will interest some teams.
Michigan State
Players to watch: RB Le'Veon Bell, CB Johnny Adams, TE Dion Sims, DL William Gholston
Le'Veon Bell is a bulldozing running back at 6'1'' and 230 pounds who enjoyed a highly productive career at Michigan State. What you see with Bell is what you get—a between-the-tackles power back who won't make defenders miss in the open field often but will frequently deliver the hit.
Johnny Adams didn't live up to expectations in 2012, but there's nothing that says he can't be a fine No. 2 corner as a professional.
William Gholston is an unfinished product oozing with athletic talent with a freakish body. At 6'6'' and 281 pounds, he stands out, but he won't be able to win solely employing bull rushes in the NFL.
Dion Sims, the 6'5'', 262-pound tight end, has potential as a chain-mover who's used primarily as a blocker at the next level.
Oklahoma
Players to watch: OT Lane Johnson, S Tony Jefferson, QB Landry Jones
Lane Johnson is a converted quarterback who was moved to tight end before making the final switch to offensive line. Not shockingly, he's an incredible athlete for his position yet he showed off deceptive power at the Senior Bowl. It is possible he goes in the top 10.
Tony Jefferson is in the Matt Elam mold—he's a hard-hitting strong safety with decent coverage abilities.
Landry Jones has unfortunately experienced a drastic drop in his draft stock, mainly due to accuracy and pocket awareness issues.
Rutgers
Players to watch: OLB Khaseem Greene, RB Jawan Jamison, CB Logan Ryan, WR Mark Harrison
Khaseem Greene is an exceptionally rangy outside linebacker who moved down from the safety position during his Rutgers career. He was active in all phases of the game and projects to the weakside linebacker spot in a 4-3.
Jawan Jamison isn't a supreme talent, but he stays low to the ground and actually does compare, in some ways, to Rutgers product Ray Rice.
Logan Ryan is close to 6'0'' and has an aggressive playing style. Mark Harrison is a sleeper prospect because he didn't have outstanding production in college, but he ran a 4.46 at the Scouting Combine at 6'3'' and 231 pounds.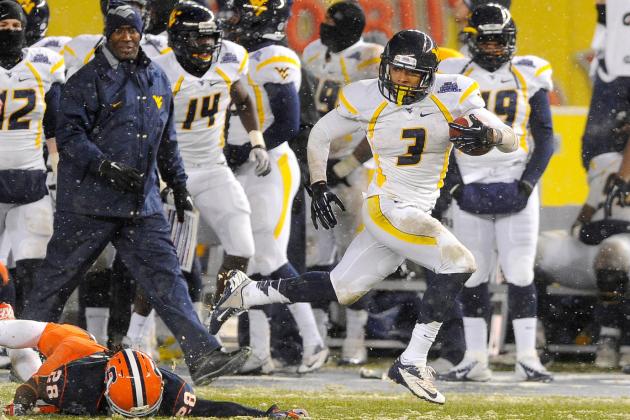 Rich Barnes-USA TODAY Sports

Michigan
Player to watch: ATH Denard Robinson
Denard Robinson is special in space, there's no denying that. However, his hands aren't soft and he will be a gadget player in the NFL. Using Robinson as a running back could be fascinating, as he's the same size as Chris Johnson of the Tennessee Titans.
Oregon
Players to watch: OLB/DE Dion Jordan, LB Kiko Alonso, RB Kenjon Barner, OT Kyle Long
Dion Jordan is easily the most versatile defender in the class, as he's a converted wide receiver. He measured in at 6'6'' and 248 pounds at the Scouting Combine and effortlessly moved through the on-field drills. As a pass-rushing outside linebacker who can drop into coverage with ease, Jordan's a special prospect.
Kiko Alonso is a playmaking linebacker who can line up on the inside in a 3-4 or the outside in a 4-3. Though somewhat underrated, he'll provide great depth to begin his career and could start as a rookie.
Kenjon Barner is well versed in the read-option, which should be of interest to some teams. He isn't a legitimate burner, but he has enough lateral quickness and running instincts to be a mid-round pick who starts as a third-down, change-of-pace back.
Kyle Long is the son of Hall of Famer Howie Long and brother of St. Louis Rams defensive end Chris Long. His road to Oregon was unconventional—a baseball prospect who was charged with DUI—Long is athletic at 6'6'' and 313 pounds but is raw in terms of fundamentals.
West Virginia
Players to watch: QB Geno Smith, WR Tavon Austin, WR Stedman Bailey
Geno Smith, to most, is the best quarterback in the class. He has a quick release, a strong arm, and decent mobility along with a history of making smart decisions from the pocket. With some coaching, he could be a top-tier quarterback in a few years.
Tavon Austin has Percy Harvin ability—he's a yards-after-the-catch marvel with an electric skill set. Stedman Bailey is bigger than Austin but not as explosive. Then again, he definitely make defenders miss in the open field and hit the big play.
Nelson Chenault-USA TODAY Sports

Arkansas
Players to watch: QB Tyler Wilson, WR Cobi Hamilton, RB Knile Davis, TE Chris Gragg
Some believe Tyler Wilson has the best NFL quarterback tools in the class. He experienced a disastrous senior season under John L. Smith, but the arm strength is there.
Cobi Hamilton isn't a stunning prospect, but he's decent after the catch and has good size at 6'2'' and 212 pounds.
Knile Davis blew up the Scouting Combine running a 4.37 in the 40 at 227 pounds. However, after injuring his ankle in 2011, he didn't display the same elusiveness in 2012 that made him such a productive back in 2010. Chris Gragg isn't a top-flight tight end prospect, but he could fit in an offense as an H-back like James Casey or Delanie Walker.
Oregon State
Players to watch: CB Jordan Poyer, WR Markus Wheaton
Jordan Poyer may not be a stellar athlete with great size, but he's scrappy and will happily play aggressive man-to-man on the outside.
Markus Wheaton has drawn comparisons to Mike Wallace—a 6'0'' burner who'll threaten secondaries over the top with immense speed.