NBA's Top Plays and Sickest Dunks from Week of March 4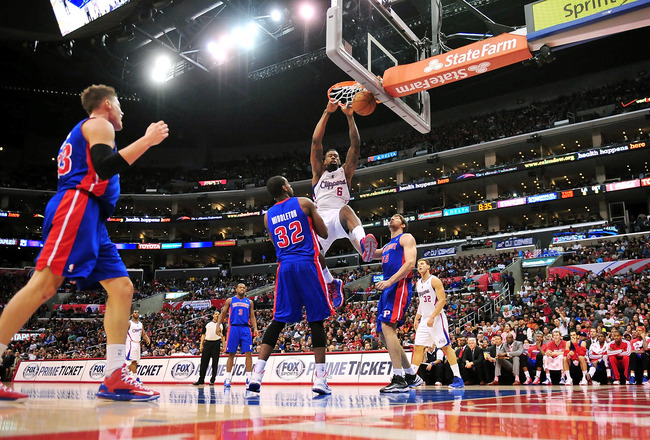 Gary A. Vasquez-USA TODAY Sports
The 2012-13 NBA season is slowly but surely reaching the endpoint, as more than three-fourths of the campaign is already in the rear-view.
Fortunately, there are still a few good weeks of hoops action left before the postseason, meaning there should be plenty of highlights each and every night to catch up on.
Let's take a look at the greatest plays and most awe-inspiring dunks from this past week, which include plenty of familiar faces—including a pair of Clippers slams that will leave you speechless.
Monta Ellis Spins Up Two Points
Play Info: Monday, Mar. 4. Utah Jazz vs. Milwaukee Bucks
Monta Ellis is one of the more exciting players in the league and it's most likely because he takes the kind of risks that drive coaches crazy.
The Bucks guard made a baseline drive look spectacular when he leaped, hung in the air, rotated his body and laid in one of the prettier reverses we've ever seen.
We're not sure coach Jim Boylan was happy about this maneuver, but it got the job done and looked awesome.
Serge Ibaka Shuts Down Dwight Howard's Dunk
Play Info: Tuesday, Mar. 5. Los Angeles Lakers Oklahoma City Thunder

Serge Ibaka averages 2.93 blocks per game, an outstanding number that puts him in elite company near the very top of the league.
If you are ever wondering how he gets to such high numbers, check out the 34-second clip above. The Thunder big man destroyed a dunk attempt by Dwight Howard, recovered and stopped Earl Clark's shot immediately after.
Jeff Green's Backdoor Game-Winner
Play Info: Wednesday, Mar. 6. Boston Celtics vs. Indiana Pacers

Say what you will about the Celtics without Rajon Rondo, but they undeniably have heart.
That was certainly evidenced when Kevin Garnett fed Jeff Green for an open layup right under the basket with the game tied and seconds left on the clock.
The Pacers clearly thought Paul Pierce was going to be the guy to get the ball, as they neglected to bring help after The Truth screened two defenders and left Green wide open for the game-winner.
Dwight Howard's Defense Caps Lakers Comeback
Play Info: Wednesday, Mar. 6. Los Angeles Lakers vs. New Orleans Hornets
The Lakers fought all the way back from 25 points down to win this game, 108-102, but needed to play hard with less than a minute to go to preserve the comeback.
Credit Dwight Howard for a monster block of Robin Lopez at the perfect time to seal this victory up and keep L.A.'s playoff hopes alive.
Dwyane Wade Blocks, LeBron James Drives to Win 16 Straight
Play Info: Wednesday, Mar. 6. Orlando Magic vs. Miami Heat

The Heat have extended their winning streak to 18 games, but nearly had it cut short after No. 15.
In a nail-biter last Wednesday, the Magic had a chance to take a commanding lead by being up a point with less than 30 seconds left on the game clock.
However, DeQuan Jones wasn't able to get a legitimate shot attempt up and was sent packing by Dwyane Wade, opening the door for LeBron James to play the role of hero with 10 seconds left.
The reigning MVP took DeQuan Jones (he had a tough night) off the dribble and carved his way to the cup, finishing a pretty left-handed lay-in to seal the contest.
Bismack "B-Smack" Biyombo Delivers the Business
Play Info: Wednesday, Mar. 6. Brooklyn Nets vs. Charlotte Bobcats

Bismack Biyombo may not be living up to the immense hype that surrounded him when he came off the board No. 7 overall in the 2011 draft, but he definitely flashed his talent last Wednesday.
"B-Smack" threw down two sick jams against the Nets, including a savage alley-oop in the first quarter and then a posterization of Reggie Evans less than a minute later.
If he could start doing this on a regular basis, the Bobcats would be much better off.
Alonzo Gee Swishes Long-Range Bomb
Play Info: Friday, Mar. 8. Memphis Grizzlies vs. Cleveland Cavaliers

Anytime anyone nails a shot from three-quarters the length of the floor, they are likely making the highlight list for the week.
Alonzo Gee is the latest to nail a 68-foot shot to earn three of the toughest points he'll probably ever get in his career.
Unfortunately, Cleveland wound up losing this one by 11—meaning the "Hail Mary" wasn't all that consequential in the grand scheme of things. Certainly looked cool though.
Kobe Bryant Goes Nuts to Steal Win from Raptors
Play Info: Friday, Mar. 8. Toronto Raptors vs. Los Angeles Lakers

The Black Mamba has been a weekly fixture in our list of top NBA highlights, which is why it's no surprise he's back on this list after going bananas from three-point land and sealing another L.A. comeback.
Kobe Bryant started the barrage with 1:43 left in the contest, nailing a contested trey to bring the Lakers within two points. His second long-range hit came with approximately 30 seconds remaining, shaking a defender for a corner three to bring his team within one.
The last shot was the most impressive; as the team ran an inbound play that everyone watching knew was going to Kobe. The Mamba slithered his way past three defenders, caught the pass, faked a potential shot-block, squared up and fired to tie the game with 5.5 seconds remaining.
As if that weren't enough, Bryant mustered up more energy in overtime and wound up getting the go-ahead bucket with 10 seconds left.
Kobe took on practically every defender the Raptors had, barged through the teeth of the defense and wound up with a slam dunk that would prove to be the nail in Toronto's coffin.
Jamal Crawford Tosses Blake Griffin Insane Alley-Oop
Play Info: Wednesday, Mar. 6. Milwaukee Bucks vs. Los Angeles Clippers
These next two dunks are both so spectacular in their own special way, which is why it was hard to decide which one to put atop the list this week.
We're slotting Jamal Crawford's flashy oop to Blake Griffin at No. 2, but only by a nose.
The Clips guard received a perfect outlet pass from Eric Bledsoe on the break, jumped towards the basket, put the ball between his legs and laid it up for the trailing dunk artist.
Griffin caught the rock and slammed home a windmill flush that whipped the home crowd into a frenzy.
This connection would have easily been No. 1, had it not been for his next Lob City throw down.
DeAndre Jordan Literally Destroys Brandon Knight
Play Info: Sunday, Mar. 10. Detroit Pistons vs. Los Angeles Clippers
This is the most savage dunk I have ever witnessed in my life.
Chris Paul started things off, driving towards the basket from the three-point line, when he spots an unguarded DeAndre Jordan streaking through the paint.
An instant later, CP3 lobs the orange through the air towards the big man, but it seems the play may be contested.
However, 6'3" Brandon Knight probably wasn't the best candidate to get in 6'11" Jordan's path, and he paid for it dearly.
The Detroit Pistons guard was instantly posterized and will soon be immortalized as another victim of the Lob City dunk connection. Knight had absolutely no chance of stopping Jordan from going right through him to finish the monster jam.
We have a feeling this one will easily be remembered as the best dunk of the 2012-13 campaign.
Keep Reading