English Premier League: Latest EPL Rumors, Preview and Predictions for Week 30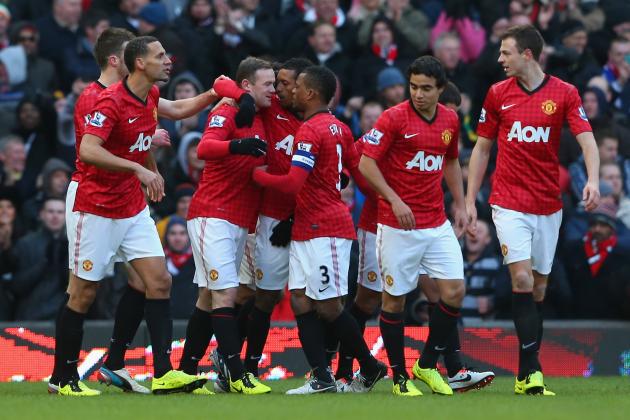 Alex Livesey/Getty Images

It was a forgettable week at Old Trafford. First, Manchester United were eliminated from the Champions League by Real Madrid. Then, the Premier League leaders let a 2-0 lead slip away in FA Cup play against Chelsea, forcing a replay.
While the results did nothing to impact the Red Devils' pursuit of the EPL title, it's fair to wonder if their disappointing form will open the door for a late charge by Manchester City. It's a long shot, but United definitely has to turn the tide back in their favor quickly.
Elsewhere around the league, following a partial week of play, Tottenham's hold on a top-three spot loosened due to a loss to Liverpool, and Aston Villa gave themselves some relegation breathing room with a victory over Reading.
A lot remains undecided, heading into the final few months of the season. Let's examine some of the latest news and rumors around the EPL, followed by a preview for the week's top match and predictions for every weekend clash.
Begin Slideshow

»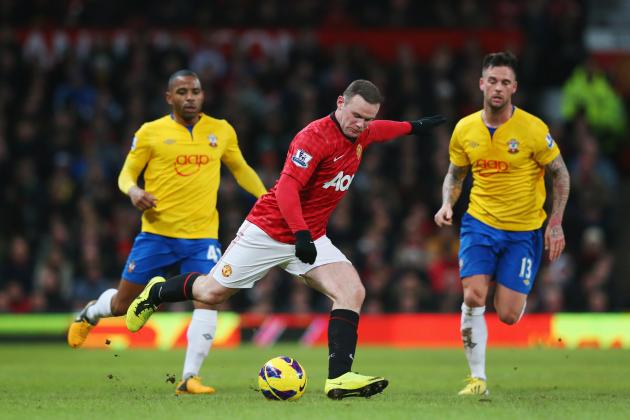 Alex Livesey/Getty Images

Wayne Rooney was left out of Manchester United's starting lineup against Real Madrid. Sir Alex Ferguson's surprising decision, and the subsequent defeat, led to plenty of speculation about the longtime Red Devils star's future with the club.
Graeme Yorke of the Daily Mail reports Bayern Munich would be interested in acquiring the forward. Pep Guardiola is believed to be the driving force behind the interest, making the German side a strong contender if Rooney becomes available.
It's going to take some time for the Rooney situation to start clearing up, perhaps not until the season ends. Should United show interest in listening to offers, Bayern would be a good fit and have the resources to make it work. It's still early, though.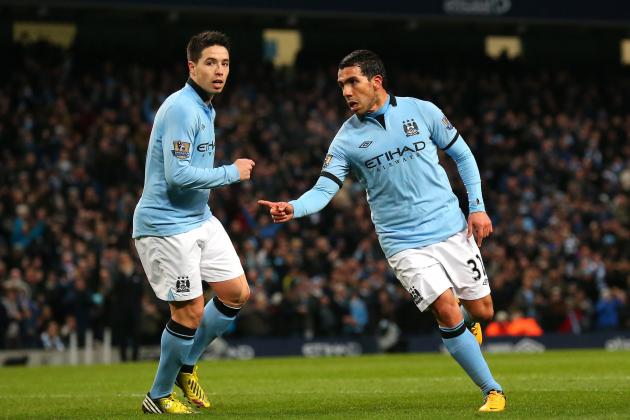 Alex Livesey/Getty Images

Carlos Tevez scored a hat-trick for Manchester City as the club cruised past Barnsley and into the FA Cup semifinals. It's been another productive campaign for the 29-year-old striker, who's tied for second on City with nine Premier League goals.
The continued strong performances have caught the eye of AS Monaco, who are plotting for their likely return to Ligue 1 next season, according to Dan Silver of the Daily Mirror. He reports the team is looking for a marquee move and Tevez would fit the bill.
City have depth up front, so they could move Tevez without suffering a major attacking hit, and it would help benefit other offseason moves. It makes sense in that respect, but a lot would depend on what other suitors the striker would have showing interest.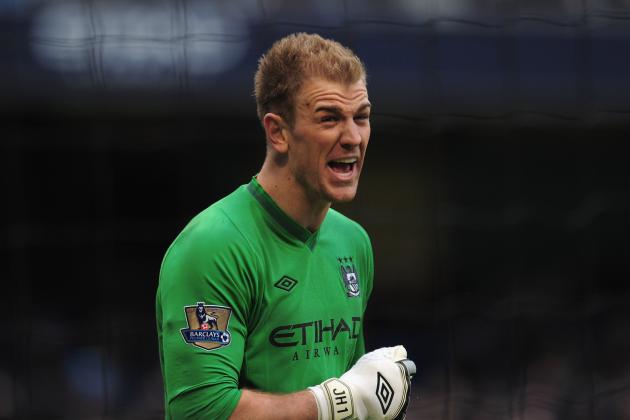 Shaun Botterill/Getty Images

Everton looked like a serious Champions League contender for the first half of the campaign, but their form has dropped off considerably as of late. It gives Manchester City a great chance to pick up a key road victory to keep the heat on their rivals atop the table.
The Toffees are coming off a lackluster showing against Wigan Athletic to get eliminated from the FA Cup. They have also lost to Norwich City and drew with Oldham Athletic over the past month. That type of performance won't be enough against City.
As for the defending champions, they are 12 points back with 10 matches to go. But there's still a clash with United on the horizon, which makes the deficit a little more manageable. They have absolutely no margin for error, however. City need all three points on Saturday.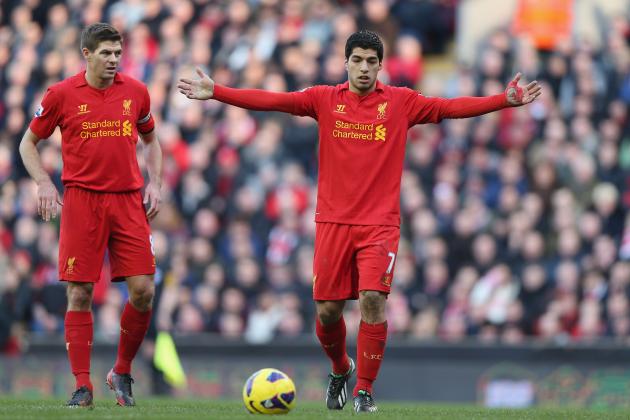 Clive Brunskill/Getty Images

Everton vs. Manchester City
Everton is letting a chance to qualify for Europe slip away. A win against City would help them turn things around, but it's hard to imagine the Toffees pulling it off. The match means too much for the champs, and they will earn the crucial victory.
Prediction: 2-1 Manchester City
Aston Villa vs. Queens Park Rangers
Villa moved one step closer to securing their spot in the Premier League by beating Reading. They can't avoid a setback against a QPR side that's finally been showing some life lately with victories over Southampton and Sunderland.
Prediction: 1-0 Aston Villa
Southampton vs. Liverpool
Luis Suarez leads the league in scoring with 22 goals, three more than Robin van Persie. His tremendous play has helped Liverpool dig out of an early hole and get back in contention for Europe. Expect another big game against a sliding Southampton squad.
Prediction: 3-1 Liverpool
Stoke City vs. West Bromwich Albion
Stoke City continue to play a strong defensive style, forcing opponents to work hard to create chances. Their lack of offensive ability has stopped them from making an even bigger impact, though. West Brom, led by Romelu Lukaku, should be able to earn a road point.
Prediction: 1-1
Swansea City vs. Arsenal
Arsenal are still hoping to earn a spot in the Champions League, and these are the type of matches they must win to keep pace—on the road against a club below them in the table. Swansea should put up a solid fight, but the Gunners should escape with all three points.
Prediction: 2-1 Arsenal
Manchester United vs. Reading
After a week, United fans would probably rather forget it's important for the Red Devils to take care of business in Premier League play. There's no reason this match should be close unless United play down to their competition.
Prediction: 3-0 Manchester United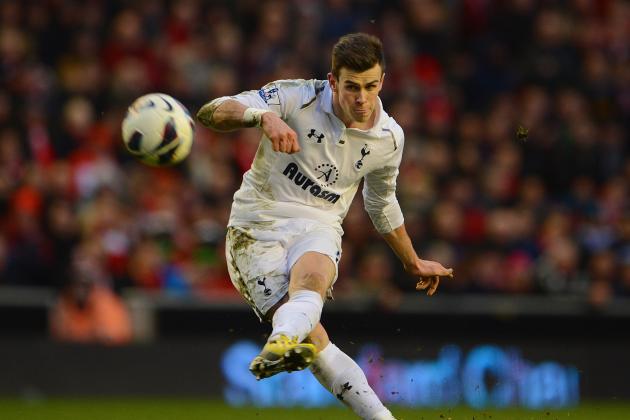 Michael Regan/Getty Images

Sunderland vs. Norwich City
Both of these clubs are in a position where they should avoid relegation, barring a total collapse. Expect a lot of conservative play from them in the coming weeks to make sure they don't enter an extended slide, making a draw the most likely result.
Prediction: 1-1
Tottenham Hotspur vs. Fulham
It's suddenly become a major story when Gareth Bale doesn't score. The in-form star didn't find the net against Liverpool, and the Spurs fell 3-2. He will probably get back on the score sheet in a victory over Fulham on Sunday.
Prediction: 2-1 Tottenham
Chelsea vs. West Ham United
Give credit to Chelsea for fighting back against Manchester United to stay alive in the FA Cup. If they can carry over their level of play from the second half of that match into this one, it should be an easy win for the Blues.
Prediction: 2-0 Chelsea
Wigan Athletic vs. Newcastle United
Wigan are into the FA Cup semifinals, which should provide a boost of confidence as they attempt to get out of the relegation zone. This should be a tightly played match throughout, and a point for each side would be unsurprising.
Prediction: 1-1