Expiring Contracts NBA Teams Can't Wait to Dump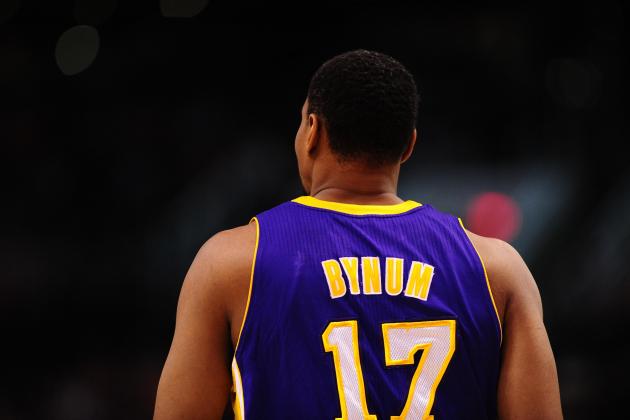 Mark J. Rebilas-USA TODAY Sports

You don't need to be an ancient mariner to recognize an albatross.
Even when it's in the form of a contract.
The following NBA players' salaries, like the large bird in the classic Samuel Taylor Coleridge poem, are choking their respective franchises, paralyzing them, stopping them from moving forward and, in some cases, even from being competitive.
These franchises cannot wait for April 17, the last day on the regular season. On that day, they can cast these players and their albatross contracts off their necks and out of their salary caps—and begin to create a brighter future for their teams and their fans.
Begin Slideshow

»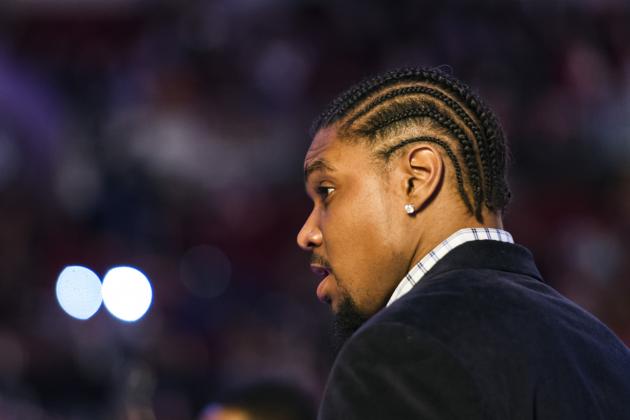 USA TODAY Sports

I begin with the most controversial expiring contract.
No one can argue that Bynum has been a colossal bust for the Philadelphia 76ers. After his phenomenal 2011-2012 campaign for the Lakers, the Sixers gave up the farm for him—and proceeded to buy the farm.
Instead of rebounding fiend Nikola Vucevic, defensive hound dog Andre Iguodala, the recent 10 straight double-digits-in-points streak of rookie Moe Harkness, and a first-round pick, the Sixers have bupkis.
Bynum has played in zero games, scored zero points and made zero difference. Unless you want to count what must have been a massive spike in Pepto-Bismol sales in the greater Philadelphia area.
Some wacko squad is going to give him a huge contract. But if there is justice in this world, it shouldn't be Philly.
My parents always taught me don't throw good money after bad. It's not the Sixers' fault the injury bug decided to strike Bynum yet again—this time with a vengeance. But it is their fault if they re-sign him.
Cut your losses, skulk back into the corner and regroup. If he succeeds with another squad, no one will blame management.
But if Bynum is re-signed and tanks again, Philly fans, not known for their decorum, will likely take a flame torch to the Wells Fargo Center.
The point is, if the Sixers aren't excited to be rid of Bynum, they ought to be.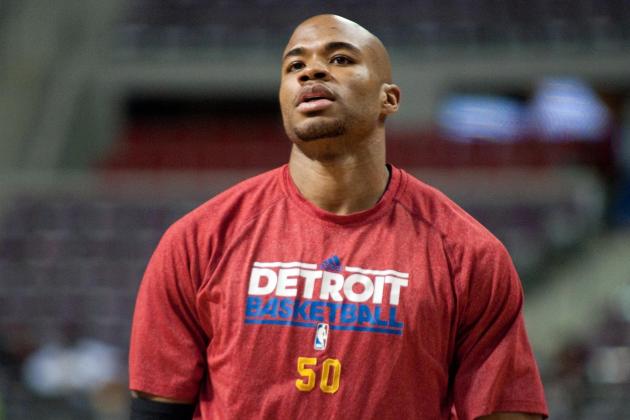 Tim Fuller-USA TODAY Sports

It seems like just yesterday that Maggette was pouring in points and powering the Los Angeles Clippers to their first playoff series win in over a decade.
But it was seven years ago. And seven years later, the oft-injured Maggette never even sees the court. He hasn't played for his current team, the Detroit Pistons, since Dec. 15—a night he scored six points in 16 minutes on 1-of-7 shooting.
Before his fall from grace, Maggette and his agent had the good sense—or the ruthlessness—to sucker the Golden State Warriors into a five-year, $48 million deal.
Those who crowed that the Charlotte Bobcats got the better of the deal which brought them Ben Gordon for Maggette's contract might change their tune at season's end. That's when Corey's massive $10.9 million salary comes off Detroit's books, while the 'Cats are still stuck with Gordon's undermining attitude, declining minutes and shooting percentage, and fat paycheck.
As for Maggette, he's letting all who will listen know he's ready and willing to come back to Detroit.
"Another option still is for me to be a veteran for these guys and come back here another year," he told the Detroit Free Press. "I like management here and I'm still able to help the young guys, that's been my MO with this season."
Sounds like a man who still enjoys receiving huge checks. Sorry, Corey, but if someone does sign you, they're gonna take a Maggette machete to your salary.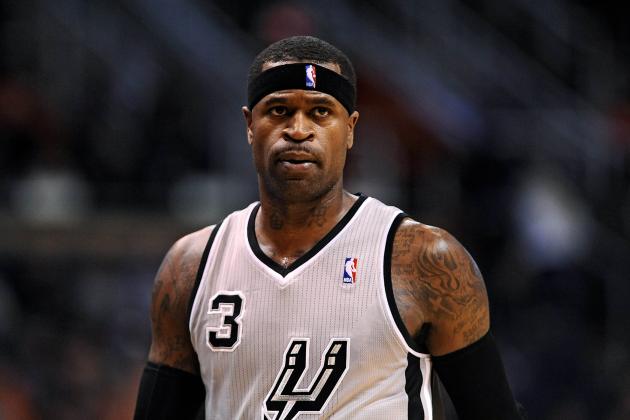 Jennifer Stewart-USA TODAY Sports

It's been a massively difficult year for Stephen Jackson. He and his wife lost what would have been the couple's first child as it was just entering its third trimester. I know that pain first-hand, and my heart goes out to them both.
His on-court pain pales by comparison. Jackson is averaging just 20 minutes for the San Antonio Spurs, with 6.3 points and 3 rebounds per game.
When Jackson joined the Spurs last season, coach Gregg Popovich told "Mandatory" Jackson his expected contract extension would not be forthcoming. It was another spot-on decision by the franchise that seems to own the patent on smart decisions.
If Jackson is not flexible in his salary expectations—and by flexible I mean double-jointed backbends—he'll probably be spending a lot more time with his wife after April 17.
And maybe that's just as it should be.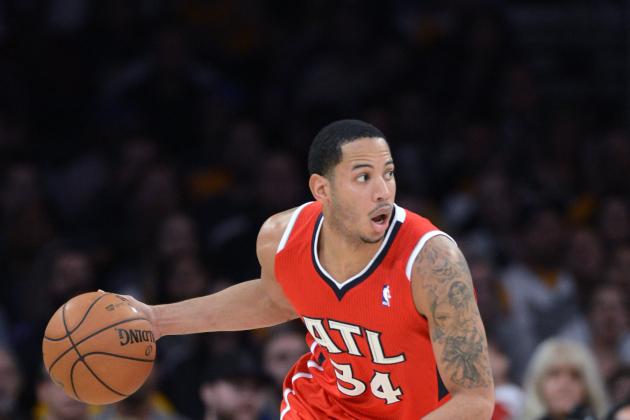 Richard Mackson-USA TODAY Sports

I admit, I had high hopes for Devin Harris after watching him help his Dallas Mavericks upend their mortal foes, the San Antonio Spurs, in the playoffs on their way to the NBA Finals.
Harris was as fast as he was adept at drawing fouls. I thought he would continue to emerge as a premier point guard once he was traded to the New Jersey Nets.
He did have one terrific season, in 2008-2009, but since then it's been a steady decline for the erstwhile All-Star.
Harris has had his share of injuries, but his decline in effectiveness seems to me to be independent of that. Perhaps his supporting cast that one shining season in New Jersey most fit his skill set.
One thing that was very effective was Harris' contract. For a guy averaging 9.1 points and a paltry 2.9 assists in 24 minutes, he's making far too much money.
I don't think the Atlanta Hawks are in a hurry to get rid of him. I just think they're awfully excited to get rid of his contract. If Harris stays in ATL, look for him to tighten his belt big-time.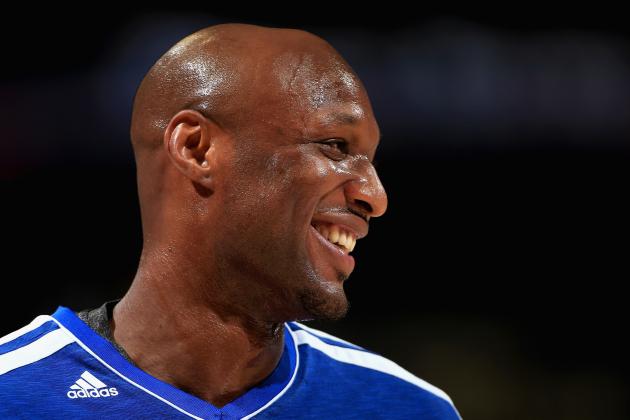 Doug Pensinger/Getty Images

Lamar is apparently a good husband: wife Khloe says, despite rumors to the contrary, the couple are still together and he makes her very happy.
Lamar is apparently a less-good dad: He fell asleep in court during custody hearings for his daughter and son from a previous relationship.
But in his most famous role, that of basketball player, the bottom has fallen out on Lamar Odom.
Remember when we all thought it was a mistake when the Los Angeles Lakers got rid of Odom? Two seasons later, the former burgeoning superstar gets on the court just 20 minutes per game for his new team, the Los Angeles Clippers, averaging a paltry 4.1 points and 5.8 rebounds.
Some lunatic franchise will likely argue that this is a down year for Odom, and offer him another chance at redemption.
But after the inevitable pay cut he'll take, Khloe just might have to find a real job.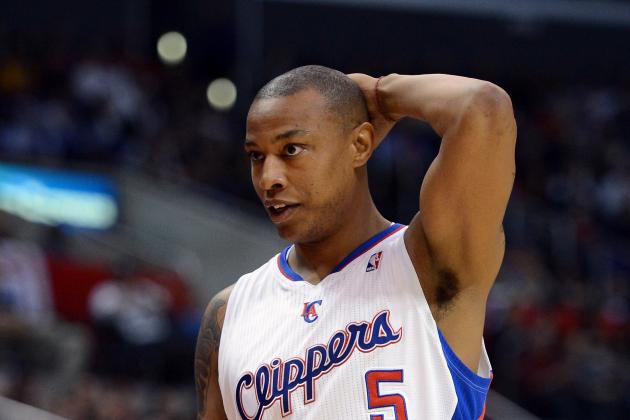 Harry How/Getty Images

Butler is tricky, because his per-36-minute averages are actually still pretty decent. But he only plays 24 minutes a game. Is a guy like that worth $8 million a year?
I think franchises hear Butler's name and still think he's an elite player. He remains a fairly efficient and effective one, but I can't see the Clippers re-signing him for anywhere near that price. And I think Butler thinks he can still command a similar salary on the open market.
We'll see if some franchise is desperate enough to pay his agent what he asks. Methinks it ain't gonna happen.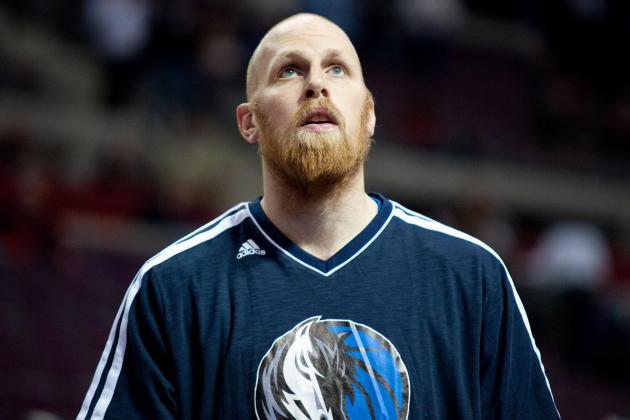 Tim Fuller-USA TODAY Sports

I admit to having a soft spot in my heart for Kaman. Not just because he was a star in my home state of Michigan. Kaman seems to me a throwback to lovable big lunks like Mark Eaton and Greg Ostertag—with one big difference: He could truly play ball on both sides of the court.
His 2007-2008 season, abbreviated as it was, seemed to foretell that his years toiling for the then-lowly Los Angeles Clippers had not been in vain. But Kaman only had one more really big year in LA before he was dealt to the New Orleans Hornets in the Chris Paul deal.
Kaman signed with Dallas for one year. Per 36 minutes, his season has actually been a good one: 18.5 points, 9.5 rebounds. Problem is, he isn't playing near 36 minutes per game. He averages a scant 22 while splitting minutes with Elton Brand and sometimes Bernard James.
Further, he's missed games with a concussion and assorted other injuries.
Kaman can still play in this league. The question is how much.
Look for a team who needs a big man to give him a chance to start again and a two-year contract—but at considerably less than $8 million.
Tyler Kaufman-USA TODAY Sports

Leave it to the Sacramento Kings to be on this list for giving a five-year, big-dollar contract to a guy most of us have never heard of.
Udrih parlayed his time as a stopgap replacement for Kings point guard Mike Bibby into his big contract. And truth be told, he had some good seasons for the Kings.
But his starting days were over the minute he was traded to Milwaukee.
This season in Orlando, Udrih actually has a gaudy per-36-minute assist number, averaging 10.1 for the Magic. That's much better than the guy he plays behind, Jameer Nelson.
Here's the rub, though: Udrih's made just nine appearances this season. It's not enough for anyone to draw any conclusions about him.
He'll land somewhere in the league if the price is right. As of now, the price is definitely not right.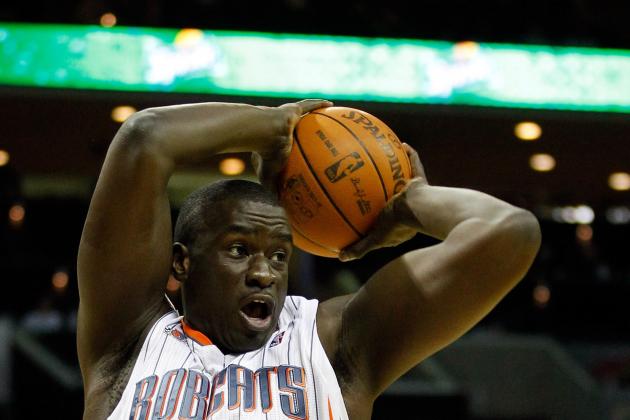 Streeter Lecka/Getty Images

In the summer of 2008, Dallas Mavericks owner Mark Cuban apparently saw enough in Diop's 17.2 minutes per game to greenlight a five-year, $32-million contract for the guy.
At the time, Diop, who didn't play basketball in his native Senegal until 15 years of age, and who never played college ball, was averaging 6.4 points, 10.9 rebounds and 2.5 blocks per 36 minutes...but playing only 17.2 minutes per game.
Since then, his minutes have only dropped, as has his production.
Diop, who makes Ben Wallace look like Bernard King, is playing just 10 minutes and averaging less than one point per game. You read that right. Point-seven points per game, to go with 2.3 rebounds and .7 blocks.
He's a seven-footer, so some NBA team will undoubtedly still consider him a project—after 11 years in the league.
But it will be at a deep discount.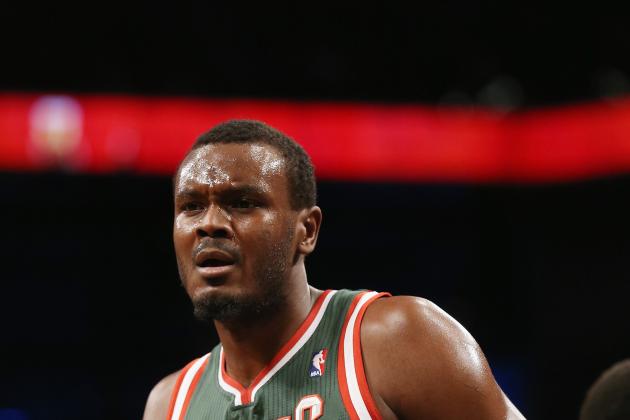 Bruce Bennett/Getty Images

About Dalembert, I am simply going to say this: He's like Lucy holding that football.
An athletic shot-blocker, Dalembert has continually fooled us with his potential. He fooled the Sixers for years.
The Milwaukee Bucks can't wait to get rid of him, and some team unquestionably will, like Charlie Brown, run at that football again.
So about this time next year—or the year after if that hapless-franchise-to-be gives Dalembert a two-year deal—expect us to be having the same conversation about the same guy.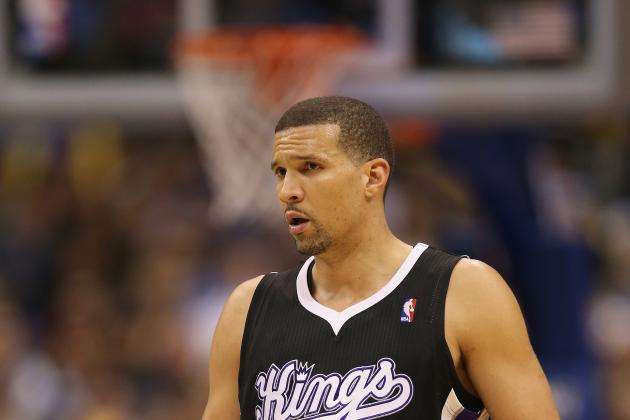 The Houston Rockets have a club option on Francisco Garcia's contract.
You can bet your left you-know-what they won't be exercising it.
The Sacramento Kings struck again in 2008, giving Garcia, who had averaged 26 minutes for them the previous year, a four-year, $23 million extension.
After one more solid year, Garcia broke his arm early in 2009 and played just nine games for the Kings. That season, he averaged 23 minutes per game. The next three seasons, he averaged 23, 16 and 17 minutes before the Kings, in their infinitely inscrutable lack of wisdom, traded his expiring contract to the Rockets.
Score another one for Daryl Morey.
On a team with Jeremy Lin, impressive unknown Patrick Beverley and Aaron Brooks, the chances of Garcia coming back to the Rockets are none and none.
The chances of him staying in the league may not be much higher.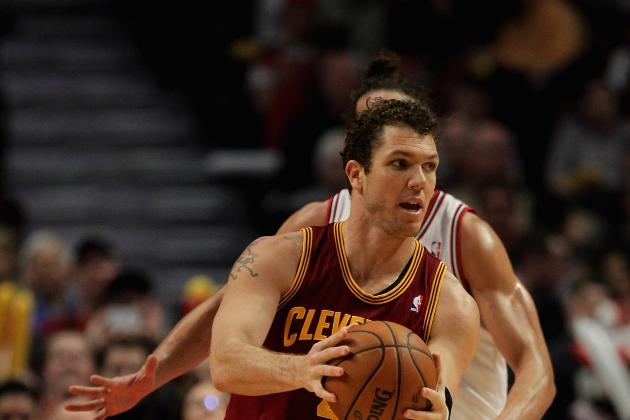 Jonathan Daniel/Getty Images

But Luke, he was your father...
It is safe to say Bill will remain the best NBA player in the Walton family. But it is also safe to say son Luke made the most of his limited NBA potential. The most money, that is.
Walton exceeded expectations in his 2006-2007 campaign for the Los Angeles Lakers. The team was impressed enough to give him a six-year contract, thinking he had upside.
In reality, all Walton had was downside. Luke inexorably descended from that point to his current status on the NBA scrap heap. In just 38 games and 16 minutes per contest on the court in Cleveland, Bill's son can only manage to score 3.2 points and grab 2.8 rebounds.
Hopefully you have your father's gift for gab, Luke. Because you'll be hanging up your sneakers after this season.