Cleveland Browns 2013 NFL Draft Big Board: Real Time Updates and Analysis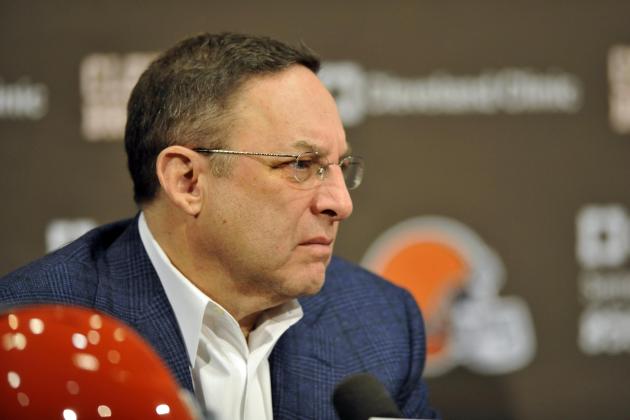 David Richard-USA TODAY Sports

Without a second-round pick, the Cleveland Browns' NFL draft board is going to be different from many other teams in the league.
Trading up, down and any which way remain potential options for the team, but as of now they have a hole at the top of their big board.
In the following slideshow we're going to break down who will likely be atop the team's overall big board as well as its ranking of each positional unit.
This will change daily, though, so make sure to keep coming back as pro days happen and more becomes known about the team's draft intentions.
Free agency may also alter some of the team's draft ambitions, as they may fill needs through that route rather than through the draft.
Begin Slideshow

»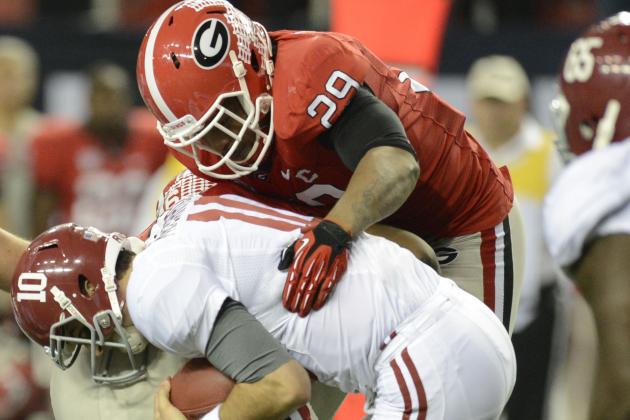 USA TODAY Sports

The Cleveland Browns' overall big board is a list that breaks down the team's ten top-rated players in the entire draft.
This board will be completely fluid until draft day. Even then, it may change as the top five picks may change things tremendously for the Browns' war room.
1. Dee Milliner, CB, Alabama (Top 10)
Cornerback is a key concern for the Browns this offseason. Former Alabama DB Dee Milliner is the best cover corner in this draft and would provide the Browns would a formidable tandem on the corners.
2. Sharrif Floyd, DT, Florida (Top 10)
Sharrif Floyd is rapidly rising during pre-draft events, but for different reasons than what the Browns are interested in. He has the size and athletic ability that could help him transition to an imposing 3-4 defensive end at the next level.
3. Jarvis Jones, OLB, Georgia (Top 15)
Medical concerns are the only reasons Jarvis Jones is not No. 1 on many teams' draft boards this season. Cleveland would be wise to do its own investigating and have Jones checked out prior to draft day. If they take the gamble, they will be getting one of the best players in the draft.
4. Dion Jordan, OLB, Oregon (Top 15)
Dion Jordan is an athletic freak at 6'6" and 243 pounds. He wowed us all at the NFL Scouting Combine but left some question marks after announcing he would undergo surgery to repair a torn labrum.
Someone is going to take a chance on him. Will it be Cleveland?
5. Ezekiel Ansah, OLB, BYU (Top 15)
At 6'5" and 271 pounds, Ezekiel Ansah might not immediately fit in the Cleveland Browns' new defense. But, I'm sure they would be willing to make an exception in order to add the dominating pass-rusher to the fold. Ansah will be a matchup problem for most teams he faces if his massive but raw athletic ability can be harnessed by his new team.
6. Barkevious Mingo, OLB, LSU (Top 20)
Barkevious Mingo is right behind his peers as one of the best options available in this class at the pass-rusher position. The problem for Cleveland is that, while he is an interesting prospect at outside linebacker in their new 3-4 scheme, Mingo wants to play defensive end at the next level (h/t CBS Sports' Larry Hartstein).
7. Chance Warmack, OG, Alabama (Top 20)
Adding another hog to the already solid group of offensive linemen isn't a bad idea for Cleveland. The team definitely needs help at the right guard position, making Chance Warmack an intriguing option.
Is taking an interior lineman this high worth it, though?
8. Geno Smith, QB, West Virginia (Top 10)
Geno Smith isn't going to the Kansas City Chiefs. That's about all we know about the debated top quarterback in this draft class. Cleveland missed out on Robert Griffin III last season, but that was a different regime with a different plan.
If Joe Banner likes Smith he could surprise a lot of people by taking a gamble on him at No. 6 (or at least pretend he will in order to trade out of the pick).
9. Xavier Rhodes, CB, Florida State (Top 15)
Big, physical and quick cornerbacks are becoming the norm as wide receivers and tight ends get even bigger and faster. If cornerback is the route the Browns go, and Dee Milliner is off of the board, don't be surprised if Xavier Rhodes makes a monumental leap into the top 10.
10. Jonathan Cooper, OG, North Carolina (Top 20)
Jonathan Cooper is the next best thing when it comes to interior linemen in this draft. If Cleveland trades down, you have to imagine they would consider bolstering their offensive line with someone like Cooper if Warmack and some of their other targets are off of the board already.
11. Kenny Vaccaro, S, Texas (Top 20)
Safety is a concern for Cleveland, but not the most pressing of the bunch. Still, the impact of a ball-hawking safety playing centerfield for the defense cannot be understated. Texas' Kenny Vaccaro will be a baller at the next level and will get some consideration from Cleveland in a trade-down scenario.
12. Sheldon Richardson, DT/DE, Missouri (Top 20)
Former Missouri DT Sheldon Richardson has the tools to be a disruptive 3-4 defensive end. He can shoot gaps, beat blockers one on one and stuff running backs in the backfield.
His athleticism will help in that transition, but he doesn't have the measurables (arm length and height) that teams typically look for at the position.
13. Datone Jones, DE, UCLA (Round 1 to 2)
Former UCLA defensive end Datone Jones is an interesting option for the Browns at the 3-4 defensive end position. A trade-down scenario, garnering a late-first or second-round pick would position the team to selective the 6'4", 280-pound defensive end.
14. Alec Ogeltree, LB, Georgia (Round 1 to 2)
Off-the-field problems aside, former Georgia linebacker Alec Ogeltree is the type of physical presence the Browns could utilize at any linebacking position in its new 3-4 defense.
15. Tyler Eifert, TE, Notre Dame (Round 1 to 2)
Adding an impact tight end this offseason is likely one of the top priorities of this new regime. Tyler Eifert is the best pass-catcher in this tight end class, making him a logical target for Rob Chudzinski and Norv Turner as they construct their new offense.
Rob Kinnan-USA TODAY Sports

The Cleveland Browns probably won't be looking to upgrade its running back corps via the 2013 NFL draft. However, they have undoubtedly done their due diligence on this class and could be looking at several options in order to provide a quick-strike complement to Trent Richardson.
Here's their big board for the running back position according to their needs:
1. Giovani Bernard, North Carolina (Round 2)
2. Tavon Austin, West Virginia (Round 1 to 2)
3. Johnathan Franklin, UCLA (Round 2 to 3)
4. Mike Gillislee, Florida (Round 4)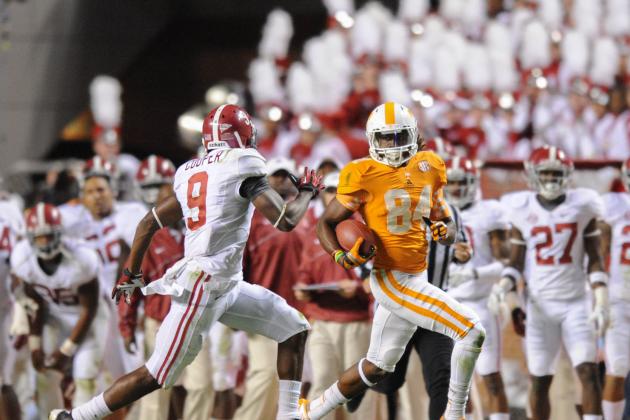 Randy Sartin-USA TODAY Sports

The Cleveland Browns certainly are in position to draft a big-play wide receiver during the 2013 NFL draft.
But, will they?
After adding receivers in the second round of the past two drafts (one through the supplemental draft), it is unlikely the team will go in that direction this season. That's especially true because the Browns don't have a second-round pick after spending theirs on wide receiver Josh Gordon during the 2012 supplemental draft.
The best chance for Cleveland to draft a wide receiver early in April would be if a trade-down scenario garnered it another pick. If that happens, it would more than likely target a big, physical receiver who can stretch the field.
Let's take a look at what their big board likely looks like, in that scenario:
1. Cordarrelle Patterson, Tennessee (Round 1)
2. Terrance Williams, Baylor (Round 1 to 2)
3. Justin Hunter, Tennessee (Round 1 to 2)
4. Tavon Austin, West Virginia (Round 1 to 2)
5. Keenan Allen, California (Round 1 to 2)
6. Aaron Dobson, Marshall (Round 2 to 3)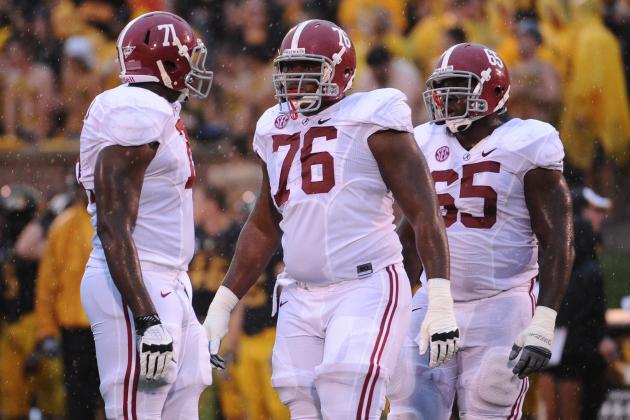 Dak Dillon-USA TODAY Sports

It's hard to imagine the Cleveland Browns selecting another offensive tackle in the early rounds of the 2013 NFL draft. That move would make close to no sense with Joe Thomas already locking down the left side and Mitchell Schwartz coming off of a solid rookie season.
With that in mind, we'll narrow down the offensive linemen rankings to guards whom the Browns may target with their first pick or in a trade-down scenario.
1. Chance Warmack (Round 1)
2. Jonathan Cooper (Round 1)
3. Justin Pugh (Round 1 to 2)
4. Larry Warford (Round 2 to 3)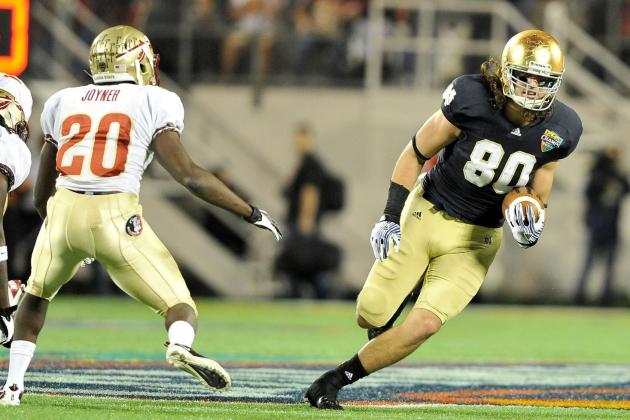 Brad Barr-USA TODAY Sports

Benjamin Watson has already said his goodbyes to Cleveland Browns fans (via Twitter), making tight end an immediate need for the team.
Cleveland may examine options in free agency but will ultimately be tasked with finding another young tight end to pair with Jordan Cameron and whoever is signed.
Let's take a look at which tight ends the team may target, if any, by breaking down the team's possible big board ranking of the position:
1. Tyler Eifert, Notre Dame (Round 1)
2. Vance McDonald, Rice (Round 1 to 2)
3. Zach Ertz, Stanford (Round 1 to 2)
Justin K. Aller/Getty Images

So much for a vote of confidence in current Cleveland Browns quarterbacks. The new regime has yet to commit to either Colt McCoy or Brandon Weeden as the QB with whom the team will move forward.
While drafting another quarterback in the first round may not seem ideal, there are some other options in a class that is void of any real superstars at the position.
Here's what a Browns' QB board could potentially look like:
1. Geno Smith, West Virginia (Round 1)
2. Tyler Wilson, Arkansas (Round 1 to 2)
3. Mike Glennon, North Carolina State (Round 1 to 2)
4. Tyler Bray, Tennessee (Round 2 to 3)
5. E.J. Manuel, Florida State (Round 2 to 3)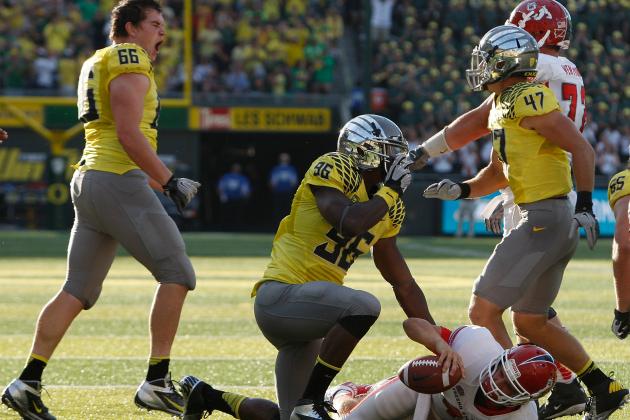 Kevin Casey/Getty Images

The Cleveland Browns improved their pass rush in 2012. With new defensive coordinator Ray Horton coming aboard, they look to make waves in that department.
Getting to the quarterback and disrupting slow-developing plays is a critical ability for a defense in order for it to succeed. An elite pass-rusher can change the entire game plan for opposing offenses. That means teams will have to focus their attention on that one pass-rusher, which ultimately allows other players on the defense to shine.
Let's take a look at whom the Browns likely have rated atop their draft board of this crucial grouping:
1. Jarvis Jones, Georgia (Round 1)
2. Dion Jordan, Oregon (Round 1)
3. Ezekiel Ansah, BYU (Round 1)
4. Barkevious Mingo, LSU (Round 1)
5. Datone Jones, UCLA (Round 1 to 2)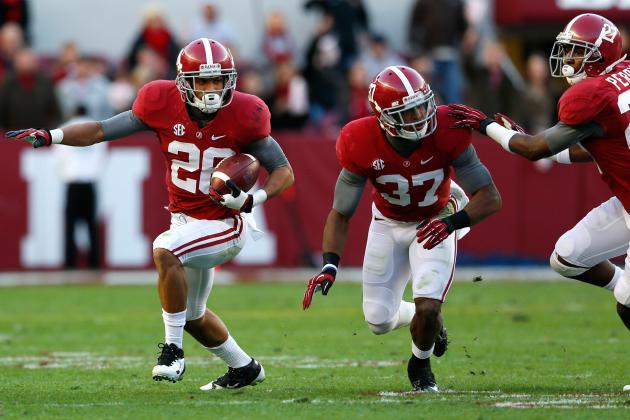 Kevin C. Cox/Getty Images

Sheldon Brown is hitting free agency, and the Cleveland Browns have no one on their roster to step in and fill the void. Joe Haden has proven to be a top-tier talent, but one adequate cornerback isn't enough in today's pass-happy NFL.
Drafting multiple cornerbacks makes sense for the Browns, especially after the cut Dimitri Patterson and will presumably allow the aging Brown to walk in free agency.
Here's the Browns' probable big board for cornerbacks:
1. Dee Milliner, Alabama (Round 1)
2. Xavier Rhodes, Florida State (Round 1)
3. Desmond Trufant, Washington (Round 1 to 2)
4. Johnthan Banks, Mississippi State (Round 1)
5. David Amerson, North Carolina State (Round 2)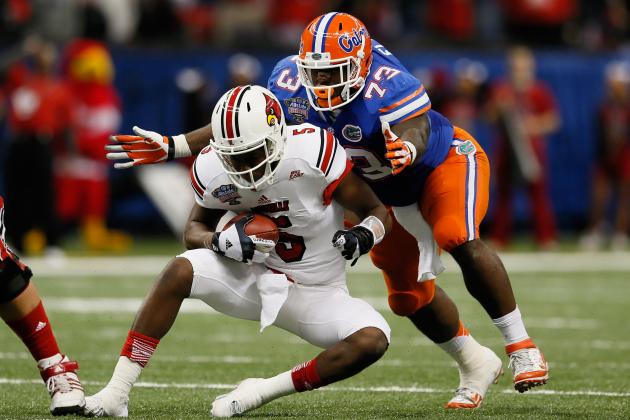 Kevin C. Cox/Getty Images

The Cleveland Browns will need to address defensive end at some point this offseason. Transitioning to a primarily 3-4 base defense will require the team to utilize bigger defensive ends. Second-year man Billy Winn (6'4", 294 pounds) fits the bill as a potential filler at the spot.
But who else is going to be able to make the switch? Looking at the roster, there aren't many others who have the skill set necessary to play defensive end in the 3-4.
Let's take a look at the potential options for the Browns by listing their possible big board of players who could perform in that role:
1. Sharrif Floyd, Florida (Round 1)
2. Sheldon Richardston, Missouri (Round 1)
3. Kawann Short, Purdue (Round 1 to 2)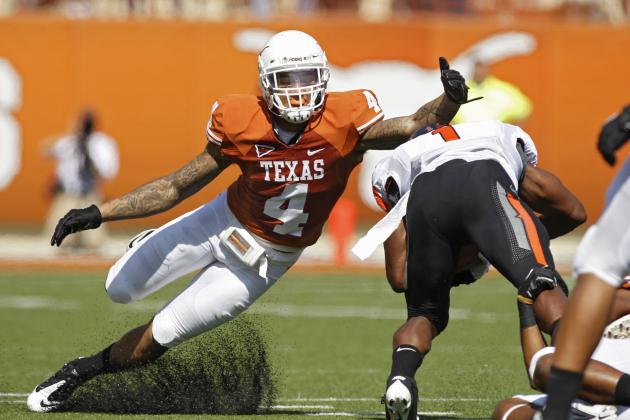 Erich Schlegel/Getty Images

The Cleveland Browns have their strong safety in T.J. Ward, or do they? Ward has been injured frequently during his two seasons in the NFL, rewarding doubters who criticized his selection in 2010 following a college career marred with multiple injuries.
Any trade-down scenario would have to put the safety position heavily in consideration for selection. While the Browns have several young players at the position, none have emerged as clear-cut starters moving forward.
Here's a big board for Cleveland at the safety position:
1. Kenny Vaccaro, Texas (Round 1)
2. Eric Reid, LSU (Round 1 to 2)
3. Matt Elam, Florida (Round 1 to 2)
4. Jonathan Cyprien, Florida International (Round 2)
5. Bacarri Rambo, Georgia (Round 3)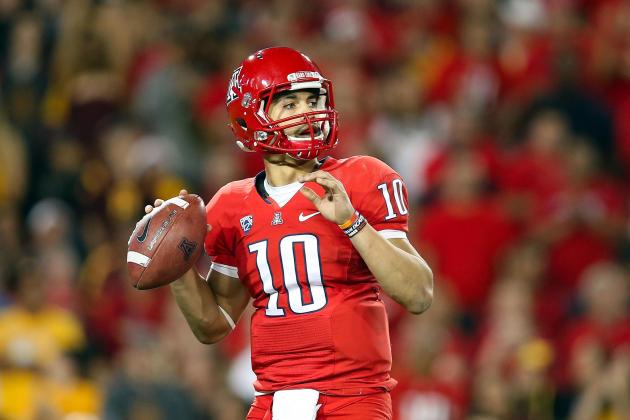 Christian Petersen/Getty Images

Late-round sleepers have panned out well for the Cleveland Browns in recent seasons. That trend, though, was the doing of departed general manager Tom Heckert.
Finding gems in the mid-to-late rounds is a sign of an organization doing its due diligence and digging beneath the surface to find talent where others saw little.
Here's a list of five of potential sleepers for the Browns to take a look at in April:
1. Matt Scott, QB, Arizona (Round 5)
Matt Scott was off of the charts at the NFL Scouting Combine, running a 4.69 40-yard dash, setting a 20-yard shuffle record at 3.99 seconds and recording the best three-cone drill time at 6.69 seconds. He's an agile, elusive and accurate passer who is an intriguing mid-round option for any team in need of QB help.
2. Cornelius Washington, DE/OLB, Georgia (Round 5)
Cornelius Washington was largely overshadowed by Jarvis Jones at Georgia, but that doesn't mean he doesn't have the potential to make waves in the NFL. At 6'4", 265 pounds, Washington was a defensive end in Georgia's 3-4 defense. If Cleveland wanted, it could attempt to convert him to outside linebacker, where he has played in the past.
3. Chris Gragg, TE, Arkansas (Round 5 to 6)
If the Browns are looking for an athletic and potentially explosive tight end, look no further than former Arkansas pass-catcher Chris Gragg. His quick 40-yard dash time (4.5) and 37.5-inch vertical leap showcased his athletic ability.
4. Sanders Commings, CB, Georgia (Round 5 to 6)
Sanders Commings is yet another Georgia Bulldog who is deserving of mid-to-late round consideration by the Browns. He has prototypical cornerback size (6'0", 216 pounds) and excellent speed (4.41 40-yard dash at the combine).
Commings missed two games in 2012 due to a suspension following a domestic violence charge stemming from the previous year.
5. Wes Horton, DE/OLB, USC (Round 7 or UDFA)
Former USC defensive end Wes Horton is an interesting late-round prospect.
While he never lived up to expectations, he does have the solid and potentially explosive build necessary for an outside linebacker in a 3-4 defense. His big, 6'5" frame and long arms give him something no one can teach. After a year on the practice squad and working with NFL conditioning and coaching, he could end up being a solid contributor.