One Potential Free Agent That Each NHL Team Should Consider Trading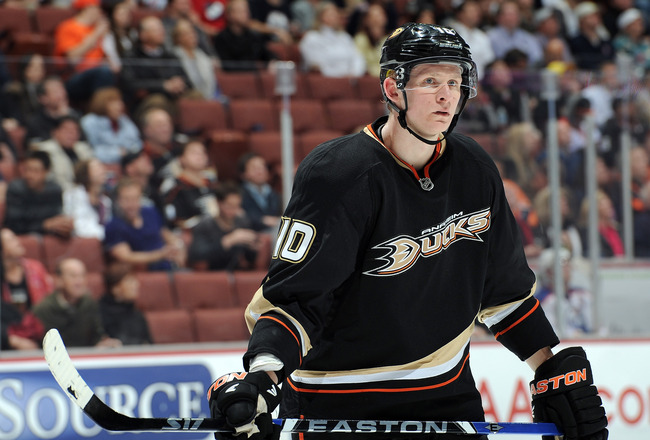 Harry How/Getty Images
The NHL trade deadline is almost here and there are tons of potential UFAs that could be traded soon.
For every situation like Ryan Getzlaf deciding to sign an extension before the season is over, there are examples of players like Zach Parise not negotiating a new contract and then leaving via free agency.
Teams don't like to trade top players, but it is better to get some value back rather than none so here is one free agent that each team should consider trading.
Anaheim Ducks: Corey Perry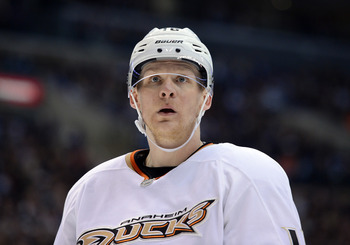 Harry How/Getty Images
The Anaheim Ducks should consider trading Corey Perry because he is a future-UFA that could earn at least $9.0 million a year on the open market.
Perry is a talented scorer and sniper, but if the Ducks don't want to add another hefty contract to their salary cap they could deal him for a nice return that address a plethora of needs.
Numerous rumors suggest that the Ducks will deal Perry, and it could be a move that allows them to add a few pieces to their overall depth.
Boston Bruins: Nathan Horton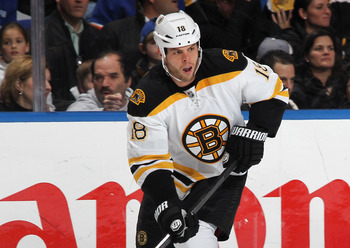 Bruce Bennett/Getty Images
Nathan Horton is a upcoming UFA who could carry a lot of value at the trade deadline.
Many teams would love to add to a player of Horton's caliber and if the Bruins decide to pursue a player like Corey Perry in free agency they will need all the cap space they can get.
Horton has considerable value and it should be noted that he is due for a raise.
Buffalo Sabres: Robin Regehr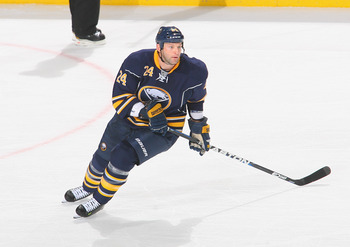 Rick Stewart/Getty Images
The Buffalo Sabres could stand to make some upgrades to their roster, and by trading veteran defender Robin Regehr to a team needing a defenseman they could clear some cap space and a roster spot.
With the Sabres needing to make some upgrades on their blue line, trading some current pieces may be the right way to start a rebuild.
Calgary Flames: Jarome Iginla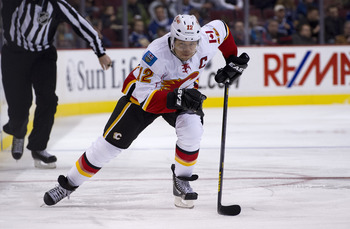 Rich Lam/Getty Images
This is an obvious one because all indications are that Jarome Iginla could be moving on from the team he has called home for close to two decades.
Both sides are not working on a contract extension and with the Flames not in a position to make the playoffs they could really kick start their rebuild by dealing Iginla.
Carolina Hurricanes: Joe Corvo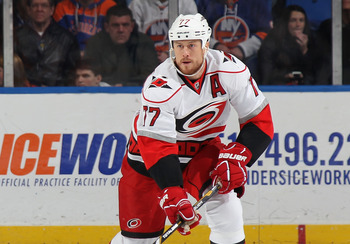 Bruce Bennett/Getty Images
Joe Corvo is a veteran defender for the Carolina Hurricanes and he is a player that could be in demand at the deadline. He has a solid year to date, but Carolina could cash in by trading him to a desperate team.
Corvo could become expendable and he could fetch a nice return from a team that needs a bottom-pairing defender.
Chicago Blackhawks: Michal Rozsival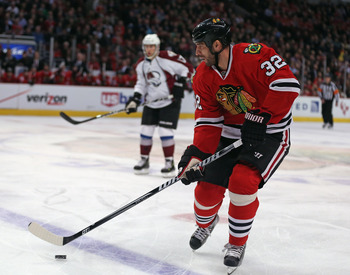 Jonathan Daniel/Getty Images
Michal Rozsival signed a one-year-deal with the Chicago Blackhawks before the start of the season, and odds are that he won't be back next season.
He is a veteran defender and he is the type of player that could be dealt for a draft pick at the deadline.
Colorado Avalanche: Milan Hejduk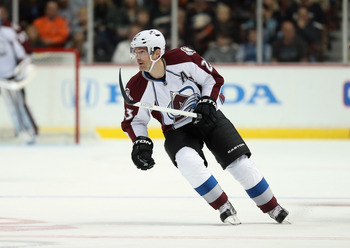 Jeff Gross/Getty Images
Milan Hejduk has been an integral part of the Colorado Avalanche for a number of years, and he is a player who could fetch a nice return.
He is an experienced veteran who can be a solid bottom-six scorer, and it would be a nice way for the Avalanche to get a nice return for a player who likely won't be re-signed.
Columbus Blue Jackets: Vinny Prospal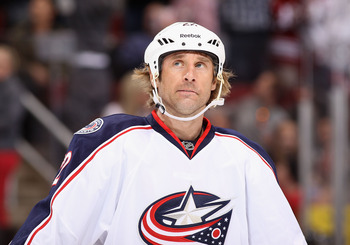 Christian Petersen/Getty Images
Vinny Prospal is a player who likely will be traded at the deadline because he carries a lot of value as a bottom-six forward.
Prospal is a battle-tested veteran who has a lot of skill and he could be the perfect addition for a playoff team looking to make an impact.
Dallas Stars: Brendan Morrow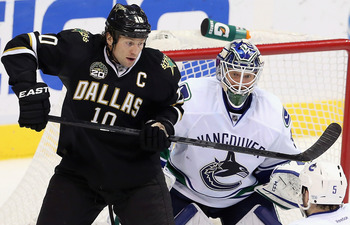 Ronald Martinez/Getty Images
Brendan Morrow is an aging veteran who likely won't be re-signed by the Dallas Stars.
Although injuries have impacted him over the past few years, Morrow is still a player who can be a secondary scorer and a contributor to the power play, and reports indicate that he likely will be traded.
Detroit Red Wings: Ian White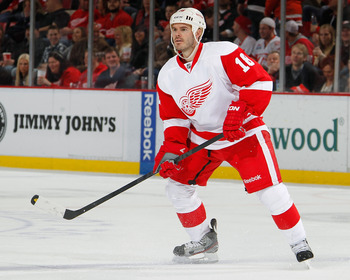 Gregory Shamus/Getty Images
Ian White is a defenseman for the Detroit Red Wings, and he is a player who could be dealt at the deadline. Recently White was a healthy scratch for the Wings, and he wasn't happy about it.
White is a solid defender and he could be a hot commodity as playoff contenders seek to add depth defenders.
Edmonton Oilers: Ryan Whitney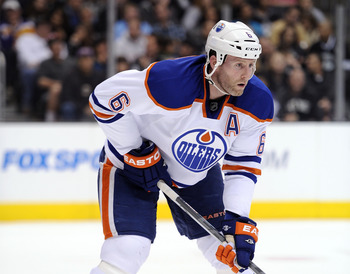 Harry How/Getty Images
Ryan Whitney is another defenseman who could be a commodity at the trade deadline, and he is a player who has been a healthy scratch for the Edmonton Oilers recently.
Whitney is a 29-year-old defenseman and he is a player who could really use a fresh start to get back on his game.
Florida Panthers: Stephen Weiss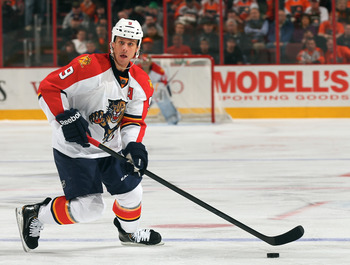 Elsa/Getty Images
Stephen Weiss may be injured, but he is going to heal and be back to his normal self after he recovers.
Weiss was set to become a hot commodity at the deadline, and there is still a chance that a team could trade for him, and then negotiate a new contract with him.
Although Dave Tallon said he won't trade him, he might reconsider if he feels he can't lock up the career-long Panther center.
The price would be low and there wouldn't be a cap hit attached because Weiss would remain on IR.
This extended window could be valuable because on July 1, 2013 Weiss could stand to make a lot of money as one of the top centers on the market.
Even if the return was small, it would be better than losing Weiss for nothing via free agency.
Los Angeles Kings: Rob Scuderi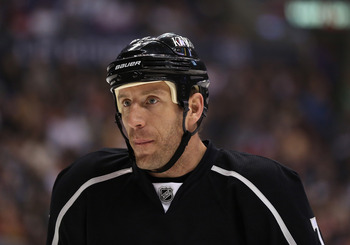 Jeff Gross/Getty Images
Rob Scuderi is set to become one of the top defensemen on the free agent market in July, and he could fetch a very nice return at the trade deadline.
There will be a long list of playoff contenders looking to add a top-four defender, and adding a two-time Cup winner would be a great final piece for a bonafide contender.
It may not be easy for the Kings to resign Scuderi, because they have a number of key RFAs to lock up first.(h/t LA Kings Insider)
Minnesota Wild: Pierre-Marc Bouchard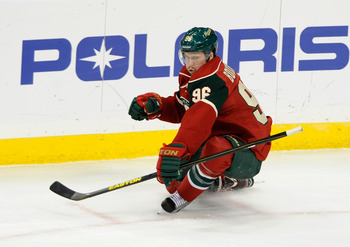 Hannah Foslien/Getty Images
Pierre-Marc Bouchard is a top-six forward who could potential use a fresh start. He has had some injury problems in the past but he recently found himself off the lineup board as a healthy scratch,
With the right center Bouchard could get going, and as an upcoming UFA the Wild could benefit by getting some form of return for him.
Montreal Canadiens: N/A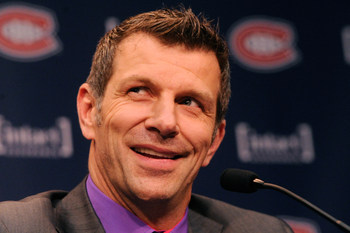 Richard Wolowicz/Getty Images
The Montreal Canadiens are unlikely to trade recently acquired forward Michael Ryder and it is unlikely that there will be a market for Colby Armstrong.
For that reason it is unlikely that the Habs will trade impending UFAs.
Nashville Predators: Scott Hannan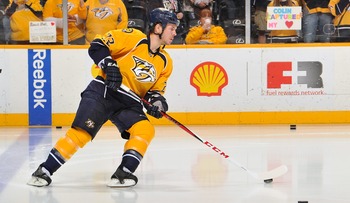 Frederick Breedon/Getty Images
Scott Hannan is a solid veteran defender who has been a journeyman defender over the past few years.
The Nashville Predators have a nice set of defenders in Shea Weber, Jon Blum, Roman Josi, and Ryan Ellis in the top-four so they could stand to deal Hannan for a top-six forward.
New Jersey Devils: David Clarkson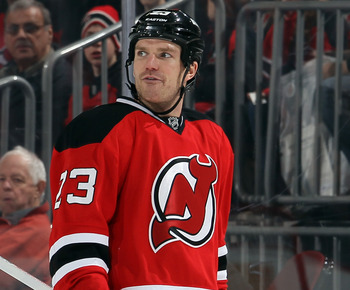 Elsa/Getty Images
Of all impending UFAs David Clarkson has the most value and given the way he has played this year it wouldn't be surprising for New Jersey to capitalize on his value.
Clarkson had an amazing year last year and he has cooled off after a hot start. On the open market Clarkson could make a pretty penny and it would be better to deal him instead of losing him for nothing like Zach Parise.
New York Islanders: Mark Streit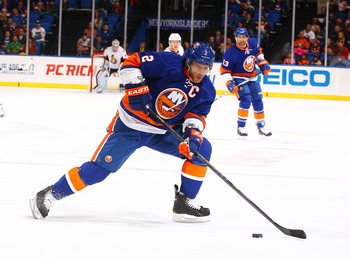 Al Bello/Getty Images
Mark Streit is an impending UFA and he could be the top defenseman available at the deadline if the New York Islanders make him available.
Streit is a skilled puck mover and power play specialist and he could get a nice return for a team with an incredibly bright future.
New York Rangers: N/A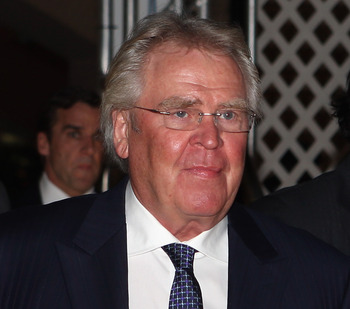 Bruce Bennett/Getty Images
Of the New York Rangers' impending UFAs, there are no likely trade targets. Jeff Halpern has been a solid defensive-center and with the Rangers short on defenders it is unlikely that Steve Eminger and Matt Gilroy will be moved.
Ottawa Senators: Sergei Gonchar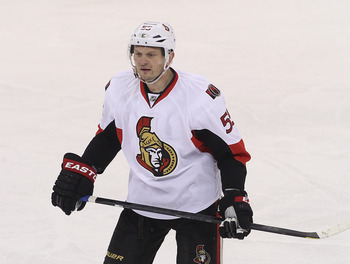 Marianne Helm/Getty Images
Sergei Gonchar is a veteran offensive-defenseman with a howitzer of a slap shot that makes him a valuable part of the power play for the Ottawa Senators.
The Senators could stand to make a nice return by renting Gonchar to a team seeking an offensive-defenseman and it would be a smart move for a player that may not be retained after the season.
Philadelphia Flyers: Brian Boucher
Bruce Bennett/Getty Images
Brian Boucher is currently buried in the minors, and there is a chance that he could be made available at the deadline given the fact that teams are always looking to add goaltending.
Boucher is the most obvious choice of available UFAs and he is a veteran who will have some value.
Phoenix Coyotes: Boyd Gordon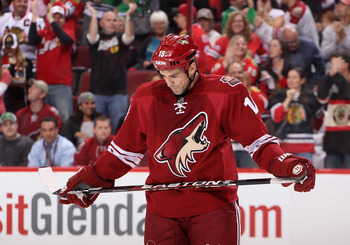 Christian Petersen/Getty Images
Boyd Gordon is a bottom-six defensive center who is great on faceoffs.
In the playoffs teams can never have too much depth, and Gordon is the type of player who could really be a nice fit on a team with enough top-end talent.
Pittsburgh Penguins: Pascal Dupuis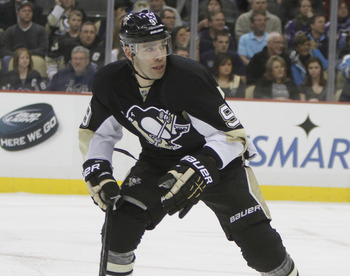 Justin K. Aller/Getty Images
If the Pittsburgh Penguins look to make a deal at the deadline to add some more fire power to their roster, Pascal Dupuis would carry the most trade value of UFAs to be.
Dupuis has been an important part of the roster over the past few years, but it wouldn't be surprising to see him moved in the right deal.
San Jose Sharks: Ryane Clowe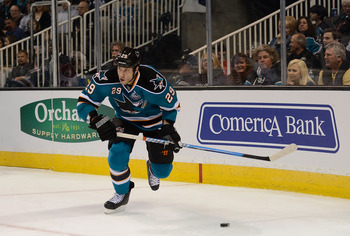 Thearon W. Henderson/Getty Images
Ryane Clowe has not had a great start to the year and as an upcoming UFA he is the most likely player to be traded if the San Jose Sharks move at the deadline.
Clowe is a rugged power-forward and he could really benefit by getting a new start in a new market with a different role in the lineup.
St.Louis Blues: Andy McDonald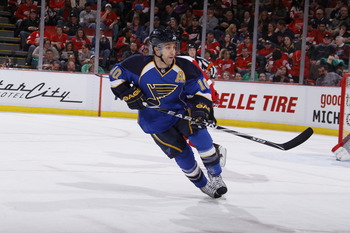 Gregory Shamus/Getty Images
Andy McDonald has a hefty cap hit of $4.7 million and moving him would give the St.Louis Blues a lot of cap flexibility.
He is no longer one of the Blues' most important forwards in the lineup and dealing him at the deadline would be a great move if Doug Armstrong can find a trading partner.
Tampa Bay Lightning: Marc-Andre Bergeron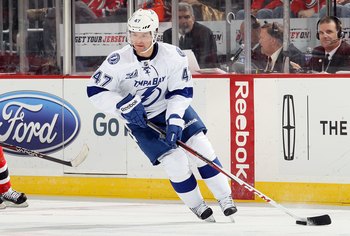 Jim McIsaac/Getty Images
Marc-Andre Bergeron is a defenseman who is a mobile puck-mover, and a power play specialist.
The Tampa Bay Lightning haven't had a ton of success this year, and dealing Bergeron for a few assets could allow the team to get a return for a player who could walk in free agency.
Toronto Maple Leafs: Tyler Bozak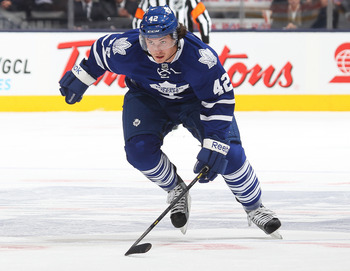 Claus Andersen/Getty Images
The Toronto Maple Leafs have an interesting choice to make in the next few weeks. Tyler Bozak is set to become a UFA and he will be one of the top centers on the free agent market.
He should make a nice raise from his current salary of $1.5 million and if the Maple Leafs aren't confident that they will re-sign him then they should deal him for a nice return.
Vancouver Canucks: Mason Raymond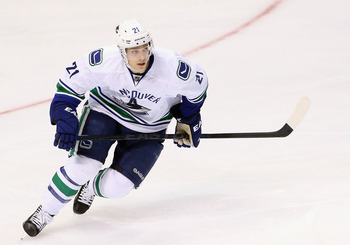 Ronald Martinez/Getty Images
The Vancouver Canucks likely won't trade any of their upcoming free agents, but the player with the highest possible trade value is Mason Raymond.
There were rumors surrounding him last season, and if he was traded this year it would make sense given his value.
Washington Capitals: Mike Ribeiro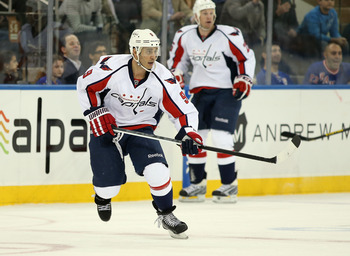 Bruce Bennett/Getty Images
Mike Ribeiro is the Washington Capitals' leading scorer, and he is having an amazing year. As a UFA he could make a ton of money based on his current production and it may be more than the Caps are willing to spend.
If the Caps fall farther out of the playoff race they could chose to sell high on Ribeiro for an impressive return.
Winnipeg Jets: Ron Hainsey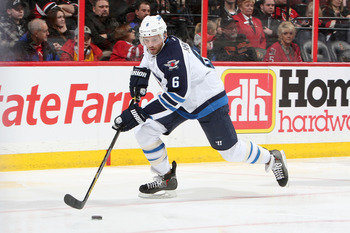 Francois Laplante/FreestylePhoto/Getty Images
Ron Hainsey is an upcoming UFA and a defenseman that could draw a nice return on the open market.
Hainsey has a NTC and he would need to move it if the team looks to trade him, but considering what he could make as a free agent, odds are that the Jets would be better served trading him instead of keeping him.
Keep Reading