Tennessee Titans Mock Draft: Predicting All 7 Rounds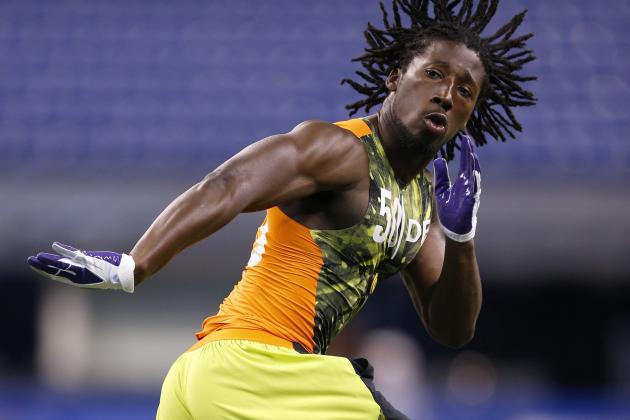 Joe Robbins/Getty Images

Now that the first couple of days of free agency have concluded, the Titans needs for the NFL draft are starting to become a little clearer.
Signing George Wilson makes safety a less drastic need; the same goes for guard and tight end thanks to the signings of Andy Levitre and Delanie Walker, respectively.
The draft is still more than a month away, but with a few big needs already filled, the Titans should have a much narrower list of candidates to consider, and their big board ought to start coming together.
So, with that in mind, here's a new seven-round mock draft for the Tennessee Titans, adjusted for the free-agent signings.
Begin Slideshow

»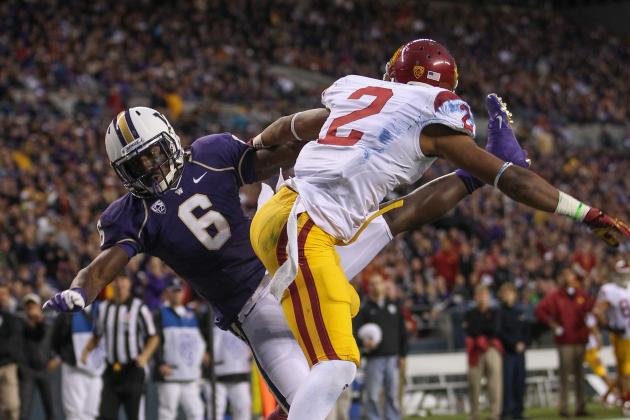 Otto Greule Jr/Getty Images

For some time it appeared that the Titans would use their first selection on a guard, but with newcomer Andy Levitre penciled in at the left guard spot, it now seems unlikely.
Instead, they'll take the best corner available, which happens to be Desmond Trufant.
Trufant is the closest thing to a shutdown corner that this class has. He moves and changes direction quickly and fluidly, and he has great athleticism, great game tape, good size, and NFL bloodlines.
Trufant's older brother Marcus was a Pro Bowl cornerback for the Seattle Seahawks, and after being in the NFL for 10 years, he's still playing. If Desmond is as good as his brother, then the pick ought to be a no-brainer for the Titans.
He's also a former teammate of Jake Locker's, which is a plus.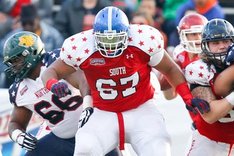 Even with Levitre signed, the Titans still need another starting guard, and a mauler like Larry Warford would be a perfect fit for what they need.
Warford impressed NFL scouts during the 2012 season at Kentucky, where he faced the toughest defensive linemen in the country, winning more matchups than he lost. He is a decent pass-blocker, but his forte is run-blocking.
As powerful as he is, he's relatively slow after his first step, so he'd be limited to a role as a right guard in the NFL. That shouldn't discourage the Titans. With Levitre signed for six years, they won't be seeking a left guard for some time.
Nabbing a guy like Warford would make both Chris Johnson and Shonn Greene very happy.
Kevin C. Cox/Getty Images

Even with George Wilson on the team, the Titans need to take a safety in this year's draft.
Georgia's Bacarri Rambo is one of the most talented prospects at the position, but he comes with some past off-field issues, which is why he falls to the third round.
Rambo is that rare defensive back prospect who has the speed and range to play free safety and the size and strength to play strong safety. For the time being, most teams are looking at him as a free safety.
In the short term, the Titans need a strong safety, since George Wilson is already near the end of his NFL career. But they may also need a free safety if Michael Griffin doesn't come back and start playing at a high level again.
A prospect like Rambo can fill either spot for the Titans. Such versatility is always highly valued.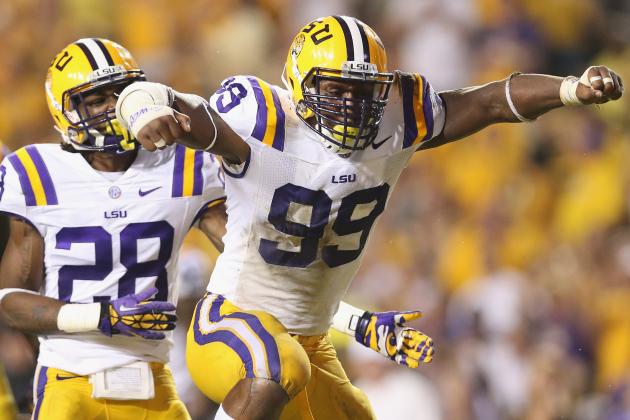 Ronald Martinez/Getty Images

It's strange to think that just a couple of months ago, Sam Montgomery was considered a first-round talent. However, it now seems possible that he could end up falling all the way to the bottom of the third round.
Montgomery had a great sophomore season, but he disappointed in 2012 with his production on the field. A poor combine and rumors of laziness didn't help his cause either.
Still, this late in the draft, someone with his talent is a great pickup. The Titans don't need him to make an immediate impact anyway—they just need depth behind Derrick Morgan and Kamerion Wimbley.
Since Montgomery has all the talent in the world, the chance that he could tap into his full potential makes him a valuable commodity once the top pass-rushers are off the board.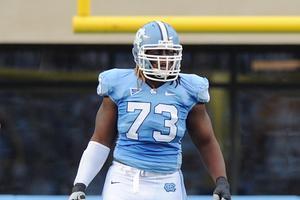 The Titans have one of the best tackle tandems in the NFL, so why would they use this selection on one? Two reasons.
First, David Stewart broke his leg at the very end of the season in 2012. There's a good chance he'll miss some games in the early part of next season, so a right tackle could be a wise pickup.
Second, both Stewart and Michael Roos are over 30 years old. They're both still very good, but their play could drop off at any moment, and the Titans should start thinking about long-term replacements.
Before he had a season-ending injury, Williams was considered one of the best right tackle prospects in the class, second on most boards only to D.J. Fluker. If he comes back at 100 percent, then the Titans are getting a steal in the fourth round.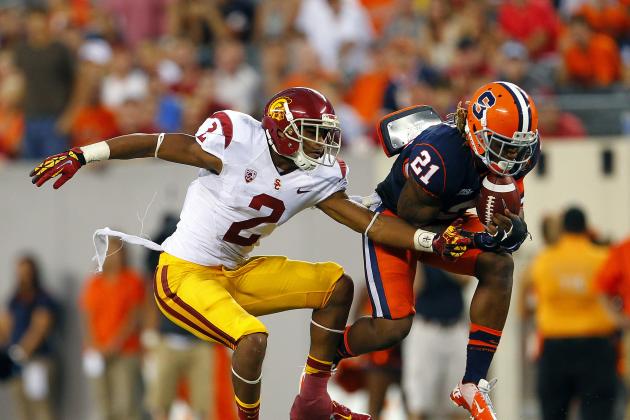 Rich Schultz/Getty Images

It wouldn't shock me to see the Titans double up on safeties in the upcoming draft, even with the signing of George Wilson. Shamarko Thomas came out of nowhere at the combine, but posted some unbelievable numbers.
At the combine, Thomas led all defensive backs in the bench press and the vertical jump, had the third best long jump, and a top-10 time in the 40-yard dash—something that makes scouts take notice.
At only 5'9" tall, Thomas is purely a strong safety. He's still very raw, but he has an athleticism rarely seen in safety prospects, so he's definitely worth taking a shot on this late in the draft.
Andy Lyons/Getty Images

The Titans just picked up Moise Fokou to back up Colin McCarthy, but if McCarthy has another injury-plagued year, a potential replacement may be Kevin Reddick.
Reddick's stock has fallen since the 2012 college season began, as he never really performed like a top prospect ought to. However, reuniting him with his former teammate Zach Brown could be good for him.
Reddick has a lot of trouble in coverage, but as a run-stopping linebacker, he's pretty good. He could be an instant contributor on special teams, where the Titans have struggled recently, especially in the open-field tackling department.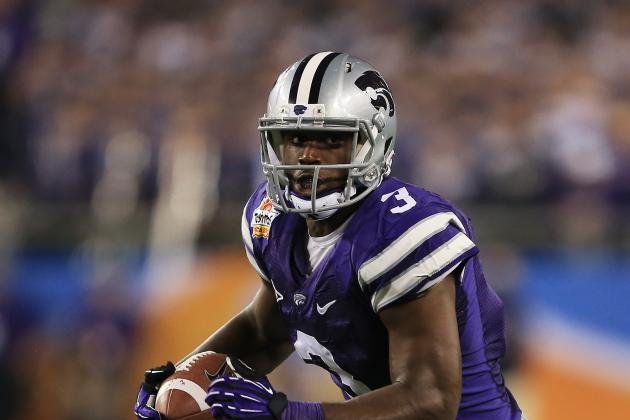 Doug Pensinger/Getty Images

The wide receiver class of 2013 is extraordinarily deep, and even this late in the proceedings, the Titans might find someone who could be a contributor.
The Titans may seem set at receiver, but Kenny Britt has been nothing but a pain in the neck since he was drafted and didn't play well last year. 2013 will almost certainly be his last in Tennessee.
Kendall Wright had a solid rookie campaign, but his future as a No. 1 wide receiver is uncertain. Nate Washington was shopped to other teams, Damian Williams is inconsistent, Marc Mariani is coming off an injury and Lavelle Hawkins disappeared last season.
With most of their needs covered, the Titans could spend a late-rounder on a wide receiver just in case.
Chris Harper is a big-bodied receiver who could provide the Titans with a good downfield blocker if nothing else.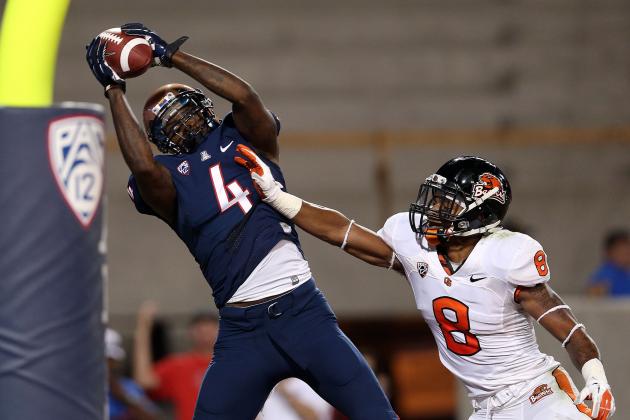 Christian Petersen/Getty Images

In fact, the Titans may use two late-round picks on wide receivers.
Where Harper is a heavy, physical receiver, Dan Buckner is a taller player who could provide a solid red-zone target. The Titans currently have one of the shorter receiving corps in the NFL, so some height would help.
He's also got some decent speed for a taller guy, so he could end up making some impact down the road if the Titans were to get him.