UConn Basketball: Final Regular Season Grades for the Huskies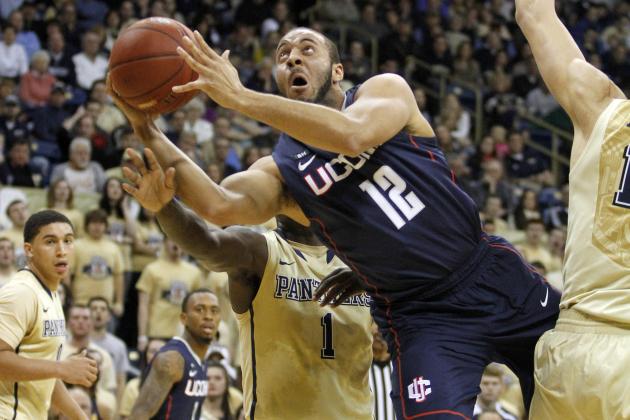 Justin K. Aller/Getty Images
Overall the Huskies had a successful regular season.
March Madness has already begun, but it just doesn't seem the same without the UConn Huskies, a perennial tournament team and championship contender banned from postseason play due to NCAA sanctions.
The Huskies (20-10, 10-8 Big East) finished their regular-season campaign on Saturday with a close victory over Providence to secure a 20th win and give the team some momentum heading into next year.
While it's a little early to be handing out final report card grades for most teams, we have no choice for the Huskies since their season is over.
Taken as a whole, it was a successful season in Storrs, for some more than others, as we present our final grades for each Huskies starters, the bench and their coach Kevin Ollie.
Begin Slideshow

»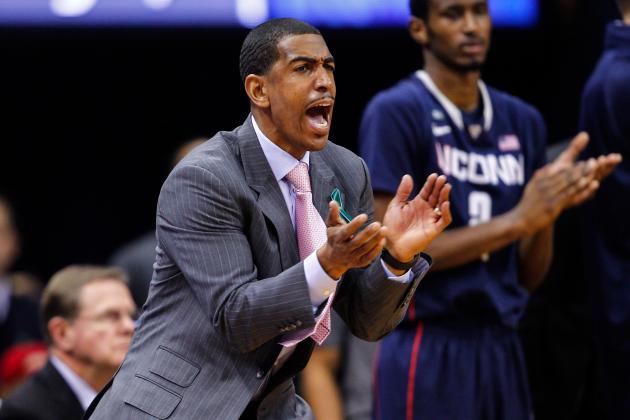 Michael Hickey/Getty Images
Ollie is one of the nation's fastest rising coaches.
Kevin Ollie did about as good a job with a tough task as you could ask from a rookie head coach. He took over a team that had lost its best players from a season ago, was facing NCAA sanctions, and saw several recruits decide to go in other directions.
But through it all, Ollie remained focused on the task of rebuilding the Huskies product, both on the court and in the locker room. And overall, he was very successful at getting the most out of a team that was picked by many to finish near the bottom of the Big East conference.
Ollie's preached hustle and intensity to his players all throughout the season and the team bought it into his system. To get 20 wins out of a team facing this much adversity is truly an accomplishment.
His on-court abilities are without question. It now remains to be seen if he'll be able to secure the type of recruiting class needed for his Huskies to take the next step going forward.
Grade: A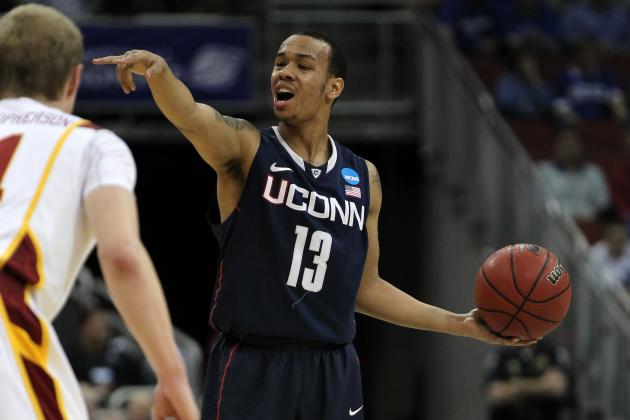 Jonathan Daniel/Getty Images
Napier is one of the nation's best guards.
Shabazz Napier adjusted well to his first season as the Huskies' primary scoring option, averaging a career high of over 17 points per game.
The junior guard also posted career bests in both free-throw and three-point shooting percentage, while being the primary force behind the Huskies 20-win season.
Napier's importance to the team can be seen in how they fared this season when he either didn't play or was not at his best. The team suffered a two-game losing streak, against Cincinnati and the dreadful South Florida, at the the end of the year with Napier out from a foot injury.
He will be a key component for UConn next season should he elect to return for his senior season. If not, he will present a huge void, needing to be filled.
Grade: A-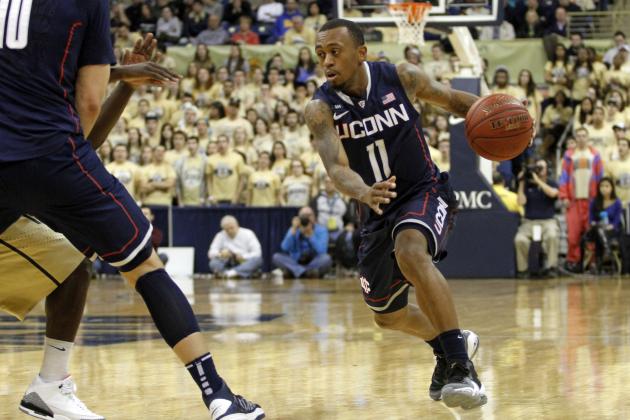 Justin K. Aller/Getty Images
Boatright had a successful sophomore year.
Much like his backcourt counterpart, Shabazz Napier, Ryan Boatright was integral to the Huskies' success, and they weren't the same when he wasn't on top of his game.
In his sophomore year, he posted a career best of 15.4 points per game, complementing Napier very well to give UConn as dangerous a guard combo as any team in the nation.
For much of the year, Boatright was clearly the Huskies' No. 2 option, with seven games of 20-plus points.
Unfortunately, his two worst games of the season came in games the Huskies could've won—against rivals St. John's and Villanova.
Overall, Boatright had a very solid season and was consistent and often filled in the blanks in games when others were not on the top of theirs.
Grade: A-/B+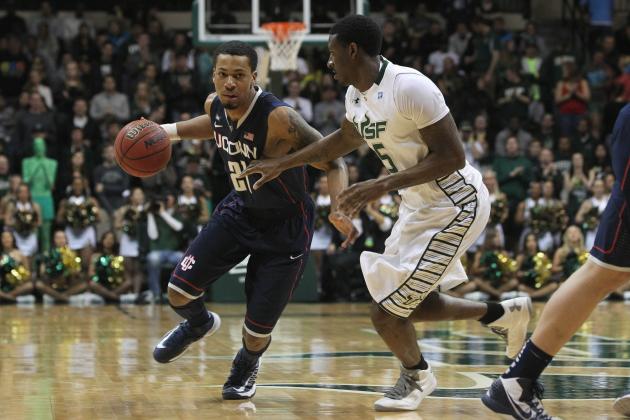 Kim Klement-USA TODAY Sports
Calhoun is a key to the Huskies future.
Omar Calhoun stepped into the Huskies lineup this season and made an immediate impact.
The freshman guard averaged a very solid 11.1 points per game and showed an ability to hit clutch shots down the stretch in big games.
His ability, and willingness, to slash to the basket and get to the line made him the type of player whom Kevin Ollie valued, and his playing time grew as the season went along.
The problem with Calhoun was his consistency, which is something to be expected from many freshman players. He had many very good games, but also quite a few duds.
Not all of that is his fault since he was the third scoring option behind Napier and Boatright, but going forward, he will need to become a more consistent offensive player.
Grade: B/B+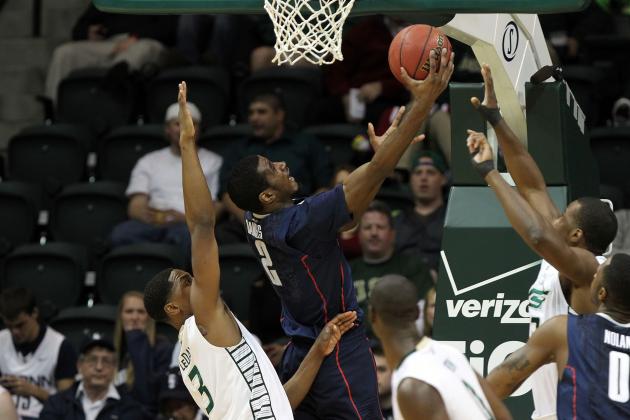 Kim Klement-USA TODAY Sports
Daniels was wildly inconsistent though came on toward the end of the season.
When you talk about a player needing to find consistency, you need look no further than DeAndre Daniels. The sophomore forward had games this season where he absolutely went off and took over and others where you didn't even know he was on the floor.
For a player with his height, he was surprisingly inept on the boards for large swaths of the season. But he really put it together in his final four games in which he averaged 21.3 points and nine boards.
The problem is that it's hard to figure out who the real DeAndre Daniels is as a player. Is it the guy who put together that impressive end to his season, or is it the one who underachieved for weeks at a time?
He certainly has the size and ability to become a force for the Huskies next season. It's just not a guarantee which player will show up on a night-to-night basis.
Grade: B-/C+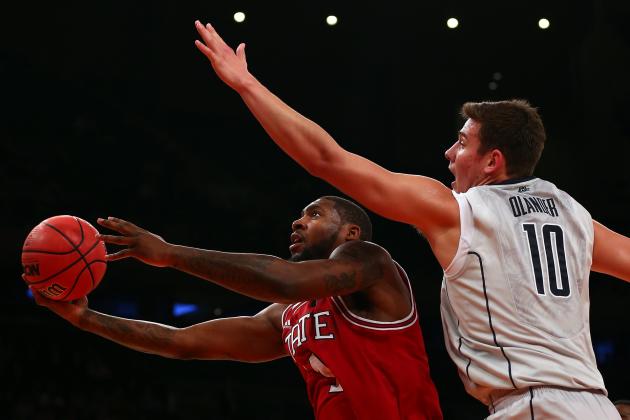 Elsa/Getty Images
Olander was not very good this year.
With his big frame and physical play, the UConn Huskies hoped that junior forward Tyler Olander would take the next step in his development and become a more consistent contributor to this year's team.
But that wasn't to be. Olander virtually replicated his numbers from last season, averaging 4.3 points and 3.7 boards this year to last years' 4.2 points and 3.9 rebounds, and was a non-factor in most of the Huskies games.
As the season went along, he saw his playing time begin to drop as other players began pushing him for minutes. This season can be described as nothing but disappointing for him.
Grade: D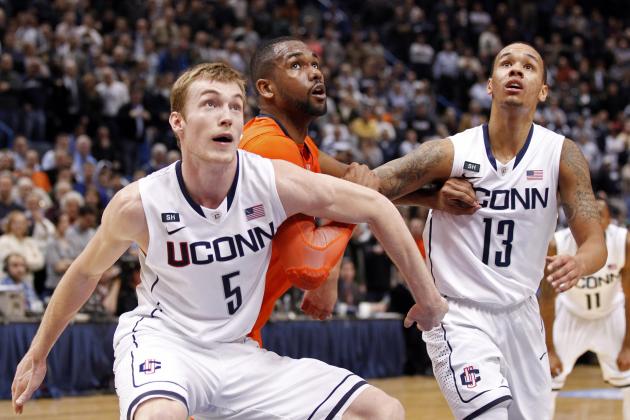 USA TODAY Sports
Depth was an Achilles' heel for the Huskies.
Let's not sugarcoat this. The Huskies didn't get much, if anything, out of their bench this season.
The lack of depth was one of the most discussed flaws of this team, coming into the season, and it showed its head in more than one of their losses.
UConn, even with two of the best guards in the country, was eventually forced to rely on their bench, and it didn't give them very much on the offensive side. This forced them to rely too much on their starters and not get them adequate rest.
Junior Niels Griffey was the Huskies' most consistent performer off the bench, and while he had a good run to end the year, he, too, only averaged 4.9 points per game.
Depth is something that killed UConn this year and needs to get better if the Huskies are going to contend.
Grade: F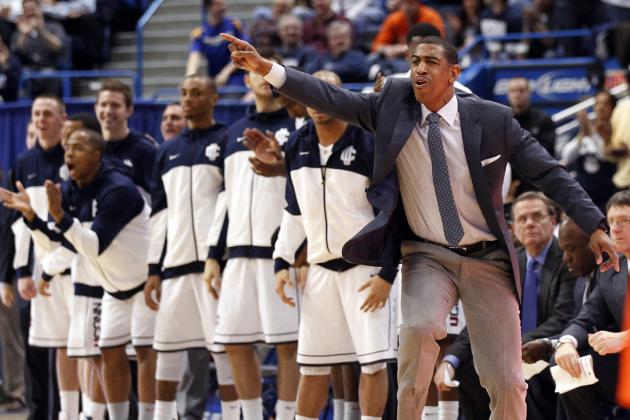 USA TODAY Sports
Kevin Ollie's team overachieved.
When taken as a whole, it's hard to call this season of UConn Huskies basketball anything but a success.
A new coach, replacing a retired legend, a cloud of NCAA sanctions, a postseason ban, lost recruits to other schools and stud players to the NBA and still a 20-win campaign?
That's nothing to sneeze at folks.
Kevin Ollie and his staff did a tremendous job of piecing together a team that was competitive, rarely out of a game and beat teams such as Notre Dame and Syracuse who, on paper, were better than them.
This season provided tremendous reason for optimism. Should both Shabazz Napier and Ryan Boatright return, they will once again provide the Huskies with one of the nation's best backcourts.
Omar Calhoun should continue to develop with a year of seasoning under his belt and DeAndre Daniels can be a force if he finds a way to harness the talent he showed closing out the season.
The pieces are there for UConn to be a solid team again in the future. But that's then, and this is now. And this season was a success.
Grade: B+