The Biggest X-Factors in the ACC Tournament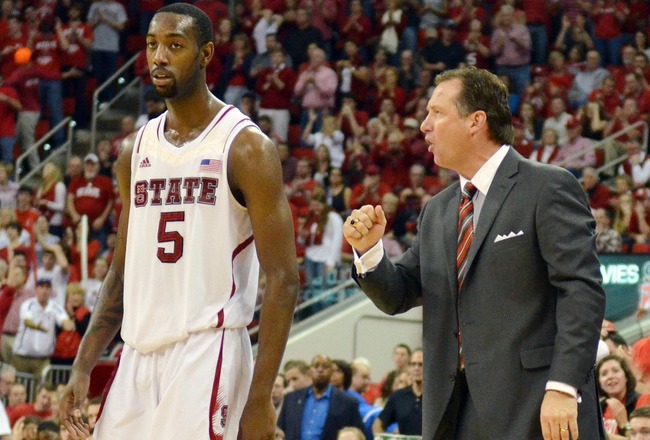 Rob Kinnan-USA TODAY Sports
For the first time since 2003, the ACC tournament will feature a top seed not named Duke or North Carolina. Miami holds that distinction, but the Hurricanes have lost three of their last five.
Duke has played well since the return of Ryan Kelly and feels like the tournament favorite, but there are six or seven teams that could make deep runs in Greensboro this week.
For these contenders to cut down the nets, obviously, they will need their best players to step up. Those players are the X-factors in the ACC tournament. They are the ones who will determine which teams will succeed and which teams will go home early.
Here are the biggest X-factors in this year's ACC tournament.
10. Erick Green, Virginia Tech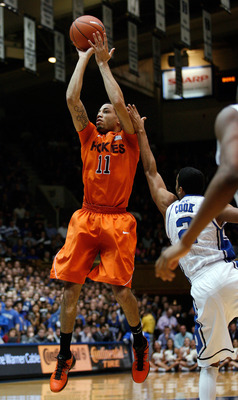 Mark Dolejs-USA TODAY Sports
Virginia Tech is not going to win the ACC tournament. The Hokies are the No. 12 seed, and they have struggled for the majority of the year.
However, Erick Green has been a one-man show this year, leading the country in scoring with 25 points per game. If Green gets some help from his teammates, Virginia Tech could pull an upset or two.
Win or lose, Green figures to put on a show.
9. Michael Snaer, Florida State

Video courtesy of the ACCDigitalNetwork.

Michael Snaer might be the first player in college basketball one would pick to take a shot with the game on the line. Snaer has been brilliant in late-game situations this year, making four game-winning shots, the last of which came against Virginia on Thursday.
Florida State has been one of the more disappointing teams in the conference this year, but the young Seminoles have won two in a row over Virginia and N.C. State to close the regular season.
Last year, Snaer was the ACC tournament's most outstanding player as Florida State won its first ACC title. If he gets going, Florida State is a dark horse to make a deep run in Greensboro.
8. Joe Harris, Virginia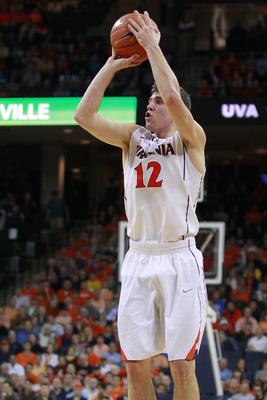 Geoff Burke-USA TODAY Sports
Joe Harris has had a breakout season, taking over as Virginia's go-to player after Mike Scott's departure a season ago. He is second in the ACC in scoring with 17.1 points per game.
He snuck into the ACC Player of the Year debate with a 36-point performance in a win over Duke, but Harris has not been at his best lately. He was just 9-of-29 in losses at Boston College and Florida State.
If Harris plays well, Virginia could do some serious damage in the ACC tournament, which is something the Cavaliers need considering their bubble status.
7. Marcus Paige, North Carolina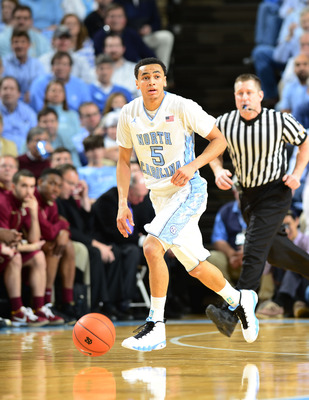 Bob Donnan-USA TODAY Sports
North Carolina's switch to a small lineup, which inserted P.J. Hairston into the lineup, has received most of the credit for the late-season turnaround by the Tar Heels. However, something that has flown a little under the radar nationally is the improved play of freshman point guard Marcus Paige.
He had 14 points, eight assists and no turnovers in Carolina's win over N.C. State on Feb. 23. Contrast that with his performance in the 69-53 loss to Duke Saturday when Paige had four points, six assists and five turnovers, and it is evident how much Carolina needs Paige to play well.
6. Shane Larkin, Miami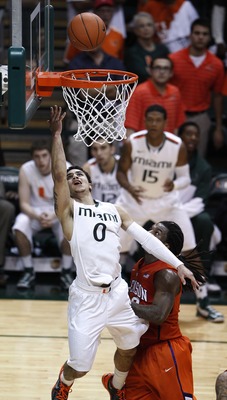 Robert Mayer-USA TODAY Sports
Miami is loaded with upperclassmen, but the biggest reason the Hurricanes have made such a jump in the second season under Jim Larranaga is sophomore point guard Shane Larkin.
Larkin is a lock to make first-team all-conference, and he is a serious candidate for ACC Player of the Year honors. He is leading the team with 13.7 points and 4.4 assists per game. If the game is on the line, expect the ball to be in Larkin's hands.
5. Seth Curry, Duke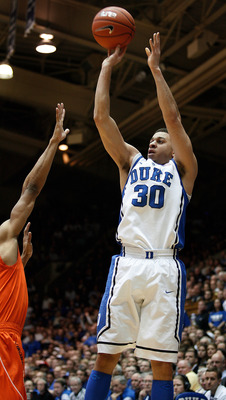 Mark Dolejs-USA TODAY Sports
Seth Curry has put together an excellent senior year despite not being able to practice the majority of the season thanks to a leg injury. He is averaging 17.1 points per game while shooting 43.5 percent from three.
Curry has scored at least 20 points in three of the last four games, and he was a huge reason Duke was able to jump on top of North Carolina Saturday night. He had 15 points in the first half as the Blue Devils led 38-20 at halftime.
For Duke to win three games in a row in Greensboro, it will need Curry to play well.
4. P.J. Hairston, North Carolina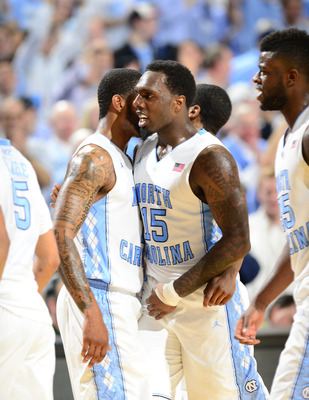 Bob Donnan-USA TODAY Sports
No player has come on stronger in the second half of the season than P.J. Hairston. Part of that is due to opportunity since he was just inserted into the starting lineup on a regular basis for the last eight games.
Hairston has scored in double figures the last 12 games in which he has appeared. In the last eight games, he is averaging 17.1 points per game.
3. Reggie Johnson, Miami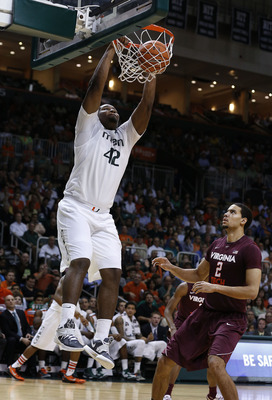 USA TODAY Sports
Reggie Johnson has struggled mightily down the stretch, and the Hurricanes have suffered because of it, losing three of their last five games. Over that span, Johnson has scored a total of 12 points while shooting 4-of-20 from the field.
To be fair, Johnson missed a significant portion of the season with a broken thumb, but regardless, Miami needs Johnson to play better. He is the team's best threat to score on the block, and his effectiveness opens things up on the perimeter for Miami's talented crop of guards.
2. Mason Plumlee, Duke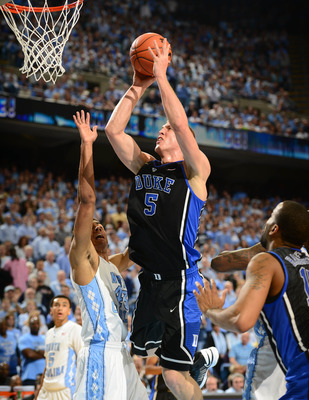 Bob Donnan-USA TODAY Sports
After the first month of the season, Mason Plumlee was arguably the front-runner for national player of the year. He was assertive and his results seemed to finally mirror his physical talent.
However, Plumlee has struggled down the stretch. In Duke's loss at Maryland, he was just 2-of-7 with four points and three rebounds. Then, in a loss at Virginia, Plumlee had 10 points and seven rebounds but made just two of his five field-goal attempts.
A great sign for Duke was the Plumlee seemed to regain his early season form in the regular-season finale at North Carolina. He scored 23 points on 10-of-15 shooting while grabbing 13 rebounds. If he plays like that, Duke is not only the ACC title favorite, it might be the national title favorite.
1. C.J. Leslie, N.C. State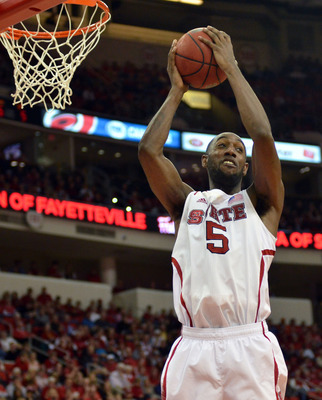 USA TODAY Sports
C.J. Leslie was named the preseason player of the year by the ACC media, but Leslie has failed to live up to those expectations. His numbers are decent with 14.9 points and 7.5 rebounds per game, but he has been woefully inconsistent.
Leslie has been a no-show in his team's last two losses. He had six points and six turnovers at North Carolina on Feb. 23, and at Florida State Saturday, Leslie had just five points and three rebounds.
Now, partly due to Leslie's inconsistency, the Wolfpack did not receive a bye in the ACC tournament, and they will have to win four games to win their first ACC tournament title since 1987. If Leslie plays well, it is more than realistic for the Wolfpack to go on that kind of run.
Keep Reading