3 Reasons Not to Worry About the Cincinnati Reds' Poor Spring Performance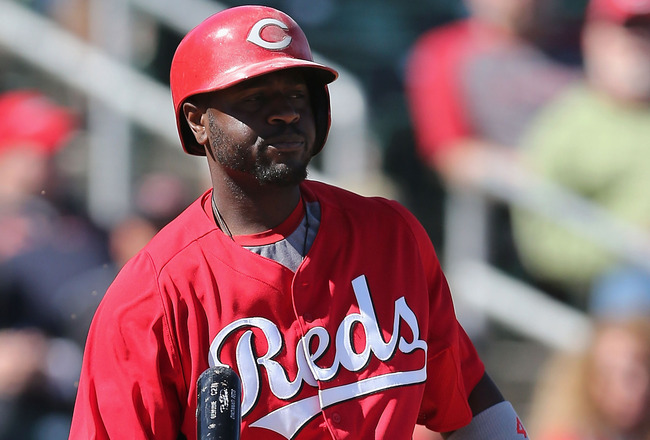 Christian Petersen/Getty Images
Take a deep breath. It's not even halfway through March, but some have already been put on edge by the horrible spring training start by the Cincinnati Reds.
A lot of high expectations are set for the Reds after finishing with 97 wins and the second-best record in MLB in 2012. So far, the Reds have a 4-11 spring training record, which is second-worst in the Cactus League.
Should the Reds start to feel a little a nervous with the poor start, or will this just be another reason to take spring training with a grain of salt?
Even though there hasn't been much to get excited about, here are three reasons not to worry about the Cincinnati Reds' poor spring training start.
3. The Young Farm System
Christian Petersen/Getty Images
The Cincinnati Reds essentially cleared out their Triple-A talent in 2012.
Longtime contributors like Zack Cozart, Todd Frazier and Devin Mesoraco spent the majority of their seasons in the majors. Trading Yasmani Grandal, Yonder Alonso, Juan Francisco and Brad Boxberger depleted the team's Triple-A depth.
There's a reason why the Louisville Bats finished worst in the International League with a 51-93 record. The Bats also had the worst team batting average and collective ERA. Basically all of the major league talent was either traded away or called up.
The youthful Triple-A team is apparent with the Reds spring training roster. Half of the top-10 2013 prospects (as rated by Baseball America) are at camp, and only J.J. Hoover has spent time in Triple-A.
There's some disappointment in the two biggest prospects this spring with Billy Hamilton and Tony Cingrani.
Hamilton is hitting a dismal .111/.200/.111 with two hits and eight strikeouts. Cingrani has pitched four innings with a 9.00 ERA, four earned runs and five strikeouts.
Even with the poor performances, Hamilton and Cingrani have never played a single game in Louisville; they're only 21 and 22 years old, respectively.
In 2013, the Reds will start to build up their Triple-A roster once again, but for now, there's no reason to panic on the under-performance of these extremely young players.
2. Solid Battle for Remaining Roster Spots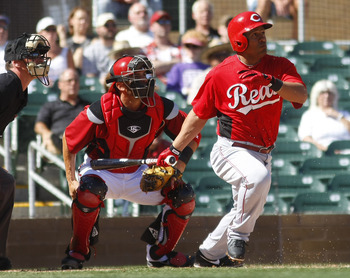 Rick Scuteri-USA TODAY Sports
One of the bigger concerns for the Reds in spring training is who will make the Opening Day roster.
The good news is that the three fighting for the last infield bench spot are all batting over .300. There's a tough battle between Emmanuel Burriss, Cesar Izturis and Jason Donald.
It's going to make things a little tricky down the road since Burriss and Izturis are both non-roster invitees, and Donald is out of options. But, it's nice to know their bats are doing well this spring.
It might seem easier to notice Ryan Ludwick batting .174 with seven strikeouts. However, Ludwick is going use spring training to find his rhythm.
Players like Burriss, Izturis and Donald are trying for a major league spot. This is more notable than who ends the spring with the highest batting average.
In 2012, Scott Rolen had the highest Reds spring training batting average (.356) between players with more than 25 at-bats.
Redleg Nation shouldn't judge on stats such as four total wins. It's more important to see that Shin-Soo Choo has yet to commit an error in center field and is playing good defense.
His current .421/.476/.474 slash line isn't as important. It's certainly nice, but Choo is a career .289 hitter. He will likely do just fine with a full year in front of Brandon Phillips and Joey Votto.
The battle for roster spots and transitional defensive play are more telling than a spring training record with 20 games remaining.
1. Importance of Spring Training Stats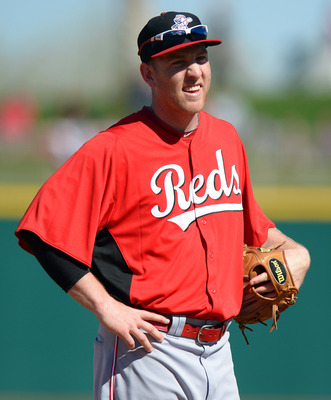 Jake Roth-USA TODAY Sports
Wins in spring training are about as informative as fortunetellers.
Sometimes teams that finish at the top of their spring training league make it to the postseason. More often than not, they don't.
In 2012, half of the teams that finished with the top 10 spring training records went to the postseason. In 2010 and 2011, only three of the top 10 teams made it.
What do spring training stats really tell us? For starters, they can give good indications for prospects ready for the majors.
Todd Frazier's spring training last year is a good example. Frazier hit .291/.339/.691 in 55 at-bats and still didn't make the Opening Day roster. However, it didn't take long for the Reds to call him up for good.
Frazier's solid play and spring training numbers earned him a spot on the major league roster. It was a good example how a great spring training could be beneficial.
Last spring, Aroldis Chapman was preparing for a spot in the rotation and posted a 2.12 ERA, one walk, 18 strikeouts and four earned runs. Even though Chapman spent all of 2012 in the bullpen, it showed the Reds he was ready for a full season at the major league level.
The point is that spring training stats can have important qualities, but they're often not equivalent to a full season in the majors.
Mat Latos was the only starting pitcher to have a sub-4.00 ERA last spring. Johnny Cueto had a career season, but only struck out nine with 11 earned runs. Cueto so far has five earned runs and seven strikeouts this spring and will likely pitch at least in two more outings.
Drew Stubbs had less strikeouts (15) than Joey Votto (19). Willie Harris hit .264/.316/.321 with 14 hits in spring training but didn't last more than three months in the majors. His 2012 major league slash line of .114/.170/.205 with just five total hits, was a bit more suggestive.
The poor start is understandably concerning. But with the solidity of the lineup and youthful future, the Cincinnati Reds shouldn't invest too much into the lackluster spring training.
Keep Reading

Cincinnati Reds: Like this team?