Bruins vs. Penguins: Breaking Down Two of the Best in the East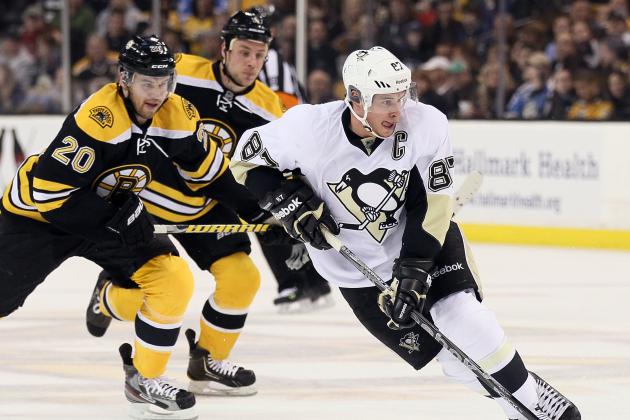 Elsa/Getty Images

With superstars like Sidney Crosby, Zdeno Chara, Evgeni Malkin and Tyler Seguin in the mix, it's not exactly going out on a limb to suggest that the Boston Bruins and the Pittsburgh Penguins are bona-fide Stanley Cup contenders. Their March 12 matchup is one that many hockey fans have identified as a potential Eastern Conference Final preview.
Both squads boast spectacular scorers, lockdown defenders and goalies that can steal games for their clubs. The question is—how do they compare head-to-head?
Let's take a look at how the Boston Bruins and the Pittsburgh Penguins stack up.
Begin Slideshow

»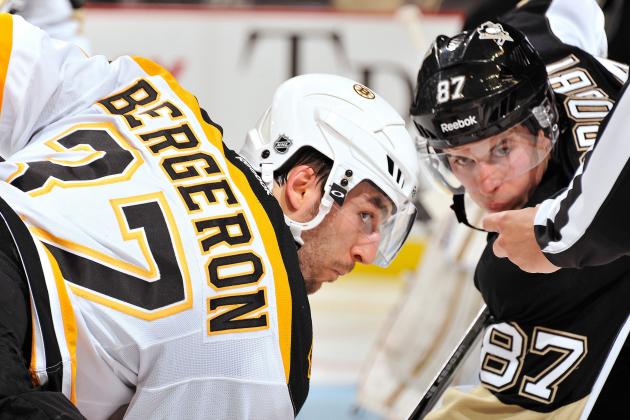 Jamie Sabau/Getty Images

Bruins: Brad Marchand-Patrice Bergeron-Tyler Seguin—60 points
Penguins: Chris Kunitz-Sidney Crosby-Pascal Dupuis—86 points
From a statistical standpoint, the Penguins have a big edge in points from their top line. That's not an indictment of the Bruins' big guns by any stretch, as the Penguins dress two of the NHL's top five scorers on a line together. Sidney Crosby has come back strong and looks to be fully recovered from his previous concussions, and Chris Kunitz is on an absolute tear this season. Pascal Dupuis is a streaky player, and it seems that he always happens to streak at the right time for the Penguins.
Stats don't always tell the whole story, though. Boston's top line is fearsome to play against. Patrice Bergeron is annually one of the best two-way forwards in the league; Tyler Seguin's speed and scoring touch give opposing coaches headaches, and Brad Marchand leads everyday players in shooting percentage. The Bruins' top line can score with any other in the league.
The sparks fly when either top line is on the ice, and I expect this matchup to be explosive. I see the Penguins having an advantage, albeit a small one.
Edge: Pittsburgh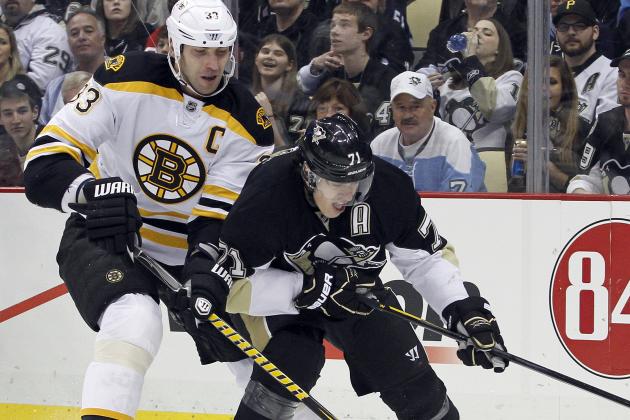 Justin K. Aller/Getty Images

Bruins: Milan Lucic, David Krejci, Nathan Horton, Dougie Hamilton—57 points
Penguins: James Neal, Evgeni Malkin, Kris Letang, Paul Martin—90 points
The Penguins and Bruins don't lose much when their first line leaves the ice. In particular, Pittsburgh follows up with two-thirds of the highest scoring line in hockey from last season. James Neal and reigning Hart Trophy-winner Evgeni Malkin would be the top two scorers on many NHL teams, and the fact that Pittsburgh trots them out on the second line is difficult for many opponents to handle. Couple that with the Penguins' tendency to have their smooth-skating defensemen join the attack, and Pittsburgh's second wave of offense is quite formidable.
The Bruins boast a "second first line" as well, and theirs is particularly balanced. Lucic brings a physical presence that many scoring lines lack, while Nathan Horton and David Krejci routinely take advantage of the space that Lucic creates by crashing the net. Dougie Hamilton has launched himself into the spotlight in his first NHL season, and the 19-year-old looks like the real deal on Boston's blue line.
Edge: Pittsburgh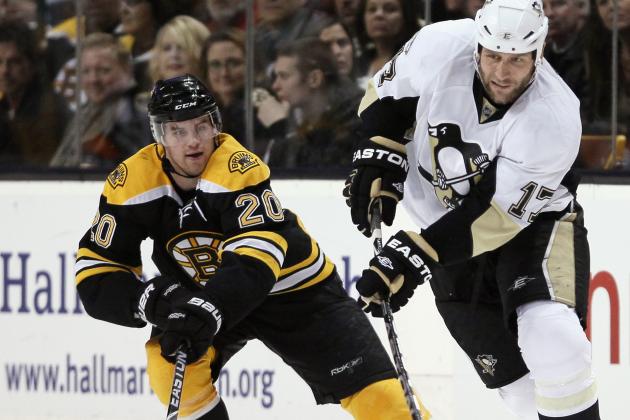 Elsa/Getty Images

Bruins: Shawn Thornton-Daniel Paille-Gregory Campbell
Penguins: Tanner Glass-Joe Vitale-Craig Adams
The Bruins "grinder" line has a little bit of everything. Shawn Thornton is a certified enforcer who isn't afraid to drop the gloves; Daniel Paille can light the lamp when necessary and Gregory Campbell's physical approach in both ends makes it difficult for opposing forwards to get comfortable. What more can a team seek from their fourth line?
Tanner Glass, Joe Vitale and Craig Adams are the checkers for Pittsburgh. Glass is the hitting ringleader, while Vitale and Adams fill crucial roles such as winning faceoffs and forechecking. There's a definite energy when the Pens' fourth line takes the ice, but it's not quite the edge that Boston gains when they do the same.
Edge: Boston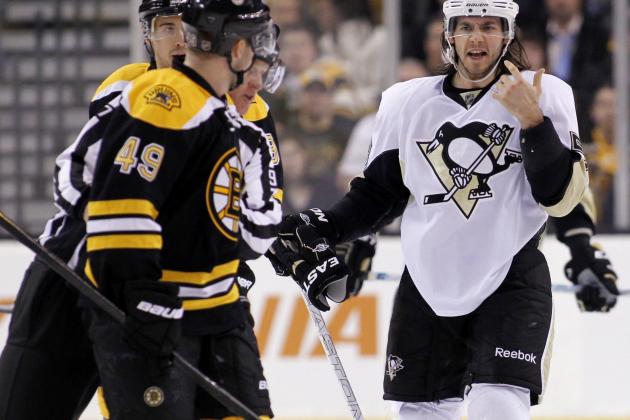 Greg M. Cooper-USA TODAY Sports

For Pittsburgh, Kris Letang and Paul Martin are asked to take on extensive offensive opportunities in addition to their duties in their own end. They handle the puck more often than most defenders in the league, and they're good at it.
Brooks Orpik hasn't been racking up the hits like he has in seasons past, but he's increased his shots blocked to make up the difference. While this is a newer trick for Orpik, Mark Eaton has always been proficient in the discipline, and his return to Pittsburgh has coincided with the team's improved defensive play.
The "throw-in" from the James Neal-Alex Goligoski swap, Matt Niskanen, has quickly emerged as one of the Penguins' best defenders. The team has given up oodles of goals this season, but the talent on the blue line isn't the problem from where I sit.
On the flip side, having an offensive defenseman is a bit of an unfamiliar circumstance. While Dougie Hamilton has been a revelation, it's Zdeno Chara, the Bruins' hulking defensive stalwart, who has been the face of the team. The former Norris Trophy-winner has supreme reach and instincts, and he headlines a suffocating Bruins defensive core.
Dennis Seidenberg has been a good free-agent pickup for the B's, while Johnny Boychuk continues to be a solid contributor. Andrew Ference is a veteran who is playing in a contract year, so he's been even more motivated than usual.
Thanks largely to this extremely formidable group, the Bruins rank among the league's best in team goals-against average.
Edge: Boston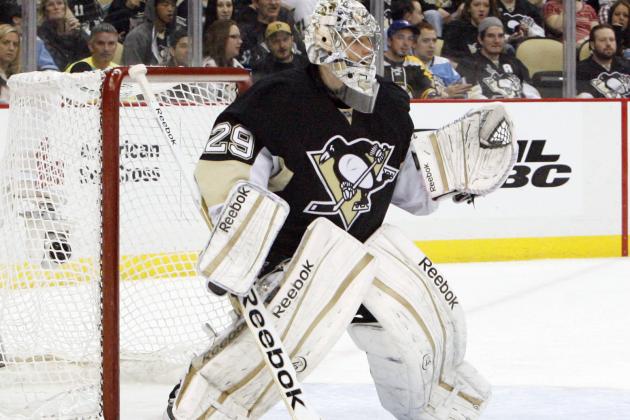 Charles LeClaire-USA TODAY Sports

Bruins: Tuukka Rask, Anton Khudobin
Penguins: Marc-Andre Fleury, Tomas Vokoun
These two goalie situations are as good as any in the NHL. Rask and Fleury are top-tier starters, and both teams play with confidence when the backup netminders are in.
At times, the Penguins have been a bit leaky between the pipes, but at the top of their games, Fleury and Vokoun are as good as they come. Anton Khudobin has been excellent in relief of Tuukka Rask, so the B's have a stable of goalies to be proud of as well.
Edge: Even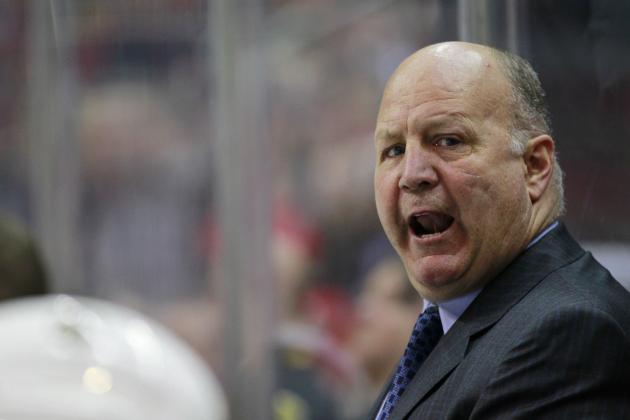 Geoff Burke-USA TODAY Sports

Bruins: Claude Julien
Penguins: Dan Bylsma
Bylsma's genius is in his ability to succeed when missing crucial components of his team. When Evgeni Malkin, Kris Letang, Sidney Crosby and former Penguin Jordan Stall missed games during Bylsma's tenure, the team barely missed a beat. Even though this season and the end of the last would suggest otherwise, Pittsburgh has traditionally been excellent on special teams and defense under Bylsma.
At times, Bylsma has struggled to make in-game adjustments, though, and the Penguins periodically get caught playing their opponents' game. The Penguins also haven't been particularly disciplined under "Disco Dan" when it comes to staying out of the penalty box.
Julien is an incredible motivator who frequently goes to bat for his players. He railed against the Montreal Canadiens for embellishment, so he's not one to avoid controversy. He's a hockey nut who is a wizard with schemes, positioning and matchups. Julien also has a knack for using his timeouts to change the momentum in games.
When both coaches have a Stanley Cup to their credit, it's tough to conclusively set one above the other.
Edge: Even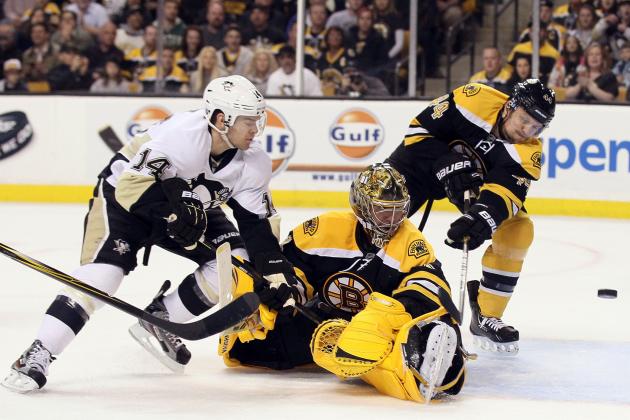 Elsa/Getty Images

With teams this evenly matched, the difference between them is often razor-thin. Ultimately, the decision will come down to one of two factors.
1. The Goalies
The most important position in sports could very well be the decisive element in setting these squads apart. Marc-Andre Fleury is often spectacular but not often solid. Tuukka Rask represents the inverse. Whichever goalie can handle the offensive barrage from the other team with minimal damage could determine the outcome of a seven game series single-handedly. We saw Jonathan Quick shoulder the load for the Kings in last year's playoffs, and if either team is to outdo the other, their keeper will be tasked to do the same.
2. Grittiness vs. Glamour
The Penguins boast a roster full of superstars, and the Bruins are a team full of hard workers with chips on their shoulders. The Bruins are overachievers when a talent/production ratio comes into play, and I mean that as the highest of compliments. There's a great chance that they could find motivation in a matchup with Pittsburgh to shut down the Penguins' trademark flashy plays and drop passes.
I don't see it playing out that way, though. The Penguins have to be hearing whispers that they should have won multiple Cups with the talent on their roster, and I see this as a year that they will be especially motivated to silence them. If the Pens are firing on all cylinders, I don't see a team that will take them down. The B's are on the short list of contenders, but best day to best day, I'll take the Pens.
Final Verdict: Pittsburgh