Reflections on Chelsea's 2-2 Draw at Manchester United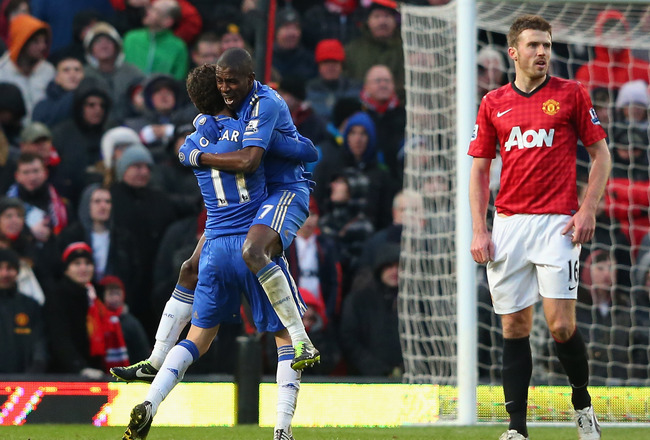 Alex Livesey/Getty Images
It's difficult to talk about Chelsea's dramatic 2-2 draw at Manchester United on Sunday without falling back on that most ancient of football clichés, "a game of two halves."
So difficult, in fact, that I'm not even going to bother trying. This was, ahem, very much a game of two halves. United took the initiative in the first 45 minutes before Chelsea, possibly playing their most impressive football yet under interim manager Rafa Benitez, put on a scintillating display in the second half.
The transformation in the Blues' performance between before and after half-time was striking, to say the least. In the opening minutes, Chelsea were utterly shambolic, conceding two soft goals and forgetting the basics of defending to such an extent that Petr Cech was called upon to make his best save not from Wayne Rooney or Javier Hernandez, but from a wayward David Luiz header.
Yet, in the second half, the Blues completely outplayed United, fully deserving their two goals and might easily have snatched a late winner when Juan Mata's shot was deflected tantalisingly wide by David De Gea's outstretched boot.
It's all set up for an epic replay at Stamford Bridge later this month, but for now read on for more thoughts on one of the most exciting Chelsea matches of the season…
1. John Terry Won't Cry When Rafa Benitez Packs His Bags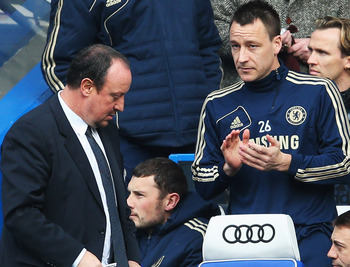 Julian Finney/Getty Images
Rather in the manner of a small child counting down to Christmas, John Terry must be ticking off the days until Rafa Benitez leaves Stamford Bridge.
Since the Spaniard arrived in south-west London last November, the Chelsea captain has made just one start in the Premier League and found himself on the bench again for Sunday's clash of the titans with Manchester United. OK, Terry was injured when Benitez replaced Roberto Di Matteo in the Blues' dugout, but the former England skipper made his comeback a full two months ago at Stoke and certainly would have expected to have been restored to the side long before now.
It hasn't worked out like that, though. Terry's rare starts have mostly come against relative minnows like Brentford and Middlesbrough, while he has been consigned to the bench for encounters against more demanding opponents.
At this rate, Terry will be unlikely to feature against Manchester United in the replay at the Bridge or, if the Blues win that game, against City in the semi-final. Strangely, though, he would probably have every chance of starting against lesser lights Blackburn, Millwall or Wigan should Chelsea reach the final at Wembley.
2. Benitez's Substitutions Made the Difference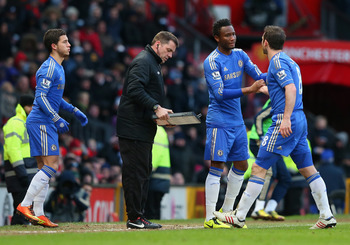 Alex Livesey/Getty Images
Rafa Benitez may not be "Mr Popular" with the Chelsea fans orJohn Terry, but on Sunday his substitutions changed the course of the game in the Blues' favour.
The visiting fans, though, were distinctly unimpressed when the interim manager hauled off Frank Lampard and Victor Moses after 51 minutes, replacing them with Jon Obi Mikel and Eden Hazard, while loud chants of "You don't know what you're doing!" resounded around Old Trafford.
It didn't take long, however, for those chants to be silenced. Hazard curled a beautiful shot past De Gea to reduce the arrears. Mikel, too, also made his mark, albeit in a less flamboyant way, slotting seamlessly into the holding role where he made numerous interceptions and instigated a number of dangerous Chelsea counter-attacks. He also freed Ramires to play a more offensive role, and it was the Brazilian who grabbed a tremendous equaliser for the Blues, finishing off a wonderful passing move with a composed left-foot shot.
Indeed, Chelsea might easily have won this game with Mata, Hazard and Torres all spurning chances in the final minutes. Still, for Benitez, this was a triumph and in many ways his best day yet at the Bridge.
3. "Little Pea" Needs Squashing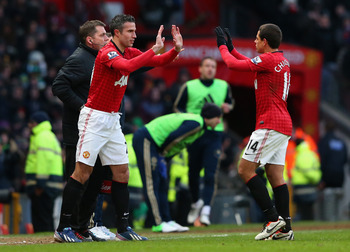 Alex Livesey/Getty Images
If Chelsea fans never catch sight of Javier Hernandez again they won't be complaining. Following his opener at Old Trafford on Sunday, the diminutive Mexican striker has now scored seven times against the Blues in just 10 games. His goals/minutes ratio against Chelsea is even more impressive, one every 99 minutes.
It may be sour grapes, but am I alone in thinking that Hernandez is one of the most annoying players in the Premier League? Let's face it, he's not exactly Marco Van Basten, is he? Yes, he's been a consistent scorer for United, but even their fans would admit most of his goals come inside the six-yard box, with defenders giving quizzical looks to the referee's assistant, hoping for an offside decision.
Then, there's his ridiculous habit of getting down on his knees to pray just after the match has kicked off, as if God (assuming he exists at all) gives a fig about something as mundane as the result of a football match. Yes, lots of players make religious gestures before the kick-off, but Hernandez is the only one I can think of who does so while the game is actually in progress.
Finally, there's the ludicrous name on the back of his shirt: Chicharito ("Little Pea"). Why, oh why, have the Premier League allowed this? His name is "Hernandez"; why didn't the league put their foot down and say, "Sorry, matey, you're in England now, it's your surname that goes on the back of your shirt here. If you really don't like it, there are flights back to Mexico from Heathrow every day. It's up to you, Mr Peaface, or whatever you call yourself…"
4. Cheers, Soxy and Edgar!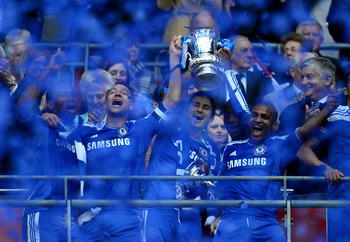 Shaun Botterill/Getty Images
You could almost hear the groans at the headquarters of FA Cup sponsors Budweiser as former Chelsea star Graeme Le Saux and Dutch legend Edgar Davids made the draw for the semi-finals of the competition.
To put it mildly, executives at the company will be far from happy that the duo failed to keep Manchester City and Manchester United/Chelsea apart, ensuring that while there will be one mega semi-final, there will also be a significantly less mega one. And, in all probability, a damp squib of a final which could prove as one-sided as last month's Capital One Cup Final.
"I'm trying to think of something polite to say about the other game," chortled ITV's Adrian Chiles, after Roy Keane, Lee Dixon and Gareth Southgate had salivated over the prospect of a Wembley Manchester derby or an equally mouth-watering 'El Cashico' clash between City and the Blues. Chiles had every reason to sound smug as he would have known that ITV have first pick of the semi-finals, leaving rivals ESPN lumbered with the game nobody outside Wigan, Blackburn or Bermondsey is remotely interested in.
As for Chelsea, the draw means the club will have to retain the cup the hard way, by somehow getting past the two Manchester giants before reaching the final. Still, if the Blues show anything like the skill, application and never-say-die spirit they demonstrated in the second half at Old Trafford, then that task should not prove beyond them.
Keep Reading

Chelsea: Like this team?