Barcelona vs. AC Milan: Picking the Best Starting Lineups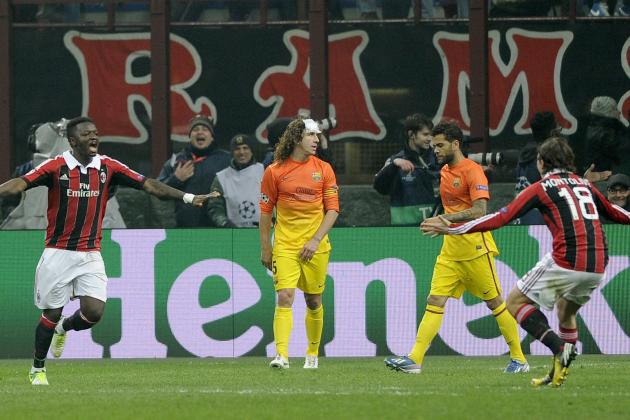 Claudio Villa/Getty Images
AC Milan look to hold onto their advantage against Barcelona.
Tuesday's UEFA Champions League showdown between FC Barcelona and AC Milan will provide a stern test for both sides, as well as a match that is sure to entertain fans.
Both teams will enter this match having won their most recent league matches, with Barcelona achieving a 2-0 win over Deportivo and Milan picking up a victory over Genoa by the same score.
Indeed, this 2-0 scoreline holds significance here. That was the result of the first leg of this last-16 tie, in favor of the Italian side. Barcelona also enters having been dismissed from the Copa del Rey by bitter rival Real Madrid.
Both sides shifted some personnel around in their most recent matches, and injuries will play their parts in how the teams will set up in this crucial matchup.
Jordi Roura and Massimiliano Allegri have a lot of thinking to do in order to create the perfect squad to take down their opponents. What follows is a look at an ideal setup for both sides.
Begin Slideshow

»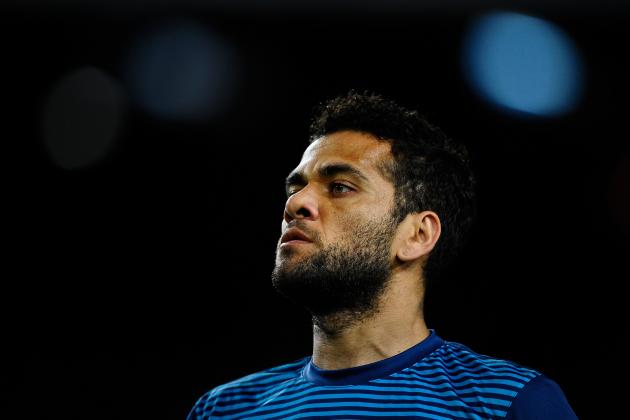 David Ramos/Getty Images
Dani Alves will be a key factor for Barcelona.
Goalkeeper: Victor Valdes
Defense: Dani Alves, Gerard Pique, Carles Puyol, Adriano
Starting goalkeeper Victor Valdes was handed a four-match league ban for his actions towards referee Miguel Perez Lasa after the Copa del Rey second-leg match. Of course, he is available for selection in the Champions League. Valdes is the clear choice at the back for Barcelona.
Dani Alves, at right back, is another pretty clear choice. The veteran Brazilian has been a mainstay on this side since his arrival from Sevilla, and will be heavily relied on here. His pace down the flank must be utilized to its fullest to attack Milan's back line.
The central defense pairing starts with an easy choice in Gerard Pique. The undisputed rock at the back for this side, Pique has been the pick of the lot amongst Barca defenders this season. His size in particular will be a key aspect in controlling play. Plus, he's rested having not featured against Deportivo.
Who should partner Pique is a tough choice. Carles Puyol has been beaten quite a bit lately, but was solid on Saturday and could see a second straight start. Javier Mascherano would be the second option, though he is similar to Puyol in lacking the pace to counter Stephan El Shaarawy.
I've chosen Adriano over Jordi Alba at left-back because of the former's better defensive abilities, as well as his overall level of play this season. Maintaining some sort of balance is important as Dani Alves bombs up the right, so you'll want a slightly more defensive option on the other side.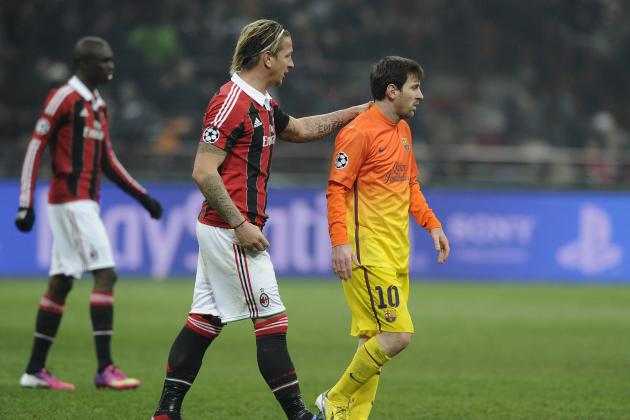 Claudio Villa/Getty Images
Philippe Mexes will have to control Lionel Messi for another 90 minutes.
Goalkeeper: Christian Abbiati
Defense: Ignazio Abate, Philippe Mexes, Cristian Zapata, Kevin Constant
Yes, this is the same foursome that took the pitch at San Siro three weeks ago. But hey, they got the job done. Why not give them another run out? Things start at the back with veteran netminder Christian Abbiati, who will pretty much get the nod on most days.
At right back comes Ignazio Abate. The Italy international got a short spell on the pitch against Genoa on Friday, helping to shore up a 10-man Rossoneri. He'll likely go up against Andres Iniesta on that side of the pitch, and he'll hope to contain the magician to limit Barca's attacking forays.
The central defense pairing has the tallest (sort of) task, having to deal with Lionel Messi. But Philippe Mexes and Cristian Zapata did a great job of it back at home, and will look to do so again at Camp Nou.
Mexes left the Genoa match with an injury, but has been named to the squad for this match and should get the start. He and Zapata also have to deal with distribution, if they win the ball back. Being under such enormous pressure makes it hard to get the ball out safely.
Kevin Constant finishes it up on the left. The Guinean was sent off for a moment of recklessness, but that shouldn't affect his standing in the team. He's been a solid contributor for Milan, and will be crucial in counter-acting the threat of Dani Alves down his flank.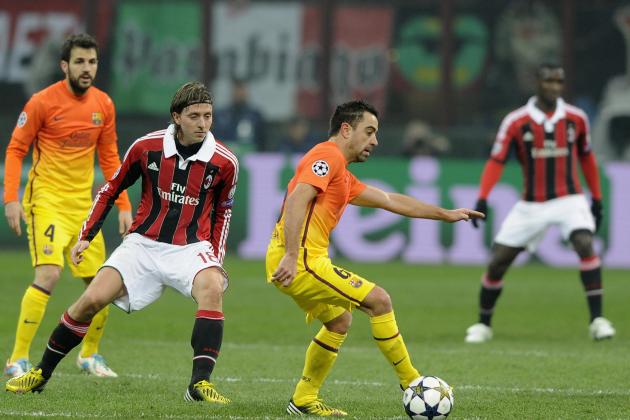 Claudio Villa/Getty Images
Barcelona's Xavi should return to action against Milan.
Sergio Busquets, Xavi, Andres Iniesta
The midfield triumvirate here looks rather familiar. Indeed, it's one most fans of the game should be familiar with from watching both Barcelona and the Spanish national side. This group's won a World Cup and two Euros together, not to mention all their club trophies.
Sergio Busquets is the deep man in the three. He'll sit back in front of the defense to provide cover for the back line, while acting as a starting point for attacking forays. Being able to pick the right pass for his teammates to utilize will be one of many key responsibilities handed to Busquets.
Xavi ought to make a much-welcomed return to play on Tuesday, having dealt with a hamstring injury over the last week or so. The midfield metronome's influence will surely be a focus point for Milan's defense and midfield, as letting Xavi get into a rhythm could easily spell danger.
The same goes for Andres Iniesta. While Xavi is content to stay a little deeper and be a distributor, Iniesta will drive forward at will. He does go out wide to the left a lot, and this ability to stretch the opposing defense is crucial in allowing the attackers to push forward and find spaces.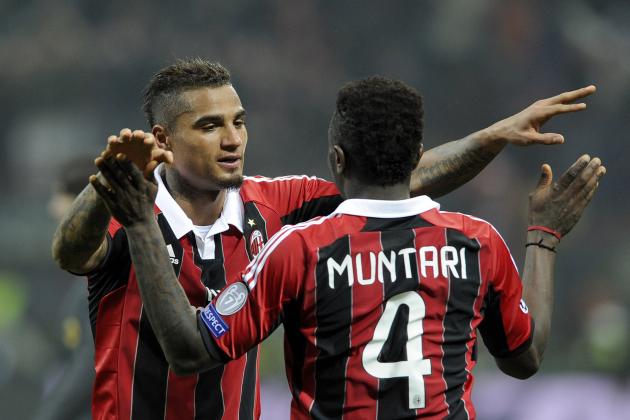 Claudio Villa/Getty Images
The Ghanaian duo of Kevin-Prince Boateng and Sulley Muntari headlines Milan's midfield.
Massimo Ambrosini, Sulley Muntari, Riccardo Montolivo, Kevin-Prince Boateng
Milan will counter Barcelona's midfield three with a midfield four, with a plan to clog up the pitch well in order. Club captain Massimo Ambrosini will be the major cog in the middle here, with his strong work ethic ready to show itself as he helps his defense tirelessly to keep the danger out.
Sulley Muntari also exhibited great defensive qualities in the first leg before coming out of nowhere and snatching a goal on a counter-attacking move. He'll make a good foil for Ambrosini, helping out at the back but willing to go forward when needed.
Riccardo Montolivo brings a more mixed approach to things. He'll sit deep, but not as much as the two already mentioned. He's also the creative hub for his side, dictating the tempo by controlling the ball and being a solid distributor.
Kevin-Prince Boateng rounds out the midfield alignment as the most attack-minded player in the setup. He'll end up playing way deep at times due to his opponents' pressure, but his pace and ball skills will help lead Milan's counter attacks against a shaky Blaugrana defense.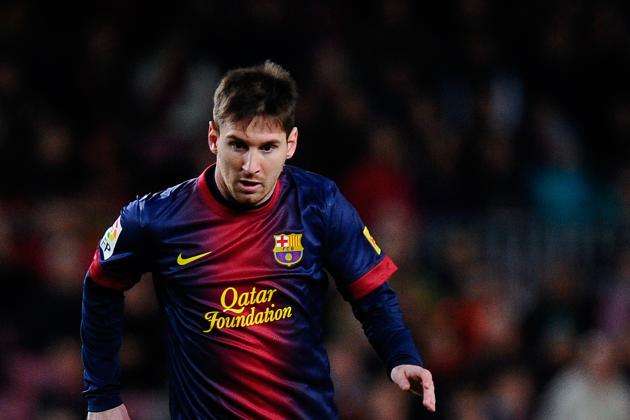 David Ramos/Getty Images
It's time for Lionel Messi to step up for his team once again.
David Villa, Lionel Messi, Pedro
Barcelona's three-pronged attack will always have the same guy in the middle, but who flanks him? On the right side ought to be Pedro Rodriguez. The Tenerife-born winger has a knack for scoring in crucial matches, including the Champions League final two years ago and last season's Copa del Rey final.
As mentioned before, Lionel Messi will be back in his familiar role as a false nine. He'll drop into space to pick up the ball, then look to attack. It's just a matter of finding space to work with in what will likely be a packed Milan formation. But it's time for him to show up with his team on the brink.
I propose that David Villa go on the left. If Iniesta plays out wide, then as Lionel Messi drops back to pick up the ball, Villa can cut towards the middle to exploit space. This puts Villa in a more comfortable position to work from, which could breed success.
Bleacher Report's Tre' Atkinson suggested during the Deportivo match that Villa's second-half substitution was an indicator that El Guaje would play a part in this match. He's got plenty of assets that can help out the team in this situation.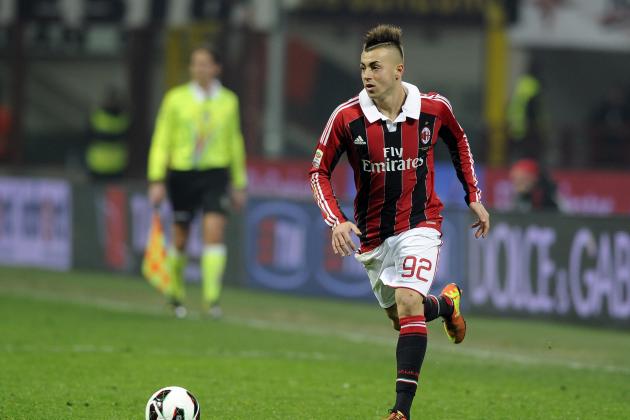 Claudio Villa/Getty Images
Stephan El Shaarawy has been the main man for the Rossoneri.
Stephan El Shaarawy, M'Baye Niang
Massimiliano Allegri got dealt a cruel blow during the Genoa match as striker Giampaolo Pazzini suffered a leg injury that will see him miss this key crunch clash. The former Inter man has picked up his form of late, including scoring in Friday's opener before his injury.
This means, especially with Mario Balotelli ineligible for this match, the brunt of the attacking work will come down to Stephan El Shaarawy. Il Faraone has cooled off from his blistering start, but still possesses tons of match-winning ability, and can unlock this feeble Barcelona back line.
Partnering the Italian will be M'Baye Niang. The young Frenchman may not have the goalscoring record of some of his teammates, but he's got loads of talent to go alongside El Shaarawy in what will be an extremely young attack force.
I give Niang the nod over Robinho here based on the recent form of those two this season; The Brazilian has gone through a poor season, and was even left out of the squad completely in the first leg. He will likely make the bench here, if only out of necessity.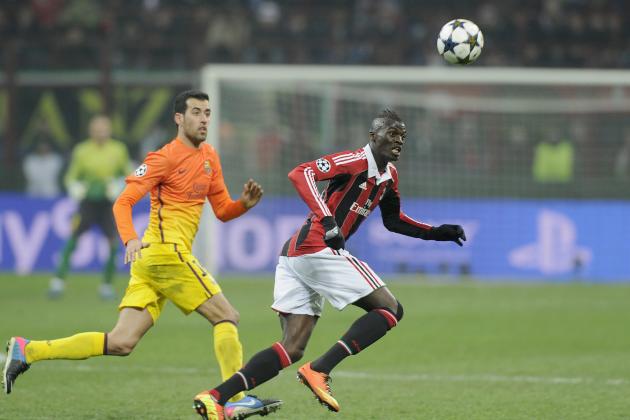 Claudio Villa/Getty Images
We're in store for a thrilling matchup between Barcelona and Milan.
Barcelona: Valdes; Alves, Pique, Puyol, Adriano; Busquets, Xavi, Iniesta; Pedro, Messi, Villa
Milan: Abbiati; Abate, Mexes, Zapata, Constant; Ambrosini, Muntari, Montolivo; Boateng; El Shaarawy, Niang
Regardless of which 22 players trot out onto Camp Nou's fabled pitch Tuesday night, this is sure to be a matchup you won't want to miss. Barcelona will need to play an inspired match to overturn a surprising first-leg deficit against strong opposition.
They know what needs to be done; it's now just a matter of going out there and doing it for 90 minutes.