The Houston Texans' Blueprint for Winning Free Agency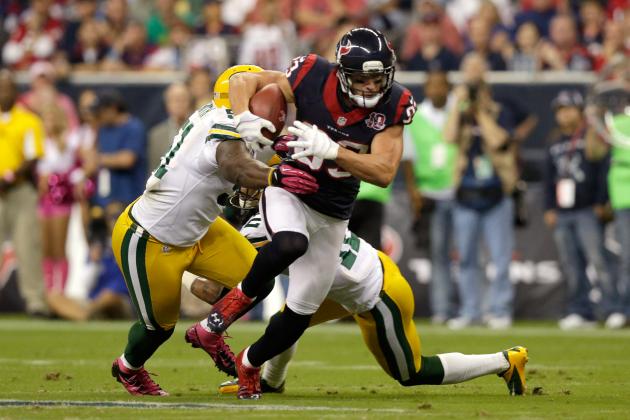 Scott Halleran/Getty Images

The Houston Texans are entering the starting point of the complex, frightening labyrinth that goes by the name of NFL free agency.
If navigated correctly, the Texans will be able to win free agency and emerge prepared to make another Super Bowl run.
If not, they will become lost in the labyrinth, possibly dooming themselves to years of dreaded mediocrity. As Texans' fans know firsthand, mediocrity is not fun. In fact, it could be worse than being terrible.
Years of standing outside of the playoff picture must be avoided. The Texans need to assert themselves as perennial contenders and the only way to do that is to manage free agency perfectly.
Here is the Texans' blueprint to avoid the potential disaster that free agency could bring.
Begin Slideshow

»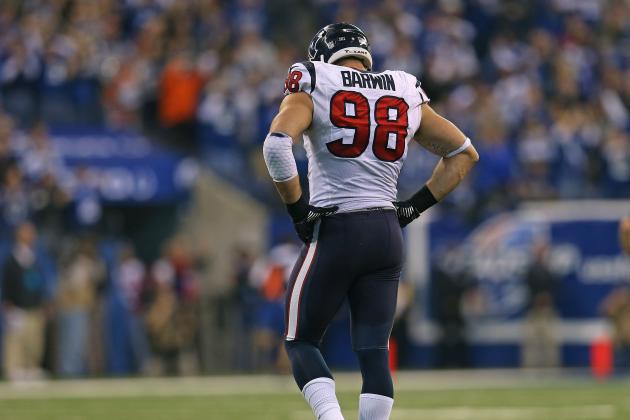 Jonathan Daniel/Getty Images

The most problematic issue heading into free agency for the Texans is that their salary cap space is virtually non-existent.
So non-existent, in fact, that it is nearly impossible for them to re-sign any free agents. The most average and least expensive contract could send the Texans spiraling into salary cap hell.
The focus of free agency, therefore, should not be on finding ways to improve the team by bringing in excellent free agents. Nor should the Texans even attempt to bring back more than half of their unsigned free agents.
The primary goal of the Texans this offseason should be to find the best ways to save cap space for years to come.
In the following slides, it will be explained exactly how the Texans can do this.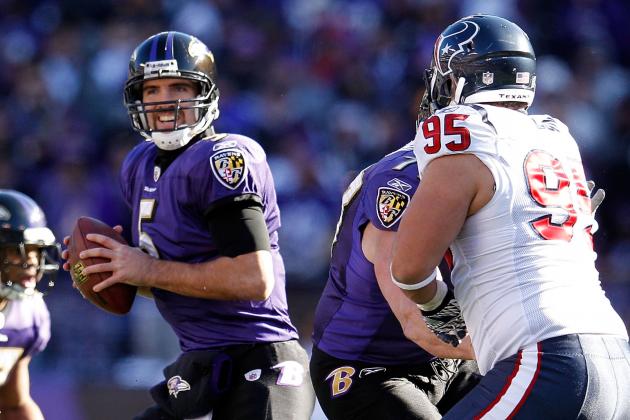 Rob Carr/Getty Images

The Texans, unfortunately, will be forced to say goodbye to countless free agents this offseason.
Although it will not be ideal for this to happen, the salary cap dictates all. The salary cap right now is dictating that the Texans shall not be allowed to retain their free agents.
The fact of the matter is that the Texans do not have the money to bring back all of their free agents, even the majority of them. The flip-side of that, though, is that the majority of their free agents were not consistent contributors throughout 2012.
Shaun Cody, despite being the starting nose tackle, is largely ineffective. He rarely makes any significant contributions and a larger, more athletic nose tackle could dramatically improve the defense.
Connor Barwin, despite breaking out in 2011, had a terrible season last year. He failed to generate consistent pressure and he failed in his role as a primary pass-rusher.
Brice McCain is a valuable nickel cornerback, but re-signing him will likely come with a hefty price. Brandon Harris, McCain's backup, steadily improved over the course of last season, and he could potentially fill McCain's role seamlessly.
Letting all of these free agents walk would prevent the Texans from spending unneeded cap room. It could also free up room on the roster to allow them to pursue play-makers in the draft—especially some of the extremely talented nose tackles.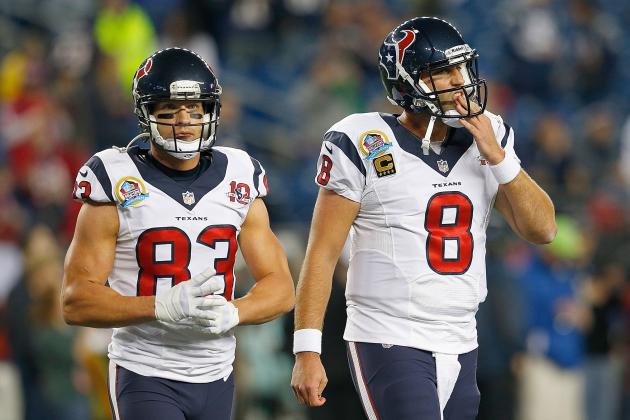 Jim Rogash/Getty Images

Not re-signing numerous free agents, however, will not be enough to save cap space in the foreseeable future.
No, the Texans will be forced to take more drastic measures.
Players with semi-expensive contracts who have recently become ineffective must be shed off the roster. Taking up valuable salary cap room and not contributing to the team is currently the most unforgivable sin on the Texans.
The player who most perfectly fits this category is Kevin Walter. He is the team's other starting receiver alongside clear No. 1 Andre Johnson, but he rarely makes any impact as a receiver.
Walter, actually, typically only makes an impact as a blocker.
Yes, let that sink in, the Texans are paying a receiver valuable money because he's a good blocker.
The Texans need to improve their cap situation, and the best way to do that is to get rid of dispensable players.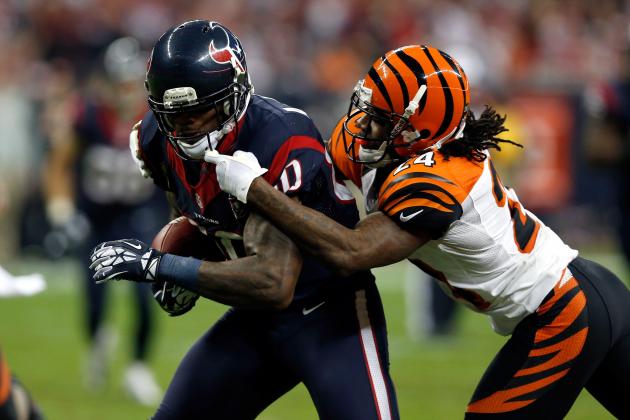 Scott Halleran/Getty Images

The least difficult and stressing part of saving salary cap space is restructuring contracts.
It's a simple process that does little to affect the players involved, but does wonders for a team's cap space situation.
Basically, all that has to happen is have certain expensive players take a dramatic pay cut in their base salary, but receive the lost money as a bonus.
The players lose no money in the process, but the Texans save a ton in cap space.
Potential candidates to be restructured include Andre Johnson, Antonio Smith and Johnathan Joseph.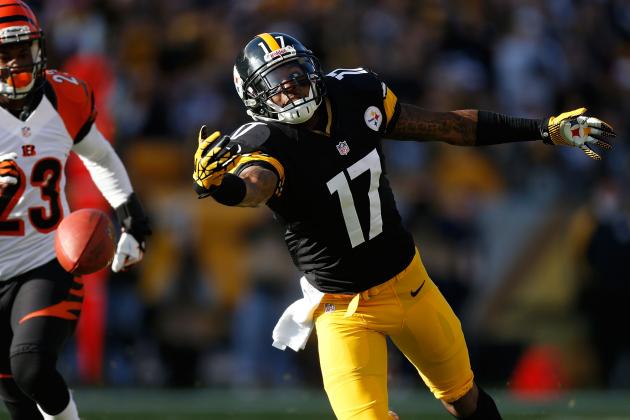 Gregory Shamus/Getty Images

Want to know how not to save future cap space in order to re-sign future free agents like Brian Cushing and J.J. Watt?
It's quite simple, really. Just don't bring an expensive free agent who could destroy the salary cap situation.
Although free agents like Mike Wallace, Greg Jennings and Wes Welker could do wonders for the Texans' passing game, they come with a devastating price: the inability of the Texans to re-sign future free agents.
Quite frankly, it is very possible for the Texans to find playmakers through the draft, this years and in the near future, in spite of picking in the bottom half of most rounds. There's no point is signing extremely expensive free agents when the next big thing—who might also be very cheap—could be found in the draft, or, heck, even in the un-drafted free agent market. Just look at Arian Foster.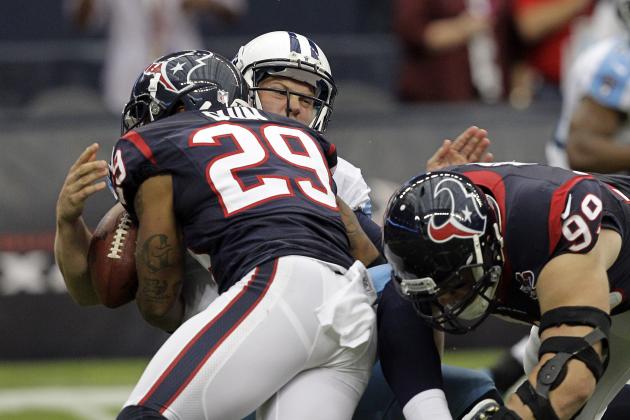 Bob Levey/Getty Images

The one free agent that the Texans must, without a doubt, absolutely re-sign is Glover Quin. His contributions to the Texans' defense are so valuable that if he is lost, the defense might completely collapse.
See, 3-4 defenses tend to be weak against powerful, downhill running offenses. For some reason, though, the Cushing-less Texans' defense was in fact able to succeed against defending those types of offenses.
Was this because Bradie James, Tim Dobbins, Darryl Sharpton and Barrett Ruud played out of their minds? No, of course not.
Glover Quin, actually, held the defense together. Able to quickly diagnose a running play, Quin is excellent at stepping up into the hole and delivering the hit on running backs. He is quick enough to keep up with the fastest of them, and he is tough enough to bring down the likes of Adrian Peterson.
Furthermore, Quin is a solid contributor in coverage. His physical strength, combined with his speed, allows him to effectively guard opposing tight ends. Without him, the Texans would have been forced to dedicate more incapable linebackers to the passing game, which would have truly struck disaster.
Quin is essential to the defense's success. It would be a tragedy for him to sign elsewhere.