Serie A Studs with Most to Prove in Remainder of Season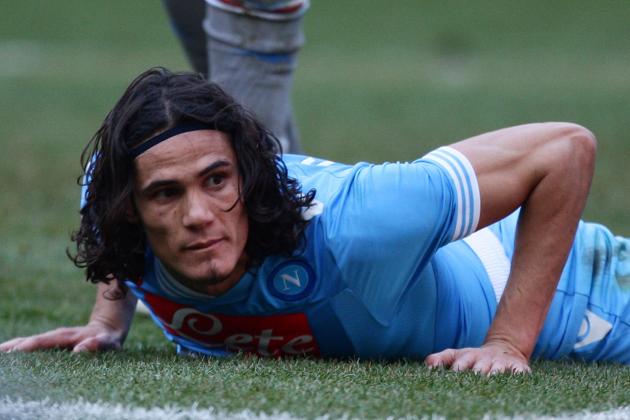 Paolo Bruno/Getty Images

The Serie A season is now officially in its home stretch with 10 games to go. In recent weeks, discussion about the league has focused quite a bit on where each club might finish.
But as the race for the title now seems over and competition for places in Europe moves into its end stage, it's time to take a look at some of the individual players.
Some big names in Serie A this year seem to have been absent for much of the season. Others have only recently hit the skids. Others have been out for extended periods or have played especially well of late and need to show that it's no fluke. Players in all categories have these last 10 matches of the season to prove to themselves, their clubs and the world that they're more than what recent form has dictated.
Let's take a look at a few of the stars of Italy who, for one reason or another, have a lot to prove as the season winds to a close.
Begin Slideshow

»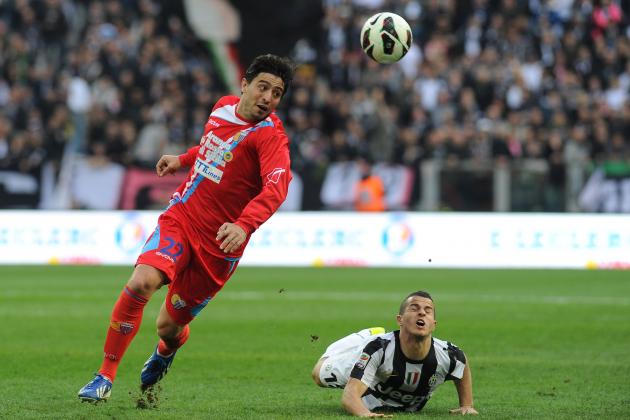 Valerio Pennicino/Getty Images

Sebastian Giovinco's return to Juventus after two years at Parma came with heavy expectations. The Atomic Ant was expected to help cure the club's ills in front of goal and to try to step into the shoes of departed talisman Alessandro Del Piero.
The results have been far from what fans had hoped. Giovinco has scored only seven goals in the league, to go along with six assists. It's a far cry from the 15 and 11 that led Parma to eighth place in Serie A last year, only a few points off of a Europa League spot.
It's not just the lack of numbers that's made Seba's season so awful. In some games he's been totally absent, in others he's missed gilt-edged chances and gaping open nets.
So what's been the problem? Part of it comes from the makeup of Juve's squad. When paired with Mirko Vucinic, whose style of play is quite similar to the diminutive Italians', he often finds himself fighting with the Montenegrin for the same space on the field, thereby snarling Juve's attack up front.
Giovinco has been much better when paired with purer strikers like Fabio Quagliarella and Alessandro Matri, who allow him to set things up in the front and supply them as well as potting goals of his own.
Reinforcements are coming for Juve's front in the summer, so if Giovinco doesn't want to find himself buried in Juve's pecking order next season he'll have to take the last 10 games of the season and make some magic.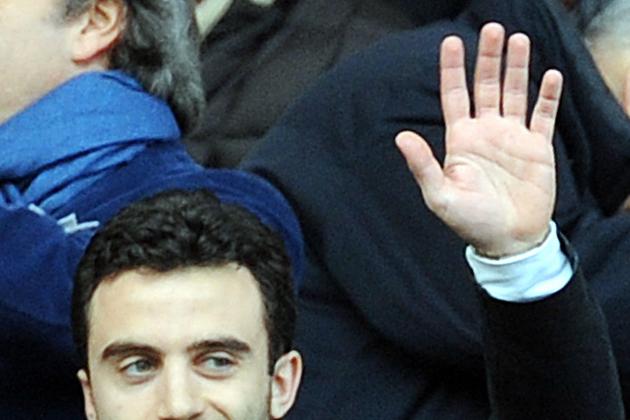 Giuseppe Bellini/Getty Images

Fiorentina may have made the deal of the 2013 winter transfer window when they bought Giuseppe Rossi from Spanish club Villarreal. The Yellow Submarine badly missed their top goalscorer last season, when they went from playing in the Champions League in the fall to getting relegated in the spring.
The viola pillaged Villarreal's roster in the summer, acquiring midfielder Borja Valero and defender Gonzalo Rodriguez. With the winter move for Rossi, Fiorentina had made a significant move for its future.
Ideally, Rossi will serve one of two roles next season. Either he will partner with Stevan Jovetic, making what could be one of the scariest striker pairings in Serie A history, or he will replace the Montenegrin if he makes his reported move away from Florence during the coming summer transfer window.
But before that happens, he has to get back on the field. He hasn't played since October 26, 2011 after suffering a nasty injury to his ACL in a La Liga match against Real Madrid. With his club fighting to avoid the drop in Spain and the European Championships looming, Rossi rushed himself back into training and re-tore the same ligament, resulting in two more surgeries and another year on the sidelines.
Rossi recently said that he was nearly ready to begin training with his new club. After two weeks of training, he will be evaluated by the team's medical staff to determine when he can start playing.
If he can get into game action and make a contribution, Rossi will go a long way towards proving to both himself and to his club that he still has what made him a consistent starter for Cesare Prandelli's national side and one of the best goal scorers in Spain.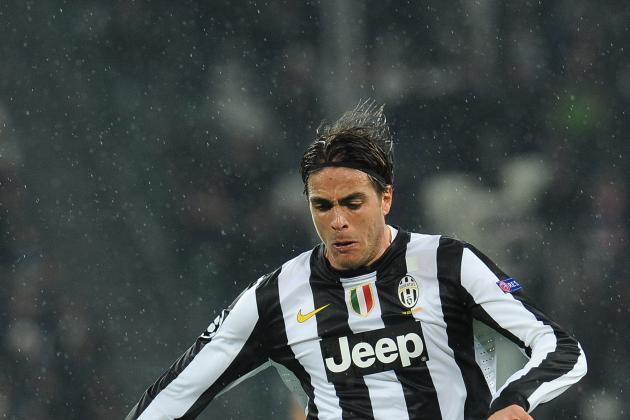 Valerio Pennicino/Getty Images

You may argue that Ale Matri doesn't quite deserve the label of "stud," but remember, this is a guy who scored 20 goals between Cagliari and Juve two seasons ago.
Matri's full seasons with Juve have been more up and down. He scored 10 goals a year ago but none after scoring the February equalizer in the controversial 1-1 draw Juve snatched against AC Milan. The addition of Sebastian Giovinco made his opportunities scarcer, and he struggled mightily. The last six weeks have produced a spurt of good form for Matri, and he goes into next week's matches with six goals in Serie A, along with two goals and two assists in the Champions League.
Now, what can be said here about Matri can be said about almost any other Juve striker. Fernando Llorente is on the way, youngster Richmond Boakye bagging goals in bunches on loan at Serie B Sassuolo and rumors abound about other top strikers from Ciro Immobile to Luis Suarez to Stevan Jovetic arriving at the club over the summer. If Juve's underperforming forwards want to stay in productive roles in Turin next year, they need to show something now.
This is especially true of Matri and Fabio Quagliarella, as Mirko Vucinic may be safe regardless, if for no other reason than his status as Jovetic's hero may finally bring his fellow Montenegrin to the club.
Matri is a true poacher. What happens when he gets possession of the ball is fully dependent on his first touch. If it's true, goalkeepers beware. If it's off, Juve fans will likely be groaning as the defense sprits the ball in the opposite direction.
It's looking more and more likely that Matri's time in Turin may be over. He needs to use the last 10 matches of the season (plus the remainder of the Champions League) to make enough of an impression for Antonio Conte—or another coach—to believe that he can be an instrumental part of a team's forward line.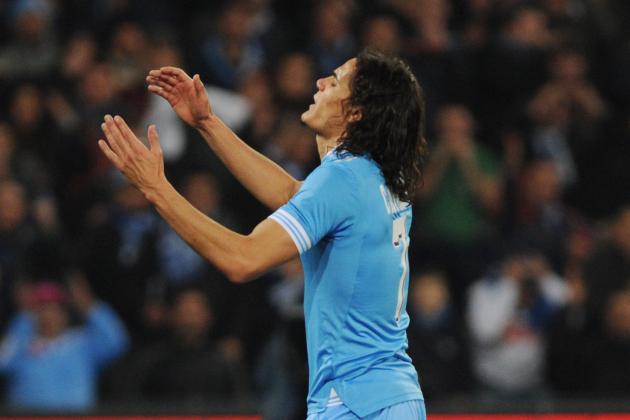 Giuseppe Bellini/Getty Images

Why is the man who is currently pacing the field for the capocannoniere title on this list? Simple: he hasn't scored since January 27, when he netted an 85th minute winner against Parma.
Since then, Napoli has run into a run of bad form. They've won only one of their last six matches in the league and endured a humiliating elimination from the Europa Leauge by Viktoria Plzen 5-0 on aggregate. The stretch was punctuated on Sunday by a shock 2-0 loss to Chievo Verona.
Last season, Napoli endured two separate five-game stretches in which they dropped points and fell out of the mix not only for the scudetto but for the Champions League as well. Cavani was held scoreless in six of those 10 matches.
Sunday was absolutely miserable for the Uruguayan striker. He had an early free kick batted away by Chievo keeper Chrisitan Puggioni, and was denied from the spot by the Flying Donkey's net-minder midway through the second. The loss sank Napoli to nine points behind Juve and only two ahead of hard-charging AC Milan.
Another telling stat: in his last six games against Juventus and Milan, Napoli's nearest competition, he's been held scoreless.
Cavani is one of the most coveted strikers in the world right now, but he needs to take these last ten matches—particularly in four weeks against Milan—and show the world that he can take his team on his shoulders in these high-pressure, late-season matchups against top opposition rather than letting them drop down the table once again.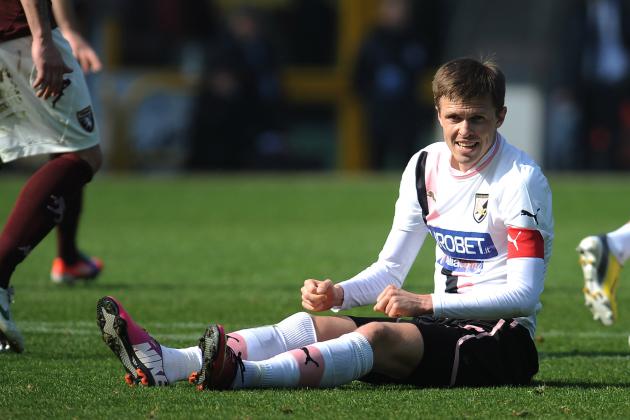 Valerio Pennicino/Getty Images

Palermo's Josip Ilicic is a curious case. When he was acquired by Palermo from Maribor in the summer of 2010, the Slovenian international was a terror in Serie A. He scored eight goals from the midfield and was a creative force. He and Argentine Javier Pastore gave the Sicilians a frightening young core.
But Pastore was sold to Paris Saint-Germain the next summer, and Ilicic's form has nosedived. He only scored twice last season, and though he's pumped the output up to five so far this year, Palermo is currently sitting rock bottom in the standings, five points adrift of safety. Even team president Marurizio Zamparini has said "We won't be able to save ourselves now. It's folly to think we can do it...I'm not giving up, but the maths are against us."
The reasons for Palermo's startling fall are many, but Ilicic's failings to create (only one assist) in midfield are definitely one of them. It may be possible that the Slovenian's excellent form two years ago was due largely to Pastore's influence. Ilicic will need the next ten games to prove that that isn't the case, and maybe help his team pull off a miracle and avoid Serie B next year.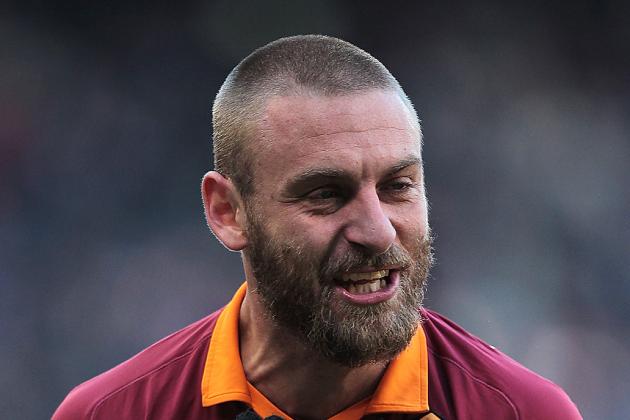 Gabriele Maltinti/Getty Images

After much transfer talk in 2012, Daniele De Rossi signed a contract extension with Roma in February of that year that made him the highest paid Italian player in Serie A.
As the season began, though, transfer talk once again sprung up after unrest between the player and manager Zdenek Zeman permeated the team.
Between his feud with his coach and a suspension that saw him sit three games after slapping Stefano Mauri in the derby della capitale, De Rossi has only played in 18 of the 29 matches that Roma has played in the league this year.
No one is making the case that De Rossi has declined in quality. He's definitely on Cesare Prandelli's automatic list and will be an important piece going forward.
That said, il capitan futuro hasn't found the net at all this season and has only two assists. He's going to want to make some sort of an impact on this season in order to make sure the year isn't an absolutely total loss, and that he's still the elite player that his contract makes him out to be.