The Biggest Free-Agency Busts in Washington Redskins History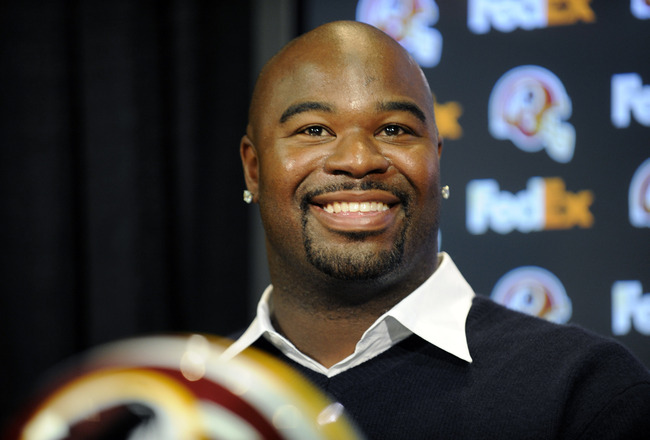 Mitchell Layton/Getty Images
Something about this offseason, particularly the free-agency period, feels to be a bit lacking. The Washington Redskins are usually such prominent players this time of year, but their $18 million salary-cap penalty leaves them with little to work with.
For some, it is good news that the Redskins can't buy a handful of players this offseason. For others, it is bad news for a roster in need of a few complementary pieces to reach the next level.
Regardless of the current perspective, thoughts on Washington's past offseason acquisitions are almost entirely negative given the lack of success and abundance of money spent.
Here are the biggest free-agent busts for the Washington Redskins.
10) Mike Barrow, MLB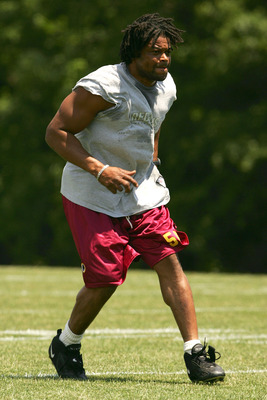 Nick Laham/Getty Images
The Redskins signed veteran linebacker Mike Barrow to a modest six-year, $11.6 million deal to take over in the middle for the underwhelming and departing Jeremiah Trotter. Already 34 years old, no one expected Barrow to be the long-term solution at middle linebacker for Washington.
I'm sure they expected him to suit up for a few games, rather than miss the entire 2004 season and never once set foot on the field for the 'Skins.
Barrow would have been a solid presence in the middle for the Redskins, but instead, it left the defense scrambling to fill the void. Lucky for the Redskins, Antonio Pierce emerged as the starter, finishing the season with 112 combined tackles, two interceptions and a touchdown in his best, and last, season with Washington.
9) Jeremiah Trotter, LB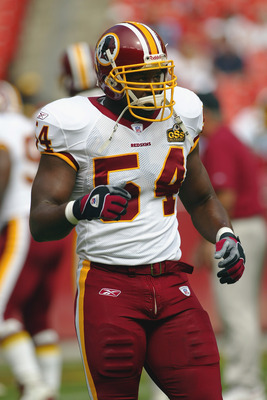 Jamie Squire/Getty Images
Seven years and $36 million should be worth a lot more than 204 tackles, 1.5 sacks and two interceptions, but Jeremiah Trotter failed to do any more than that in two seasons with the Redskins.
Trotter missed four games in his first season with the Redskins and simply didn't bring the type of production and leadership to the defense that he was being paid to bring.
The Redskins released Trotter after two seasons, and he went back to the Philadelphia Eagles where he put up better tackle numbers over the next three seasons than he ever did with Washington.
8) Steve Spurrier's Florida Gators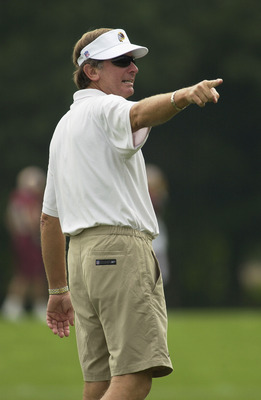 Greg Fiume/Getty Images
It's one thing for a coach to bring in players he is familiar with in order to build some consistency with a new roster for a new team at a brand new level of football. It is quite another to disregard better options in hopes that the guys who played for you in college can somehow salvage the wreck of an offensive strategy that coach has devised.
Steve Spurrier's tenure as head coach for the Washington Redskins was a mistake, and his favoring his former Florida Gators set the team back further than it already was in the persistent NFL arms race.
Shane Matthews and Danny Wuerffel split time at quarterback, Jacquez Green and Chris Doering were brought in at receiver, and not a single one of them did anything to help the Redskins win or Spurrier look any less like a fool at the professional level.
Though none of their signings were considered big splashes in terms of expectations or money, it showed blatant disregard for the more important parts of the roster, such as the offensive line. It was an offensive line that turned a promising, strong-armed Patrick Ramsey into a gun-shy bust after he was brutally sacked 48 times in 16 starts over two seasons.
7) Antwaan Randle El, WR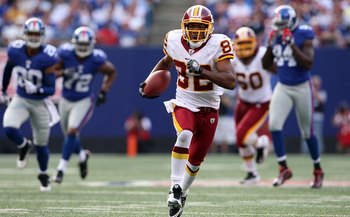 Jim McIsaac/Getty Images
However lovable Antwaan Randle El may be and however hard he may have worked on and off the field, never was he worth the $31 million the Redskins signed him for.
Randle El scored 11 total touchdowns via punt return, passing and receiving in four seasons with the Redskins, but his receiving numbers topped out at 728 yards, and along with the even more disappointing Brandon Lloyd, failed to revitalize Washington's offense.
It really is a shame, though, that Randle El's versatility did not have more of an impact on the Redskins. It isn't his fault the team paid too much and failed to get a respectable return on the field.
6) Jeff George, QB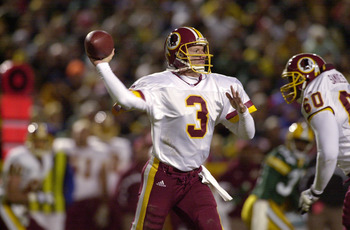 Jonathan Daniel/Getty Images
Why anyone, in their right mind, sign Jeff George to a four-year, $14.8 million contract in the twilight of his career is beyond me, but that's exactly what the Redskins did. Another of Snyder's infamous veteran signings that backfired mightily.
George managed to start seven games in two seasons, winning just one of them, before being released following an 0-2 start to the 2001 season.
Expectations weren't exactly sky-high for George in Washington, but he was paid above market value to be a backup, and he was unimpressive in practically every way.
5) Dana Stubblefield, DT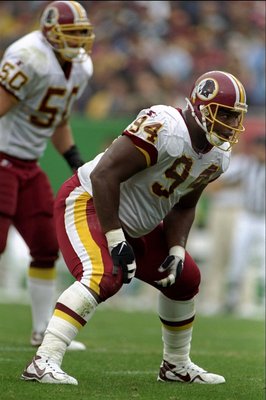 Scott Halleran/Getty Images
Never sign a player who has yet to show an ounce of consistency in his career—and certainly don't sign him to a fat contract. Dana Stubblefield racked up 15 sacks with the San Francisco 49ers in 1997, prompting the Redskins to sign him to a six-year, $36 million deal to be a force on their defense.
Even with "Big Daddy" Dan Wilkinson occupying blockers and taking on double-teams alongside him, Stubblefield mustered just seven sacks in three seasons with the Redskins.
The Redskins should have looked at Stubblefield's career leading up to his 1997 breakout; he went from 10.5 sacks as a rookie, down to 8.5, down again to 4.5, before bottoming out at 1.0 in 1996.
4) Bruce Smith, DE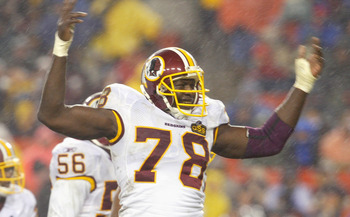 Jamie Squire/Getty Images
Around the time of the millennium, the Redskins developed a nasty habit of paying way too much for players who were well past their prime. Bruce Smith, at the ripe old age of 36, should not have been signed to a five-year, $23 million deal by virtue of being a force with the Buffalo Bills in the first 15 years of his career.
Smith was released before the final year of his contract, but the four years he spent in Washington were selfishly spent chasing Reggie White's career sack record, which he ultimately captured.
The Redskins paid Smith based on his previous accolades, and Dan Snyder wanted him in the burgundy and gold when he broke the record for a notch in his own cap. Smith notched 29 sacks in four seasons with the Redskins, but was a novelty signing who didn't really help the team win.
3) Adam Archuleta, SS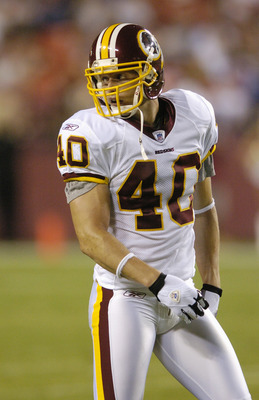 Greg Fiume/Getty Images
When someone becomes the highest-paid player at their position, it generally means one of two things. Either that player is the best at their position a la Peyton Manning, or that player is signed by the Washington Redskins.
Adam Archuleta signed a six-year, $30 million deal in 2006, making him the highest-paid safety in NFL history to that point.
Despite being a stat stuff with the St. Louis Rams—351 combined tackles, three interceptions, five forced fumbles and three total touchdowns, Archuleta struggled for the Redskins. He was a liability in pass coverage and was ultimately replaced in the lineup by Troy Vincent and subsequently demoted to special teams duty for the majority of the season.
Archuleta's brief and regrettable tenure in Washington came to an end after one season when they shipped him to Chicago for the sixth-round pick.
2) Deion Sanders, CB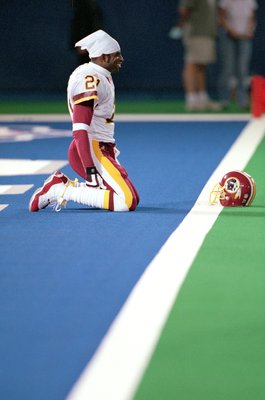 Tom Pidgeon/Getty Images
Prime Time, Neon Deion himself, Deion Sanders remains one of the worst free-agent signings the Washington Redskins have ever made. He was signed to an eight-year, $56 million deal at the age of 33, when most corners are on the decline.
He lasted a single season with the Redskins. He intercepted four passes and chipped in on punt returns.
Shame on Washington for paying so much for a player closing in on retirement age, and shame on Sanders for saving some of the best football of his later career for his two-year stint with the Baltimore Ravens.
Regardless of whether or not he was collecting on his contract, Sanders would have been a member of the Redskins for the 2004 and 2005 seasons had he seen it through.
1) Albert Haynesworth, DT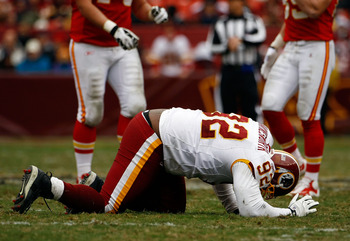 Win McNamee/Getty Images
Albert Haynesworth was a force to be reckoned with in the middle of the Tennessee Titans defensive line. He created havoc in the backfield, got to the quarterback and occasionally stomped on the heads of his fallen opponents.
Then, in the offseason of 2009, the Washington Redskins signed him to a seven-year, $100 million deal. Nothing changed, really, since it was a known fact that Haynesworth is the type of player who shows up the most when he wants to get paid.
The Redskins were just the highest-paying suckers of the offseason. Haynesworth went from a career-high 41 tackles and 8.5 sacks to having trouble getting up after plays, half-'heartedly plodding in pursuit of plays and failing to live up to even a fraction of his monstrous deal.
Shame on the Redskins for buying into Haynesworth's contract-year numbers. Just to show how the mighty have fallen, Haynesworth went from being the top defensive lineman in the NFL in 2008 to out of football in 2012 after brief stints with New England and Tampa Bay for the 2011 season.
Keep Reading

Washington Redskins: Like this team?