5 Players Pep Guardiola Should Sign at Bayern Munich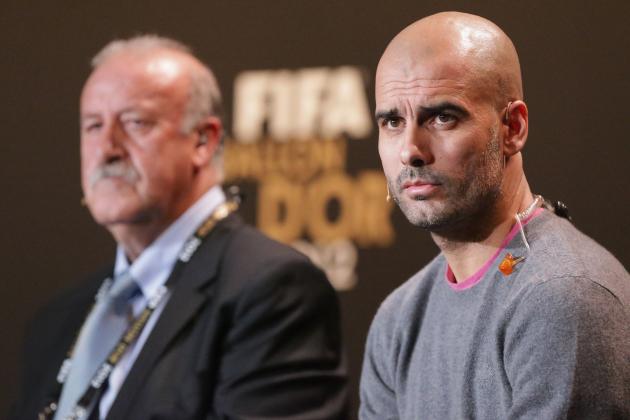 Christof Koepsel/Getty Images

In a summer without international competition, the glare of the transfer window and associated gossip shines brighter than usual. One of the most engrossing narratives of this summer is likely to play out in Bavaria, where Pep Guardiola ends his sabbatical and takes over at German giants Bayern Munich.
Speculation suggests that the former Barcelona man will be keen to 'stamp his imprint' on Jupp Heynckes's existing team, and Catalonia has been cited as the most likely destination for Pep's pillaging.
Some questions will remain unanswered until the summer; who is to say whether Guardiola will actively seek to replicate his tried and tested Barcelona methods using La Masia trained personnel? What is to suggest that he will necessarily want to spend big rather than eke the best out of the talent at his disposal? Where is the evidence that Bayern's talent-laden team doesn't have enough ability to profit from Pep's sophisticated coaching?
This article profiles five players who have been linked to Bayern, while also beginning to answer some of these questions, as well as others that will doubtless surround a summer of intrigue at FC Hollywood.
Begin Slideshow

»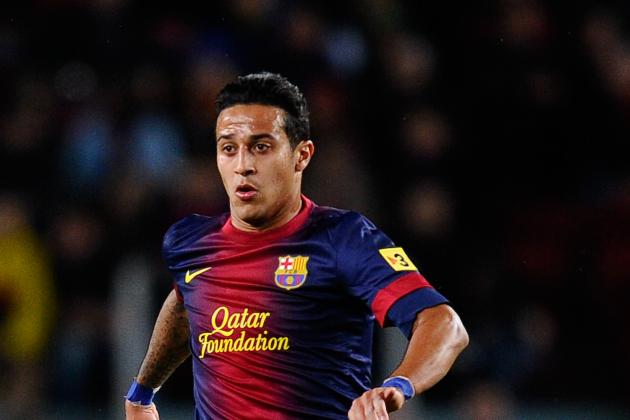 David Ramos/Getty Images

It's easy to see the logic in Guardiola returning to Barcelona to acquire some talent for his new project. Having never managed beyond the confines of the Nou Camp before, who can underestimate the importance of having some semblance of home when embarking on a new pathway, far from one's motherland?
The suggestion that Guardiola would look to recruit at least a smattering or two of Barcelona talent falls upon ears willing to imagine and willing to speculate; more often than not, Thiago Alcantara is the form which gives the suggestions body.
It's possible to place a narrative behind these musings; this young Spanish international is an archetypal Barcelona midfielder. Technically outstanding, pass-perfect and capable of dictating the play, Thiago could become a new burning symbol of Guardiola's overseas mission, and could be the cornerstone of his Bayern project. What better way to begin to replicate the successful style and approach of Iniesta and Xavi, than by poaching the player that is primed to replace them?
And this is where some of the problems in the suggestion begin to appear…why on earth would Barcelona ever sell Alcantara? The youngster is already beginning to emerge as an influential part of the side, and surely has a glittering career ahead of him in Catalonia. Would the cult of Pep be enough to separate player and club?
Similarly, Guardiola has publically expressed his adoration of Bastian Schweinsteiger, the current incumbent of Bayern's deep-lying playmaker role. Would Guardiola really splash out to replace one of the finest cogs in Munich's machine? It seems unlikely, even considering Thiago's impressive 92.7 percent pass success rate last season.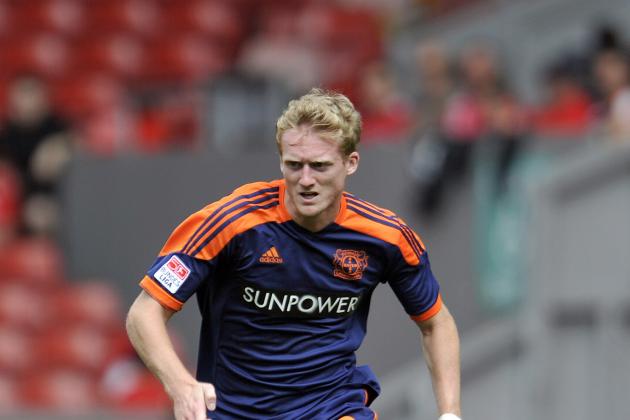 Clint Hughes/Getty Images

With Bayern having a preference for plucking young talent from the local leagues, gently nurturing it and then establishing the young player as an effective cog in the machine, I considered some young Germans who might be picked to mature alongside the team, eventually finding themselves as a crucial component of the Munich system.
Part of me suspects he might not quite be good enough, but Andre Schurrle is the name I have chosen to put forward to fulfil this role. Still only 22, the youngster has time on his side, but with over 20 Germany caps already, he has the experience and the poise to contribute to Munich's inevitable title march in Guardiola's maiden season.
The versatile forward has been linked with Chelsea, but a move to Bayern might be more apposite—particularly this summer, when his 'fixed price' clause of approximately £25 million comes into effect. His stats earlier this season (24 apps, 6 goals, 5 assists) stood up to Ribery's (19 apps, 5 goals, 10 assists), and one can't help but imagine that Schurrle's technical mastery would flourish even more in the environment of Bayern, particularly under the guidance of Pep.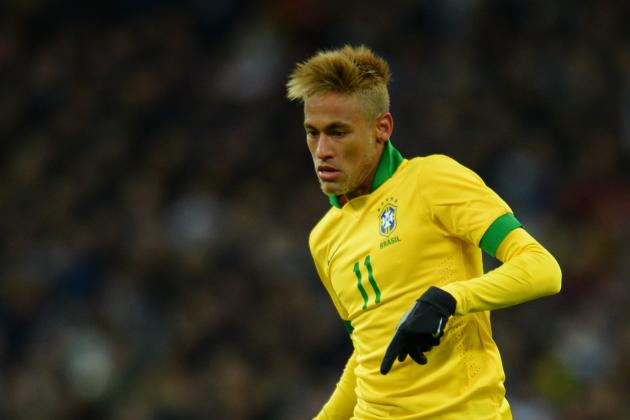 Shaun Botterill/Getty Images

The Brazilian starlet is one star attraction whose name has been linked incessantly to Bayern since Guardiola was confirmed as coach. The reasons why such an association has been forthcoming have not been hard to see.
Neymar's move, however, may not come in the same summer as the coach. The forward has consistently iterated his preference to wait until after the Brazil World Cup in 2014 before moving, but expect Bayern to be quick to make a move as soon as either the hosts are knocked out, or they lift the trophy in front of delirious home support.
The hottest prospect in world football, Neymar's value would price many clubs out of bidding for him. Bayern have the money, but the official line from club president Uli Hoeness seems to be that it's unlikely the club will be breaking the bank any time soon, particularly with the 40 Million Euro deal for Javi Martinez still fresh in the memory.
However, Neymar has suggested in the past that he would be keen to turn out for the German giants—FC Hollywood would certainly provide an appropriate stage for his delicious talents, and the presence of Pep would surely appeal to the young Brazilian.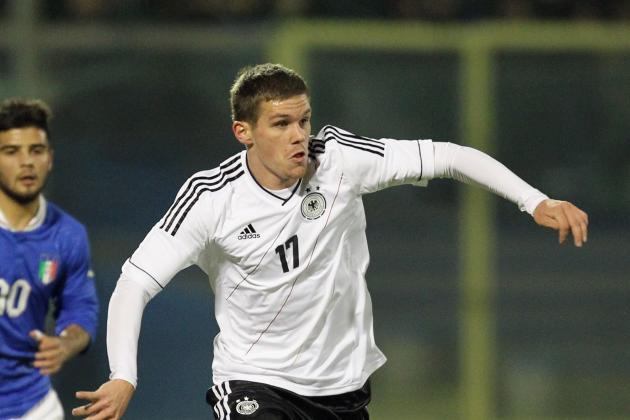 Maurizio Lagana/Getty Images

Scanning the Bayern first XI, few positions require immediate attention. The troubled Arjen Robben might not have the longest shelf life, while Schweinsteiger and Ribery aren't too many years away from 30, but generally, this team has years and years to run.
Versatile fullback, and skipper, Philipp Lahm, may appear to be a babyface, but at 29, he too is firmly placed among the elder statesmen of the team. Not yet in need of renovation, Guardiola may be keen to put some long-term planning in place for Lahm's eventual successor—the defender has demonstrated for over a decade how important the fullback positions are, and this most important decision will not be taken lightly.
Twenty-two-year-old Eintracht Frankfurt right back Sebastian Jung is still a raw talent, but he may well have the criteria required to be a long-term solution for Bayern. A regular in Germany's youth sides, the defender has already received a call up for the senior national squad, but is still to be capped.
Technically proficient, athletic and mobile, Jung can be a key figure in the national set-up for years to come, and I imagine, were a transfer to Bayern to materialise, he could be one who would flourish under the expert tutelage of Guardiola.
My colleague Clark Whitney suggested recently that Jung could be a key signing for Dortmund, but I could feasibly see the youngster slipping into Bayern's right flank seamlessly.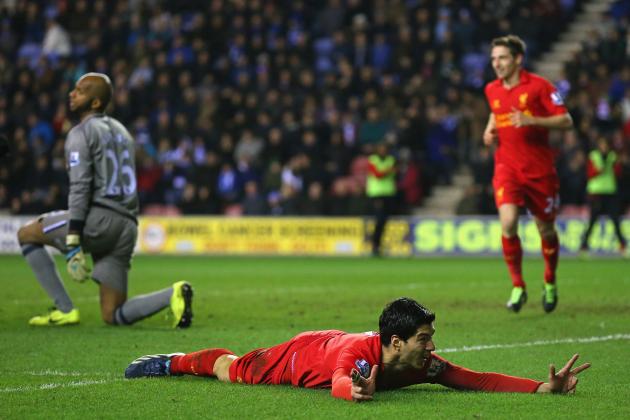 Alex Livesey/Getty Images

While Bayern's sporting director Matthias Sammer has indicated that the club will seek to continue their policy of buying young, German talent to complement the expensive stars and the home-grown inspirations of their first team, The Daily Mail reported in January that Guardiola's 'revolution' in Bavaria would be funded by a £240 million 'war chest.'
While the prospects of entering the market with this kind of financial backing are bewildering, there was one name that the Mail insisted would be chief among Guardiola's targets—Liverpool's Uruguayan frontman, Luis Suarez.
With his contract currently running until 2018, a transfer for Suarez would gobble up a hefty portion of Pep's reported funds, but having witnessed some of his performances this season, Munich's hierarchy might just be convinced of his worth.
However, with Suarez's influence at Liverpool growing in inverted correlation to the gentle decline of Steven Gerrard, the Merseyside club would surely be reluctant to sell. For a side enduring an extended stint out of the Champions League, the departure of their burgeoning symbol, and their one, final, genuine world class player, would surely be near-impossible to stomach.
The Uruguayan could be an ideal fit for Bayern however, where he could play as a reserved middle striker in a 4-3-3 formation, or the fashionable 'false nine' if you will, moving between the lines, creating chances for his teammates and havoc in the opposition defence. With Mario Gomez unlikely to meet Pep's criteria, Suarez could well be the answer—but only if he leaves his 'baggage' at Anfield.