Ranking the Most Dynamic Shooting Guards in the NBA Today
USA TODAY Sports
Kobe Bryant and Dwyane Wade have been the gold standard for dynamic NBA shooting guards throughout the 2000s and 2010s, but is that changing?
Have James Harden, O.J. Mayo, Arron Afflalo or one of the other young 2-guards been able to jump up into that upper echelon?
How have our two top rookie shooting guards—Dion Waiters and Bradley Beal—fared during their first foray into the Association?
These are just some of the many questions that total offense created (TOC) will help answer. This stat, developed by fellow Featured Columnist Kelly Scaletta and myself, measures how offensively dynamic each of these players has been during the 2012-13 season.
There are plenty of other offensive metrics, but they all have various biases and fail to account for at least some aspect of a players' performance. This one doesn't.
When you're reading this article—which begins with a two-slide explanation of total offense created that I would highly encourage you to go over carefully—keep in mind what the intention is here. We're measuring how dynamic a player is on offense.
This is not an overall ranking of shooting guards. Defense is not accounted for in any way.
Instead, we're essentially looking at how effective players are at creating offense. This is about how offense is initiated, not finished. Here's where I get to turn to Kelly's cannonball metaphor:
To launch a cannonball you need to light the gunpowder, which creates an explosion and propels the cannonball forward. The cannonball then hits whatever you're aiming for and does damage.

On the one hand, the cannonball does the damage, but on the other hand, the force of it is generated by the explosion which propelled it. That's the "dynamic."

We're not denying the importance of the cannonball here by any stretch. Without the cannonball, the explosion is useless.

Some players are more "explosion" and some are more "cannonball." We're measuring the explosions here.
So, looking at passing, scoring and a number of other factors, which shooting guards produce the biggest explosions?
A total of 48 2-guards have both played in at least 20 games this season and averaged at least 20 minutes per game.
Of those, 46 are ranked here. I couldn't include J.J. Redick or Jordan Crawford because they've spent time on two teams, and I have no way to properly mesh their performances together. Unfortunately, they'll remain shrouded in mystery.
Note: All stats are current through Saturday, March 9, and come from the various pages of Hoopdata.com, NBA.com's stat resources and Basketball-Reference.com. You can find the point guard rankings, as well as the original version of this introduction, here.
An Overview of TOC (Part 1)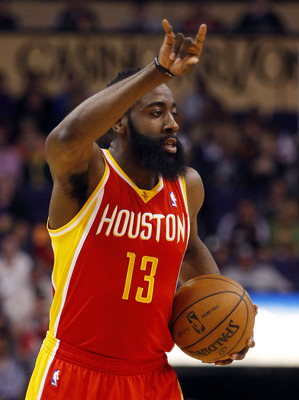 Rick Scuteri-USA TODAY Sports
The theory behind TOC is to include anything and everything that an individual player does to affect the offense. That results in four components: scoring, teammate boost, assists and other factors.
Scoring
Essentially, you can argue that there are two components to every shot: the creation of the shot, and the execution of the shot itself. Sometimes a player controls both of these components, but in some situations, multiple players are involved.
For example, consider this scenario: Chris Paul penetrates and brings Blake Griffin's defender over to stop him; Paul dishes the ball to Griffin, who throws down the dunk.
In that situation, Paul created the shot and Griffin made it. Most metrics will give two points to both of them, essentially double-counting the basket. Only two points were scored, though, not four. Therefore, we're splitting the two points evenly between the distributor and the finisher.
The field goals that a player made were split into two categories: unassisted and assisted. Players received full credit for unassisted field goals, as they served as both shot-creator and shot-maker. But they received only half-credit for assisted ones. This applies to both two-pointers and shots from behind the three-point arc.
Teammate Boost
One of our major objectives was to account for the impact a player has on his teammates. Players who are asked to generate offense are often faulted for being "high-volume" scorers, but the impact such players have on the game can be immense.
We looked at how a team's effective field-goal percentage—a weighted metric that gives more value to three-pointers—changed when the player in question was on and off the court. If the four teammates joining the player shot more effectively while he was on the court than the average five teammates did while he was on the bench, then the player received a positive "teammate boost."
The number of field goals that teammates attempted while the player was on the court also influenced this part of the metric. An equal change in effective field-goal percentage is more valuable when more shots are taken than when less shots are taken.
Some of the content for this description was provided by Kelly Scaletta, and the description itself comes from a previous article using TOC.
An Overview of TOC (Part 2)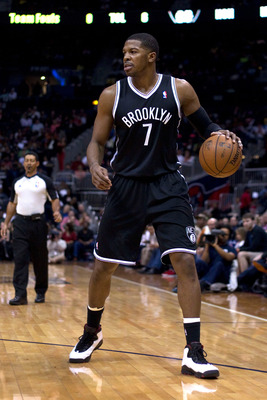 Joshua S. Kelly-USA TODAY Sports
Now for the remaining two components of TOC.
Assists
Just like in the scoring component, all credit for assists was split between the person who made the pass and the person who finished the play. After all, every assist results in an assisted field goal; it's impossible for an unassisted bucket to use an assist.
Players also received more credit when assists led to three-pointers, as those shots are worth an extra point on the scoreboard.
Other Factors
Players received positive boosts for free throws made and offensive rebounds. However, not every offensive rebound is equal.
Those boards were weighted according to how successfully teams used possessions. An offensive rebound is more valuable on a team that averages 1.1 points per possession than it is on a team that averages 1.0 point per possession.
The same theory applies to missed shots from the field and turnovers, both of which counted against players in this formula.
However, all missed field goals aren't lost possessions. Many times, teams score on missed field goals. In fact, the tip-in is one of the most efficient shots in the game, and none of those happen without a missed shot.
As a result, missed shots were more detrimental to the cause on teams that were less effective on the offensive glass.
The last factor was free throws missed, which obviously count against a player.
Total Offense Created
Once the four components were all calculated, they were summed to create a measurement of total points created.
Essentially, we added together unassisted points scored, assisted points scored, points created by assists, the teammate boost, free throws made and offensive rebounds, then subtracted free throws missed and the weighted forms of missed field goals and turnovers.
One difference between this version and the one used in the last set of rankings is that offensive rebounding percentage and offensive rating were derived solely from the possessions during which the player in question was on the court.
Some of the content for this description was provided by Kelly Scaletta, and the description itself comes from a previous article using TOC.
For the actual formula, click here.
20. Shannon Brown: 6.94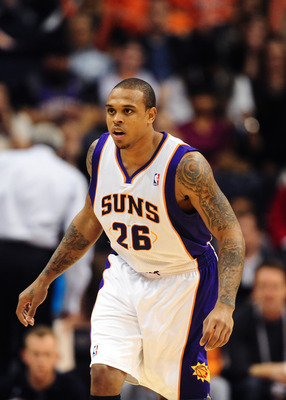 Mark J. Rebilas-USA TODAY Sports
Team: Phoenix Suns
Age: 27
Traditional 2012-13 Per-Game Stats: 11.2 points, 2.0 assists
Shannon Brown is known more for his high-flying, above-the-rim play than his ability to actually create offense, but that doesn't mean he's incapable of generating points for the Phoenix Suns.
The 27-year-old guard has a knack for creating his own shot, particularly when he strays outside of the paint and toward the alluring three-point arc. While he's not on the same level as a point guard in terms of shot creation, he tends to pull up on his own more than the average shooting guard.
During the 2012-13 campaign, Brown has dropped 4.62 unassisted points per game, a number only topped by 14 other players across the NBA at his position. That, coupled with Brown's ability to make the rest of the Suns shoot better when he's on the court, is enough for him to sneak into the rankings.
19. DeMar DeRozan: 6.97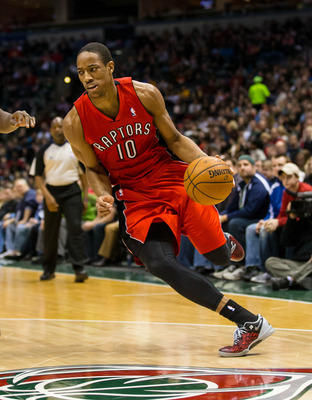 Jeff Hanisch-USA TODAY Sports
Team: Toronto Raptors
Age: 23
Traditional 2012-13 Per-Game Stats: 17.8 points, 2.6 assists
DeMar DeRozan is a tremendous finisher around the rim, converting 123 of his 194 attempts right at the basket thus far, but he struggles as soon as he strays outside of the paint.
The young shooting guard has actually taken a step backward with his jumper. During the 2011-12 season, DeRozan knocked down 44.5 percent of his shots from between three and 10 feet, 40.7 percent from between 10 and 16, 34.3 percent from the rest of the two-point zone and 26.1 percent of his three-point attempts.
This season, although he's doing a better job creating those looks for himself, the respective percentages have dropped to 39 percent, 39.1 percent, 41.9 percent (the lone increase) and 25.3 percent.
DeRozan's opponents are well aware of his deficiencies when he strays too far from the paint, and they adjust accordingly, making it harder for the rest of the Raptors to thrive when the 23-year-old plays.
18. J.R. Smith: 7.03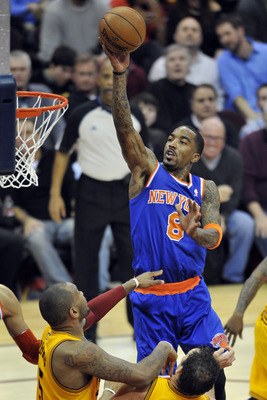 David Richard-USA TODAY Sports
Team: New York Knicks
Age: 27
Traditional 2012-13 Per-Game Stats: 16.6 points, 2.8 assists
J.R. Smith seems to love nothing more than scoring the basketball—well, except maybe tattoos—and that sometimes has a negative effect on the success of the New York Knicks.
While the talented 2-guard comes off the bench to score points in bunches, he also shoots only 40.3 percent from the field. His three-point prowess makes up for this, but only partially. Missed shots are never a good thing, especially when a team's offense is typically potent.
In Smith's case, a missed shot hurts more than it does for most players.
When No. 8 plays, the Knicks score 1.075 points per possession. That means each miss ends a possession and changes the outcome, on average, from 1.075 points to a goose egg. Only eight of the 45 other shooting guards analyzed had to deal with a larger discrepancy.
The exception to this is shots that end in an offensive rebound and create a de facto second possession, but the 26.8 offensive rebounding percentage the Knicks have generated when Smith plays isn't high enough to make a huge impact here.
17. Jamal Crawford: 7.16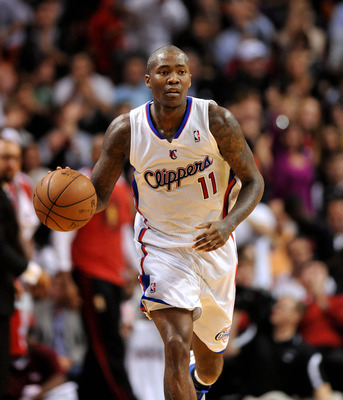 USA TODAY Sports
Team: Los Angeles Clippers
Age: 32
Traditional 2012-13 Per-Game Stats: 17.2 points, 2.5 assists
It's only fitting that Jamal Crawford and J.R. Smith come back-to-back in these rankings. Both are dynamic, high-scoring shooting guards who come off the bench and contribute offensively for their respective teams.
Crawford just does it a little bit better.
He's not quite the shot-creater that J.R. is—I know, I'm surprised too given how often we see crossover highlights from Crawford—but he scores the ball more efficiently and has a more positive effect on the rest of his teammates.
Both 2-guards have negative effects on the shooting of the four players on the court with them. Crawford's effect, though, is less pronounced.
When he's off the court, the Los Angeles Clippers have an effective field-goal percentage of 52.3 percent. When he plays, the other four members of the unit have an effective field-goal percentage of 52 percent.
That 0.3 percent decrease is slightly more impressive than the 1.1 percent drop caused by Smith.
16. Klay Thompson: 7.25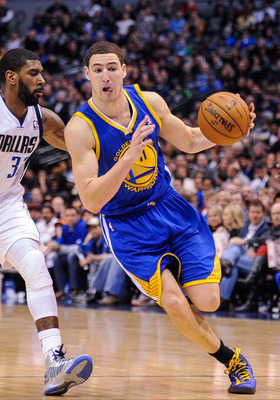 USA TODAY Sports
Team: Golden State Warriors
Age: 23
Traditional 2012-13 Per-Game Stats: 16.6 points, 2.3 assists
For Klay Thompson, it's all about spotting up and waiting for the ball to work its way into his hands. From there, the second-year shooting guard typically drops it through the net for three points.
Thompson's 166 triples on the season give him far more than any other qualified 2-guard in the league, as Danny Green checks in at No. 2, 26 long balls shy of this member of the Golden State Warriors. However, not many of those shots are of the unassisted variety.
In fact, 94.6 percent of them are the direct result of a teammate's pass. Once he starts doing more on his own—assuming he maintains a similar level of efficiency—he'll start to climb up the rankings.
15. Gerald Henderson: 7.47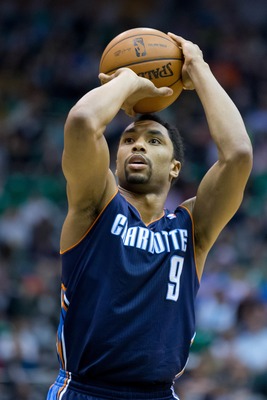 Russ Isabella-USA TODAY Sports
Team: Charlotte Bobcats
Age: 25
Traditional 2012-13 Per-Game Stats: 13.4 points, 2.2 assists
With Kemba Walker checking in at No. 16 in the point guard rankings and Gerald Henderson landing at No. 15 among shooting guards, it's safe to say that the Charlotte Bobcats' problems don't stem from a lack of backcourt offense.
Unlike Kemba, though, Henderson isn't going to climb too much higher in the rankings for his position.
At the moment, there aren't many areas in which Henderson stands out. He's pretty solid in just about all of them, which is the biggest reason for his spot in the top 20.
Usually I can easily find an angle of attack for each of these players, highlighting one or two parts of their game that stands out, but Henderson's stats don't lend themselves to that approach. He just fits in well across the board without truly distinguishing himself anywhere.
Don't view that as an insult, but rather a slightly backhanded compliment to his game.
14. Gordon Hayward: 7.72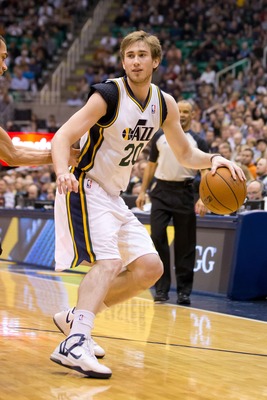 Russ Isabella-USA TODAY Sports
Team: Utah Jazz
Age: 22
Traditional 2012-13 Per-Game Stats: 14.0 points, 2.6 assists
It's time for Gordon Hayward to get a bit more playing time for the Utah Jazz. He's only received 27.5 minutes per game during his third professional season, although that number is starting to trend up as the season progresses.
One of the most positive contributions that Hayward makes is on the offensive glass. He only records 0.8 offensive rebounds per contest, but he helps spread out the court enough that the Jazz as a whole have an offensive rebounding percentage of 33.1 when he's on the court.
Among shooting guards, only Tony Allen and the Memphis Grizzlies have a more impressive mark.
And remember, offensive rebounding is important, because it devalues missed shots. Hayward is allowed to let fly with a slightly greener light because he knows there's a better chance he or his teammates are going to pull down the board if he misfires.
13. Manu Ginobili: 7.91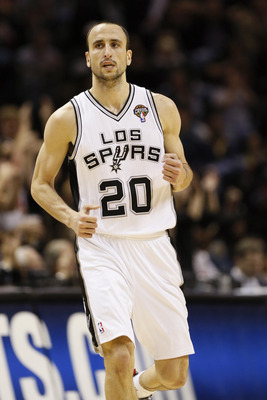 USA TODAY Sports
Team: San Antonio Spurs
Age: 35
Traditional 2012-13 Per-Game Stats: 12.6 points, 4.6 assists
Can you imagine what Manu Ginobili would be able to do for the San Antonio Spurs if he was allowed to spend more time on the court?
As it stands now, the Argentine 2-guard is playing only 23.4 minutes per game, making his placement just outside the top 10 all the more impressive. There might be some efficiency-volume tradeoff coming into play if he spent less time on the bench, but it's hard to believe his per-minute performance would slip too much.
Ginobili's TOC is also slightly depressed for the same reason that Tony Parker's was. Here's what I said about the issue in the point guard article:
When I saw that Tony Parker received a negative teammate boost thus far this season, I scratched my head and double-checked to make sure I'd entered the numbers into my spreadsheet correctly.

Parker's an MVP candidate. There's no way that his teammates can actually shoot worse on the court when he's on it than they do when he sits.

Well, they do. Numbers don't lie. They're not capable of such falsities.

The more I thought about it, though, the more I realized that Parker's teammate boost is more a testament to the greatness of Gregg Popovich's system than it is an indictment of Parker's point guard skills. Even if the Frenchman runs the offense to perfection, it doesn't skip a beat when he catches his breath on the sidelines.
Although less extreme, the same sentiment applies to Ginobili, who also boasts a negative teammate boost.
12. Wesley Matthews: 8.65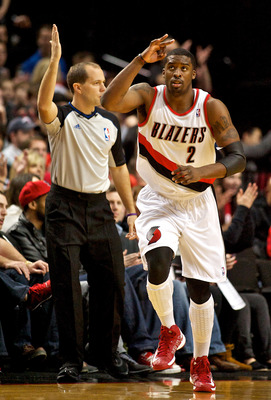 Craig Mitchelldyer-USA TODAY Sports
Team: Portland Trail Blazers
Age: 26
Traditional 2012-13 Per-Game Stats: 14.8 points, 2.8 assists
If I had afforded myself some subjective input in these rankings, I'd just go ahead and switch Manu Ginobili and Wesley Matthews right off the bat.
While Ginobili's San Antonio Spurs hurt his teammate boost because of the beauty of Gregg Popovich's system, Matthews is in the opposite situation with the Portland Trail Blazers.
The shooting guard typically plays with the starters in Rip City, and that's good for him, because the bench is just beyond awful. It's not as much of a testament to his skills that his on-court teammates shoot better than his off-court ones. Portland's starters play so often, and the bench isn't very good.
Matthews might still deserve a positive teammate boost, but given his three-point-centric play and non-elite passing skills, it's hard to believe that it should be as high as 2.15. After all, that's a mark exceeded by only six other players, and they all rank ahead of him.
11. Andre Iguodala: 9.14
Isaiah J. Downing-USA TODAY Sports
Team: Denver Nuggets
Age: 29
Traditional 2012-13 Per-Game Stats: 13.0 points, 5.0 assists
Andre Iguodala is talented enough to rank higher than this. If you don't feel that way at the moment, you definitely will after seeing the next two names in the rankings.
Hopefully for Iggy, the metaphor of the tortoise and the hare will actually be applicable to NBA shooting guards. His offense got off to a woefully slow start after first donning a Denver Nuggets uniform, but he's been picking up the pace and playing great basketball as the 2012-13 campaign has progressed.
It remains to be seen whether or not that will allow him to catch the fast-starters, but he's certainly moving in that direction.
10. Lance Stephenson: 9.30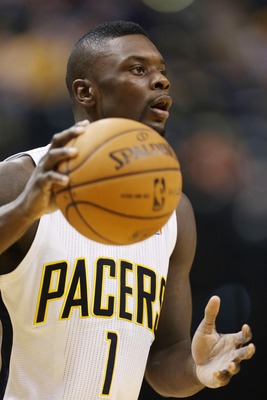 Brian Spurlock-USA TODAY Sports
Team: Indiana Pacers
Age: 22
Traditional 2012-13 Per-Game Stats: 8.6 points, 2.8 assists
John Hollinger absolutely nailed his preseason analysis of Lance Stephenson in the Insider portion of ESPN's player profiles:
The Pacers tried Stephenson as a backup point guard last season, and I'm guessing they won't try it again. Stephenson has some genuine skills as a passer and a decent handle, but he can't shoot and doesn't make the right play consistently enough -- ergo his massive turnover rate.

He's an NBA-caliber athlete and he's only 22, so there's some hope that he might be able to turn things around. But his jumper is broken and one suspects any future he has will be as a wing player, where his decisions will be less destructive.
Well, Stephenson has morphed into a successful wing player, and his turnover percentage has correspondingly dropped from 16.8 percent in 2011-12 to 10.8. That's Stephenson in a nutshell, as he's become much more of a player who plays within himself and rarely tries to make too much happen, with the exception of the occasional frenetic drive to the rim.
The 22-year-old has also developed into much more of a team player, playing both to his strengths and those of his teammates. As a result—and he does receive an artificial boost based upon the discrepancy between the Indiana Pacers' starters and backups—his teammate boost of 4.21 is the second best among all shooting guards.
9. Dion Waiters: 9.37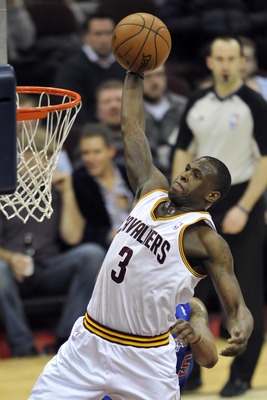 USA TODAY Sports
Team: Cleveland Cavaliers
Age: 21
Traditional 2012-13 Per-Game Stats: 14.6 points, 3.2 assists
When a rookie finishes in the top 10 of his respective position, that means he's a player worth building around.
Finally, some good news for the Cleveland Cavaliers.
Of course, they already have Kyrie Irving, and he should probably take priority, but the reigning Rookie of the Year and this Syracuse product have a promising future together in the Cavs' backcourt.
Dion Waiters hasn't been the most efficient scorer out there during his first professional season, although he's excelled when it comes to creating his own shot. Thus far, the 21-year-old has averaged 6.69 unassisted and 2.65 assisted points per game, giving him a phenomenal unassisted-to-assisted ratio of 2.52.
Only four shooting guards have posted more impressive ratios: the top three in these rankings and Austin Rivers, who is just a brain teaser of a basketball player.
8. O.J. Mayo: 9.58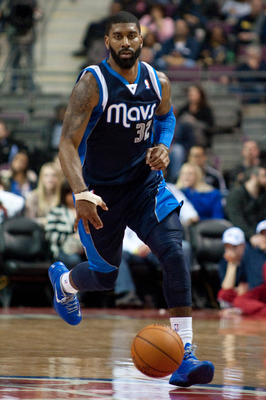 Tim Fuller-USA TODAY Sports
Team: Dallas Mavericks
Age: 25
Traditional 2012-13 Per-Game Stats: 17.4 points, 4.4 assists
Even though O.J. Mayo has cooled off since his red-hot start to the season, he's still been a phenomenal offensive shooting guard for the Dallas Mavericks. And let's be real here: He had to cool off, because there's no way anyone could maintain those types of numbers for too long.
Shooting over 50 percent from downtown on 5.4 attempts per game as the primary option in an offense not offering much in the way of protection, as Mayo did during November, simply wasn't sustainable.
This first-year Maverick is still reaping the benefit of his torrid beginning with his new team, though. Despite the decline in output, he's still averaging 6.48 unassisted points per game, thanks to the fact that he's only receiving assists on 82.5 percent of his triples.
That may seem like a high mark, but it's not for a shooting guard who lives from downtown during so much of the game and rarely commutes to mid-range.
7. Eric Gordon: 10.78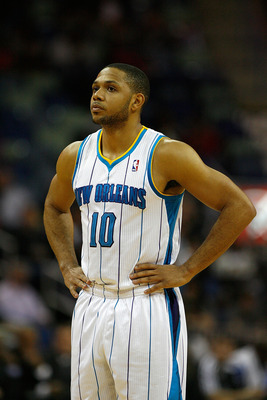 Tyler Kaufman-USA TODAY Sports
Team: New Orleans Hornets
Age: 24
Traditional 2012-13 Per-Game Stats: 16.6 points, 3.2 assists
It's scary to think what Eric Gordon might be doing if his troublesome knees hadn't killed the momentum of his NBA career. The talented shooting guard might still climb up to the elite section of the 2-guard totem pole, but that climb was slowed down rather significantly by his injury.
While on the court, though, Gordon has been quite the difference-maker for the New Orleans Hornets.
Without him during the 2012-13 season, the soon-to-be Pelicans have posted an effective field-goal percentage of just 48.7 percent. When he's on the court, Gordon has helped his four teammates raise that mark to 53 percent.
That's a pretty sizable difference, and when coupled with Gordon's knack for finding the bottom of the net from all over he court, it helps explain why he's all the way up at No. 7.
6. Arron Afflalo: 11.26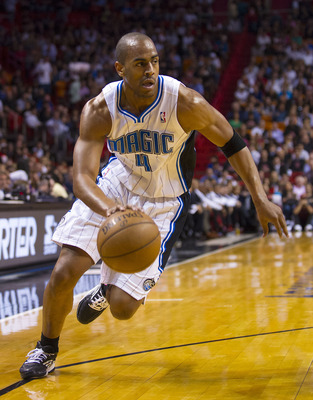 Scott Rovak-USA TODAY Sports
Team: Orlando Magic
Age: 27
Traditional 2012-13 Per-Game Stats: 16.8 points, 3.3 assists
Arron Afflalo hasn't developed into the all-around superstar the Orlando Magic were hoping for when they made him the centerpiece they received in the Dwight Howard trade, but he's certainly been a solid offensive contributor.
Particularly impressive is Afflalo's ability to minimize his turnovers. The shooting guard averages only 2.2 per game, which is a ridiculously low figure when you factor in his role in the offense and the amount of time he spends on the court.
He also benefits from his ability to drive to the rim and finish.
Afflalo has knocked down 94 of his 144 attempts at the rim—66 percent for those of you who don't feel like pulling out a calculator—and only 55.8 percent of those makes have resulted from the passes of teammates.
While that doesn't help him stand out against the top five players in these rankings, it does separate him from the rest of the field in an area that seems rather indicative of success for shooting guards.
Now, before you click through to the next slide, remind yourself what Afflalo's TOC is: 11.26. Now you'll be able to fully appreciate the big jump we take to get to the top five.
5. Monta Ellis: 15.14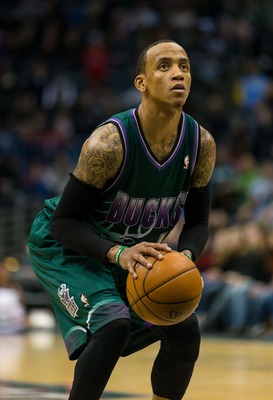 Jeff Hanisch-USA TODAY Sports
Team: Milwaukee Bucks
Age: 27
Traditional 2012-13 Per-Game Stats: 19.0 points, 5.7 assists
If you can watch Milwaukee Bucks games and predict exactly what Monta Ellis is going to do next, then one of two things is happening.
Either you're lying, or you have something hooked up to his brain that allows you to see what's going on. If the former is true, shame on you. But if the latter is, let me know so that I can get in on this. Few things would make this sports nerd happier than the opportunity to study on-court brain activity during game situations.
While his unpredictability can be frustrating at times—particularly when he's dead-set on shooting three-pointers, which is something he should avoid doing at all costs since he's knocked down 24.2 percent of his triples thus far—it can also be beneficial.
Defenses don't know what to expect from Ellis either, keeping the five defenders on their toes. They have to be aware of both their own men and whatever Ellis might do when he has the ball in his hands, particularly because he's a more-than-capable passer when he chooses to part with the rock.
Therefore, it shouldn't be too surprising that the Mississippi Bullet lays claim to a 4.36 teammate boost, the second-best mark among the 46 qualified shooting guards.
4. Joe Johnson: 16.09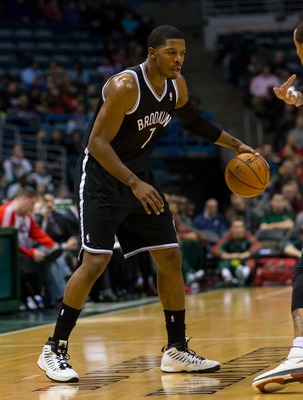 Jeff Hanisch-USA TODAY Sports
Team: Brooklyn Nets
Age: 31
Traditional 2012-13 Per-Game Stats: 16.5 points, 3.6 assists
It would be impossible to discuss Joe Johnson and not at least mention his teammates.
Johnson's 7.03 teammate boost—stemming largely from the 44.5-to-51.2 percent jump in effective field-goal percentage by his playing partners when he's on the court—is absolutely ridiculous. Monta Ellis' second-place mark of 4.36 just pales in comparison.
In fact, no point guard topped Johnson's number either, and that's the position that by definition is supposed to help out teammates. John Wall was the closest, and he still fell nearly a full point shy at 6.28.
That's unequivocally the top reason that Johnson finds himself at No. 4 in the rankings, even though he's having a decidedly subpar season given the standards he's set for himself over the years.
3. Dwyane Wade: 16.18
Brace Hemmelgarn-USA TODAY Sports
Team: Miami Heat
Age: 31
Traditional 2012-13 Per-Game Stats: 21.7 points, 4.9 assists
Dwyane Wade is actually hurt by the rest of the Miami Heat offense, but not enough to keep him outside the top three in the TOC rankings.
LeBron James' ability to elevate the team when Wade isn't on the court drives down Wade's teammate boost, and that isn't even the biggest problem. Quite simply, Wade's missed shots count against him more than any other shooting guard.
Miami's offense functions at a ridiculously high level when this two-time NBA champion is out on the court, scoring 1.123 points per possession. Only Kevin Martin and the Oklahoma City Thunder can top that mark among the qualified shooting guards. Additionally, the Heat have an offensive rebounding percentage of just 23.3 percent when Wade plays, which is the eighth-worst mark.
So, when Wade misses, there's a larger discrepancy between the average points earned per possession and the zero outcome, and there's a rather small chance the Heat get the ball back immediately. That's a brutal combination, and it affects a high-volume player like Wade considerably, even if he does play marvelously efficient basketball.
Also, you know you're good when you finish third in a set of rankings and the slide is geared toward explaining why you're not higher.
If you seriously think Wade has declined and isn't the elite player he once was, you should probably start watching Miami a bit more.
2. James Harden: 19.00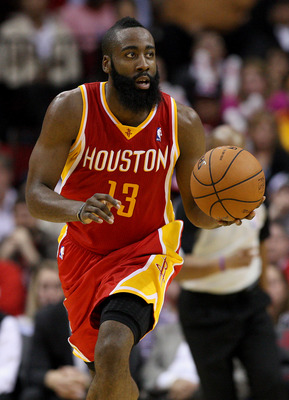 Troy Taormina-USA TODAY Sports
Team: Houston Rockets
Age: 23
Traditional 2012-13 Per-Game Stats: 26.4 points, 5.9 assists
James Harden is just an offensive masterpiece.
Particularly impressive is the bearded shooting guard's ability to create for himself. Harden scores 11.95 unassisted points per game—second only to the No. 1 player in the rankings—and 2.89 assisted points per contest, giving him a ridiculous unassisted-to-assisted ratio of 4.13.
That's easily the best mark among all shooting guards, and it doesn't even factor in Harden's knack for drawing contact and finishing at the line.
However, despite the 23-year-old's creating abilities and passing skills, he hasn't been able to parlay his own offensive success into more success for his teammates. The Houston Rockets score more when Harden is on the court, but that's because Harden is producing the offense, not helping his teammates create it more efficiently.
Of the top 10 shooting guards in terms of TOC, only Harden and O.J. Mayo have teammate boosts below two. If you artificially boosted this 2-guard's mark in that area from the current 0.51 to a hypothetical two, he'd finish at No. 1 in these rankings with room to spare.
1. Kobe Bryant: 20.01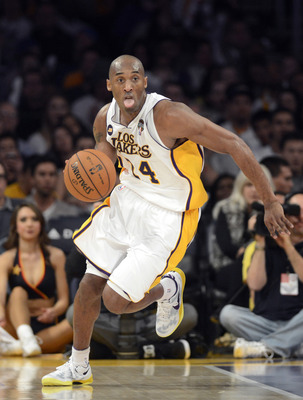 Richard Mackson-USA TODAY Sports
Team: Los Angeles Lakers
Age: 34
Traditional 2012-13 Per-Game Stats: 27.8 points, 5.7 assists
I was all set to say that Kobe Bryant had retained his crown among all shooting guards during the 2012-13 season, but that's one letter away from being accurate. He actually regained it, as Dwyane Wade finished ahead of him in last year's rankings.
Now that we've gotten that out of the way, let's focus on the present—a period of time that Kobe is just flat-out dominating.
The Mamba has switched back and forth between roles for the Los Angeles Lakers, sometimes serving as the primary scorer and sometimes functioning as the leading facilitator. Regardless of his job on the court, he's thrived, and the numbers reflect that.
Bryant has made his teammates better, he's scored more unassisted points per game than any other NBA backcourt player, he's trailed only James Harden in assists per game and he's done just about everything else as well.
Even though he's 34 years old, Kobe is still the gold standard at offense for shooting guards. In that sense, he's emulated Michael Jordan in more ways than just sticking out his tongue as he drives to the basket.
Complete Breakdown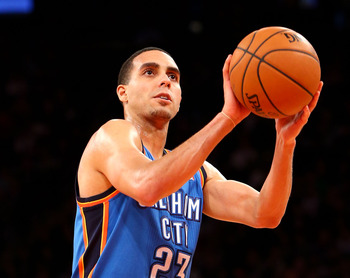 USA TODAY Sports
The following chart shows a few interesting components of TOC that I've referenced throughout this article for all eligible players. It also reveals the order of each player in TOC from No. 1 through No. 46, even though only the top 20 were featured.
Unassisted points per game, assisted points per game and teammate boost are all essential parts of TOC, but they aren't the only components. That's why you won't produce the final column of the chart if you add up the other numbers.
The leader in each component can be found in bold.
| | | | | |
| --- | --- | --- | --- | --- |
| Player Name | Unassisted PPG | Assisted PPG | Teammate Boost | Total Offense Created |
| Kobe Bryant | 13.42 | 4.01 | 2.21 | 20.01 |
| James Harden | 11.95 | 2.89 | 0.51 | 19.00 |
| Dwyane Wade | 10.07 | 3.57 | 2.36 | 16.18 |
| Joe Johnson | 6.75 | 3.90 | 7.03 | 16.09 |
| Monta Ellis | 8.38 | 3.47 | 4.36 | 15.14 |
| Arron Afflalo | 5.17 | 4.26 | 3.36 | 11.26 |
| Eric Gordon | 6.42 | 3.11 | 3.25 | 10.78 |
| O.J. Mayo | 6.48 | 3.97 | 0.16 | 9.58 |
| Dion Waiters | 6.69 | 2.64 | 2.07 | 9.37 |
| Lance Stephenson | 2.70 | 2.60 | 4.21 | 9.30 |
| Andre Iguodala | 4.15 | 3.46 | 1.60 | 9.14 |
| Wesley Matthews | 3.58 | 4.52 | 2.15 | 8.65 |
| Manu Ginobili | 3.64 | 3.02 | -0.23 | 7.91 |
| Gordon Hayward | 2.89 | 3.67 | 0.60 | 7.72 |
| Gerald Henderson | 4.41 | 2.94 | 0.60 | 7.46 |
| Klay Thompson | 2.26 | 6.32 | 2.77 | 7.25 |
| Jamal Crawford | 5.40 | 4.36 | 0.20 | 7.16 |
| J.R. Smith | 7.51 | 3.40 | 0.91 | 7.03 |
| DeMar DeRozan | 5.98 | 3.72 | -1.73 | 6.97 |
| Shannon Brown | 4.62 | 2.35 | 1.41 | 6.94 |
| Bradley Beal | 2.70 | 4.56 | 0.53 | 6.42 |
| Alexey Shved | 4.00 | 2.06 | 0.64 | 6.24 |
| Lou Williams | 5.87 | 2.78 | -2.04 | 6.23 |
| Jared Dudley | 1.15 | 4.25 | 0.18 | 5.95 |
| Kevin Martin | 2.60 | 4.43 | 0.63 | 5.93 |
| Avery Bradley | 3.30 | 2.87 | 1.61 | 5.56 |
| Jason Richardson | 2.09 | 3.91 | 1.99 | 4.87 |
| Alan Anderson | 3.13 | 3.13 | 0.60 | 4.77 |
| Ben Gordon | 4.70 | 2.97 | -0.55 | 4.77 |
| Wilson Chandler | 2.85 | 3.22 | 0.82 | 4.71 |
| Marco Belinelli | 2.47 | 2.68 | 0.17 | 4.58 |
| Courtney Lee | 2.36 | 2.25 | 0.83 | 4.55 |
| Tony Allen | 2.58 | 2.35 | -0.53 | 4.19 |
| Rip Hamilton | 1.64 | 3.58 | 0.40 | 4.03 |
| E'Twaun Moore | 3.27 | 2.31 | -1.18 | 3.61 |
| Kyle Singler | 1.66 | 3.00 | 0.08 | 3.59 |
| Marcus Thornton | 2.67 | 4.33 | -1.93 | 3.57 |
| P.J. Tucker | 1.92 | 1.44 | -0.59 | 3.44 |
| Jason Terry | 1.79 | 3.58 | -1.28 | 3.39 |
| Nick Young | 2.45 | 3.39 | -0.95 | 3.34 |
| Austin Rivers | 3.23 | 0.99 | 0.27 | 3.25 |
| C.J. Miles | 1.96 | 3.99 | 0.02 | 3.11 |
| Thabo Sefolosha | 1.29 | 2.91 | -1.05 | 3.03 |
| Danny Green | 1.12 | 4.38 | -0.71 | 2.53 |
| Ray Allen | 2.07 | 3.53 | -3.58 | 0.91 |
| Daniel Gibson | 0.62 | 2.50 | -1.83 | 0.62 |
Keep Reading