Mick Foley: A Tribute to WWE's Newest and Most Colorful Hall of Fame Member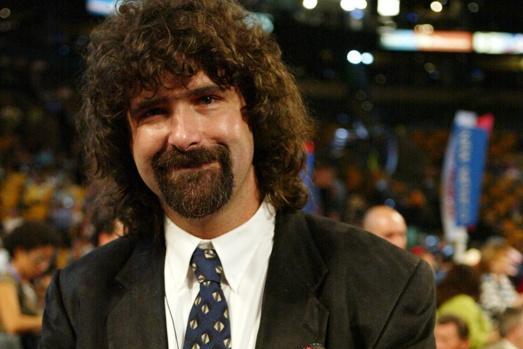 courtesy of NYpost.com
Before his entrance into WWE as Mankind, I had never heard of Mick Foley or his first alter ego, Cactus Jack. My first time seeing Mick Foley was when he debuted in WWE the day after Wrestlemania XII.
Having established himself as the strangest and most compelling WWE character in the shortest amount of time, Mankind made an immediate impact in the main event scene, as the first real challenge to The Undertaker since Yokozuna in 1994 and Hulk Hogan in 1991.
Taking part in a match that was more stunt show than technical masterpiece, the infamous Boiler Room Brawl at SummerSlam '96 between The Undertaker and Mankind showed just what lengths each would go in order to put over the feud.
Mankind mesmerized me; he would pull his own hair and violently scream "mommy," all the while hitting himself in his knee with his hands or objects around him.
But, what makes Mick Foley's entrance into the WWE Hall of Fame special?
Begin Slideshow

»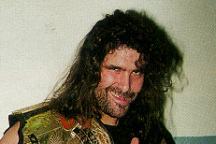 courtesy of wrestlingclassics.com
Around this same period of time in 1996, I discovered ECW on the Prime Ticket sports network in Los Angeles. The weekly ECW Hardcore TV show was broadcast on Prime Ticket at an ungodly hour where the only people still awake were insomniacs (from what I remember as a young teenager).
Upon witnessing ECW for the first time, I was immediately taken with Taz, Sabu and Raven. I wanted to see more ECW and learn how this renegade promotion of outcasts came to be. Before watching video on the Internet was even an option, VHS tape trading was a must to see pro wrestling from all over the world.
I traded tapes with Jack Epstein (a major Mick Foley fan) who seemed to really help get out the word about ECW in the mid 1990s (I even traded my original Playstation for ECW tapes).
Not only was I able to get my hands on then-current ECW footage, but also, I was able to see Mick Foley's run in ECW as Cactus Jack. After witnessing some of his promos from ECW, I became a Mick Foley fan for life.
Perhaps, Mick Foley's most famous moment in ECW is when he delivered his "Cane Dewey" promo. Dewey, is of course Mick Foley's son, who was only four years old at the time in 1995. Responding to a sign in the crowd at ECW's Hostile City Showdown that read, "Cane Dewey," Foley expressed his outrage at "hardcore" audiences of the time. This "anti-hardcore" promo displayed Foley's range as an actor, and his commitment to the fine details in pro wrestling.
This promo captivated ECW audiences and helped to usher in the blurring of real life and storyline in pro wrestling.
I instantly became a Mick Foley fan beyond the Mankind persona after witnessing some of his greatest moments in Paul Heyman's ECW.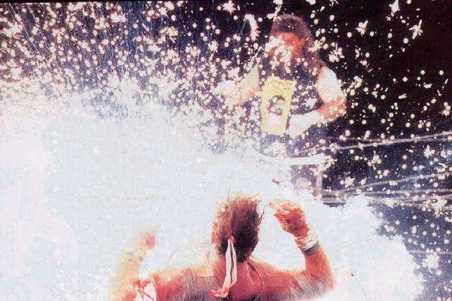 courtesy of oocities.org
One of the most infamous events that Mick Foley was a part of was the IWA Japan King of the Death Match tournament in 1995.
Before instant streaming video was widely available online, I only could read about this event. I wanted to get my hands on it and through tape trading I was able to do so.
This tournament not only featured Cactus Jack but also Terry Funk, Tiger Jeet Singh, Leatherface, Terry Gordy, Shoji Nakamaki and Hiroshi Ono.
The Americans were the real stars of the tournament as Cactus Jack defeated Terry Funk in the finals.
Hardcore wrestling was not in its infancy to the wide American pro wrestling audience of the mid-1990s. ECW brought it to some underground prominence, WCW created their Uncensored pay-per-view to try to capitalize on it, and WWE seemed to try to ignore it in 1995 for the most part.
Some of the matches included in this tournament were Barbed Wire and Chain matches, Barbed Wire Baseball Bat and Thumbtacks matches, a Barbed Wire Board and Spike Nail match, a Barbed Wire Board and Glass match, and the finale was a No Ropes Barbed Wire Boards & Exploding Ring Time Bomb Ladder Death Match between Cactus Jack and Terry Funk.
Although none of the matches were technical masterpieces, they were shocking and helped to add to the legend of Mick Foley. Foley participated in three hardcore matches on August 20, 1995, solidifying himself as a hardcore wrestling hero.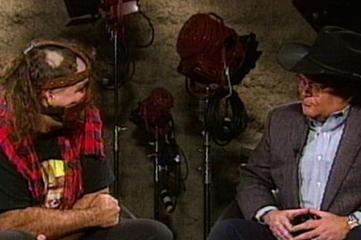 courtesy of wwe.com
As Mankind's persona in WWE continued to evolve, a sit-down interview with Jim Ross was conducted for Raw in 1997.
These interviews helped to give Mick Foley a voice beyond Mankind and further blur the line between WWE storyline and real life.
This expose interview shown over multiple episodes of Monday Night Raw in May of 1997 gave explanation not only to the character of Mankind but also to the person, Mick Foley.
Featuring pictures of younger Mick Foley at various times in his life, this interview also showed how troubled the Mankind character really was psychologically in 1997.
During the final part of the interview, Mankind expressed his frustration toward Vince McMahon in yelling, "Why didn't you take me when I was good? Why didn't you take me while I was young?" This frustration at Vince McMahon reached to in-ring competition as Mankind explained that every time he uses his finisher, the Mandible Claw, he envisions his opponent as Vince McMahon.
This series of interviews laid the groundwork for the return of Cactus Jack to WWE, Dude Love, and eventually Mick Foley as Mick Foley in WWE. Multiple dimensions for future use in WWE storylines were added not only to the character of Mankind but also to anything involving Mick Foley.
It was in these interviews that many fans were first exposed to Cactus Jack as a hardcore legend wrestling in ECW and Japan. Going as far to show his scars from those competitions, Foley bared his soul to the WWE audience in a way that only the Mankind character could.
These interviews are worth revisiting or visiting for the first time for any Mick Foley fan.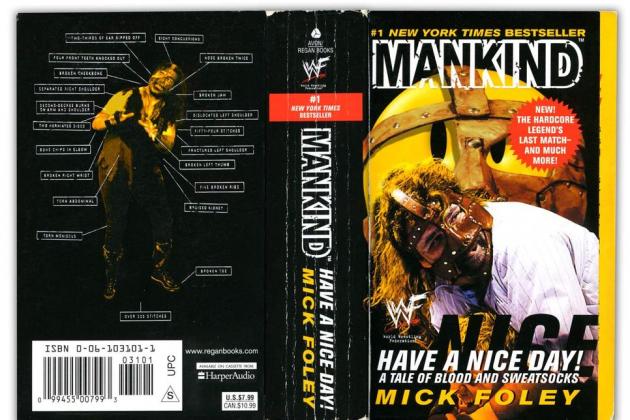 courtesy of thecanadianconnection.biz
Historically, many people have viewed pro wrestlers as being intellectually inept. For the most part, people do not understand why others are pro wrestling fans. Even more, many cannot fathom why someone would want to become a pro wrestler.
Mick Foley may have not completely changed these perceptions, but he sure defied what people thought of pro wrestlers when he wrote his first book, Have a Nice Day: A Tale of Blood and Sweatsocks. The Richmond Times-Dispatch's review explained their surprise in their review, "Captivating…much more than a story about a professional wrestler…honest, often hilarious and sometimes moving (Amazon).
What made this book incredible is that it was written completely by Foley. If one looks at sports biographies, rarely will one find an autobiography.
Not many would expect someone who looks like Foley to be a competent and creative writer. His book was much more about pro wrestling, delving into his personal life outside the ring with a humor, which fans and non-fans alike could enjoy. Although being a fan tremendously helped, especially with all the Al Snow jokes in the book.
Have a Nice Day helped to usher in many more pro wrestler books, as it quickly became a New York Times bestseller. But, only a few of those books have been truly written by the performers themselves.
Mick Foley, of course, continues to write to this day, but it was Have a Nice Day that started it all.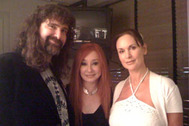 courtesy of Slate.com
Mick Foley's charity work outside of pro wrestling is commendable. More important than anything else in his pro wrestling career is what Foley is going to give back to others.
His work for the RAINN (Rape Abuse and Incest Nation Network) amongst other charities continues to this day.
In 2011, The Huffington Post even named Foley their "Greatest Person of the Day" for his work with RAINN. Foley, always self-conscious of his status as a pro wrestler remarked to The Huffington Post that, "It doesn't seem like a pro-wrestler would be able to lend much when it comes to a campaign against sexual violence, but for some reason I kept telling myself that it made perfect sense."
His work with RAINN started after he met "his idol," Tori Amos (she co-founded RAINN) in 2008, according to The Huffington Post. Their seemingly unlikely partnership only helps to continue the contradiction that is Mick Foley.
Mick Foley is the most colorful new addition to the WWE Hall of Fame. My respect for Mick Foley goes well beyond his in-ring accolades. Truly, he is someone worth admiring for many reasons.
What are your memories of Mick Foley? What makes him a Hall of Famer to you?