Ranking the Top 10 Baseball Songs of All Time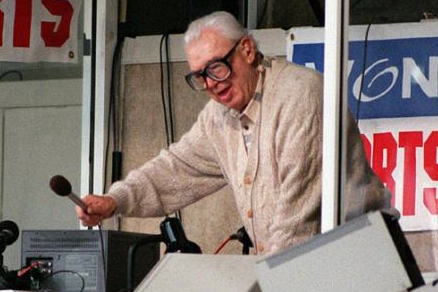 Anybody who is a fan of baseball can tell you that it is a unique sport.
As George Carlin pointed out, there are things in baseball that are just bizarre to a point that it makes our love affair grow, as opposed to the violent, war-like conditions of football.
Another thing that baseball is great for is poetry. It seems like there are thousands of scribes who have written about the game of baseball and described all its quirks, such as the greenest grass you'll ever see paired with sky blue enough to make you think that you've died and gone to heaven.
The poetry doesn't end with simple limericks, though. Baseball has produced songs that have been drilled into our brains decades after they've been composed.
There are several things that go into a great baseball song.
First, it needs to stand the test of time. If your grandchildren are singing a song that made you think of baseball as a kid, it has already sealed its iconic status.
Second, it needs to make you feel like you're at a baseball game. Baseball songs have a certain warmth to them that describe the game perfectly. If it's done right, you either think you're there or have a sudden desire to run to your nearest ballpark.
Finally, it needs to be catchy. Anybody can write a rap song about Joe Mauer, but does that mean it's worthy of the same Hall of Fame status that the Minnesota Twins catcher will receive at the end of his career? Not if it's one strung-together blur.
Here are 10 baseball-inspired songs that capture all of these elements.
Begin Slideshow

»
This can be counted as my "cop-out" slide, but the presence of a theme song for every team makes everybody think of making their way out to the ballpark.
Growing up in Southeast Minnesota, I heard "We're Gonna Win Twins" until it was drilled into my brain. Yet, I never grew tired of it because of the melodic tune that it had and the feeling it gave me.
Every time I hear that song played at Target Field today, I think of following the team during my childhood where I watched games in the Hubert H. Humphrey Metrodome, which was empty enough to make even Miami Marlins owner Jeffery Loria blush.
The same goes for other themes across Major League Baseball.
Whether it's "Meet The Mets" or "Go Cubs Go," team anthems have a way of getting baseball fans nostalgic, which is why they all needed a place in the top 10.
Prior to the 2004 season, the Boston Red Sox were deep in The Curse of the Bambino. We all know the story of how Babe Ruth was sold to the New York Yankees dirt cheap, but with the curse approaching its 86th season, Dropkick Murphys had an idea to change that.
As detailed in the band's liner notes (pulled off the song's Wikipedia site) in The Warriors Code, they wrote Tessie to help guarantee a victory in the 2004 World Series.
We recorded this song in June 2004 and after giving it to the Red Sox told anyone that would listen that this song would guarantee a World Series victory. Obviously no one listened to us or took us seriously. We were three outs away from elimination in game 4 at the hands of the Yankees and receiving death threats from friends, family, & strangers telling us to stay away from the Red Sox and any other Boston sports team and get out of town. Luckily for us things turned around for the Red Sox and the rest is history.
While it can be considered a theme song that was slotted at No. 9, "Tessie" has a different spot in the hearts of the current generation of baseball fans.
The song was featured on the Electronic Arts video game MVP Baseball 2005 and instantly became burned onto millions of mix-tape CDs as a result.
With several Red Sox participating in the song by singing backup vocals, the song will forever be linked with the 2004 "Idiots" that broke one of the longest droughts in all of sports.
"Right Field" by Peter, Paul and Mary is a song that many of us can relate to as the right fielder for our little league teams.
While right field is a prestigious position in baseball that features the strongest arms and athletic players in the major leagues, it's a badge of demerit growing up as a kid.
Everybody wants to get their hands on the baseball when they play little league. But, when somebody is chosen to play right field it means that the coaches (and sometimes even the players) don't want them anywhere near it.
The result is the picture that the song's chorus paints:
Playing right field, it's easy you know.
You can be awkward. You can be slow.
That's why I'm here in right field just watchin' the dandelions grow.
The song goes into the mind of a little league player who better fits the blooper reel than the highlight reel.
However, it also shows how the game of baseball can give even the most awkward of children an opportunity to shine.
It's not often that a song about a player turns iconic, but then again not every player was like Joe DiMaggio.
The 1941 hit by the Les Brown Orchestra summed up, in musical form, DiMaggio's record-breaking hitting streak that still resonates through baseball fans' heads today.
He started baseball's famous streak, that's got us all aglow.
He's just a man and not a freak,
Joltin' Joe DiMaggio
The song goes into the historical side of DiMaggio's streak by listing the date and the previous record, which was held by Willie Keeler.
He tied the mark at forty-four, July the 1st you know.
Since then he's hit a good 12 more,
Joltin' Joe DiMaggio
The streak ended at 56 games, and the song still is tied with DiMaggio's incredible legacy in the major leagues.
Even today, the streak has yet to (and may never) be broken, which keeps the song fresh in everyone's heads.
When you share the same name as a pitcher who's won 219 major league games, it makes sense that he'd have one of the best baseball songs of all time.
Kenny Rogers had several hits over the course of his career, but for baseball fans his best work has to be the 1999 hit "The Greatest."
The song details a boy going out to a baseball field playing by himself and giving himself a lesson in situational hitting.
Little Boy, in a baseball hat
Stands in the field with his ball and bat
Says I am the greatest player of them all
Puts his bat on his shoulder and he tosses up his ball

And the ball goes up and the ball comes down
Swings his bat all the way around
The world's so still you can hear the sound
The baseball falls to the ground
This is song is great on so many levels for a baseball fan.
Like "Right Field," the song relates to us on a level that many of us have probably been in at some point in our childhood: standing in an open field imagining ourselves in the biggest at-bat of our lives.
Even through failure, the boy finds a way to stay positive through the most powerful words in the song:
He makes no excuses
He shows no fear
He just closes his eyes
And listens to the cheers
His optimism leads to a strikeout, but the disappointment is overridden by the discovery that he might be the greatest pitcher of all time.
Overall, it's a song that just makes you feel good.
The song Glory Days is not a completely baseball-inspired tune, but the opening verse makes it feel that way:
I had a friend that was a big baseball player
Back in high school
He could throw that speed-ball by ya'
Make you look like a fool, boy.
Saw him the other night at this roadside bar
He was walkin' in, I was walkin' out
We went back inside, sat down, had a few drinks
But all he kept talkin' about was...
Glory Days
The other two verses in the song do not have the same impact, so the song is usually associated with baseball.
It brings people back to the time they were in high school and were one of the best players on their team, but now see themselves in a completely different light.
They want to bring back that nostalgic feeling, and this song does the trick.
Not all songs need to be about Major League Baseball to be great.
The Alabama song "The Cheap Seats" is about minor league baseball and salutes the bleacher creatures that help make the small-town experience an enjoyable one.
Even if the players are anonymous, it's a great time with cheap beer, hot dogs and great seat for a grand total of $20.
The chorus explains a minor league baseball fan perfectly:
We like our beer flat as can be
We like our dogs with mustard and relish
We got a great pitcher...what's his name?
Well we can't even spell it
We don't worry about the pennant much
We just like to see the boys hit it deep
There's nothing like the view from the cheap seats!
After being to several games of the Rochester Honkers of the Northwoods League, I can attest that this song shows the fun that can be had even if it's not the best of the best playing on the diamond.
If you want to give your son or daughter, younger sibling or whomever a history lesson about the game of baseball, look no further than Terry Cashman's 1981 song "Willie, Mickey, and the Duke." (The song is also commonly known as "Talkin' Baseball.")
The song's title pays tribute to three Hall of Fame center fielders in Willie Mays, Mickey Mantle and Duke Snider, but it also pays tribute to the entire game, listing 30 major league players and figures according to the song's Wikipedia page.
The song also mentions several historical pieces on the players featured such as Bobby Thomson's "Shot Heard 'Round the World," Yogi Berra's love for reading comic books and one Robbie going out (Jackie Robinson) and another Robbie coming in (Frank Robinson).
The song's melody is an easygoing tune that makes you want to grab your glove and play a game of catch with your dad.
Although it's just over 30 years old, it's something that will be passed down from generation to generation as they learn about the game's best historical period of the pre-steroid era.
If "Willie, Mickey, and the Duke" is baseball's musical version of a history lesson, then "Centerfield" can considered to be its motivational anthem.
The 1985 song performed by John Fogerty is one that makes baseball fanatics want to jump out of their seats and go play a game of baseball in the streets.
There are so many great things about this song, from the opening claps (which are now used as a rallying point for fans in ballparks across America) to the song's opening verse that makes me think of Opening Day after a long winter:
Well beat the drum
And hold the phone
The sun came out today
We're born again
There's new grass on the field
Rounding third
And headed for home
It's a brown-eyed handsome man
Anyone can understand
The way I feel
The warm feelings don't stop there as Fogerty uses the song's chorus as a rallying cry to get in the game:
Put me in coach
I'm ready to play
Today
Put me in coach
I'm ready to play
Today
Look at me
I can be
Centerfield
The song has been inducted into the National Baseball Hall of Fame in Cooperstown, N.Y. where it is played on a continuous loop, so it makes sense that this is the greatest modern song in the history of baseball except for...
Sometimes you have to keep things simple.
While "Centerfield" is played in Cooperstown, the only thing that can be better is having the game come to a complete stop and having everybody sing it in the middle of the seventh inning every time a baseball game is played.
Oh, and this tradition isn't limited to the major leagues. With lyrics by Jack Norworth and music by Albert Von Tilzer, "Take Me Out to the Ball Game" is played everywhere and anywhere there's a diamond and a seventh inning.
It's kind of funny because while the song overall is kind of choppy and awkward, it's the song's chorus that makes it great. In fact, the chorus is the only section of the song that everybody knows off the top of their head:
Take me out to the ballgame
Take me out with the crowd
Buy me some peanuts and Cracker Jack
I don't care if I ever get back
Let me root, root, root for the home team
If they don't win it's a shame
For it's one...two...three strikes, you're out
At the ol' ballgame
While some people may have an idea for something better, the truth is that nobody will even come close to unseating this 1908 recording by Edward Meeker.