UFC 158: Georges St-Pierre vs. Nick Diaz Fight Card by the Numbers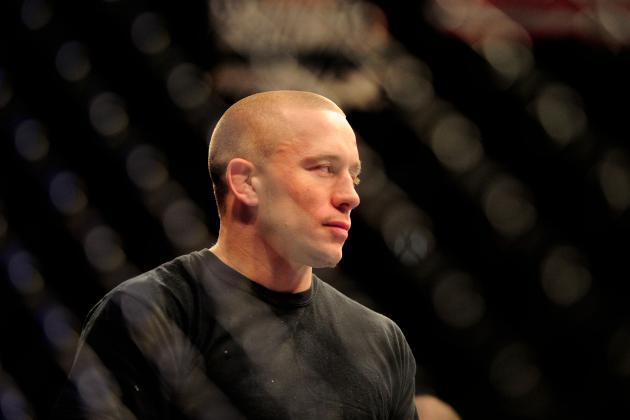 Mark J. Rebilas-USA TODAY Sports

We are less than a week away from UFC 158, a fight card that will see UFC welterweight champion Georges St-Pierre put his title on the line against former Strikeforce welterweight champion Nick Diaz. The bout between these two talented fighters has been a long time coming, and in case you missed it, things reached a different level on the recent media call for the March 16 fight card.
The card will also feature two additional welterweight bouts that could very well determine who the winner of the main event will face in their next contest. Those fights will see Carlos Condit meet Johny Hendricks and Jake Ellenberger meeting Nate Marquardt.
As UFC 158 nears, here are some interesting facts and figures surrounding the pay-per-view event.
Begin Slideshow

»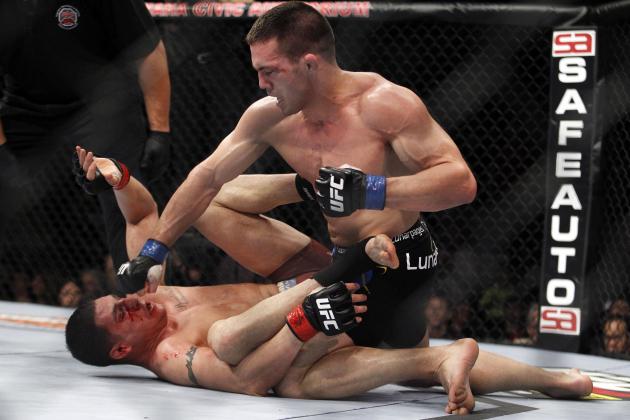 Matt Ryerson-USA TODAY Sports

Jake Ellenberger and Nate Marquardt are two dudes who love them some wrestling.

Jake Ellenberger doesn't always attempt to take his opponents down, but when he does he succeeds. In fact, every opponent Ellenberger has ever attempted a takedown on has hit the mat at least once. If you're counting, that's seven opponents.
As for Marquardt's takedown accuracy, he ranks second only to UFC welterweight champion Georges St-Pierre. Marquardt has attempted 37 takedowns, landing 27 of them.
Adding another wrinkle to the discussion is the takedown defense of these two. Ellenberger has stopped an impressive 92.9 percent of the takedowns attempted on him, while Marquardt has thwarted 73.5 percent.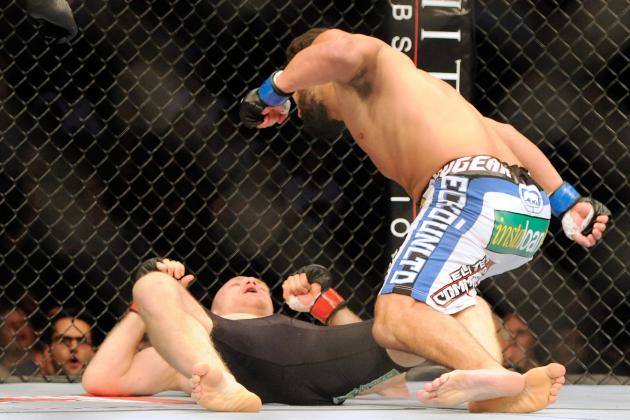 Eric Bolte-USA TODAY Sports

Carlos Condit and Johny Hendricks have 49 professional fights between them. Their combined records are 42-7, with exactly zero of those seven losses coming by way of knockout.

On the other side of the ledger, 21 of their combined wins have come by way of KO or TKO.

It will be interesting to see how this one ends, especially when you figure in the fact that they have only gone the distance 11 times between them.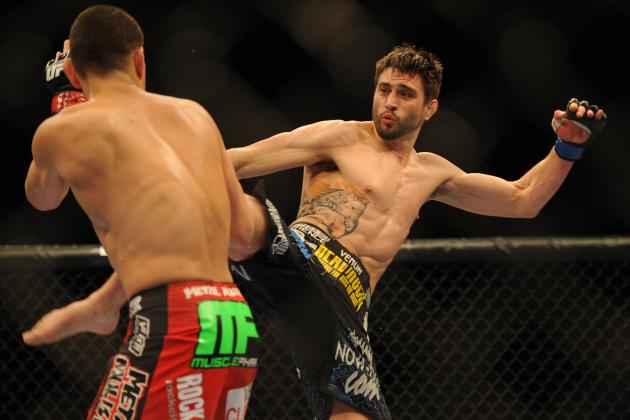 Kelvin Kuo-USA TODAY Sports

If you think Carlos Condit is silly enough to stand and bang with Johny Hendricks, I offer Condit's performance against Nick Diaz at UFC 143 as proof that he is not that dumb.
Condit's game plan for that fight was to keep the fight at distance and not fall into the trap of slugging it out with Diaz.
Condit accomplished this game plan by utilizing a record number of leg kicks during the bout, landing 68 during the five-round scrap, 19 more than Donald Cerrone's second-ranking 49.
Look for Condit to again try and keep his opponent at distance.
Don't be surprised to see Condit adopt the same plan for Hendricks that he used for Diaz.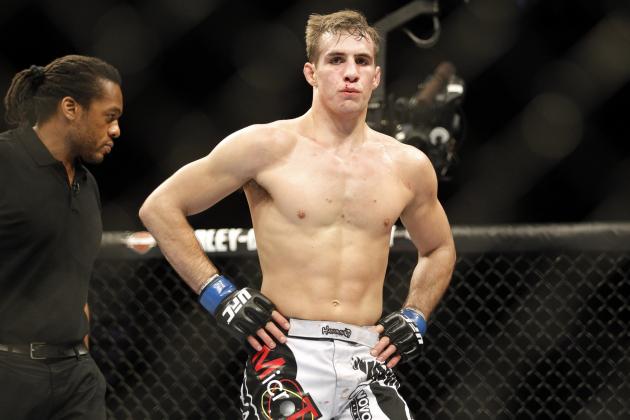 Joe Nicholson-USA TODAY Sports

Rory MacDonald may not be competing at UFC 158, but that isn't by design, as he was originally booked to face Carlos Condit in the main event.
MacDonald is only 23 years of age and has already been forced from four UFC fights due to injury, an alarming trend. It's hard to say if these injuries come from hard sparring, overtraining or just plain bad luck.

If anyone has an idea on how to keep the young star healthy, please forward it to the UFC. We're missing out on seeing a great talent develop.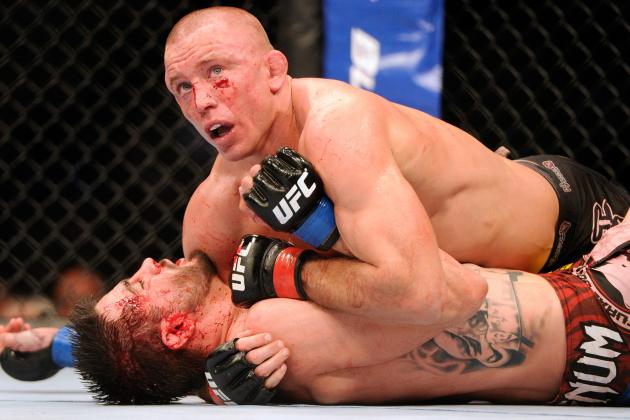 Eric Bolte-USA TODAY Sports

We all know that Georges St-Pierre is good at taking his opponents to the ground. We also know that once he has them there he tends to keeps them there, but how good is he at those two things? Quite simply, he is the best in the history of the UFC.

St-Pierre's 75 takedowns give him nine more than second-ranked Gleison Tibau. His takedown accuracy of 78.1 percent is 5.1 percent better than Nate Marquardt's, who is second in that category.

Once on the ground, no fighter has kept his opponents there longer than the welterweight champion, as St-Pierre has 2:22:13 of ground control time in his career.

Oh, and contrary to popular belief, St-Pierre does throw strikes from the ground, landing 409 significant ground strikes in his career, more than any other UFC fighter.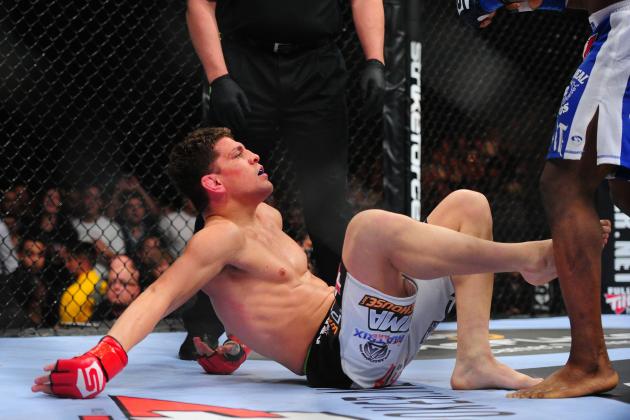 Mark J. Rebilas-USA TODAY Sports

While it is true that Georges St-Pierre has been a controlling ground fighter over his career, he is facing an opponent in Nick Diaz who is not afraid to be on the ground. In fact, Diaz, a black belt in Gracie jiu-jitusu, is an active fighter from his back.

Diaz has attempted 20 submissions in his last 25 fights, 10 of which have come from his back, earning the tap in four of those 10 attempts.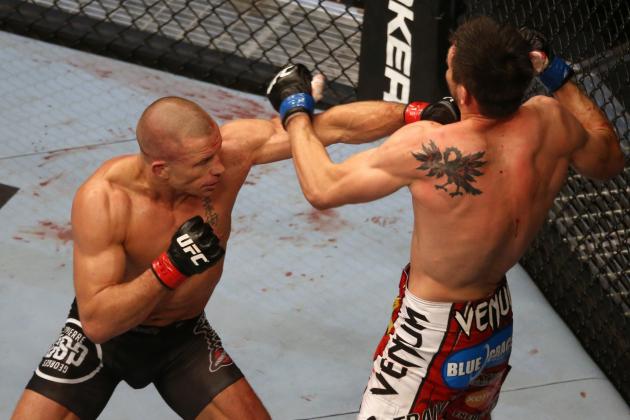 Tom Szczerbowski-USA TODAY Sports

Both fighters in the main event are prodigious strikers. Georges St-Pierre is the all-time leader in the UFC in significant strikes, landing 1,048 over his career.
To get an idea of how much more active he is than any other fighter in the UFC, no other fighter has more than 858, with BJ Penn putting up that number.

Diaz doesn't have the career stats in the striking department that St-Pierre does, but it's not from lack of trying. Over his last two UFC fights, Diaz has landed 282 significant strikes. In all, Diaz has broken the 100-strike barrier five times while fighting for WEC, UFC, Strikeforce and Pride.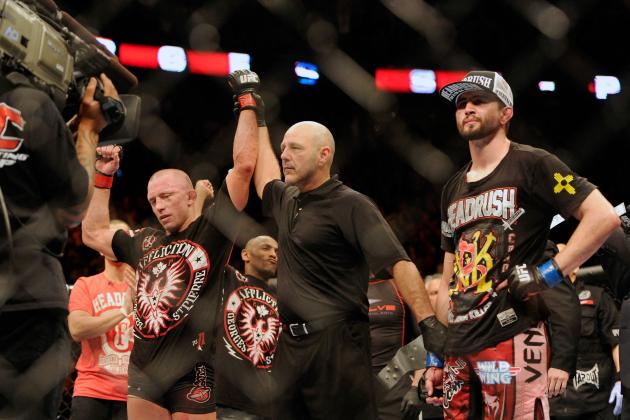 Eric Bolte-USA TODAY Sports

This is the one I'll be watching.
The last six PPVs that GSP has headlined have delivered a high of 920 buys and a low of 700. UFC president Dana White has called him the "king of the pay-per-views," so it will be interesting to see what this bout delivers. The 920 buys came when GSP fought BJ Penn at UFC 94.

The buildup for 158 had been quiet until the recent media call. The growing animosity between the two fighters should help the sales of PPVs. Will it top St-Pierre's previous high?