Fantasy Baseball 2013: Top 10 Mid-Spring Training Sleepers to Target in Drafts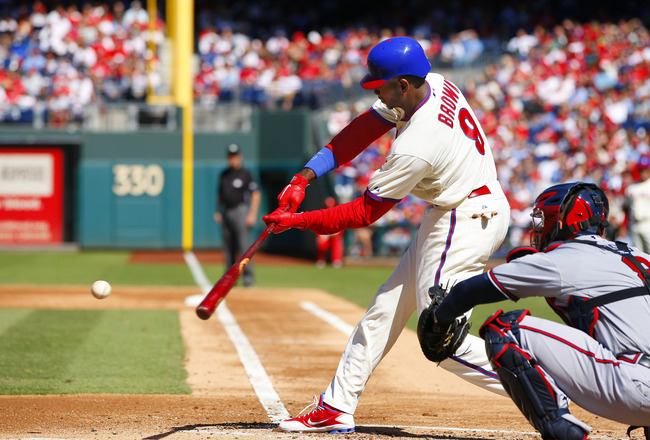 Rich Schultz/Getty Images
An excellent rule of thumb for baseball fans is "ignore spring training statistics...except in the case of position battles and health." The players included in these slides are either returning from injury or battling for jobs this season.
For the players returning from injury, the focus needs to be less on their statistics and more on their ability to play the field (as opposed to only appearing as DH) and playing consecutive days. For those those battling for jobs, the statistics do matter.
That being said, these are players whose fantasy value can significantly improve if they perform during the coming weeks.
Derek Jeter, New York Yankees
Al Bello/Getty Images
"The Captain" should not theoretically be a sleeper this season, coming off of .316, 15 home runs, nine stolen bases and 99 runs scored, leading the league with 216 hits. But at 38 years old, doubt is unavoidable.
And then, in the 2012 ALCS, he broke his ankle on a groundball in the hole, and the retirement questions began. Of course, Jeter always insisted he would return. After all, at 37, he finished seventh in MVP voting and earned a Silver Slugger and an All Star selection.
Jeter is sure to be drafted outside the top 10 at a weak shortstop position and thus far has yet to play shortstop in a spring game, but if he proves he is healthy before Opening Day, fantasy owners may find another .300, 15 home run, 10 stolen base, 100 run shortstop very late in their drafts.
Julio Teheran, Atlanta Braves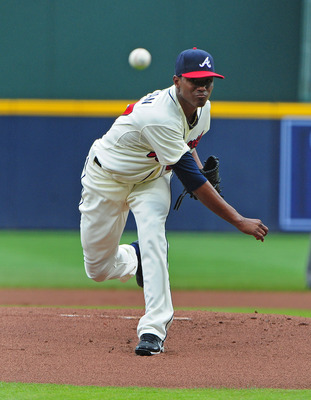 Scott Cunningham/Getty Images
Julio Teheran was a top-fivet prospect according to Baseball America in 2011 and 2012, struggling during brief cups of coffee in each season. Now, he is battling for a spot at the bottom of a very deep Braves rotation and still possesses ace upside at only 22 years old.
Teheran is 1-1 over 26 major league innings, with a 5.19 ERA, 1.346 WHIP and 15 strikeouts. Through three spring starts, Teheran has 12 strikeouts in nine innings, with two earned runs allowed, with four hits and two walks.
If Teheran earns a rotation spot, he is worth a flier pick late in fantasy drafts, though he is strictly a matchups play until proving himself trustworthy.
Shelby Miller, St. Louis Cardinals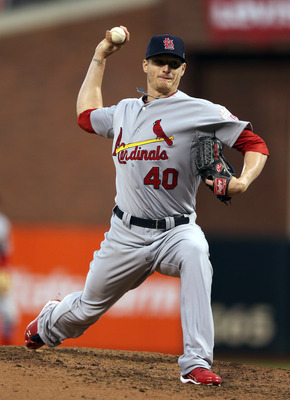 Ezra Shaw/Getty Images
With Chris Carpenter out of the equation and Jaime Garcia's injury situation in question, Shelby Miller appears destined for the back of the Cardinals rotation from the start of 2013.
Miller pitched in six games for St. Louis last season, totaling 13.2 innings, and was stellar in the effort. He struck out 16, allowing just two earned runs, nine hits and four walks. Miller has steadily climbed the Baseball America rankings, starting at No. 50 in 2010 and appearing at Nos. 13, 8 and 6 over the last three seasons.
Over four minor league seasons, MIller struck out 11.1 per nine innings, hinting at a skill set that could translate well to the majors. He also pitched over 150 innings combined last season, leaving less risk of an early shutdown.
Bruce Rondon, Detroit Tigers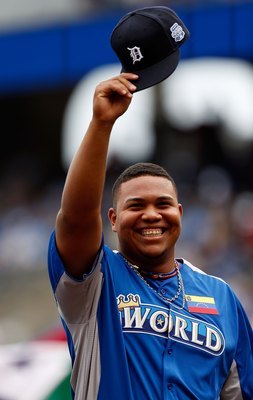 Jamie Squire/Getty Images
Bruce Rondon has been terrible so far this preseason. While the Tigers let closer Jose Valverde walk in free agency after last season, hoping Rondon could step into their closer role in 2013, he has five walks and eight strikeouts in 4.2 innings thus far this spring.
Detroit does have other options in house, with Phil Coke and Joaquin Benoit immediately behind him and Octavio Dotel also in the pen with closer experience. But after posting Kimbrel-esque K/9 of 13.7 and 11.2 each of the last two seasons, the Tigers still hope their fireballer finds his control by Opening Day.
Rondon is especially intriguing to the type of fantasy owner who prefers to pass on the top closer options and grab breakout candidates or skilled closers on bad teams late in drafts. If he figures out where the plate is, he is likely to find plenty of opportunities to surpass 30 saves with elite strikeout numbers.
Roy Halladay, Philadelphia Phillies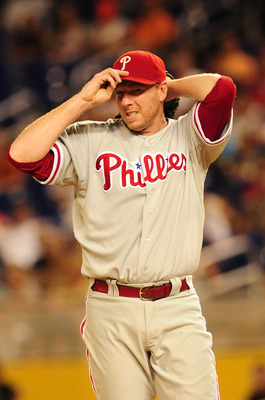 Jason Arnold/Getty Images
A perennial top-five fantasy pick among starting pitchers, Halladay battled injuries most of last season to underwhelm fantasy owners. He finished with 156.1 innings, a 4.49 ERA (highest since 2000) and 1.222 WHIP (highest since 2004).
Halladay is a spring training sleeper in the sense of health. If he proves to be back to the pitcher he was in 2011, when he finished second in Cy Young voting with 19 wins, and league leading 163 ERA plus, then he could prove to be a bargain outside the top 20 starting pitchers.
The same eyes watching Halladay will also be on Brett Anderson, Dan Haren, Josh Johnson and Brandon Morrow. They could all be fantasy aces drafted in the middle to late rounds, but they must prove they are healthy before becoming true sleepers.
Tim Lincecum, San Francisco Giants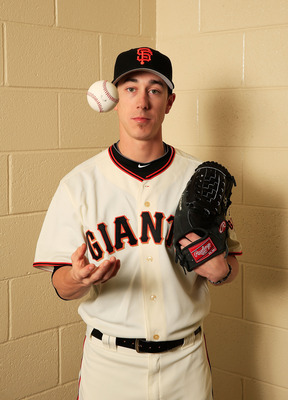 Jamie Squire/Getty Images
If the last slide could be considered "injured aces," this one is dedicated to disappointing aces. Lincecum is the cover boy for high 2012 draft picks who dragged their fantasy owners through 2012 without the mercy of an injury to explain the decline.
Lincecum posted a 5.18 ERA, 1.468 WHIP and 15 losses. C.J. Wilson was not nearly as bad, but his 3.83 ERA was 0.89 runs higher than 2011, his WHIP jumped from 1.187 to 1.344 and he struck out 33 fewer batters. Josh Beckett saw his ERA climb from 2.89 in 2011 to 4.65, and his WHIP jumped from 1.026 to 1.327.
There is hope for them all. Lincecum still struck out over one per inning, and his 3.83 ERA after the All Star break was not nearly as disastrous as the 6.42 prior. Conversely, Wilson had a 2.43 ERA at the break, and his 7.7 K/9 and 0.8 HR/9 were very close to career averages.
Finally, and most encouraging, after being traded to the Dodgers, Beckett posted a 131 ERA plus and eight strikeouts per nine innings over 43 innings. All of them are still being drafted largely outside of the top 30 SP and are bargains there.
Erick Aybar, Los Angeles Angels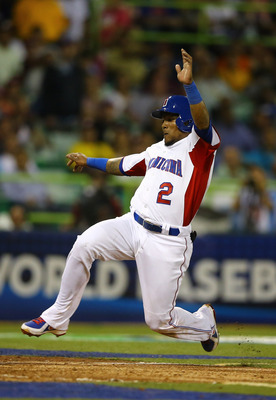 Al Bello/Getty Images
Mike Trout will bat leadoff for the Angels. Albert Pujols will bat third, and Josh Hamilton will bat fourth. Someone has to bat second, and the leading candidate right now should be shortstop Erick Aybar.
Aybar is a career .278 hitter who is coming off a 2012 in which he quietly batted .290 with eight home runs and 20 stolen bases, scoring 67 runs. But batting behind Trout and ahead of Pujols and Hamilton would surely boost both his run scoring chances and the quality of pitches seen.
Few players' fantasy value is more closely tied to lineup construction than the Angels' No. 2 hitter, but Aybar, Peter Bourjos (more likely to bat ninth) or Mart Trumbo (likely will bat sixth, behind Hamilton) would all immediately get a value boost if placed in the two-hole on a regular basis.
Brian McCann, Atlanta Braves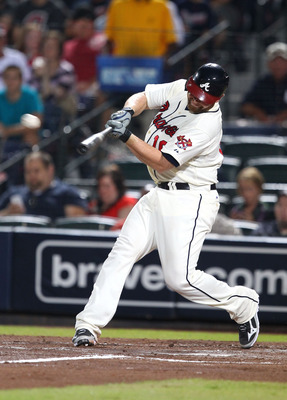 Mike Zarrilli/Getty Images
Previously among the elite power hitting catchers in baseball, Brian McCann's season will start late due to surgery to repair a torn labrum in his throwing shoulder. His fantasy value is further diminished by the fact he has fallen short of 130 games in each of the last two seasons and hit .230 in 2012.
However, McCann has hit 20-plus HR in five straight seasons and six out of seven. Going into 2012, he was a career .286 hitter who had never hit under .269 before last season. He managed 20 home run and 67 RBI despite playing just 121 games in 2012, and that was before the arrival of the Upton brothers, who will hit ahead of him.
It would not be a surprise to see McCann return and produce 20 home run and 80 RBI while returning his average to the .275 range, a bargain available outside the top 200 picks.
Aroldis Chapman, Cincinnatti Reds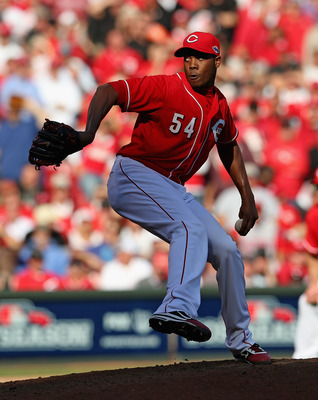 Jonathan Daniel/Getty Images
No one in baseball, not Dusty Baker or Reds GM Walt Jocketty or Aroldis Chapman himself, knows what Chapman's stat line will look like at the end of 2013. Jocketty wants him to be in the rotation; Baker wants him back as the elite closer he was in 2012, when he saved 38 games with a 0.809 WHIP and 15.3 K/9.
Chapman will do what he is told, and for now that appears to be starting. If he takes to the rotation well, he could be a source of 200 strikeouts despite a likely innings cap between 150 and 170. If he is moved back to the ninth inning before Opening Day, 2012 is a fair projection.
The risk comes with the uncertainty. If the Reds organization mishandles Chapman, like the Yankees did with Joba Chamberlain and the Red Sox did last season with Daniel Bard, Chapman could end up in the minors or injured. It may be wise to let someone else assume the risk.
Domonic Brown, Philadelphia Phillies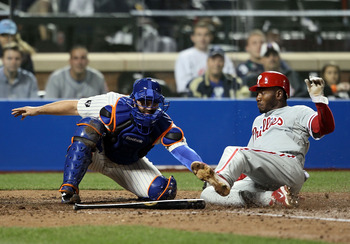 Alex Trautwig/Getty Images
Formerly the class of the Phillies farm system, Domonic Brown appeared ahead of the aforementioned Teheran and Chapman on the 2011 Baseball America prospect rankings.
In 93 minor leagues games in 2010, Brown batted .327 with 20 home runs and 17 stolen bases. Since then, the Phillies have used him sparingly but never fully committed. He has appeared in 147 games total over the last three seasons with lackluster results (.236/.315/.388).
Brown is batting .432 in 14 spring games thus far, with five extra-base hits and 15 runs scored. The Phillies are facing a season with Delmon Young in one corner outfield slot and question marks in the other. If Brown can emerge as the everyday left fielder, the team would have one less hole to fill in an aging lineup.
Keep Reading