Celta Vigo vs. Real Madrid: 6 Things We Learned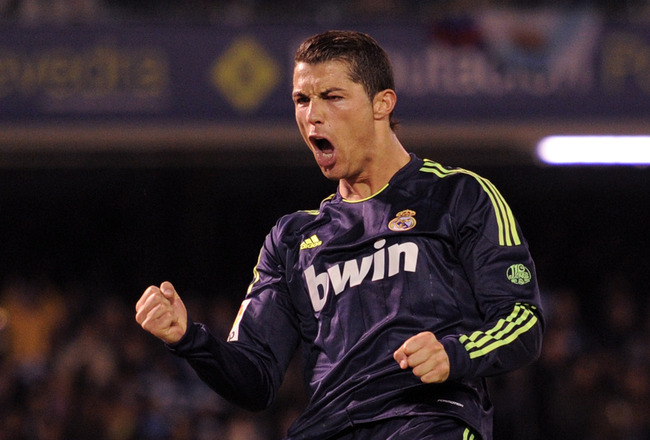 Denis Doyle/Getty Images
Real Madrid saw off Celta Vigo 2-1 at Balaídos courtesy of a Cristiano Ronaldo brace.
At times it just didn't look like the Portuguese's night, as he missed chance after chance before bundling in a fortuitous opener.
A controversial penalty allowed him to net his second, but apart from a bad night for him still ending in a two-goal haul, what else did we learn from the encounter?
Xabi Alonso Just as Integral as Ever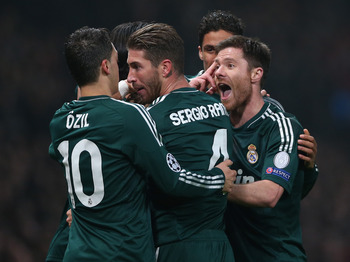 Jasper Juinen/Getty Images
Real Madrid opted to rest Xabi Alonso for this very winnable game on paper but had to sub him on at halftime at the expense of Sami Khedira.
Celta Vigo were clinging on to a 0-0 scoreline after starting brightly, but the ingenious pass needed to open them up was lacking despite the presence of Luka Modric.
With him on, Madrid looked more assured in possession and opened up Os Celestes' defence with ease.
Celta Vigo's High Line a Mistake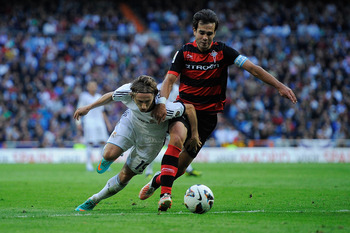 Gonzalo Arroyo Moreno/Getty Images
Celta Vigo set out a very, very high defensive line in an attempt to squeeze the play.
It worked to an extent in the first half, but once Xabi Alonso was on, he picked it apart. The Spaniard fired no fewer than eight passes over the top of the defence and onto willing runners down the left-hand side.
One of those was an assist for the penalty Kaka won, and all of them caused the defence problems.
Os Celestes Don't Deserve to Be Down There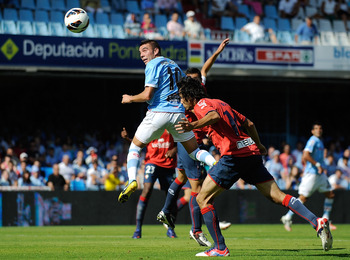 Denis Doyle/Getty Images
It's tough to see Celta Vigo lingering in La Liga's relegation zone when they're capable of such good football.
When speaking to former B/R columnist Michael Cerna and current B/R columnist Tre' Atkinson, a resounding explanation was given for their so-so form—an inability to win away from home and an over-reliance on Iago Aspas.
If Aspas isn't ticking, they struggle, and away from home they bottle up. On the basis of this performance, however, they play finer football than many in La Liga's bottom half while at home.
Celta Vigo Reinforce Awareness of Madrid's Struggles in Possession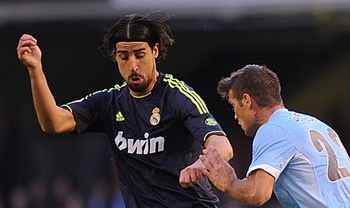 Denis Doyle/Getty Images
If you hadn't worked it out before, the games Real Madrid played against Barcelona and Manchester United taught us all one very obvious thing—Los Blancos struggle in possession.
They're a counterattacking team first and foremost, and while deadly in quick spates, they remain a little clueless when given time and space on the ball.
It's the reason they've become over-reliant on Xabi Alonso and the reason Jose Mourinho bought Luka Modric. As a team, Celta Vigo match up well against Madrid and force them into using the ball.
It's the reason they've given them so many problems in the 2012-13 season.
Raul Albiol as Rusty as It Gets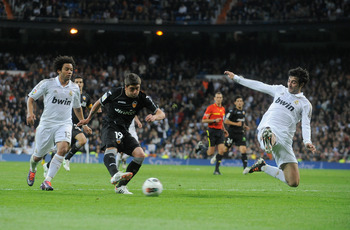 Denis Doyle/Getty Images
Raul Albiol, making just his seventh start this season and bagging his first minutes since February 17, looked a total liability in Real Madrid's defence.
With Raphael Varane and Sergio Ramos absent from the starting lineup, Albiol partnered Pepe but looked uncomfortable and uncertain with every touch.
As far as rustiness goes, this takes the biscuit, and the defender himself may be eager to seek new pastures this summer.
Madrid so Open at 2-1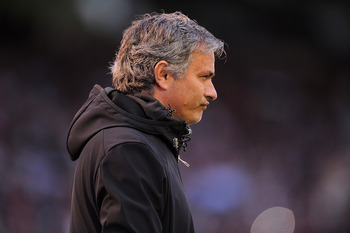 Denis Doyle/Getty Images
It's pretty rare you'll see a Jose Mourinho side looking so open in the 89th minute of an impending 2-1 victory.
But this was end-to-end stuff right up until the end of the third additional minute of stoppage time, and Real Madrid rode their luck a little in front of goal.
After garnering a reputation for shutting up shot and becoming very hard to beat—in addition to a penchant for throwing on the extra centre-back for protection at times in England—it's truly odd to watch Madrid play with fire this way.
Is Mou fully moving away from the defensive stigma, or was this his reserves not doing a good enough job?
Keep Reading