Indiana vs. Michigan: Live Score, Updates and Analysis from B1G Clash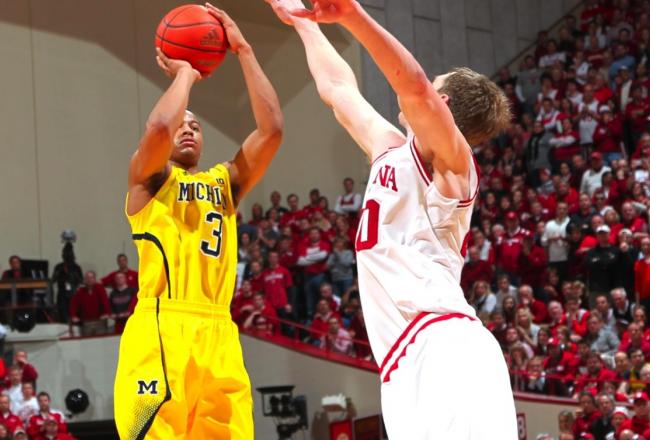 The Big Ten Conference provided college basketball fans with yet another dramatic finish on Sunday afternoon at the Crisler Center as the No. 2 Indiana Hoosiers claimed the outright league title with a 72-71 victory over the No. 7 Michigan Wolverines.
Michigan controlled the game after going on a 24-6 run early in the first half, but Indiana never went away. The Hoosiers battled back and took the lead with just over 12 minutes left in regulation.
The Wolverines regained control roughly 10 minutes later with seven straight points from Trey Burke, Jordan Morgan, Tim Hardaway Jr. and Glenn Robinson III. The young Michigan group lost this one at the free-throw line, though.
Indiana trailed by five points before Burke and Hardaway both missed the front ends of one-and-one attempts. Preseason All-American forward Cody Zeller took the game over with his team trailing, and scored the final six points for the Hoosiers.
Zeller finished with 25 points and 10 rebounds, while junior shooting guard Victor Oladipo pulled down 13 boards and chipped in 14 points.
Burke scored 20 points for the Wolverines, and Robinson added 13 points. Each of Michigan's starters, with the exception of Morgan, reached double figures.
The victory means Indiana will be the No. 1 seed in the Big Ten tournament this week, and Michigan will be seeded No. 5.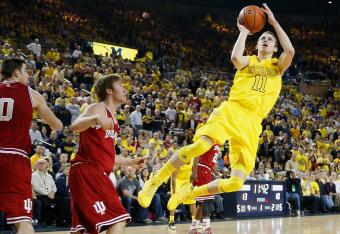 This one was great from start to finish, but Michigan fans have to be disappointed with the poor free-throw shooting in the final minute of the game. Those two misses on one-and-one attempts are going to haunt Trey Burke and Tim Hardaway Jr. for the next few days.
There were some positives for Michigan, though. The defense rotated much better, however, defensive rebounding remains an issue. The Hoosiers pulled down 19 offensive rebounds, which were instrumental in their victory.
Hardaway Jr. also came out of his shooting funk with a 5-of-12 performance, and Glenn Robinson III made 5-of-7 attempts en route to a 13-point performance. Nik Stauskas also chipped in 12 points.
Burke tried to do a little bit too much at times, and his high volume of shots is not something Michigan wants to see again going forward. Even for a player like Burke, 20 shots is too many with the other weapons the Wolverines have.
All in all, Indiana deserves to be the No. 1 seed. The Hoosiers have been a notch above everyone in the Big Ten for much of the year and it showed down the stretch of the regular-season finale.
Michigan's road in the Big Ten tournament got quite a bit tougher as well. The Wolverines will take on Penn State this Thursday in the No. 5 vs. No. 12 game. If Michigan is able to win its first two games, though, it will have another crack at the Hoosiers.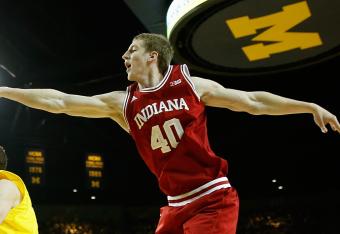 Indiana 72, Michigan 71 - Final Score
What a heartbreaker for Michigan. Burke's drive through the lane bounced out, and Morgan's tip-in attempt hung on the rim for an eternity before rolling off.
Indiana took the lead off of Zeller's lay-up on the previous possession.
Michigan missed two straight one-and-ones to drop this one. Have to make your free-throws in a game like this.
Mich. 71, Indiana 70 - 27.7 seconds remaining
Michigan is collapsing at the free-throw line. Hardaway missed the front end of a one-and-one, which kept things at a one possession game.
Zeller draws a foul at the other end and makes a pair of free-throws.
Burke will go to the line now for Michigan, but even if he makes both it will still be a one-score game.
Mich. 71, Indiana 66 - 52.0 seconds remaining
Great in-bound play by the Wolverines. Everyone stood in the middle, or went to the backcourt, which allowed Robinson to spring free and draw a foul on Watford.
Robinson splits the pair of freebies.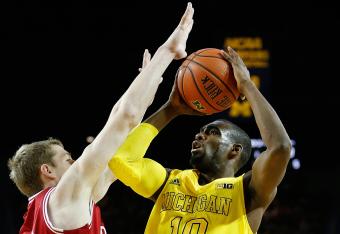 Mich. 70, Indiana 66 - 1:03 2nd Half
The Wolverines have picked the right time to turn it on. Burke misses a driving lay up in the midst of a triple team, but Morgan gets the put back.
Hardaway drives right to the rim and lays one in off the glass on the next possession to put Michigan in great position to close this one out.
Zeller compounds all of this by traveling to give the ball back to the Wolverines.
Mich. 66, Indiana 66 - 2:00 2nd Half
Michigan did everything well defensively except box out Oladipo. Christian Watford chucked up an air ball late in the shot clock, but Oladipo grabbed it and put it in for two.
Burke answers with a quick drive and finish. The Wolverines need Stauskas and Hardaway to get going down this closing stretch as well, though.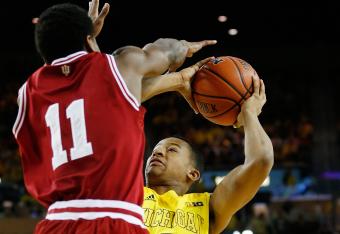 Mich. 64, Indiana 62 - 3:46 2nd Half
Burke hits his favorite shot, the step-back three, to put Michigan back on top.
Look for Tom Crean to get Zeller back on the floor for the final four minutes. Beilein needs to keep Morgan in the game until the final two minutes to help out the Wolverines' interior defense. Morgan has just two fouls to McGary's four.
This is a pretty impressive statistic:
Trey Burke has officially scored 15 points in every single Big Ten regular season game. Only one to do it. #POY

— Michigan Basketball (@umichbball) March 10, 2013
Indiana 62, Mich. 61 - 5:25 2nd Half
A missed lay up by McGary could haunt the Wolverines later in this one. He should have just thrown it down.
Burke gets into the lane and hits a floater, though. Indiana continues to attack the paint and go right at McGary, who is saddled with four fouls.
Indiana 58, Mich. 57 - 7:28 2nd Half
Burke has got it going now. Another three-ball drops for the sophomore point guard and the Wolverines are starting to frustrate Zeller a bit with better defense. McGary has not been a liability on the interior for Michigan thus far today.
Indiana 55, Mich. 51 - 8:43 2nd Half
Great reversal by Jordan Morgan under the basket on offense, but he lost Zeller at the defensive end of the floor.
Burke did hit a three, though, which will be huge for his confidence down the stretch. He settled for a bad three-pointer on the last possession, however.
This is where Michigan needs either Trey Burke or TIm Hardaway Jr. to start knocking down shots in final 11 minutes of this game, if it hopes to win a Big Ten title.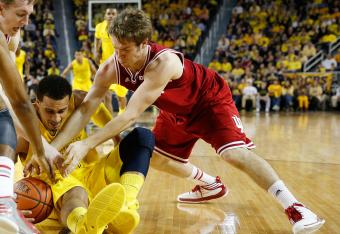 Indiana 48, Mich. 46 - 11:56 2nd Half
Back-to-back threes from Hollowell and Will Sheehey put Indiana back out in front. Michigan is sagging inside too much as a result of its rebounding woes, and the perimeter is exposed right now.
John Beilein takes a timeout to talk things over.
Mich. 44, Indiana 42 - 13:20 2nd Half
Burke's shots are just not falling today. He took a couple of bad ones early in the first half, but even now that he has settled in they still are not going down.
Burke is just 2-of-8 thus far.
Indiana continues to dominate the offensive glass. The Hoosiers had three attempts on that possession before Jeremy Hollowell finally put one through the basket.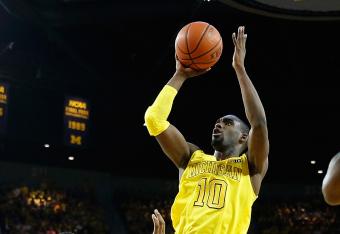 Mich. 44, Indiana 38 - 15:08 2nd Half
Mitch McGary packed Christian Watford in the lane for Michigan's sixth block of the game. The Wolverines get a trey from Burke on the ensuing possession.
Tim Hardaway Jr. wets a three-pointer from the corner to keep the momentum going.
The Maize and Blue are clinging to this lead, but if their perimeter shots stop falling they're in trouble, especially considering the fact McGary has four personal fouls. The lack of interior defense is going to hurt the Wolverines down the stretch here.
Mich. 38, Indiana 36 - 17:38 2nd Half
Glenn Robinson III and Jordan Hulls trade three-pointers. Michigan cannot leave Hulls wide open. He will burn them every time.
Mitch McGary will go to the bench after a silly foul, which is his third of the game. McGary nudged Zeller going back down the floor. Zeller did sell it quite a bit, but McGary has to know better.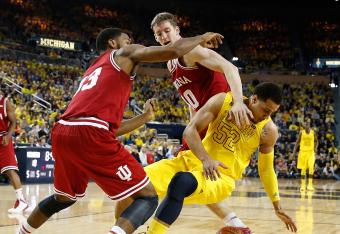 Mich. 35, Indiana 33 - 18:15 2nd Half
Indiana has wasted no time attacking the paint in the opening minute of the second half. It is clear the Hoosiers have the advantage inside once again.
Nik Stauskas keeps his hot hand alive with a pull-up jumper from the top of the key.
Post your predictions for the second half in the comments section! Here we go!
I could not agree more with Drew Sharp of the Detroit Free Press:
Whoever steps up biggest in the second half -- Burke or Oladipo -- gets the B1G player of the year and becomes favorite for national.

— Drew Sharp (@drewsharp) March 10, 2013
ESPN.com's Michael Rothstein breaks down the statistical leaders for both teams from the first 20 minutes of action:
Zeller 9 pts, 4 reb.; Oladipo 8 pts, 8 reb. for Indiana. Stauskas 10 pts, Robinson 7 pts, 3 reb. for Michigan.

— Michael Rothstein (@mikerothstein) March 10, 2013
This is a red flag for Michigan heading into the second half:
Indiana racking up the o-rebounds again -- already with 13. Michigan has to block someone out.

— Nick Baumgardner (@nickbaumgardner) March 10, 2013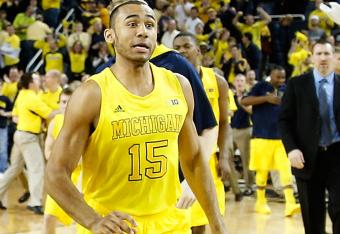 Mich. 33, Indiana 30 - Halftime
Great defensive rotation by Michigan there on the final shot. Zeller came up to set a screen for Hulls, who drove right only to run into Jon Horford. Great switch by Horford, which did not allow Hulls to get a clean shot over his long arms.
Indiana's last shot will be taken by Jordan Hulls, or the ball will go to Zeller in the post. I think the former is a more likely scenario. Michigan cannot lose Hulls on this play.
Mich. 33, Indiana 29 - 1:00 1st Half
WOW! What a play from Hardaway to Robinson. Hardaway threaded the needle with a strong pass to the baseline right into the hands of a driving Robinson.
Nobody can slow down Zeller right now with Morgan and McGary on the bench. Horford and Blake McLimans just cannot check Zeller. The guy is an All-American candidate for a reason folks.
Mich. 31, Indiana 25 - 2:20 1st Half
Morgan gets whistled for his second foul, which will bring Horford back into the game for Michigan. Mitch McGary already has two personal fouls as well.
Victor Oladipo is having himself a solid first half. He is just 4-of-11 from the field, but has eight points and eight rebounds for the Hoosiers.
This article is
What is the duplicate article?
Why is this article offensive?
Where is this article plagiarized from?
Why is this article poorly edited?

Indiana Hoosiers Basketball: Like this team?