Last-Minute Predictions for Houston Texans Free Agency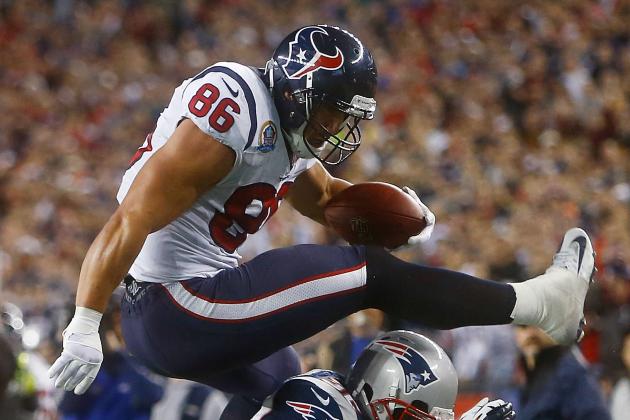 Jared Wickerham/Getty Images

The frenzy of NFL free agency kicks off at 4 p.m. ET today.
We'll soon learn the fates of the Houston Texans' top free agents set to hit the market. These deals happen in flurries, so be sure to stay tuned to what's happening. The top players can be off the market in the blink of an eye.
It remains to be seen how active the organization will be in pursuing other team's free agents. Fans shouldn't expect a shopping spree, but there are still holes on the roster that could easily be filled in free agency.
So, where will some of the top free-agent priorities for the Houston Texans land? Here's a few last-minute predictions before free agency officially arrives.
Begin Slideshow

»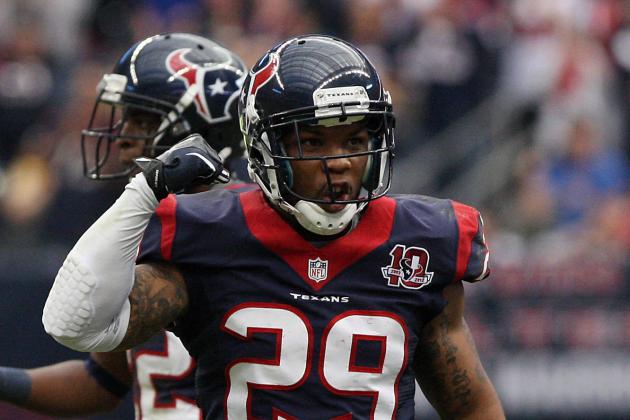 Troy Taormina-USA TODAY Sports

The fact that the organization hasn't been able to agree to terms with Glover Quin on a contract already is a little scary, but that was the risk it took when the franchise tag wasn't used.
The Houston Texans will enter today's madness with their best free agent unsigned and free to speak to 31 other NFL teams.
There will be heavy interest in the versatile safety, who is in his prime at age 27. Nearly every NFL team could use a coverage safety like Quin, so it's easy to assume there will be several suitors.
In the end, the Texans know how important GQ is to the defense. They also know if he leaves, it would create a whole new set of problems as the front office prepares for the upcoming draft.
Avoiding those potential problems by re-upping with Quin is the ideal and most likely scenario.
Prediction:
Glover Quin re-signs with the Houston Texans.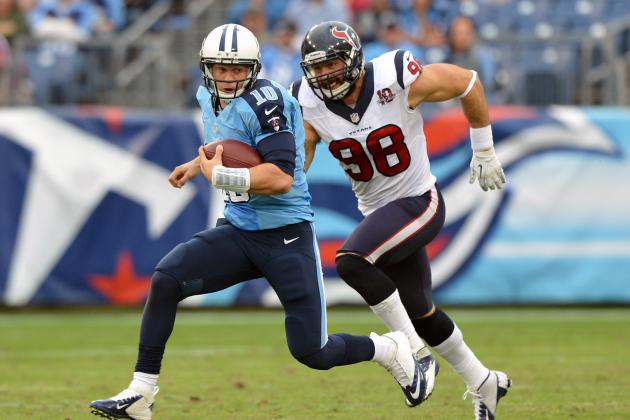 Don McPeak-USA TODAY Sports

While Connor Barwin was a much bigger contributor than his three sacks in 2012 might suggest, he's still a talent that can be replaced.
For starters, the Texans need to find out what they have in his backup Whitney Mercilus. Re-signing Barwin would cut into his playing time on the field and could stunt his development over time. If Whitney isn't the guy, they need to find that out too.
Houston should only be investing in serious organizational building blocks. When allocating significant resources to one player, you need that player to be a special difference-maker.
Players like J.J. Watt and Brian Cushing will command significant money as they head to free agency in the coming years. Re-signing Barwin could mean being forced to let one of them go, and that's just not good business.
Prediction:
Connor Barwin walks in free agency.
Where he could land:
Cleveland Browns, Detroit Lions, Miami Dolphins, Denver Broncos, Indianapolis Colts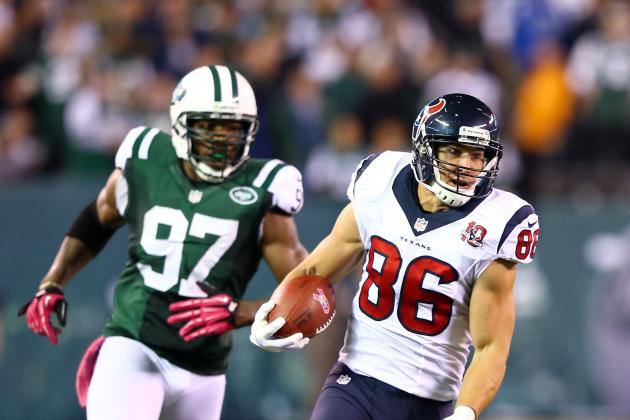 Al Bello/Getty Images

Replacing James Casey would be far more difficult than just re-signing him to a reasonable multi-year contract.
Houston's fourth-round pick from the 2009 draft class could drive a hard bargain given his versatility on the offense.
There could be several other teams around the league expressing interest that might envision him taking on a bigger role on their offense. Any offensive coordinator in the NFL could find a role for a weapon like Casey.
This could make negotiations tough initially. However, it's tough to imagine the Texans playing hardball with Casey given the vital role he's filled since Vonta Leach departed in free agency two years ago.
Expect the jack-of-all-trades fullback to ink a deal with the Texans early on in free agency.
Prediction:
James Casey re-signs with the Houston Texans.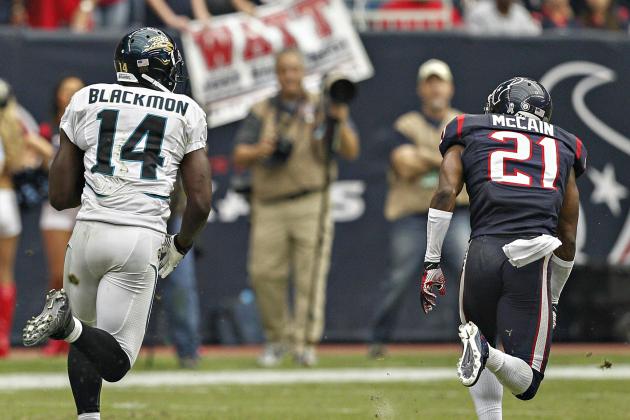 Bob Levey/Getty Images

Don't expect the Texans to get into a bidding war over Brice McCain.
He's apparently already receiving interest early into free agency, so negotiations could get dicey right away.
Houston has young and relatively untested corners in Brandon Harris and Roc Carmichael on the roster ready to take over if McCain were to depart. Both have a lot to prove going forward, but provide decent fall-back options for the time being.
The cornerback free-agent market is saturated with second- and third-tier talents, which the Texans could explore if McCain leaves.
There's no need to make McCain a priority given the alternatives on the roster, in free agency or in the upcoming draft.
Prediction:
Brice McCain walks in free agency.
Where he could land:
Detroit Lions, Jacksonville Jaguars, Cleveland Browns, Tampa Bay Buccaneers, Indianapolis Colts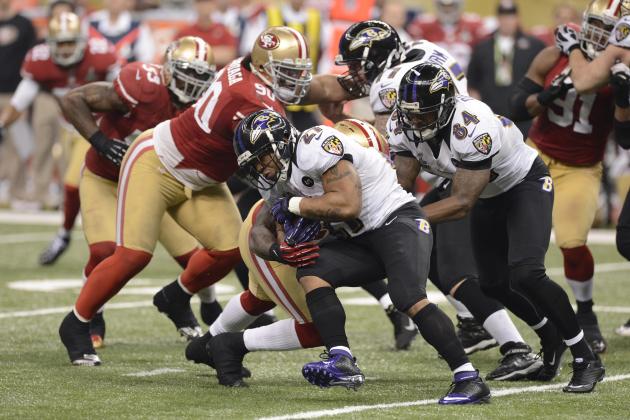 JD Mercer-USA TODAY Sports

We all know nose tackle is at the top of the list of needs to address.
The Texans could use a veteran presence on early downs to pair with Earl Mitchell in a rotation at nose tackle. They don't have much money to spend, but if they do dip their feet into free agency, this is the position to address.
Isaac Sopoaga could be the best value nose guard in free agency. As a stout run-defender who helped anchor one of the best run defenses in the league, the former San Francisco 49er could bring that same much-needed skill set to Houston's 3-4 defense.
Houston's previous starting nose tackle, Shaun Cody, is likely a back-burner option for the organization at this point. As a free agent, they likely won't face a bidding war for him, so they can be patient and weigh other, better options first.
The organization could get serious at the position with a signing like Sopoaga.
Prediction:
Isaac Sopoaga signs with the Houston Texans.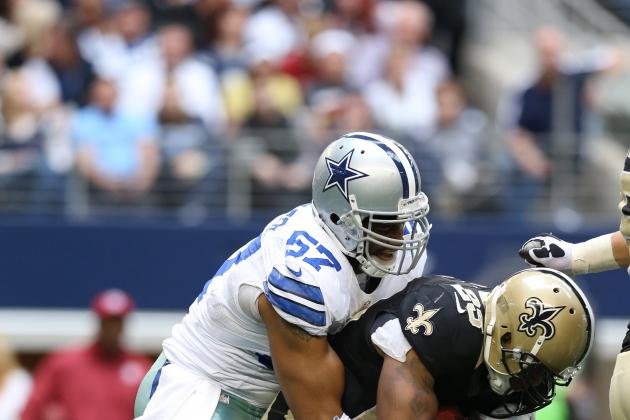 USA TODAY Sports

If Barwin is quickly signed away by another team, a decision to approach free-agent outside linebackers could be made in an instant.
Houston will need an emergency plan in place for that scenario. Turning to a free agent like Victor Butler could be the answer.
Butler could provide great depth for the Texans defense in the event that Barwin leaves. If the organization is uneasy about turning the job over full-time to Whitney Mercilus, then a signing like this makes even more sense.
Wade Phillips worked with Butler in Dallas after the Cowboys drafted him in the fourth round in the 2009 draft. He's always been more of a situational player in his career, and he has some untapped pass-rush potential.
If the Texans explore the free-agent market at all, it'll be for value free agents with upside like Butler.
Prediction:
Victor Butler signs with the Houston Texans.