New Orleans Saints' Blueprint for Winning Free Agency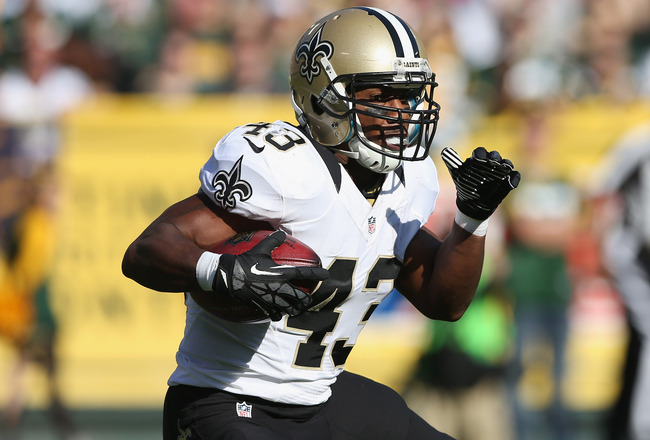 Jeff Gross/Getty Images
The New Orleans Saints have won free agency at least three times in the Sean Payton era.
In 2006 the team successfully courted Drew Brees—a brilliant yet questionable free-agent signing due to his having a major reconstructive surgery on his throwing shoulder in that offseason. The team also managed to bring in Scott Fujita—one of the key leaders on the defense that eventually reformed enough to capture the franchise's first Super Bowl trophy in 2009.
In the 2011 free agency period—one marked by the oddity of beginning in late July due to an unnecessary league-wide lockout—the Saints stole the show by signing Darren Sproles away from San Diego. Sproles and Brees were teammates for a year in San Diego. Because of what Brees had noticed of Sproles from their time together, Brees petitioned the organization, after it had decided to move Reggie Bush, to make Sproles an offer he couldn't refuse.
Sproles only helped New Orleans become the greatest offense the league had ever seen in 2011.
Last season the Saints won again by signing Curtis Lofton away from the rival Atlanta Falcons, while also stealing away fellow starters on defense, David Hawthorne from Seattle and Brodrick Bunkley from Denver. While all three teams those players left had more success in 2012, the Saints figure to be better in 2013 and beyond because of their presence.
It most impressively paid almost $20 million less for Ben Grubbs than had it re-signed Carl Nicks. Grubbs had the better season, by far. The point is simple: The Saints have had some great success in free agency while Sean Payton has been head coach.
With the team coming off a disappointing 7-9 campaign in 2012, the Saints would love to win free agency again in 2013. The only thing is that "winning" free agency may look a little different than in previous offseasons.
The Saints need to do the following four things to "win" the 2013 free-agency period.
Do Not Overpay To Keep Average Players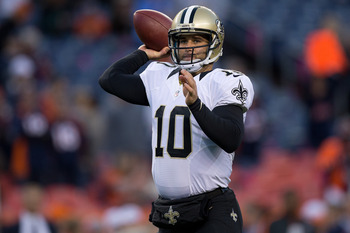 Justin Edmonds/Getty Images
Jermon Bushrod is an average offensive tackle in the NFL. And that's giving him the benefit of the doubt. Yet, because he stole two Pro Bowl trips like they were candy and a baby was involved, someone (please God, not the Saints!) will overpay Bushrod.
In the same vein, Chase Daniel has received much acclaim as a potential target for quarterback-hungry teams that are merely willing to give him a chance to compete for the starting spot in 2013. He's been a solid backup in extremely limited duty.
His preseason resume is nice. Frankly, there really isn't another word to describe it, though. If another team is willing to pay him more than $3 million, he should be allowed to walk.
It's pretty clear what the Saints should do with Bushrod if his salary demands rise anywhere north of $5 million per year.
Don't Get Sucked into Big-Name Players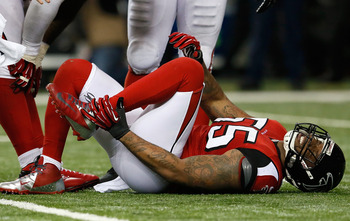 Kevin C. Cox/Getty Images
The list goes on and on of overrated big-name players who fill up this year's free-agent market. Cliff Avril, John Abraham, Dwight Freeney and Chris Gamble are just the names that would seem—at the surface level—to fit the New Orleans Saints.
Don't be fooled. Mickey Loomis would undoubtedly be better off spending his money on his own players or on players whose names may not be as great, but whose production is superior.
Avril will command too much money; Abraham is too old; Freeney—same thing.
Gamble has become so used to playing zone coverage with Carolina that it would be too tough of an adjustment for him to find himself in New Orleans, playing in what promises to be primarily a man-to-man defense.
In other words, don't judge a book by its cover.
Fill Positional Needs Only If ...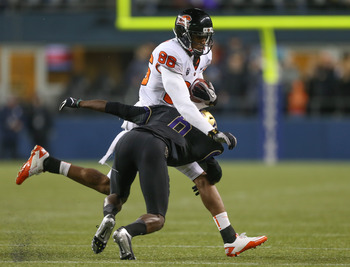 The likelihood that Washington CB Desmond Trufant will be available with the 15th pick in April's draft and could easily start from day one for the Saints makes signing a FA CB unnecessary and unwise.
Otto Greule Jr/Getty Images
There is a player the team deems a must-have player.
Just because the New Orleans Saints have designated a position a "need" does not mean the team absolutely has to fill that hole in free agency. Though Mickey Loomis has often made a habit of doing just that, it will not work in the 2013 offseason.
The team will not be able to clear the necessary cap space to obtain productive starting players at every "position of need." It would be wiser to retain the team's current players at said positions and allow them to compete with players from the draft.
The 2013 draft is as deep as any class in recent memory. Though there likely won't be a ton of superstar players, it also should not be difficult to find legitimately productive starting-caliber players as rookies in the fifth round—which is normally reserved for projected backups and special teams contributors.
That's all to say that the Saints would be wise to look for starters at a "position of need" in the draft rather than free agency. For instance, the cornerback class in free agency is rather abysmal. However, the draft class is rife with corners who appear able to start from the get-go in the NFL.
Thus it is simple, yet accurate, to say that the Saints should avoid even bringing in corners from this free-agent class. There are a few other positions for which that logic should be held as well.
Leave Enough Cap Space And/Or Flexibility to Make Future Moves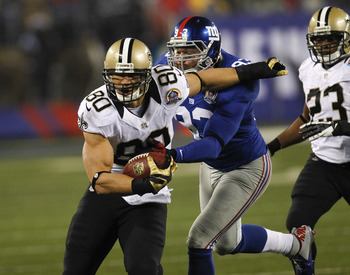 Jeff Zelevansky/Getty Images
It is highly possible—in fact likely—that the Saints will clear $10-15 million more in salary cap space in time to add a few key free agents in this offseason.
Even if they are able to do that, though, Mickey Loomis would still just be delaying the inevitable. In the winter and spring of 2014 he will once again have to scurry like a chicken with his head cut off just to get under the cap and figure out how to pay another superstar—this time franchise tight end Jimmy Graham.
Consider also that the restructured deals of this offseason only escalate future cash due to the players who restructured. In other words, Loomis has pinned his hat on a very fragile method of roster and contract manipulation.
It's all perfectly acceptable within the NFL CBA, but it is not solid cap management. At some point it will catch up to Loomis and the Saints' franchise. It could very well be next offseason, as currently the Saints would have zero to pay Graham.
Ideally, the Saints would clear more cap space in this offseason and sign Jimmy Graham to an extension some time before this year's training camp. The team can afford to do this, because, as previously mentioned, there are few impact players at the Saints' biggest "positions of need" in free agency. Rookies should be brought in to fill those spots. Rookies don't cost jack.
Graham can be re-signed with the saved money. It's a simple strategy. Loomis may not follow it, though.
Keep Reading

New Orleans Saints: Like this team?