Tiger Woods at Cadillac Championship 2013: Live Score, Results and Updates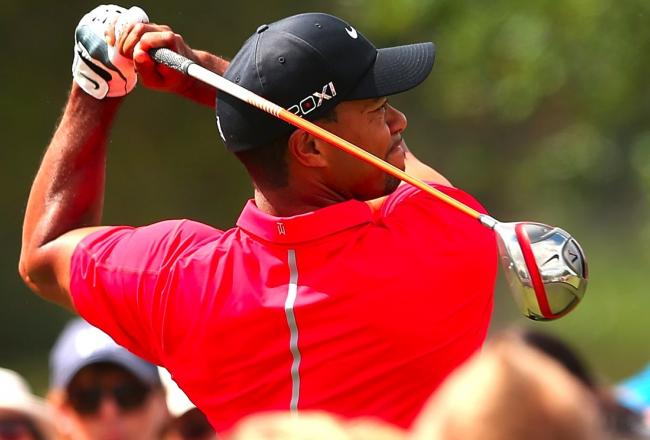 Tiger Woods wins the WGC-Cadillac Championship, and captures his 76th career victory. It was a performance defined by Woods' short game expertise, needing just 100 putts over the four days.
Woods is now the first player of the 2013 season to earn multiple victories. He's also put himself in place to regain the No. 1 World Ranking with a victory at his next tournament, the Bay Hill Invitational.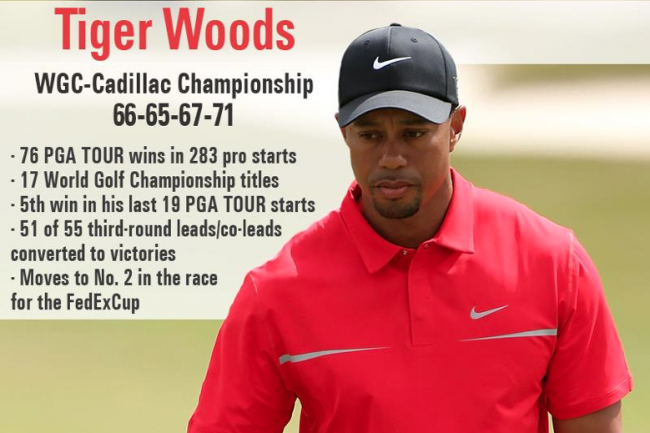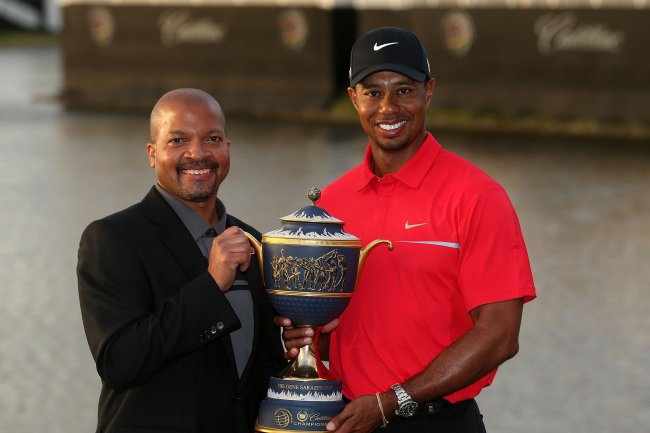 Warren Little/Getty Images
Here are some terrific stats to look back on after Tiger Woods' dominant performance at Doral.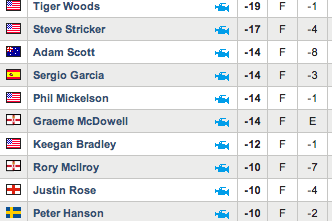 Here's your final scoreboard from the WGC-Cadillac Championship at Doral.
Here's a brief history lesson of where Woods ranks all-time in wins.
In majors, Woods is second all-time with 14 behind Jack Nicklaus's 18.
Most PGA Tour wins all-time: Sam Snead 82; Tiger Woods 76; Jack Nicklaus 73.

— Golf.com (@si_golf) March 10, 2013
If there was ever a question that Tiger Woods isn't the greatest frontrunner ever.
Graeme McDowell: "The last time I really thought I had a chance to catch (Tiger) was probably yesterday." #CadillacChamp

— PGA TOUR (@PGATOUR) March 10, 2013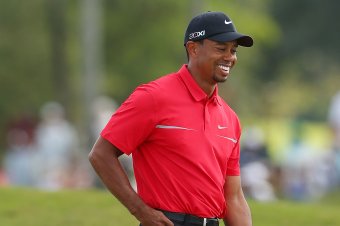 Mike Ehrmann/Getty Images
Tiger's short game won him this event. There's no denying he needed to hit the right shots off the tee and into greens in order to set up viable birdie opportunities, but his firm grasp of Doral's greens, both its speed and break, gave him a palpable advantage over the field.
Over his first three rounds he'd putted just 74 times in 54 holes. Overall, Woods had 100 putts, and posted 27 birdies, just one shy of his own personal record.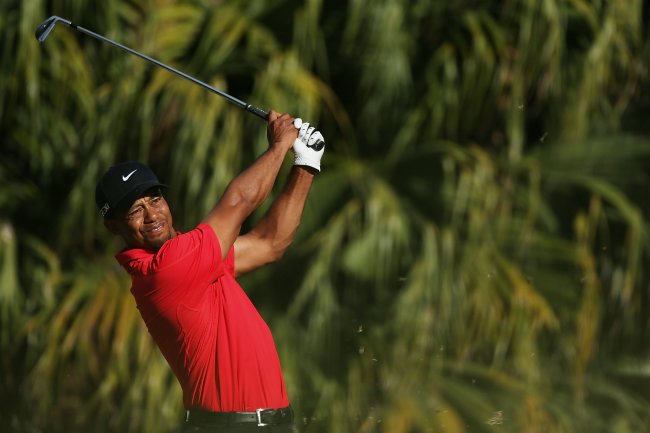 Warren Little/Getty Images
Tiger Woods wins his 17th WGC in the 41 events he's competed in during his career.
He shoots a 1-under par, 71, at Doral on Sunday to capture his second win of the 2013 season and his 76th career victory.
Despite a few hiccups towards the end of the round, Woods was dominant. From tee to green he swung confidently and minimized the few mistakes he made well enough to create enough separation between himself and the field.
This is a hugely impressive win for Woods primarily because this was both a brutally demanding course and a stacked, competitive field.
Bizarre sequence of events here at the last.
Tiger's tee shot misses the fairway right at 18. He lays his second shot up to 112 yards and misses the green left. #CadillacChamp

— PGA TOUR (@PGATOUR) March 10, 2013
Tiger with his fifth win in 50 weeks. Sure, he still needs to win a major, but the guy is the best in the world right now by a mile.

— Shane Bacon (@shanebacon) March 10, 2013
Tiger Woods closing in on his 5th victory in his last 19 stroke-play events. If he wins at Bay Hill, becomes world No. 1.

— Ryan Lavner (@RyanLavnerGC) March 10, 2013
Warren Little/Getty Images
The 18th hole is no stroll across the fairway.
A 475-yard par-4 and your eyes immediately are drawn to the left, where there's a massive water hazard that feels like a magnet. Luckily for players who hit a fade, like Tiger Woods, the wind is moving left to right and help to take the water out of play.
Although you might think that on the 18th and with a three shot lead that Woods might play it safe and hit an iron or a wood off the tee, he took a more aggressive route and hit his driver. However, he stuck to his gameplan, as he has done all week, and let the wind and his natural ball movement start the ball left and settle safely to the right, albeit in the rough.
Just a few shots left before Woods captures win No. 76.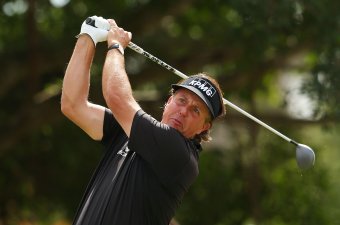 Mike Ehrmann/Getty Images
Mickelson pars the 18th to finish 14-under for the championship after a 1-under par, 71, Sunday.
A disappointing round for Phil who began the day with consecutive birdies, but a variety of erratic shots, paired with inconsistent putting never allowed him to challenge Woods' firm lead.
Nonetheless, a solid top 10 for Lefty, who's having a terrific 2013 campaign thus far.
Woods is on the verge of capturing his 17th World Golf Championship title and his 76th career victory.
There's nobody seriously challenging him and after striping his ball down the fairway on the 17th hole and knocking his second shot hole high, he's as safe as he can be.
Tiger's second shot is good and will leave Tiger with a 20 foot birdie try. Up ahead Stricker pars 18 and wraps up solo second.

— Norm Macdonald (@normmacdonald) March 10, 2013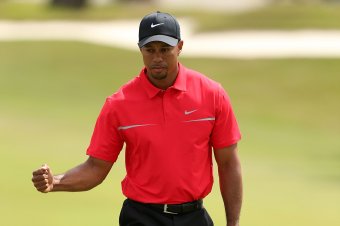 Warren Little/Getty Images
If there was ever a doubt that the misstep on the 16th would affect Woods' tee shot at the next, it took all of one swing and one look to dispel that notion.
Woods played his power-fade perfectly on the 17th. It was a compact swing and you always know Tiger liked his shot when he doesn't need to look at it. Before it had even reached it's peak in the air, Woods was walking after it, totally confident.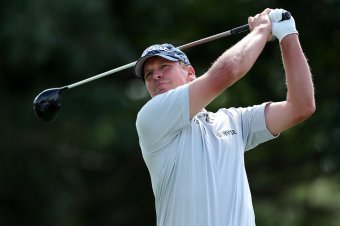 Warren Little/Getty Images
Tiger Woods gave one away at the 16th after a pair of mistakes on his first two swings. It's his first bogey of the day and is now 20-under par for the championship, three shots clear of Steve Stricker.
Stricker's finishing up on the 18th and will need not only some magic of his own, but he'll need Tiger to implode on his last few holes to remain in the hunt.
However, 'Tiger' and 'implode' simply don't mesh, at least this week at Doral.
Another very uncharacteristic shot by Woods, who chunked his second shot from the bunker and is now well short of the green buried in Bermuda rough.
Tiger chunks one out of the bunker at 16. Just trying to make the other fellas feel better, probably.

— Dave Shedloski (@DaveShedloski) March 10, 2013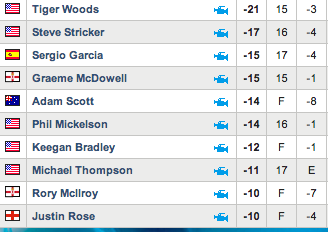 Tiger takes an iron off the 16th tee and hits patented stinger uncharacteristically into the bunker. It didn't look like a good lie at all, as the ball ran up towards the lip of the sand trap.
He'll have his work cut out for him on the shot.
According to ESPN Golf writer Bob Harig,
Woods has a 39-2 record when he has the outright lead going into the final round on the PGA Tour. The only time he ever has lost a lead of more than two shots in any tournament around the world was in 2010 against an 18-man field at the Chevron World Challenge, when McDowell beat him in a playoff.
Woods just made par at the 15th and is just three holes away from improving that record to 40-2. His lead is four shots over Steve Stricker (-17).
Is Tiger the best player in history with a lead? I think so.

— Shane Bacon (@shanebacon) March 10, 2013
If Tiger goes on to win.that would be 11 straight American players to claim victory on @pgatour in 2013, longest streak in 22 years (cc:NBC)

— Amanda Balionis (@Amanda_Balionis) March 10, 2013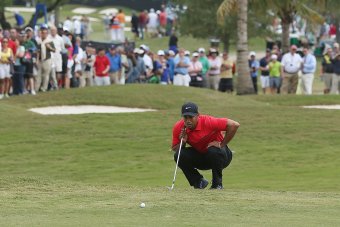 Warren Little/Getty Images
Woods hit a beautiful, high-flying wedge shot to about 12 feet at the 14th hole. It's one of the first shots of the day in which he struck down on the ball with such force that he got it to stop on the green, which is a rarity on these dried out and slick Doral greens.
Although he missed the birdie putt, he once again had terrific speed, showing once again how confident he feels with the flatstick. He remain 21-under par and four shots clear of Steve Stricker (-17).
Woods needs 2 more birdies to set most birdies in 72 holes in his career. Right now his record is 28 ('07 @playofffinale & '06 Buick)

— Amanda Balionis (@Amanda_Balionis) March 10, 2013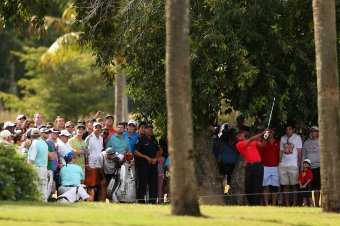 Mike Ehrmann/Getty Images
We are deep into this final round and nobody, not a single player near the top of the leaderboard, is challenging Tiger Woods today.
That may be a product of a variety factors ranging from Woods' superiority this week, especially on the greens, to the difficult conditions at Doral, to the separation Woods created prior to the final round.
Woods is just five holes away from his 76th victory. Can anyone catch him?
The bogey free round continues for Woods, who's putting like his ball is a magnet to the hole.
Woods is currently 3-under par on the day and -21 for the championship.
McDowell chips it in for birdie at 13 to get back to -15. Tiger (-21) gets up and down for par from just off the green. #CadillacChamp

— PGA TOUR (@PGATOUR) March 10, 2013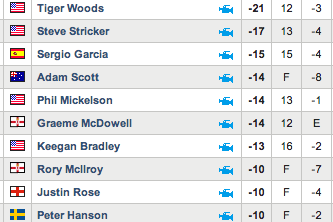 Here's a glimpse of the leaderboard at Doral.
Sergio Garcia climbing the leaderboard, but still well behind a surging Tiger Woods (-21), who leads at Doral.
Tiger (-21) two-putts for par at 12, while Sergio Garcia holes a bunker shot at 15 for birdie. He's -15 and in solo third. #CadillacChamp

— PGA TOUR (@PGATOUR) March 10, 2013
Was there ever a doubt?
After blowing his birdie putt well passed the hole at the par-5 12th, Woods gently putted his par putt and watched it sink dead-center into the hole.
Don't forget: drive for show, put for dough!
This article is
What is the duplicate article?
Why is this article offensive?
Where is this article plagiarized from?
Why is this article poorly edited?