When Gus Malzahn was hired as Auburn's 26th head football coach in early December, he knew exactly who he wanted to lead his defensive unit.
Ellis Johnson is a veteran defensive coordinator who had as bad of a 2012 season as the Auburn football program. In his first year as Southern Mississippi's head coach, he failed to get a win and was relieved of his duties after the season.
Another lofty challenge awaits Johnson as Auburn's defensive coordinator—rebuilding an Auburn defense that was historically bad in 2012.
He inherits a defense that has ranked at the bottom of the SEC in total defense and rushing defense the last two years under two different defensive coordinators; Ted Roof in 2011 and Brian VanGorder in 2012.
Under VanGorder, a distinguished defensive mind in the NFL and college, Auburn gave up an astonishing 420.5 yards a game. Texas A&M, Georgia and Alabama could have put up whatever amount of points they wanted to against the Tigers.
The Aggies' 671 yards of total offense and 63 points was the most ever given up by an Auburn defense at home. Both Georgia and Alabama pumped the brakes after having a comfortable lead at halftime.
John Reed-USA TODAY Sports
After watching film from eight games last year, Johnson and his staff have a good idea of the tools they have at their disposal to get the Auburn defense back to the top of the SEC.
"I'm not interested in what they ran and what worked or what didn't work," Johnson told Mike Szvetitz of the Opelika-Auburn News. "We just wanted to get an overall feel for talent level and if something completely jumped out at us if somebody was out of position. We're not changing the scheme that drastically, because from a 4-3 to a 4-2 is not a real, real overhaul. …But we watched enough to get a good feel for what we're working with."
Rebuilding the Auburn defense will not be an overnight process. A new foundation must be laid.
It starts with fixing the fundamental issue of tackling.
Different coaches have different ways of coaching tackling, but at both stops in Gene Chizik's head coaching career, there has been an issue with tackling.
Former Auburn defensive coordinator Paul Rhoads, who succeeded Chizik at Iowa State, did not give a particularly good assessment of how Chizik taught tackling when he was with the Cyclones.
"The first time we put on pads that first spring, we had to shut practice down for about 15 minutes and go back to Tackling 101," Rhoads told ESPN's Pat Forde at the 2010 Big 12 Media Days. "We got their attention, and I think they've improved greatly as a tackling football team."
Chizik, like many others, had an approach that involved flying to the ball carrier and running through him instead of breaking down and being under control when tackling him. With so much tackling in space in today's game with more spread offenses, the lack of tackling fundamentals is exposed much more.
In his introductory press conference, Johnson gave his theory about why tackling may be lacking and he plans to give tackling the attention it deserves (via AuburnTigers.com):
I think what happens sometimes is you get caught up in being an assignment football team and you don't work fundamentals. It's up to a coach to make sure you focus on that during the period of time you've got to do it during the day. One thing that's changed about college football is that it's a more spread out game. There are faster athletes. There are guys doing a better job with the systems, such as Coach Malzahn, and it exposes tackling more now.

Tackling used to be more of a physical collision, strength versus strength, back when I first started coaching. Now it's about angles, it's about speed. It's about a lot of factors to be a good tackling team. You do have to put a lot of attention in it and be careful about getting too much into X's and O's and you forget about the fundamentals.
A lot of Auburn's missed tackles looked like the first play on this video:
In VanGorder's one year on the Plains as defensive coordinator, he was not shy to tell you that Auburn was severely undersized on the defensive side of the ball. It will also be an issue that Johnson faces in 2013.
After getting bullied by the Georgia Bulldogs and losing 38-0, VanGorder gave Ryan Wood of the Opelika-Auburn News a blunt interpretation of what Auburn's issues on defense could be.
"Our defense is not built with size, strength and power right now, and I think that becomes obvious against teams like Georgia and in our first game against Clemson. It shows up. It shows up. Players know it. We talk about it."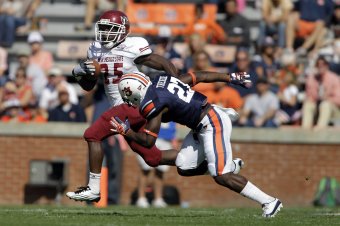 John Reed-USA TODAY Sports
Johnson will have to do a better job of adjusting his defensive scheme to his players than VanGorder did. With Johnson's 4-2-5 defense that features a hybrid "star" position, he should have an easier time of adapting to the size and strength (or lack thereof) on Auburn's defense.
When spring practice begins on March 27, identifying players and where they need to be within the scheme will be a big priority for the defensive coaching staff.
Johnson has taken the right steps to fix the defense thus far, but there is a long way to go for Auburn to be in the conversation with the top defenses in the league.
With steady improvement, Auburn should have a defense that is in the top half of the conference in the second year of Johnson's tenure as defensive coordinator.
At that time, the top defensive prospects signed in the 2013 class will have a year under their belts and all of the players will be accustomed to Johnson's 4-2-5 scheme.
Auburn has a proud defensive tradition and fans simply want to see a defense that is no longer a liability as it has been the past couple of years. Johnson is the right man to fix the Auburn defense, but it will take time.
The Auburn offense will score its points, so just a small increase in defensive production from 2012 will likely result in a couple more Auburn victories.
Baby steps.