Man Utd vs. Chelsea: Sir Alex Ferguson the Loser in Tale of 3 Managers
Use your ← → (arrow) keys to browse more stories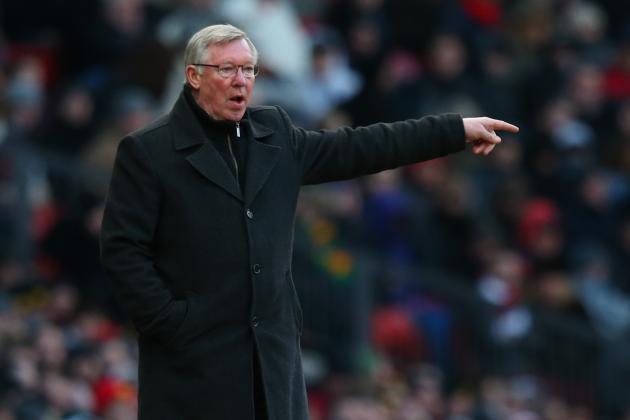 Alex Livesey/Getty Images
Manchester United manager Sir Alex Ferguson needs to get his team back on track quickly.
A tale of three managers emerged from the FA Cup quarterfinal between Manchester United and Chelsea at Old Trafford.
United boss Sir Alex Ferguson was looking for an instant positive reaction to the Champions League defeat by Real Madrid, while Chelsea manager Rafael Benitez is targeting a silver lining to his troubled short-term reign at Stamford Bridge.
However, a third manager was in attendance at Old Trafford with a big decision to make ahead of a squad announcement on Thursday.
England boss Roy Hodgson sat among the Old Trafford and with seven of his internationals on view from the start of the game.
But the real impression made on the national head coach must have been that of United defender Rio Ferdinand.
The 34-year-old has not played for his country since October 2011 with the long-running altercation between his brother, Queens Park Rangers defender Anton Ferdinand, and John Terry.
The fallout from that incident has been well documented, but appeared to have a knock-on effect on Rio Ferdinand's international aspirations with Terry selected ahead of the Old Trafford centre-half for the European Championships in Poland and Ukraine last summer.
The Sunday People has claimed that Ferdinand should prepare himself for a shock recall to the England squad for the World Cup qualifiers against San Marino and Montenegro.
Hodgson is facing a defensive dilemma with Chelsea's Gary Cahill his only fully-fit central defender for the Mar. 22 clash against San Marino.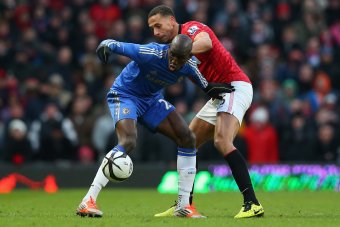 Alex Livesey/Getty Images
Ferdinand produced a master class in defending in the first period as Chelsea produced only one attempt when Frank Lampard hit the ball weakly toward United goalkeeper David De Gea.
Surely there can be no case for not restoring this in-form version of Ferdinand to his squad?
Ferdinand's influence at the back was in stark contrast to the Chelsea rearguard which just crumbled without the presence of club captain John Terry.
Terry, of course, quit the international arena in September ahead of a Football Association hearing into claims he racially abused Ferdinand, as Sky News reported.
Chelsea were lost without him in the opening minutes as Javier Hernandez and Wayne Rooney took advantage of the lack of cohesion within the Blues' defence to give United a two-goal lead.
For Chelsea interim boss Benitez, there must have been a wry smirk as his team finally found their feet in the second period after a tactical switch by the Spaniard.
When Lampard and Victor Moses were taken off for John Obi Mikel and Eden Hazard respectively, the cries from the Chelsea supporters left Benitez under no illusion that his presence was no longer required in the dug-out.
Moments later, how the former Liverpool manager must have enjoyed the moment as Hazard curled a fine right-foot shot around Rafael and United goalkeeper David De Gea to make it 2-1.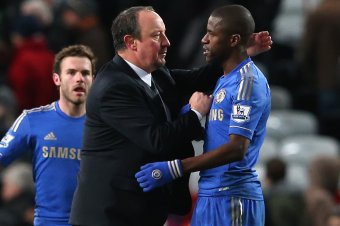 Alex Livesey/Getty Images
But the arrival of Mikel also proved significant as his holding role allowed Ramires, Oscar and Juan Mata to counter-attack with devastating effect for the equaliser, which was finished off by Ramires.
The three-man run through the middle proved too difficult for United to handle and Benitez had been rewarded in style. He would have been forgiven for making a Jose Mourinho-style dash down the touchline to celebrate in front of the sparsely populated Chelsea end of the ground.
Indeed. only the foot of De Gea prevented further glee in the final minute when he denied Mata after a sublime touch inside the area.
And finally to Ferguson, whose week took an unexpected turn against his old adversary Benitez.
Distraught at the manner in which his team were knocked out of the Champions League on Tuesday night, the Old Trafford boss needed a response from his team and appeared to be on the way early in the game.
Nani left the field in differing circumstances to his controversial dismissal against Real just before the interval, this time an injury preventing him from continuing.
Who will win the FA Cup replay at Stamford Bridge?
United should still have had an all-Manchester semifinal in their sights but their UCL hangover extended into the second period as Chelsea stormed back into the game on the back of a tactical switch by the opposition manager.
This was not a million miles from Mourinho's introduction of Luka Modric on Tuesday night as United wallowed in the agony of Nani's removal from the game.
United still hold a 12-point advantage over second-placed Manchester City in the Premier League and another collapse seems unlikely.
However, United and Ferguson need to find a cure for the ills of the Champions League loss swiftly to see off the challenge of a City team reinvigorated by the form of talismanic striker Carlos Tevez their FA Cup demolition of Barnsley.
United were caught unaware by their neighbours last season. The prospect of another collapse brought on by the injustice of the Real Madrid defeat is an unpalatable proposition for Ferguson and one half of the city.