NHL Week 7: Who's Hot, Who's Not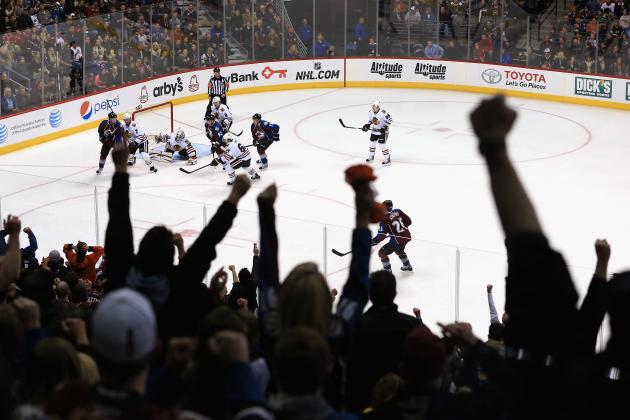 Doug Pensinger/Getty Images
The Colorado Avalanche finally ended the Blackhawks' record-setting streak.
This week has been one for the record books. The longest streak to start a season is over thanks to an unlikely opponent, as the Colorado Avalanche knocked off the Chicago Blackhawks 6-2 on March 8.
This was also the busiest weekend of the NHL season with 25 games in three days. It has been an exciting few days for fans of every team.
Now, with no more undefeated teams in the league, we take a look at who's hot and who's not.
Begin Slideshow

»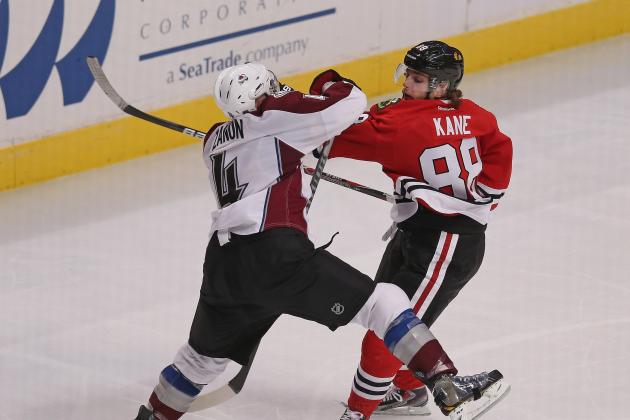 Jonathan Daniel/Getty Images
Patrick Kane has been crucial to the Hawks' success.
One loss doesn't mean a team isn't hot. The Blackhawks are still hot. They have won nine of the last 10 and three of four this week.
The Hawks beat rival Detroit, Minnesota and the Avalanche at home before suffering their first loss of the season.
Things are still good in Chicago despite the loss.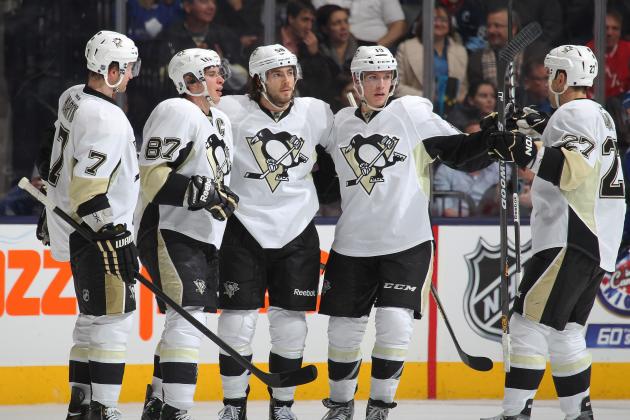 Claus Andersen/Getty Images
The Pens have a lot to celebrate as they climb up the standings in the East.
The Pittsburgh Penguins are rounding into form and making that yearly playoff push. Evgeni Malkin bounced back from his scary injury and has vaulted the Penguins to another high level.
They have won four straight games—all by one goal. Some wins came in a shootout. Others came in overtime and some came in regulation, including a win over in-state rival Philadelphia.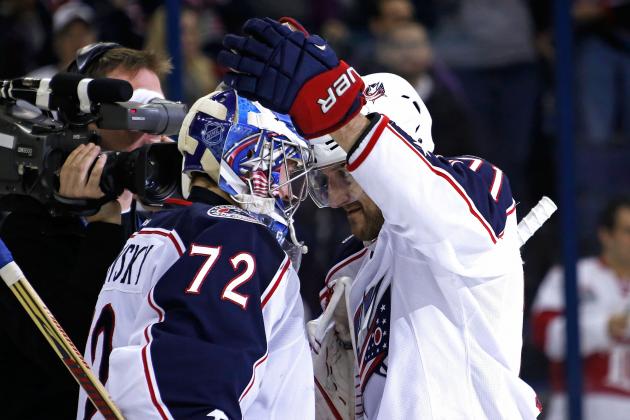 Kirk Irwin/Getty Images
You read that correctly. The Blue Jackets are one of the hottest teams in the NHL.
Some people may think the NHL only has 29 teams, but the Columbus Blue Jackets are quietly putting a nice streak together. The Blue Jackets have won four-straight games and pulled themselves out of the cellar of the Western Conference.
Columbus shut out Detroit and beat Colorado, Edmonton and Vancouver to finish an undefeated four-game homestand. That came on the heels of an overtime loss to Chicago.
This team is playing well but travels to Hockeytown March 10 before a five-game homestand. Don't look now, but the Blue Jackets are only five points out of a playoff spot.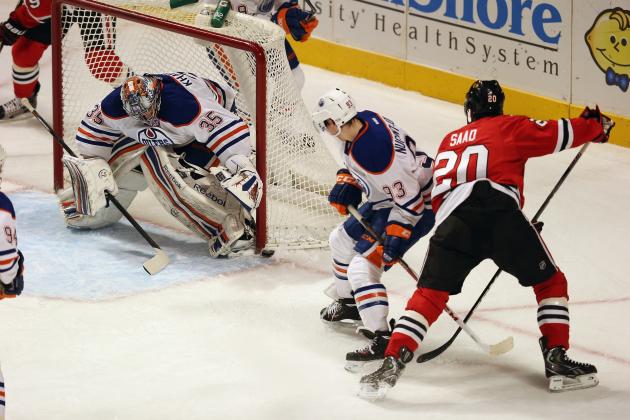 Jonathan Daniel/Getty Images
Things don't look good for a reeling Edmonton squad.
With all of the young talent on the Edmonton Oilers, they should be preparing for a climb up the playoff standings, not fighting with the Blue Jackets for the bottom of the conference standings.
The Oilers have dropped back-to-back games and are 2-6-2 in the last 10. The pieces are in place. The talent level is there, but the wins aren't.
Edmonton has just one win in five tries in March—a shootout win over Columbus—and have been shut out in back-to-back games. The Oilers head to Chicago on March 10 and Colorado March 12 before returning home to host the Red Wings and start a four-game homestand.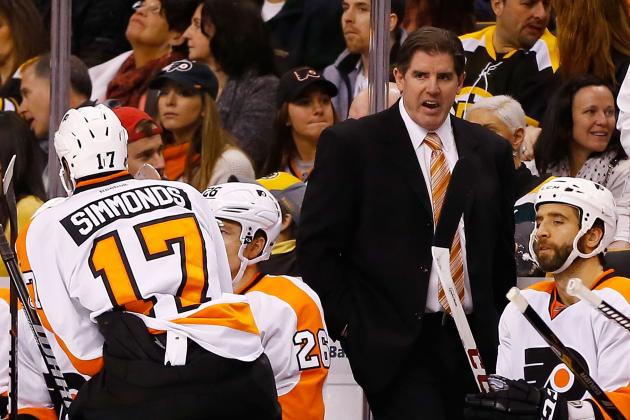 Jared Wickerham/Getty Images
The Flyers' loss to Pittsburgh seems to have taken more out of them than they thought.
As the Pittsburgh Penguins heat up, the Philadelphia Flyers cool off. The Flyers have lost three straight including a 5-4 loss to the rival Pens. Philadelphia was outscored 4-0 in the final two periods to drop that contest followed by a 3-0-shutout loss to Boston.
Things aren't looking good in Philadelphia, but the Flyers are nearing 100 percent health, and that should help them make a case for a playoff spot.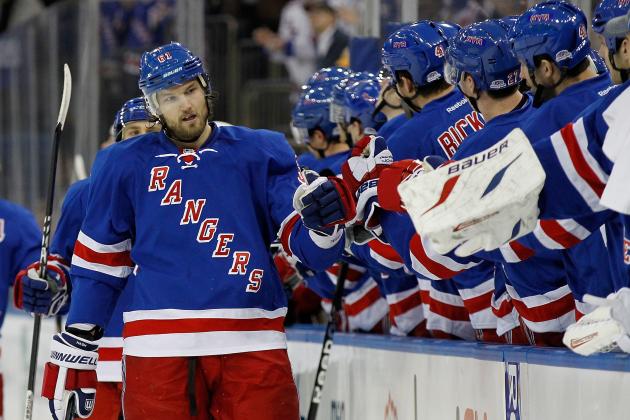 Mike Stobe/Getty Images
Rick Nash is hot for the New York Rangers and that's a great thing.
Rick Nash of the New York Rangers is developing into the player the Rangers thought he would be. Nash has points in nine straight games dating back to Feb. 10—extended by a brief stint on the injured reserve. He has seven points in four games this week and has helped the Rangers get back into a playoff spot.
Martin St. Louis of the Tampa Bay Lightning just doesn't slow down. St. Louis has eight points in March. He has just one goal but is second in the NHL in assists with 27 thanks to another four-assist week from the ageless wonder.
Honorable Mention: Ryan Getzlaf (ANA) and Alexander Semin (CAR)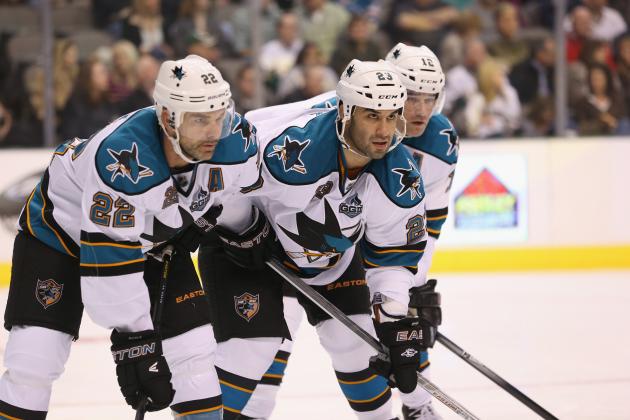 Ronald Martinez/Getty Images
Patrick Marleau is struggling for the Sharks.
Patrick Marleau of the San Jose Sharks continues to struggle in the month of March. He has no points, a minus-two rating and only 11 shots on goal in four games. He has been held off the scoreboard in six straight games.
Ryan Nugent-Hopkins of the Edmonton Oilers is struggling as his team struggles. When a team is struggling, it needs its superstars to step up, and Nugent-Hopkins hasn't done that. Nugent-Hopkins was minus-five this week and recorded only one point as the Oilers' losing streak extended to five.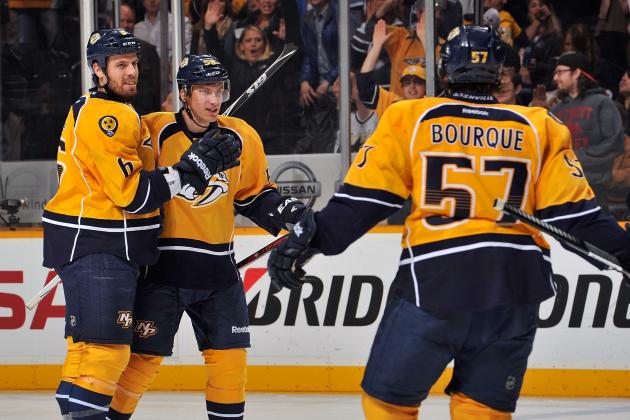 Frederick Breedon/Getty Images
Shea Weber has helped the Nashville Predators get through tough times in more cases than not.
Shea Weber of the Nashville Predators is finding his stride again on the blue line. Weber struggled in the early part of this season but has bounced back and put up a five-point week last week. He was plus-two with two power-play points.
The captain of the Predators seems to be getting things straightened out. That's good news for the Preds.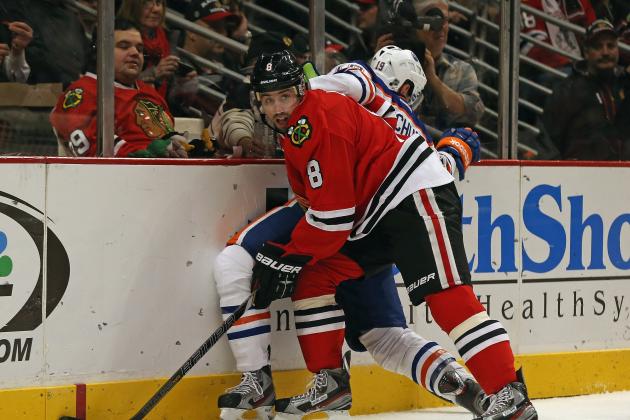 Jonathan Daniel/Getty Images
There is a bit of a learning curve in the NHL. Justin Schultz is finding that curve.
Justin Schultz of the Edmonton Oilers is in a similar situation to Ryan Nugent-Hopkins. The young defenseman has fallen on tough times as his team continues to struggle. Schultz didn't score this week and was minus-six. Expect the Oilers to turn things around when these two stars start to do the same.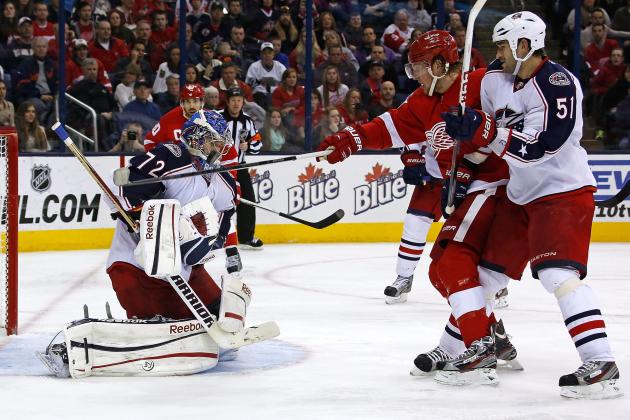 Kirk Irwin/Getty Images
Congratulations to Sergei Bobrovsky on a great week.
Sergei Bobrovsky of the Columbus Blue Jackets picked up four wins this week and an astonishing 0.52 goals-against average. The Blue Jackets goaltender stopped 103 of 105 shots and notched an impressive shutout against the Detroit Red Wings.
This is a nice story to come out of Columbus.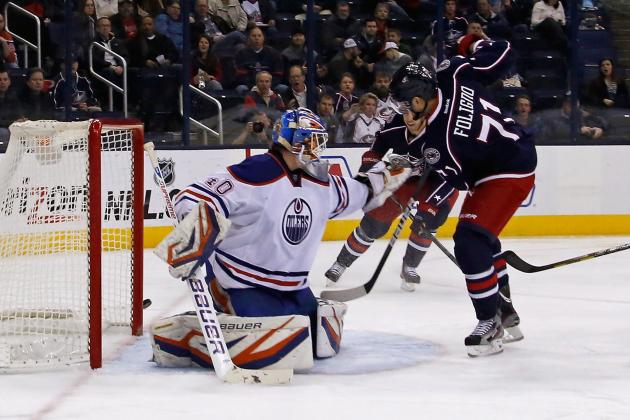 Kirk Irwin/Getty Images
If a goaltender struggles, a team struggles. That's the case in Edmonton.
Devan Dubnyk of the Edmonton Oilers is just another victim in a rough month for the Oilers. Dubnyk took over the No. 1 role and has become more of a steady option. Unfortunately for Edmonton, that steady option hasn't been a good one.
Dubnyk is 0-4-1 in March and 0-3-1 this week. He has given up 15 goals in March and will need to turn things around quickly to maintain his No. 1 spot.