The 10 Most Feared Fighters in Boxing Today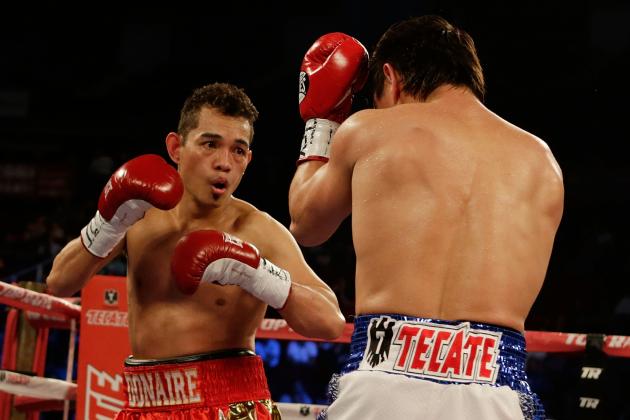 Scott Halleran/Getty Images

Fear is a tricky subject to write about when it comes to combat sports. The sort of person who makes a living climbing into a cage or ring to exchange physical punishment is, by definition, a physically brave human being.
Anybody who has spent any amount of time in a fight gym watching novices learning to spar knows how unnatural the act truly is. Fighting itself might be an innate part of human nature, but fighting with poise rarely comes naturally to anybody.
The instinctual reactions to having punches thrown at your head and body fall along the spectrum from covering up and freezing to throwing punches back in a reckless, adrenaline-fueled flurry. To stay in the pocket and maintain a calm presence of mind requires training and practice.
And it requires a fighter to conquer and control his fear. The threat of serious physical harm is part of the bargain going in, and anybody who has much success at all in boxing must be comfortable with that fact.
So most of the time, when we talk about fear in the fight game, what we are really talking about is "business fear." Most often, a feared fighter isn't necessarily the fighter who seems most likely to do serious damage to his opponents, though that's certainly part of it. But what really makes a fighter "feared" is that the potential risk doesn't balance out adequately with the potential reward.
Sergio Martinez and Wladimir Klitschko, for example, are extremely dangerous fighters. But everybody at middleweight and heavyweight, respectively, wants to fight them. There is an excellent chance you will get knocked out, even hurt badly. But if you win, you will be the top man your weight in the world and a pound-for-pound superstar.
If you lose, well, you lost to the champ. Depending upon how well you performed, it might even be possible to come away from a loss to a dominant champion with your career in better shape than it was going in.
Gennady Golovkin and Kubrat Pulev, on the other hand, are also very likely to knock out anybody who fights them. A win over them would be a major accomplishment for any middleweight or heavyweight. But ultimately, they are just stepping stones on the way to potentially tougher fights against Martinez or Klitschko.
But they are very, very slippery stepping stones, the kind that will send most opponents tumbling into the swift current, to be dragged down stream from relevancy. So, not surprisingly, most fighters and their management would rather bide their time and angle directly for a fight with the champs.
And as anybody who really follows the fight game knows, fear is truly the province of management and promoters. I gained a lot of respect for Austin Trout last January when I met him after a Friday Night Fights card in Verona, N.Y., where he had come to campaign publicly for a showdown with fellow 154-pound champ Canelo Alvarez.
A reporter asked him: "Do you think Canelo needs a heart transplant." Trout's response was respectful of his rival while still realistic about the business side of the sport:
I want to be clear, I don't think Alvarez is afraid to fight me. He's a fighter and to me, a fighter isn't afraid to fight anybody. When I say Canelo is ducking me, what I mean is that his promoters are ducking me. Golden Boy is ducking me...but maybe Papa De La Hoya will let him (Alvarez) out of the yard to play.
Ultimately, Trout did get the fight with Alvarez, and in May fight fans will see the sort of showdown that should be routine if boxing truly hopes to again approach its past popularity.
Prize fighting is a brutal, dangerous way to make a living, and it is hard for me to fault fighters and their management pursuing their own interests over the interests of the sport. Still, the health of the sport in terms of media coverage and television contracts can only improve when business fear is handled the same way as physical fear.
It needs to be taken into consideration, because it is legitimate. But no true glory can ever be won if fear is allowed to rule the day.
Begin Slideshow

»
Prior to his Round 8 TKO loss to Brian Viloria in December of 2011, Giovani Segura (29-2-1, 25 KOs) had been viewed as a rising star in the sport, despite fighting almost all of his career at 108 pounds. The Ring had elevated him into their pound-for-pound Top 10 and run a cover story on him.
Viloria exposed his technical shortcomings and sent his stock tumbling. Yet he remains a dangerous fighter for almost any 112-pound fighter in the world. He has brutally dispatched a number of former world champions and his 78 percent KO ratio is ludicrously high for such a low weight fighter.
While he sustained a lot of punishment against Viloria, there is no reason to assume he is significantly diminished as a fighter. Indeed, it's reasonable to expect that the upset loss will make him more dangerous in the immediate future. He has already bounced back with a stoppage of former world-title challenger Omar Salado (25-6-2, 15 KOs).
So what we are left with in Segura is a deadly puncher with a diminished reputation. If your fighter has the tool box of a Viloria, he just might be able to take Segura apart. But, as always, if is one huge two-letter word.
Segura has a big enough reputation to get another world title shot at some point. At 30 years old, it would be better for him to do it sooner than later. Meanwhile, procuring fights with other legitimate contenders might not be so easy.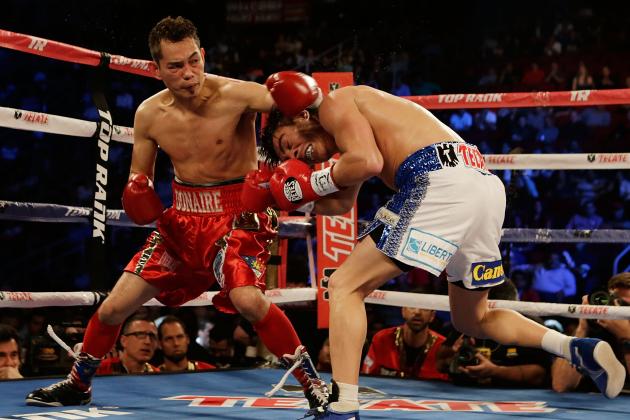 Scott Halleran/Getty Images

Super bantamweight champion and pound-for-pound star Nonito Donaire does go against the general theme of this list. Nobody is avoiding him. As one of the sport's biggest stars, just about everybody at or near his weight would welcome the challenge, and the payday, that he represents.
No, I picked Donaire because he is feared in the more traditional sense of the word. No active fighter as consistently makes other world-class talents appear genuinely cautious and cowed.
Elite fighters such as Toshioki Nishioka and Omar Narvaez have appeared genuinely timid when encountering Donaire's dazzlingly explosive power and speed up close.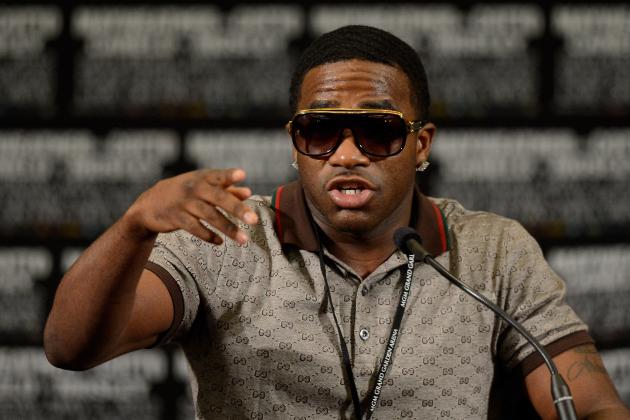 Ethan Miller/Getty Images

Adrien Broner (26-0, 22 KOs) appears to be in the process of emerging as a major pound-for-pound star, so there will be no shortage of fighters looking to mix it up with him. It appears that multiple times world title-holder Paulie Malignaggi has already talked his way into a fight with "The Problem."
But here's the thing: these guys who are all so anxious to fight Broner are 140- and 147-pound fighters and the 23-year-old Broner has so far only even fought once above 130 pounds (well, twice, if you count his last fight at super featherweight, where he failed to make weight).
At those weights, Broner just hasn't found a whole lot of takers. The lone exception has been the always ready Antonio Demarco, who was quick to put up his world title belt to welcome the Cincinnati native when he moved up to 135.
His gallantry was rewarded with a brutal, one-sided beatdown.
Usually when I interview fighters, they are interested in talking about their goals for a division and which rivals they might like to fight. I've interviewed Broner twice and both times, the sum total of his opinion on this topic was basically: "We'll have to wait and see who is willing to fight me."
The last time I spoke to him, before his recent stoppage of Galvin Rees, he did concede "I would love to unify the lightweight division." But at this point in his career, the most important thing is that he remain active and advancing professionally.
That a jump all the way to 147 already appears to be the best career move he can make tells you everything you need to know about how feared he is at 135.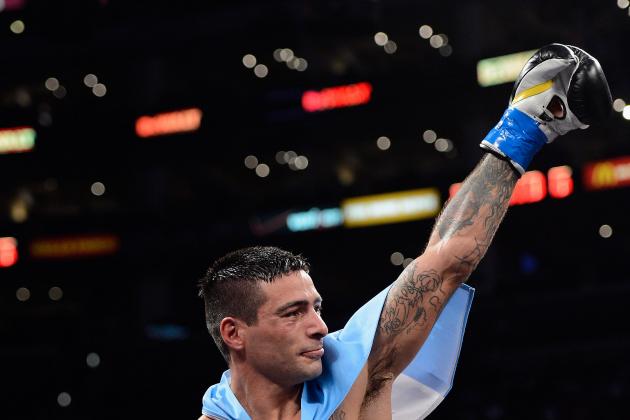 Kevork Djansezian/Getty Images

Argentinian Lucas Matthysse (33-2, 31 KOs) was an undefeated, but relatively unknown fighter when he faced Zab Judah in November of 2010. He came away with his first career loss, a split decision that a lot of people thought he deserved to win.
Seven months later, he dropped another split decision to Devon Alexander. This one was greeted with even more controversy. To this day, a lot of fight fans regard Matthysse as an undefeated fighter.
After giving two world-class fighters all the trouble they could handle, the line of big-name contenders looking to fight Matthysse was not long.
Still, losing two close fights so close together in a manner that many regarded as unjust gave Matthysse a certain underdog popularity. And since the Alexander fight, he has won five straight inside the distance, including a stoppage over previously unbeaten Ajose Olusegun, which garnered him the interim WBC belt.
In May, Matthysse will finally get another opportunity against a fellow champion, when he faces IBF title-holder Lamont Peterson. The D.C. native recently returned from a suspension for failing a PED test and looked his impressive old self in stopping Kendall Holt.
Peterson's willingness to step in where other top 140-pound fighters have hesitated is commendable, but understandable from a business perspective. With the stigma surrounding his suspension, he needed to do something big to win back goodwill from the fans.
Providing the popular Matthysse the kind of high-profile opponent he has deserved for more than a year now should help that cause.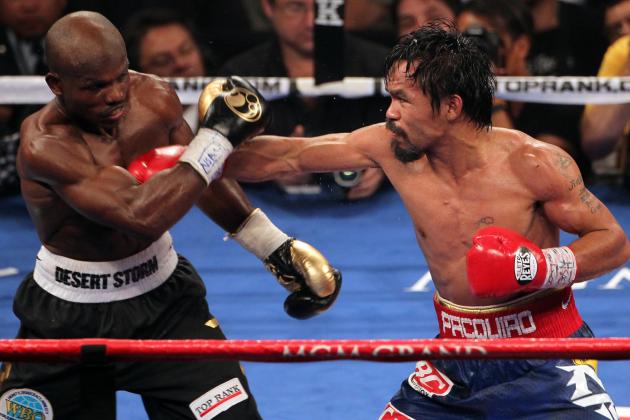 Jeff Bottari/Getty Images

Most fans do not feel Timothy Bradley (29-0, 12 KOs) deserved to win a split decision over Manny Pacquaio last June. But prior to that fight, he had already beaten an impressive array of talent, and always by wide margins. Bradley has an awkward and rugged style which routinely leaves top-ranked opponents looking shockingly ineffective.
Even in a fight most thought he lost, Bradley made the normally explosive Pacquiao look surprisingly slowed down. And Bradley did it on a set of busted legs.
A rematch seemed like a forgone conclusion. But when Pacquiao went on to fight Juan Manuel Marquez for a fourth time in December, Bradley ended up the odd man out, and he stayed on the sidelines during the second half of the year.
While Bradley is widely viewed as a Top-10 pound-for-pound fighter, his fighting style does not thrill casual fans enough to make opponents want to fight him just for the payday. He may have a relatively low knockout percentage, but he is also among the toughest fighters in the world to beat.
For a management team trying to steer a fighter toward a huge future payday, Bradley probably just looks like an extremely risky obstacle better avoided.
I interviewed Bradley last week and he admitted it had been disappointing to feel perpetually avoided. "I feel like I'm at the front of the line, but nobody wants to step up and fight me," he stated.
He returns to action on Saturday against Ruslan Provodnikov. The Russian is a legitimate contender to Bradley's WBO title, but he is hardly the sort of well known name that a fighter of Bradley's reputation would normally fight.
As Bradley told me: "He was available and he was willing."
On paper, junior middleweight Gabriel Rosado looks like a journeyman, sporting a 21-6 record with 13 KOs. People who follow the sport know better.
Rosado is a gritty, hard-nosed veteran who came up the hard way, with no protection. I'd rank him among the Top 10 154-pound fighters in the world.
Rosado had a dominant 2012, turning in stoppages over tough veterans Jesus Soto-Karass, Sechew Powell and Charles Whittaker. It established him as an extremely tough out for anybody.
And there is never going to be a big rush to fight tough fighters who have a handful of losses. Instead of getting a major fight at his own weight class, Rosado was forced to start the year by moving up to 160 pounds to take the fight nobody wants at middleweight, against Gennady Golovkin.
Undefeated WBA middleweight champion Gennady Golovkin (25-0, 22 KOs) could probably be the poster boy for this entire list. The native of Kazakhstan has been among the sport's most avoided fighters for years now.
From the outside looking in, it appears that the WBA made Felix Sturm a "super" champion solely because they couldn't get the German to agree to fight Golovkin, and it felt like it needed to vacate the belt for GGG.
Then Daniel Geale beat Sturm by split decision last September 1, the same day Golovkin won his American debut in sensational fashion by stopping Grzegorz Proksa in five at Turning Stone Casino in Verona, N.Y. According to the WBA, the winners of these two fights were supposed to meet in a unification bout.
Instead, Geale went back home to Australia and fought a rematch against Anthony Mundine. Geale appears very much uninterested in risking a potential fight with middleweight kingpin Sergio Martinez by fighting Golovkin first.
Golovkin was left fighting the previously mentioned Gabriel Rosado, a 154-pound fighter who was willing to step up and take a chance with him. Rosado hung around longer than expected, so perhaps a bit of Golovkin's fierce mystique will diminish.
Still, if he is finally going to get his shot at another top middleweight in 2013, it is going to have to happen much later in the year. In the meantime, he is fighting Nibuhiro Ishida in March in Monaco, a journeyman coming off back-to-back losses to Paul Williams and Dmitry Pirog.
Light heavyweight Sergey Kovalev (20-0-1, 18 KOs) looks a lot like a slightly larger version of Gennady Golovkin. He is a dangerous boxer-puncher with effective and methodical footwork.
Prior to this year, he was still very much untested. But last January he took a major step up in competition when he faced former world champion Gabriel Campillo on an NBC Sports broadcast. He passed with flying colors, dispatching the Spanish fighter in three.
Campillo went into that fight among the top-rated light heavies in the world. He had survived two knockdowns early against Tavoris Cloud last year to drop a controversial split decision. He had not lost a fight by stoppage or even clean decision since 2007.
Kovalev's performance establishes him as perhaps the most dangerous puncher in the 175-pound division.
Denis Boytsov (32-0, 25 KOs) is not particularly large for a heavyweight, but the explosive, compact boxer-puncher has accumulated one of the better KO percentages in the heavyweight division. He is an aggressive fighter with very good hand speed.
Boytsov has fought some tough journeyman like Vincent Maddalone, Taras Bydenko, Jason Gavern and Dominick Guinn. He would be an underdog against either Klitschko brother, but has the style to get inside on Wladimir's jab and the kind of explosive pressure that could potentially force the aging Vitali to spend parts of a fight backing up on his heels.
For WBA "regular" champion and fellow Russian Alexander Povetkin, Boytsov would provide a legitimate, well-matched opponent, something Povetkin has not seemed to go out of his way to find of late.
Bulgarian Kubrat Pulev (17-0, 9 KOs) exploded onto the heavyweight scene in 2012 when he recorded back- to-back Round 11 stoppages against two gigantic opponents, the once-beaten Alexander Dimitrenko and the undefeated Alexander Ustinov.
As a result of these performances, Pulev has even created a buzz among American fans, never an easy task for a prizefighter from Eastern Europe. By any rational standard, Pulev's two most recent wins should make him next in line for somebody's belt.
But Wladimir Kltischko's next fight will instead be against Italian native and German resident Francesco Pianeta. Pianeta is undefeated, too, and he will no doubt help Kltischko sell out another card in Germany. From a business perspective, the fight no doubt makes some sense.
Still, it needs to be pointed out: Pianeta's two most recent high-profile wins came against the likes of Frans Botha and Oliver McCall, two 40-somethings who haven't been truly relevant in the division since before the turn of the century.