Man Utd vs. Chelsea: 5 Bold Predictions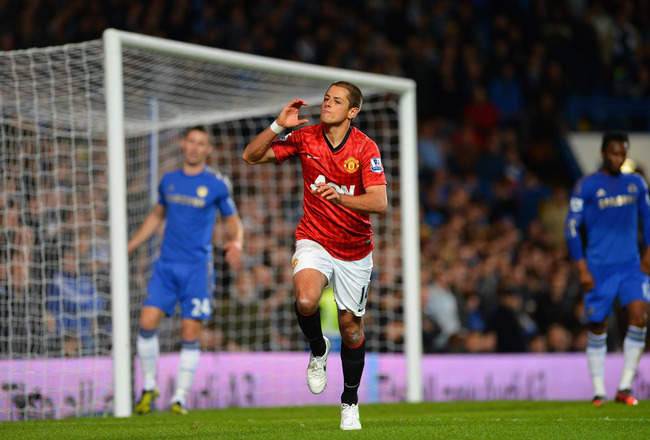 Shaun Botterill/Getty Images
Manchester United versus Chelsea is a clash which has become one of the biggest in recent history in the Premier League. With so much usually at stake, it is hard to believe the difference between the two clubs this season.
Yet, in the FA Cup, reputation counts for nothing. Performance on the day is key to winning the tie, and that is what makes it such a special competition—one where even a non-league side such as Luton Town can beat Premier League outfit Norwich City at their own stadium.
And perhaps that is something that will give Chelsea the upper hand in their clash against Manchester United at Old Trafford, though the Blues are struggling under interim manager Rafa Benitez.
Chelsea are on an incredible run in the FA Cup; they are currently unbeaten in their last 27 games in the competition (excluding penalty shootouts), a streak which stretches all the way back to 2008.
However, the only thing worse than facing an in-form Manchester United side is coming up against a Manchester United team hungry to make amends.
They succumbed to a controversial 2-1 defeat against Real Madrid after Nani was sent off, with former Red Devils star Cristiano Ronaldo coming back to haunt his former club as he scored the winner to send them out of the Champions League.
Now, Sir Alex Ferguson will be keen to put that result in the distant memories and book their place in the FA Cup semifinal.
It promises to be a superb game of football whatever the result.
Wayne Rooney Starts...and Scores a Hat Trick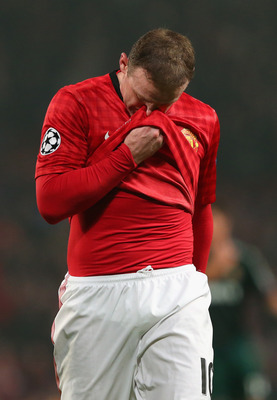 Alex Livesey/Getty Images
When Wayne Rooney was left on the bench for the crucial tie against Real Madrid, shock and speculation swept around Old Trafford.
Was Rooney out of favor again? Had Sir Alex Ferguson decided to change the team tactically? Or was it a sign that every player was equal at the club, that there were no egos allowed?
Either way, it led to the legendary Scot having to organize a press conference to deny suggestions that Rooney would be sold in the summer. It did nothing, however, to dispel the rumors.
But if we know anything about England's star man, it's that he thrives on these moments of uncertainty.
His work rate and creativity can galvanize the side when they seem to be struggling, and what's to say if selected, he won't do the same against Chelsea, a club he has scored eight times against?
And don't be surprised if Rooney scores the winner in Sunday's clash. Better yet, I back him to score a hat trick.
Fans Blast Fernando Torres Despite Breaking Goal Drought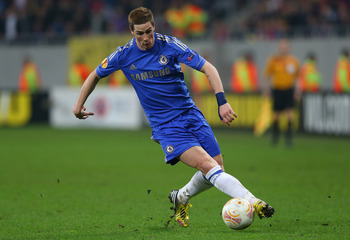 Julian Finney/Getty Images
Fernando Torres has endured a better season in 2012/13, scoring 16 goals in all competitions. Yet, Chelsea fans are still not happy with the Spaniard.
It seems that the former Liverpool striker, once deemed one of the best in the world at putting the ball in the net, cannot win with Blues fans. He scores goals, but they aren't directly involved in winning the Blues points, so they are not important.
You can only feel for the 28-year-old, who, despite the severe criticism from the media and fans, continues to give 100 percent in every game he plays.
No doubt, he has experienced something of a revitialisation under confidante Rafa Benitez, but nevertheless looks the shadow of his former self.
He scored at Old Trafford in the Blues' 3-1 defeat last season, so what is to say he will not again?
Robin van Persie Finally Scores...at the Wrong End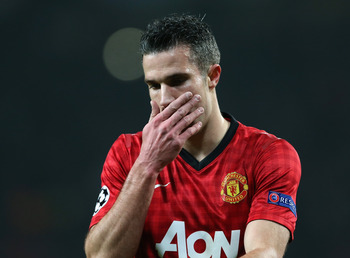 Jasper Juinen/Getty Images
Robin van Persie is going through something of a goal drought.
OK, it is not exactly a goal drought, but in terms of his record this season, the Dutchman's failure to score in five games in all competitions means that the pressure is on him to start delivering once again.
Since a £24 million move from Arsenal in the summer, van Persie has struck 23 goals in 33 appearances, becoming an instant hit with the club's supporters.
The 29-year-old has held the burden of becoming the lead goalscorer, while the likes of Javier Hernandez and Wayne Rooney have struggled to hit top form.
But instead of van Persie scoring to break his duck, how about an own goal?
Now that would be special.
Eden Hazard and Shinji Kagawa Sent off Arguing over Who Is the Better Signing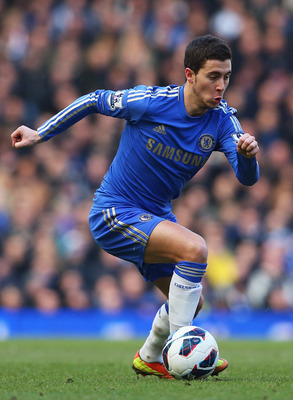 Julian Finney/Getty Images
When Eden Hazard rejected the advances of both Manchester United and Manchester City to sign for Chelsea last summer, the pain was clear to see for their respective managers.
They dealt with it in different ways, however.
Sir Alex Ferguson criticized the valuation from Lille for Hazard, which stood at £32 million (despite then spending £24 million on an ageing Robin van Persie) and decided to sign Shinji Kagawa for £13 million instead.
Roberto Mancini did more of the opposite; he stuck with the squad he had and was then left to rue not strengthening the side further when his side were left behind by a rejuvenated Manchester United after last season's heartache.
And now, Kagawa and Hazard go head-to-head in who can impress the most. The Japanese playmaker will be desperate to continue where he left off against Norwich, who he scored a hat trick against.
The rivalry could, however, get a little out of hand. I mean come on, these are two players who have one red card between them in their careers.
Mad men...
Rafa Benitez vs. Sir Alex Ferguson: Round 2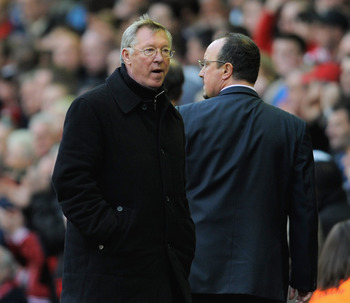 Michael Regan/Getty Images
Sir Alex Ferguson and Rafa Benitez both like a post-match glass of red wine, but they are not friends on the pitch.
The two have a friendly rivalry going back all the way to when Benitez was appointed Liverpool manager in 2004.
Now, nine years later, both managers have won the Champions League and they have also won the League Cup. Neither of them, however, have won the FA Cup since they took over.
Rather, it has been dominated by Benitez's current club Chelsea, where he's endured a difficult period since being appointed in November.
But surely, the Spaniard will feel he has the right to gloat should he knock Sir Alex out of the cup, with the 71-year-old doing all in his power to undermine Liverpool's recent achievements when Benitez was in charge.
And with Sunday's clash bound to be a fiery affair, you can expect both managers to be passionate on the sidelines. Even more so Benitez after his rant from last week.
Keep Reading