Houston Rockets vs. Phoenix Suns: Postgame Grades and Analysis for Houston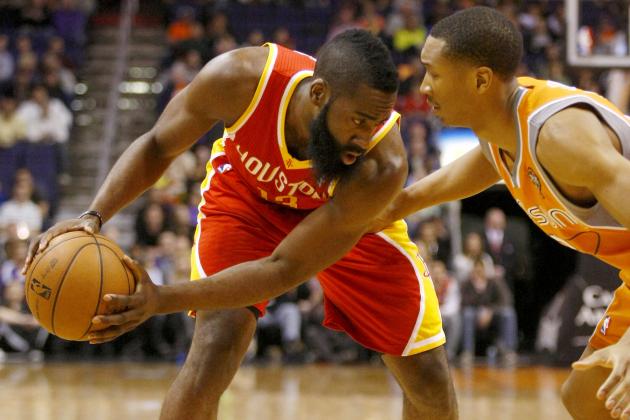 Rick Scuteri-USA TODAY Sports

The Houston Rockets faced off against the Phoenix Suns Saturday night for the first time this season. A 107-105 loss was a step in the wrong direction toward making the playoffs, and they'll have to be much better prepared when they take on Phoenix again Wednesday night.
For so many years, it was the Suns that were known for their high-octane offense. They played at a furious pace, they put a ton of points on the board and they made sure scoring was always the priority—never defense.
Now, that role has been adopted by the Rockets, as they brought a 106.8 points-per-game average into this contest.
You knew that Houston would score points, but the question was, could they play well enough defensively to test the ninth-worst scoring team in the league? Unfortunately for the Rockets, sloppy offense created scoring opportunities for the Suns, and a flurry of turnovers allowed the home team to score 32 fast-break points when it was all said and done.
James Harden had another brilliant offensive performance, but the problem was that nobody else in the starting lineup could say the same thing. Outside of the 23-year-old, the team shot just 37.6 percent from the field, and if you take away Carlos Delfino's 53-percent showing, that number gets drastically worse.
Houston has three more matches against Phoenix this season, and it must play better on both sides of the court. Winning the winnable games is the first step to making the playoffs, and if it can't do that, it'll be on the outside looking in by the end of April.
Begin Slideshow

»
Jeremy Lin began this game in aggressive fashion, but that aggressiveness didn't translate to production right away.
One of Lin's best qualities is to keep his dribble alive and get into the paint. He's clearly not on the same level as James Harden when it comes to isolation creation, but he knows how to play within Houston's fast-paced system.
Unfortunately for the Rockets, he wasn't making great decisions throughout this contest, as he threw the ball away in multiple half-court sets.
Oftentimes with the point guard, you have to take the good with the bad when it comes to efficiency. He turned the ball over five times and made just one of his five three-point attempts, but he also shot 3-of-4 from inside the arc and collected four assists in 31 minutes.
Grade: C-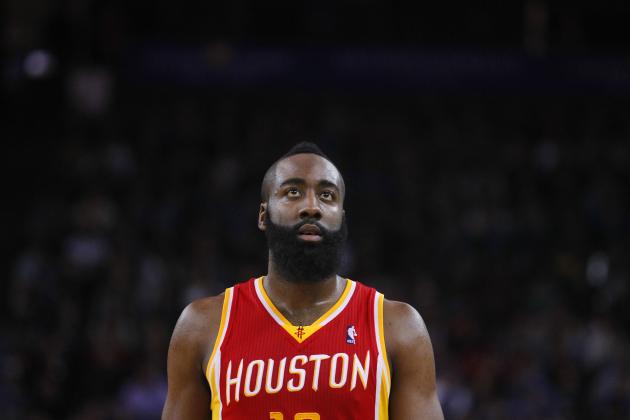 Cary Edmondson-USA TODAY Sports

When it comes to James Harden, you know what his plan of attack is going to be. He's going to put the ball on the floor, attack the basket and get high-percentage looks both at the rim and at the foul line.
Teams know that this is coming, but as we've seen so many times this year, nobody has figured out how to stop him.
Harden got off to a slow start against the Phoenix Suns. He only had two field-goal attempts most of the first half, but a strong close to the second quarter gave him 13 points, going into the third.
From an efficiency standpoint, the 2-guard played well the entire way. He finished the contest with 11-of-17 shooting—including a ridiculous 7-of-10 from deep range—and he was setting up his teammates while collecting eight assists.
The only reason Harden doesn't earn a higher grade in this showing is because of his incredibly sloppy execution. He turned the ball over eight times, and while 38 points makes that easy to overlook, you can't ignore how many transition buckets the Suns were able to complete.
Grade:A-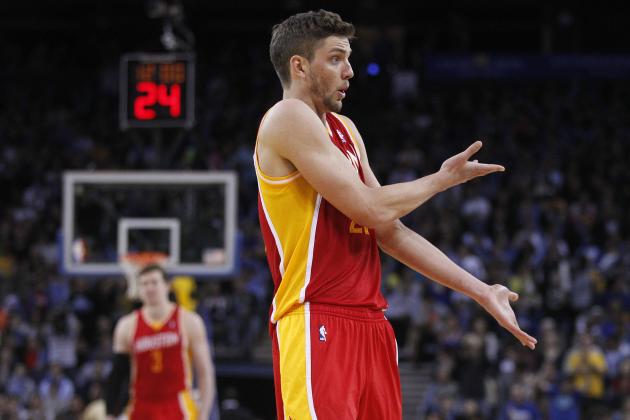 Cary Edmondson-USA TODAY Sports

The Phoenix Suns aren't exactly known for their defense. They give up an even 100 points per game, they're dead last in three-point percentage allowed and they give up the fourth-highest shooting percentage in the entire NBA.
This should have been a recipe for success for Chandler Parsons, but instead, he ended up missing a number of decent looks in Saturday's first half.
Despite hitting two of his four long-range shots, Parsons went into the second half having made just four of his first 11 attempts. A 3-of-5 start was quickly negated by a 1-of-6 stretch, and he's a big reason the team shot below 40 percent for the first 24 minutes.
Parsons doesn't typically stay cold for an entire game, but his second half proved to be just as inefficient as his first. He made just one basket the rest of the way, and he scored just 14 points on 31.3 percent shooting.
Grade: D+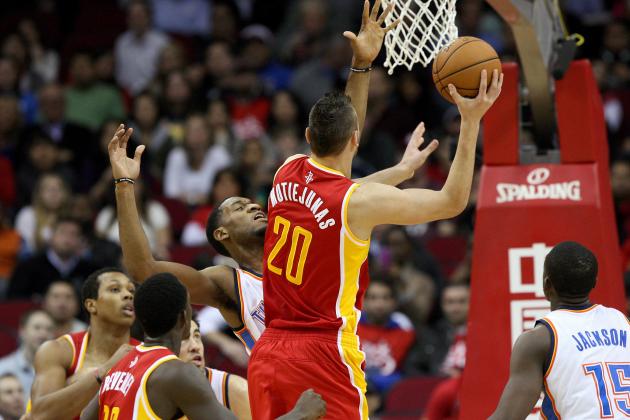 Troy Taormina-USA TODAY Sports

Donatas Motiejunas had a quiet showing against the Phoenix Suns.
The 7'0" rookie appeared to be a step behind on a number of occasions. He's shown that he can be effective in Houston's system, as he's averaging 10.3 points in the month of March, but early foul trouble prevented him from getting going this time around.
Motiejunas also experienced foul trouble in the team's most recent contest against the Golden State Warriors—another up-tempo opponent.
In 18 minutes—the fewest, by far, of any starter—Motiejunas scored just eight points on 3-of-7 shooting. A meaningless three pointer helped him boost those numbers in the final seconds, as he would have been just 1-of-4 from long range without it.
The big man also collected just three rebounds, and while you don't expect much from him at that department, it's an aspect of his game you'd love to see developed, considering his size.
Grade: D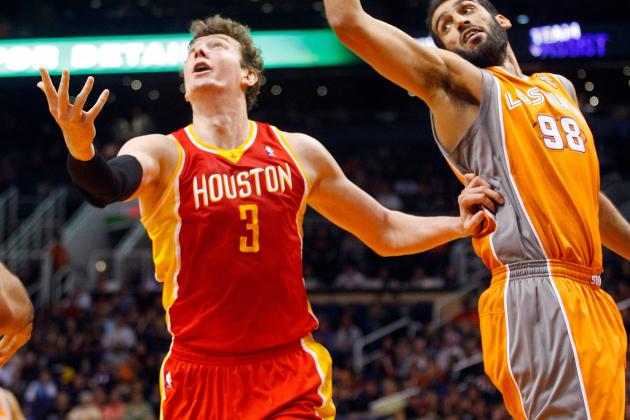 Rick Scuteri-USA TODAY Sports

We've seen a number of games this season where the Houston Rockets look Omer Asik's way early. He's put together some surprising scoring performances, and he's shown that he can be an integral part of the offense when given the opportunity.
Unfortunately for Houston, Sunday night wasn't one of those occasions, but that doesn't mean that the big man didn't help in his own way.
On the glass, Asik did exactly what you'd expect him to do. With Marcin Gortat out with an injury, the Phoenix Suns came in lacking any rebounding presence. Asik established himself down low, and he collected 16 total boards when it was all said and done.
Defesively, Asik didn't have as big of an impact as you might expect, but that's more a testament to Phoenix's game plan than anything he did. They took him away from the rim with pick-and-roll execution, and it appeared as if their plan of attack included avoiding the seven-footer.
For Asik, a quiet performance on both sides of the floor doesn't equate to a poor performance. He was playing smart basketball all around, and he never did anything to hurt Houston's chances from start to finish.
Grade: B+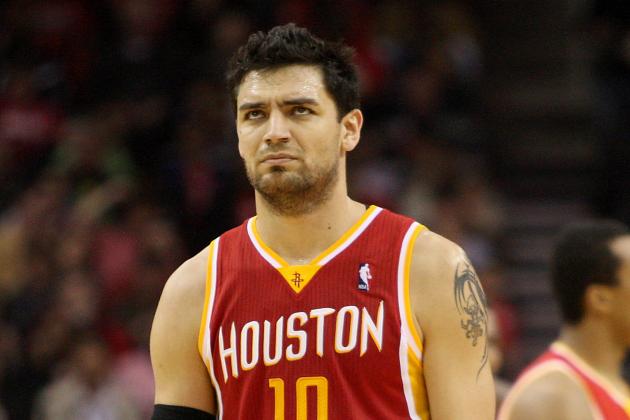 Troy Taormina-USA TODAY Sports

As the sixth man in this contest, Carlos Delfino played his role nicely.
The shooting guard got hot early, knocking down four of his first six shots, including 2-of-3 from behind the arc. He was scoring both in transition and in half-court sets, which is exactly what you need when allowing so many points to the opposition.
His shooting was reliable throughout the contest, which is why he found himself in the game late as a threat from deep range. He finished 5-of-9 from the three-point line.
Defensively, Houston didn't impress anybody Saturday night, but Delfino did a nice job of jumping into passing lanes and creating opportunities on offense.
In 29 minutes of play, the 30-year-old recorded 21 points on 8-of-15 shooting, and he never turned the ball over once. He was one of the few players to stay efficient in a sloppy game, and for that, he deserves recognition.
Grade: B+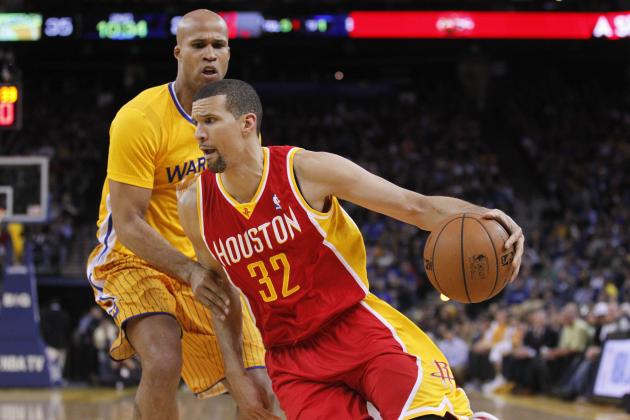 Cary Edmondson-USA TODAY Sports

Aside from Carlos Delfino, the Houston Rockets didn't get much production out of their bench against the Phoenix Suns.
Delfino's efficiency was what earned him his points, but a 4-of-16 shooting night from the rest of the reserves tallied just nine extra points when the game came to an end. He also pulled down five rebounds, which led the way among the team's backups.
When your reserves aren't scoring, you can live with that as long as smart shots are being taken. The problem for Houston was that the starters' sloppy habits were being passed along to the second unit, and guys such as Francisco Garcia and Patrick Beverly were forcing shots that sometimes weren't there.
On defense, this group struggled to keep up with the Suns' pace, but they did manage to take advantage of their opponents' bad passes. Garcia, Delfino and Beverly combined for six total steals, and while nobody is going to claim that the defense was great, it was good enough to create a few transition opportunities.
Grade: C+