Predicting the Top NFL Free-Agent Contract at Every Position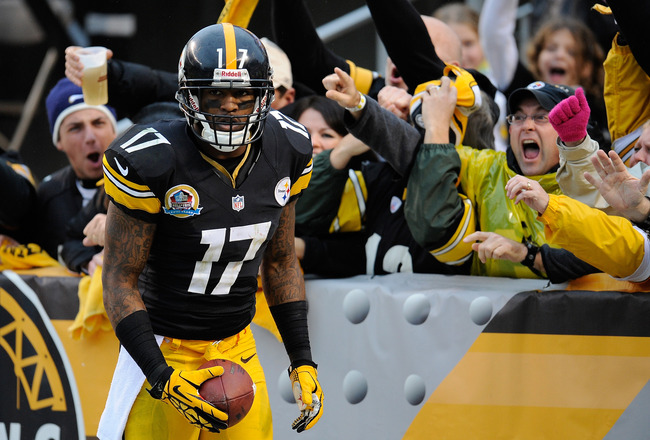 Joe Sargent/Getty Images
With the NFL free-agency period set to begin on March 12, all 32 NFL teams continue setting their strategies in anticipation of one of the more active weeks of the offseason.
There is money to be spent with many of the younger teams in the league, as both the Browns and Dolphins are among the teams likely to be the most active early in the process.
Will any players command record-breaking contracts this offseason? What teams will try to improve their status as contenders during the next few weeks?
Here are my predictions for the top contracts that will be handed out at each major position this offseason.
1. Quarterback: Drew Stanton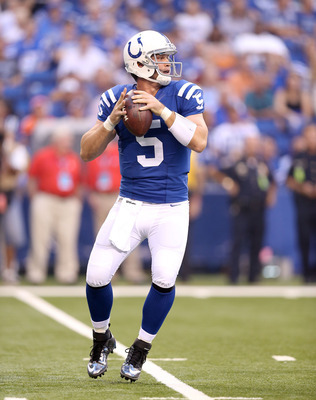 Andy Lyons/Getty Images
Prediction: Signs with Arizona Cardinals at Two Years, $7 Million ($4 Million Guaranteed)
The quarterback market is incredibly weak, which doesn't bode well for teams looking to upgrade at the league's most important position.
Drew Stanton could have been a starter last year but sat behind Andrew Luck on the Colts depth chart for a season. Meanwhile, the Cardinals need competition at the quarterback spot, and Stanton could follow former Colts offensive coordinator Bruce Arians to Arizona.
2. Running Back: Reggie Bush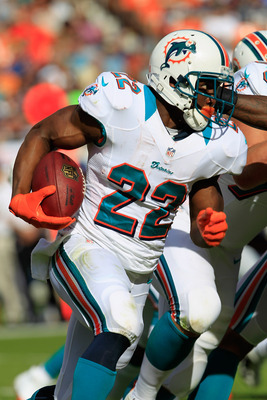 Chris Trotman/Getty Images
Prediction: Signs with Detroit Lions at Three Years, $21 Million ($15 Million Guaranteed)
Reggie Bush put forth the most productive seasons of his career the last two years, which will certainly make him the highest-paid running back. While the value of free-agent running backs has dwindled in recent years, Bush's ability to be a threat as a rusher and a receiver in the backfield makes him a viable option.
The Lions have been a favorite to land Bush, and in recent days he has been recruited by Lions players.
Bush would add a unique dynamic to the Lions backfield and would come at a fair price after having a career year.
3. Fullback: Jerome Felton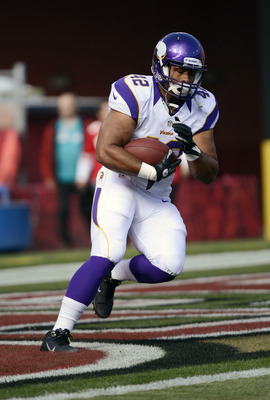 Thearon W. Henderson/Getty Images
Prediction: Re-Signs with Minnesota Vikings at Three Years, $11 Million ($9 Million Guaranteed)
Fullbacks are a dying breed in the NFL. However, for a team such as the Vikings that relies heavily on a successful running game, they will pay Jerome Felton what he is worth.
At age 26, he will continue to be valuable by providing plenty of running lanes for Adrian Peterson. The Vikings will give him a contract that resembles what Vonta Leach was offered a few years ago by the Ravens.
4. Wide Receiver: Mike Wallace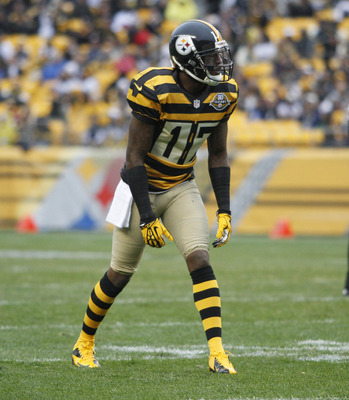 Justin K. Aller/Getty Images
Prediction: Signs with the Dolphins at Five Years, $55 Million ($42 Million Guaranteed)
Despite a down 2012 season based on his standards, Mike Wallace is the most intriguing free agent in an overall weak crop of wide receivers.
His speed allows him to be a dominant vertical threat, which is how he shined during the majority of his tenure with the Pittsburgh Steelers.
Wallace is going to have plenty of suitors, as the Dolphins, Browns and Vikings are among the teams that can show interest.
Wallace should command a contract very similar to the deal that Vincent Jackson signed last year. Ultimately, Miami needs to find a proven commodity who can make life much easier for Ryan Tannehill in the near future.
5. Tight End: Tony Gonzalez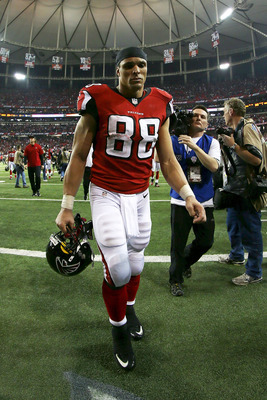 Mike Ehrmann/Getty Images
Prediction: Re-Signs with Falcons at Two Years, $14 Million (All Guaranteed)
Tony Gonzalez never gave a definitive answer on whether he would retire at the end of the season. As a result, the Atlanta Falcons will do whatever is necessary in negotiations for the future Hall of Famer to return for one more season.
Gonzalez is extremely reliable and has not shown signs of decline in durability. There is no question he will be productive in the middle of the field for Matt Ryan and his uptempo offense.
6. Center: Fernando Velasco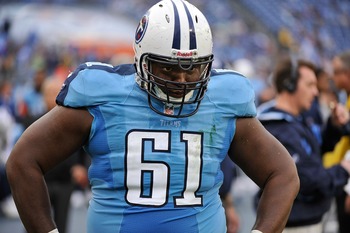 Frederick Breedon/Getty Images
Prediction: Re-Signs with Tennessee Titans at Four Years, $15 Million ($12 Million Guaranteed)
Fernando Velasco has been a pleasant surprise for the Titans and was the only bright spot on their weak offensive line last season. At age 28, he will be staying put with Tennessee.
Centers don't command a high price tag, and with Velasco entering the prime of his career, it would be smart business for the Titans to retain him.
7. Guard: Andy Levitre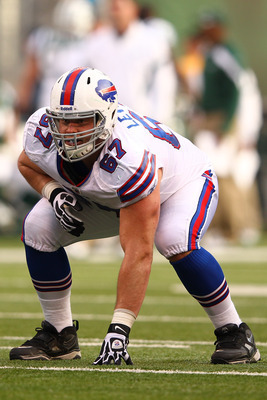 Al Bello/Getty Images
Prediction: Signs with Indianapolis Colts at Six Years, $42 Million ($33 Million Guaranteed)
The offensive guard market is thin, which bodes well for Andy Levitre. The soon-to-be 27-year-old should be highly coveted due to the high demand for quality offensive linemen across the league.
It ultimately will come down to a team that is able to spend money at will this year. The Indianapolis Colts made major strides during Andrew Luck's first year as quarterback. However, the offensive line was a concern all season, and the Baltimore Ravens exposed it as a glaring weakness in the Colts' playoff loss.
The Colts need to continue improving the situation around their franchise quarterback. It would be a step in the right direction to improve his pass protection.
8. Left Tackle: Jake Long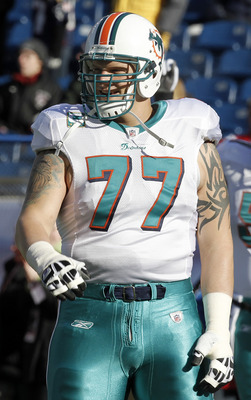 Winslow Townson/Getty Images
Prediction: Signs with Chicago Bears at Five Years, $38 Million ($32 Million Guaranteed)
Jake Long did show signs of regression due to his health this past season. However, that won't stop him from earning a nice payday from a team in need of an offensive tackle.
The Dolphins could very well re-sign him if the market dies down for Long, but the Bears are a team in desperate need of improvement on the offensive line. Regardless of what Long's future holds, he is a major upgrade over the previous left tackles that the Bears have put out in recent years.
9. Right Tackle: Andre Smith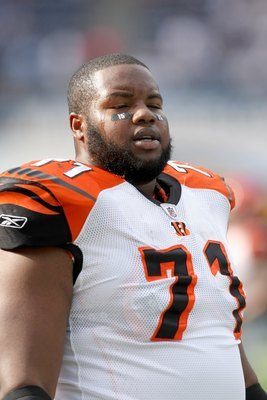 Stephen Dunn/Getty Images
Prediction: Re-Signs with Bengals at Four Years, $36 Million ($28 Million Guaranteed)
Andre Smith had a stellar season at right tackle in his contract season with the Bengals. Will a team give him the $9 million per year that he covets? It's difficult to envision that with his health issues, along with questions about his character due to off-field incidents.
Ultimately, the Bengals have plenty of cap room and will retain a young tackle who can only build on his quality season. It's crucial for Cincinnati's offensive line to stay intact. The team will ensure Smith returns for the next few years.
10. Defensive End: Cliff Avril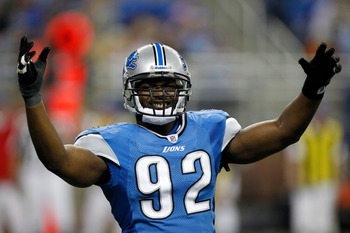 Gregory Shamus/Getty Images
Prediction: Signs with Cleveland Browns for Five Years, $65 Million ($45 Million Guaranteed)
The Cleveland Browns will be players in free agency due to their large cap space. It's only a matter of which players they will be targeting in free agency.
A vital need is a pass-rusher, and Cliff Avril is the best option available due to his productivity lasting more than one season.
While Avril won't reach a deal in the range of Julius Peppers, he will demand a large market and should earn over $10 million a year with his new team.
11. Defensive Tackle: Desmond Bryant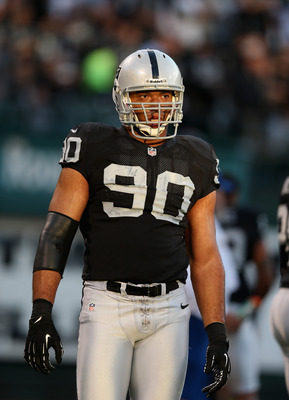 Ezra Shaw/Getty Images
Prediction: Signs with Carolina Panthers at Four Years, $25 Million ($20 Million Guaranteed)
The Carolina Panthers have their sights set on making upgrades across the defensive line and secondary this offseason. Desmond Bryant is the most valuable defensive tackle on the market and is bound to find plenty of suitors in the coming weeks.
The lack of improvement in both defending the run and rushing the passer has been a concern for the past two years. With a group of quality linebackers already in place, the Panthers can find a younger defensive tackle at a relatively fair price.
12. Inside Linebacker: Dannell Ellerbe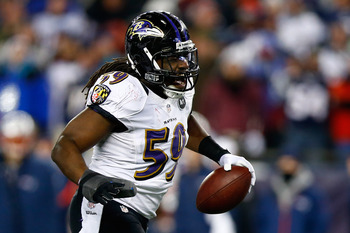 Jared Wickerham/Getty Images
Prediction: Re-Signs with Baltimore Ravens at Five Years, $32 Million ($30 Million Guaranteed)
The interest in Dannell Ellerbe will be one to keep an eye on, as he is the best inside linebacker in free agency after a brilliant year with the Ravens last season.
Ellerbe is reportedly prominent on the Browns' radar, and with the volume of cap space at their disposal, they could very well overpay to lure him away from their division rival. He reportedly wants a deal where he earns around $6 million a year.
However, the Ravens will ultimately find a way to strike a deal with him. He's their best linebacker at a position that is weak to begin with. Ellerbe is clearly a priority for Baltimore heading into next week.
13. Outside Linebacker: Paul Kruger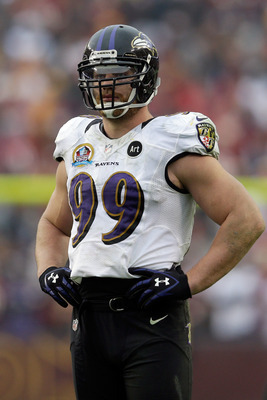 Rob Carr/Getty Images
Prediction: Signs with Indianapolis Colts at Five Years, $60 Million ($45 Million Guaranteed)
Paul Kruger is prepared to cash in after helping the Ravens defense in a big way late in the 2012 season, especially during the postseason run.
It's only fitting that Kruger lands with former Ravens defensive coordinator Chuck Pagano in Indianapolis, where the Colts need an outside linebacker as a 3-4 pass-rusher.
The Colts exceeded expectations last season and will use their cap room to lure Kruger and other players onto their young roster.
14. Cornerback: Aqib Talib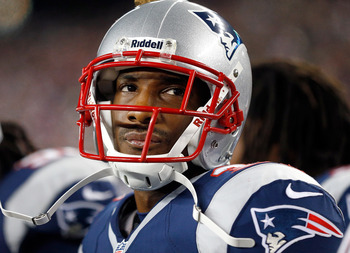 Jim Rogash/Getty Images
Prediction: Re-Signs with New England Patriots at Four Years, $35 Million ($28 Million Guaranteed)
Aqib Talib is the most valuable cornerback in free agency this year. However, what evidence is there that he will receive an offer that resembles Brandon Carr's from a year ago?
While there are health concerns with Talib, the most notable issues are his extensive troubles off the field. Ultimately, though, the Patriots are weak in the secondary to begin with. Talib played very well in Bill Belichick's defense and is one of the players they will focus on in the coming weeks.
15. Free Safety: Glover Quin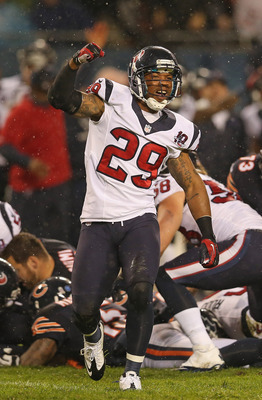 Jonathan Daniel/Getty Images
Prediction: Re-Signs with Houston Texans at Four Years, $26 Million ($24 Million Guaranteed)
The free safety market is thin, and Glover Quin is the youngest and most reliable option. While the Texans have a few priorities, the secondary is a question mark, and the team cannot afford Quin to leave in free agency.
A team such as the division rival Colts could make a play for Quin, but the Texans will ultimately retain him on a multi-year deal.
16. Strong Safety: Dashon Goldson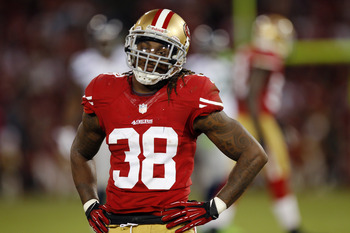 Brian Bahr/Getty Images
Prediction: Signs with Philadelphia Eagles at Six Years, $42 Million ($33 Million Guaranteed)
Dashon Goldson had his best year last season with the San Francisco 49ers and would like to return. However, his large price tag will command better interest elsewhere. Don't be surprised if the Eagles are in play.
While Chip Kelly's offense is the talk of the league, the Eagles defense was an absolute major concern last year. Goldson would bring toughness and leadership to Philadelphia's secondary.
17. Punter: Shane Lechler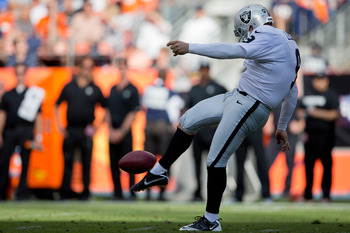 Justin Edmonds/Getty Images
Prediction: Signs with Detroit Lions at Four Years, $15 Million ($10 Million Guaranteed)
Special teams continue to become more valuable each year, and teams are recognizing that. Shane Lechler had his success in Oakland but will move on to a team in desperate need of improvement on special teams.
Detroit fits the need and has a bit of cap money to play with in order to make this deal work.
18. Kicker: Phil Dawson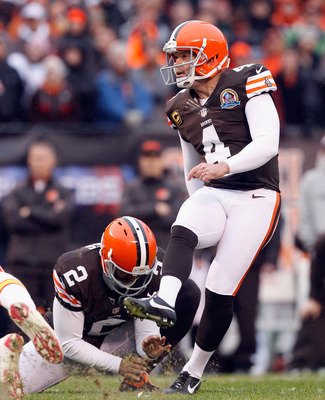 Matt Sullivan/Getty Images
Prediction: Re-Signs with Cleveland Browns at Three Years, $15 Million ($12 Million Guaranteed)
As mentioned previously, special teams are crucial to NFL success. With the recent struggles with their offense in recent years, the Browns cannot afford to allow Phil Dawson to sign elsewhere.
He's produced in big spots and has been reliable for his entire tenure with Cleveland. Due to the amount of cap space the Browns have, this deal should be a no-brainer.
Keep Reading