Baylor pulled off a stunning upset over the No. 4 Kansas Jayhawks in their final game of the year, defeating the Big 12 leaders 81-58 on Saturday.
Kansas had the ability to clinch the Big 12 title heading into this one, but the unranked Bears' dominance in the paint stunned the Jayhawks, who failed to shoot well themselves as a result. Ben McLemore finished with 23 points for the Jayhawks, and Perry Ellis chipped in 12 points off the bench, but Kansas ultimately lost to a more disciplined and clinical basketball team.
Pierre Jackson's double-double on the night (28 points, 10 assists) led Baylor, whilst Cory Jefferson added 25 points and seven rebounds. Incredibly, not one Baylor bench player finished with a single point in the 23-point upset.
Do Kansas deserve to be No. 4 after this loss to Baylor?
Kansas netted the opening bucket of the game but did not see the lead after that, with the unranked Bears carrying a nine-point lead into halftime. Their big men had been excellent inside and carried that momentum into the second half.
They led by as many as 15 midway through the second half, but some dogged determination by the Jayhawks cut that lead to just six with 6:27 to play. However, with a 7-0 run following that, the lead was restored once again, and Baylor went on to record a stunning 23-point victory over an opponent that was the clear favorite heading into this one.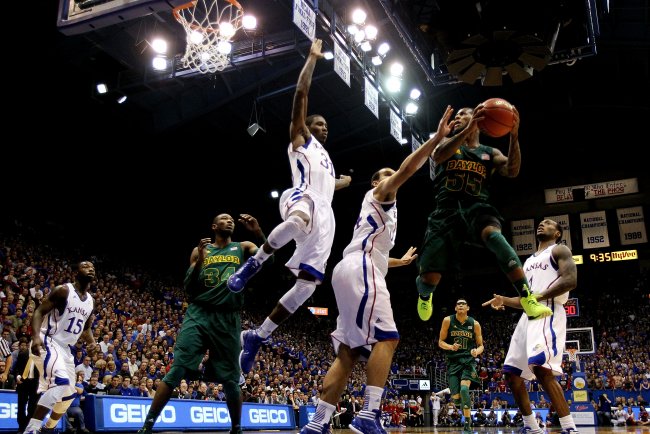 Jamie Squire/Getty Images
Kansas will still finish on top of the Big 12 standings at 14-4 and 26-5 overall, sharing the title with the No. 9-ranked Kansas State Wildcats for the 2012-13 season.
But how the loss will affect them heading into the upcoming NCAA tournament still remains to be seen, especially given the volatile nature of March Madness.
Twitter Reaction
Baylor's remarkable victory perhaps came as a result of a former legend in their mix. Washington Redskins quarterback and Rookie of the Year Robert Griffin III was spotted in the crowd with a Baylor jersey on, as captured by Bleacher Report.
RGIII watches the Baylor-Kansas game in a Baylor jersey twitter.com/BleacherReport…

— Bleacher Report (@BleacherReport) March 9, 2013
ESPN showed just how strong the Bears' first half of shooting was against a defense that conceded just 42 points in its last appearance.
Baylor's Cory Jefferson & Pierre Jackson w/ a combined 31 points on 14/17 shooting in the first half against Kansas.

— ESPN (@espn) March 9, 2013
The Houston Chronicle's John McClain gave an image that few really wanted to see, especially when the Bears did end up winning this one.
Baylor leads 59-44 with 11:20 left. If Bears win I'm going to storm the court and do Harlem Shake.

— John McClain (@McClain_on_NFL) March 10, 2013
ESPN's Jason King raised a very valid point regarding the Bears tonight—simply as to where this dominance has been from them all season.
Baylor looks incredible. Unfortunate the Bears couldn't play with this kind of energy, effort all season.

— Jason King (@JasonKingESPN) March 10, 2013
College basketball commentators Rush the Court shared everyone's opinions on watching No. 4 Kansas seriously struggle to get anything going.
This is the Kansas team that scares me for later this month. Thing is that nobody has proven immune from stinkers this season.

— Rush the Court (@rushthecourt) March 10, 2013
But it was perhaps this tweet from a fan and bracketologist that best summed up the night and how it impacts the March Madness chances of both teams.
A Baylor win puts them back in the discussion and definitely puts Kansas' seed in question.

— J. Murphy (@Blacketologist) March 10, 2013
Analysis
Baylor certainly came out to play in this one, but in the end, Kansas can blame nobody but itself for failing to produce here. The Jayhawks should have been better in their final game of the year, but they weren't, and they now face serious doubts heading into the NCAA tournament.
Whether they deserve to be the No. 4-ranked team or not remains to be seen, with the Jayhawks likely to drop their "contender" status after this one.
It's tough to judge the Bears after this win, but given what we've seen from them this season and the depth they have on hand, it's hard not to consider them potential players here, even if it's just for that one surprise upset in the tournament—like taking down the Big 12 leaders.
What did you make of Baylor's stunning upset over Kansas?
Comment below or hit me up on Twitter.