The San Jose Sharks: Year End Review And Awards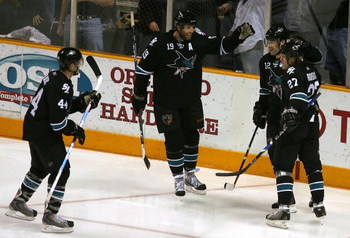 It's the time of the year where the fan's of all playoff-bound teams look to the very near future: Round 1.
Right now, I will take the time to look back on how, who, and why The San Jose Sharks finished with an amazing President's Trophy-winning record of 53-18-11.
How we're going to enjoy this ride is by handing out some awards for the best and not-so-best of the season. So, follow along with me, Sharks fans, and enjoy the ride.
The Noobie of the Year.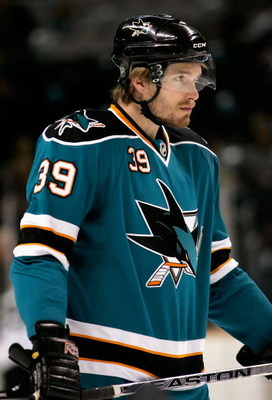 When the Sharks had major pieces of the puzzle out with injuries, a few of the "Baby Sharks" showed up from Worcester ready to play. Tomas Plihal has been called up and down from the baby Sharks a few more times in his young career than he may have liked but this season he really made the most of his opportunity. Posting 5 goals, 8 helpers & a total of 13 points in 64 games with the big boys this time around. He's added a lot of balance and speed on the 3rd line this season. Tomas stepped up and did his best. He can easily be (and cheap) a replacement for Marcel Goc or Mike Grier if the cap gets in the way. So for his sake….let's hope it dose.
The Duke Nukem Award: Best Fight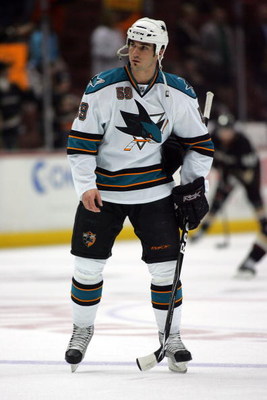 "I'm here to kick ass and chew bubble gum, but I'm all out of gum." —Duke Nukem
When you hear that one of the Sharks handed someone their lunch during last night's game, most fans are going to think that Jody Shelley must have been working, but in this case you're mistaken. This honor goes to the Sharks newcomer Brad Staubitz.
His point production (three in 35 games) may not be the most impressive in the NHL for a rookie, but his physical play really showed why he is in the lineup. He is third on the team in penalty minutes with 76 (only led by Shelley (and Blake's bonehead mistakes) and was more of a constant force on the ice, reminding the other teams to keep there heads up and play an honest game.
So when the Sharks faced the Nashville Predators on Mar. 19 and Jordan TooToo decided to drop the gloves with Brad Staubitz...well, let's just say TooToo won't forget the term "ass-handed" for some time.
You can see the fight here:
http://www.hockeyfights.com/fights/63478
The Worst Fight Award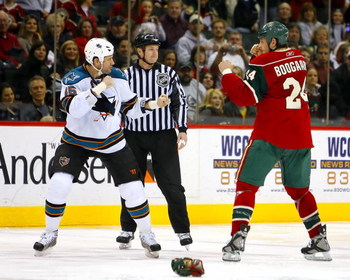 Ahh, Jody Shelley, some love him and some hate him. Wherever you on the fence, we all know Jody Shelley's gig as the "Tough Guy." So when we see No. 45 drop the gloves, we can expect an entertaining battle, but on Feb. 28 Shelley and Gorge Laraque faced off. Laraque, shall we say, embarrassed our boy.
This bout was quick and Shelley had no chance. At least he gets an A for effort.
You can watch the fight here:
http://www.hockeyfights.com/fights/62898
The Unsung Hero Award: Is That The Waterboy?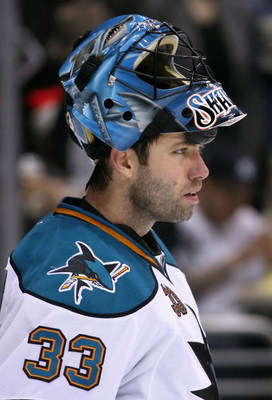 Here in San Jose, we all know that Nabby is the No. 1 man between the pipes, but we all love our waterboy.
I want to give an honorable mention to Brian Boucher. When Nabby was out due to injury, Brian really played strong (going 5-1-1 in February) and gave it his all. His record this season is 12-6-2, but that doesn't really reflect the heart he's shown. It can't be easy sitting on the bench watching one of the best in the NHL doing your job every night.
The Best Newcomer Award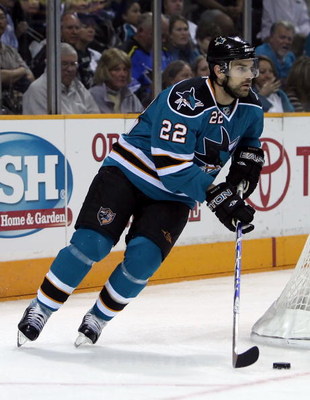 When Doug Wilson made the offseason deal that sent Day Boyle to San Jose, most Sharks fans were at a loss for words. Most had never really seen Danny play much.
I was excited. Being someone who watches as much hockey as I possibly can, I've seen a fair amount of Tampa Bay Lighting games.
From the first game to San Jose's last game this season, Boyle has been a constant threat on the ice. Posting impressive numbers of 16 goals and 41 helpers, he has made an impact. More than any of the new faces this season, Boyle really needs to be recognized for his play. From Day One, he has really seemed like a perfect fit in the dressing room, on and off the ice.
God bless Doug Wilson for making this deal happen.
The Biggest Setback Award: The Train is still derailed.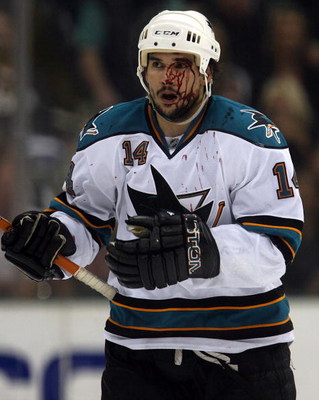 Jonathon Cheecho has been one of the hardest working, accountable, adverse players on this roster. He is just a player full of heart but where has the Cheecho of old gone?? It feels like ages since his Rocket Richard Trophy winning season and we all want to know what happened? We know injuries, Ron Wilson and more has happened but this season was an important season for Cheech to really re-make a name for him self. Posting number's comparable to some rookies in the NHL with 12 goals – 17 helpers and 29 points (with a +/- rating of -3), Cheech really has seem to have lost his step. He's been relegated to playing 3rd line minutes in a role that is defiantly not his style. To his credit Cheech has made no excuses, worked hard and continued to battle all season long.
At the tail end of this season he's started to heat up and even saw a few games back to the top line. Will this years playoff's be his launching point or will this train continue to derail??
This Sharks fan can only hope that the Cheechoo Train can turn into the little engine than could!!
The MVP: That's why he has the "C".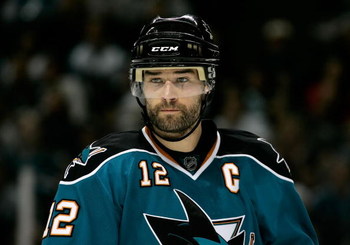 This season has been Captain Patrick Marleau's season. After last years just god awful performance; he's come back this season and proved why he is the Sharks Captain. His season total has really helped carry this team and set the standard with 38 goals – 33 helpers and 71 points in 76 games. He's played tougher than in the past and made himself known.
Will his surging play help this club battle threw its playoff woes of the past?? Will he carry the load if Big Joe "disappears" in the 2nd round?? We'll haft to wait to find out but one thing is for sure…Patrick Marleau.....the Captain has earned himself the nod of being the Team MVP.
And boy I'm I grateful for that!!
The Playoff's.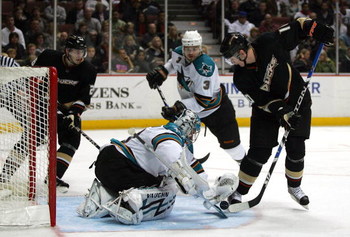 So it's that time Sharks fans: Thursday is just right around the corner and Game one of the Playoff's will begin.
I know you will all grow you're beards long, thick and ugly. I will be joining you.
So let's all wish are San Jose Sharks happy duck hunting!!!
Keep Reading

San Jose Sharks: Like this team?