The Big Ten is as strong as—or stronger than—any other conference in the nation. It is the only conference with three teams in the top 10 of the AP Top 25.
Needless to say, when the Big Ten tournament gets underway on Thursday, there will be a good number of national powerhouses in action.
Indiana could win the outright Big Ten title with a win over Michigan in the regular-season finale. It would give the Hoosiers the top seed in the Big Ten tournament and likely a No. 1 seed in the NCAA tournament.
But they will have to win on the road to accomplish that goal.
The game is a huge one and a perfect precursor to the Big Ten and NCAA tournaments.
March Madness is almost in full swing, and with the Big Ten home to at least three legitimate national championship contenders, the conference tournament will be must-see TV.
Here's how you can watch, as well as some deeper analysis and my prediction for the winner.
When: March 14-17
Where: United Center in Chicago
TV: Big Ten Network, ESPN, ESPN2 and CBS Sports
Brackets
(All times are central, and per BigTen.org)




Time
Matchup#
Television
First Round - Thursday, March 14




11:00am
Minnesota vs. Illinois

BTN



1:30pm
Michigan vs. Penn State

BTN





5:30pm
Purdue vs. Nebraska
ESPN2


8:00pm
Iowa vs. Northwestern
ESPN2
Quarterfinals - Friday, March 15




11:00am
Indiana vs. 9/8 winner
ESPN


1:30pm
Wisconsin vs. 5/12
ESPN




5:30pm
Ohio State vs. 7/10

BTN



8:00pm
Michigan State vs. 6/11

BTN

Semifinals - Saturday, March 16




12:40pm
Indiana-9/8 winner vs. Wisconsin-5/12 winner
CBS


3:00pm
Ohio State-7/10 winner vs. Michigan State-6/11 winner
CBS
Championship Game - Sunday, March 17




2:30pm
Semifinal winners
CBS
Stars to Watch
Deshaun Thomas—Ohio State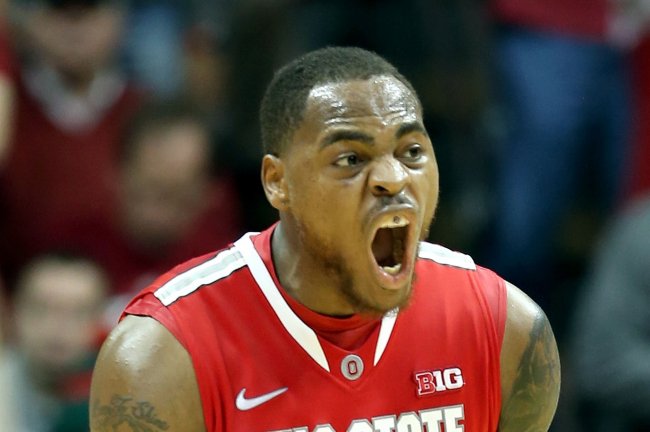 Andy Lyons/Getty Images
No other player in the conference carries the load that Thomas does for the Ohio State Buckeyes. He is the team's only real consistent scoring threat, and despite seeing tons of attention from the defense in every game, he is leading the conference in scoring.
Thomas' 19.8 points per game is nearly 10 points higher than the next highest-scoring teammate.
Official NCAABball YouTube Channel
The junior from Fort Wayne, Ind., has had 13 games this season with 20 or more points. He's certainly one to watch once the tournament begins.
Trey Burke—Michigan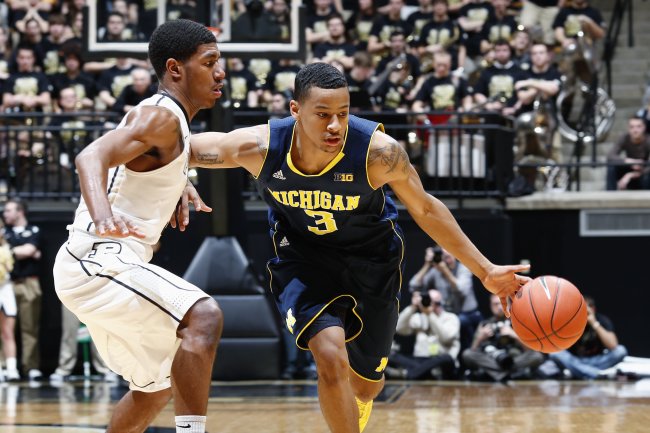 Joe Robbins/Getty Images
Who is the best pro prospect in the Big Ten?
Burke is on most everyone's short list of candidates for national player of the year consideration (ESPN, Yahoo Sports and Bleacher Report).
The adulation comes with good reason. Burke has been spectacular most of the year. He is second in the conference in scoring (19.1 per game) and tops in assists (6.9 per game).
He has been the most consistent performer for an incredibly talented Michigan team. Seeing him match up with some of the top defensive point guards in the conference is always a treat.
The sophomore has been hot of late. He's coming off a 28-point, seven-assist performance against Purdue on Wednesday.
He hopes to keep it going when the Wolverines end the regular season at home against the Indiana Hoosiers on Sunday.
Cody Zeller—Indiana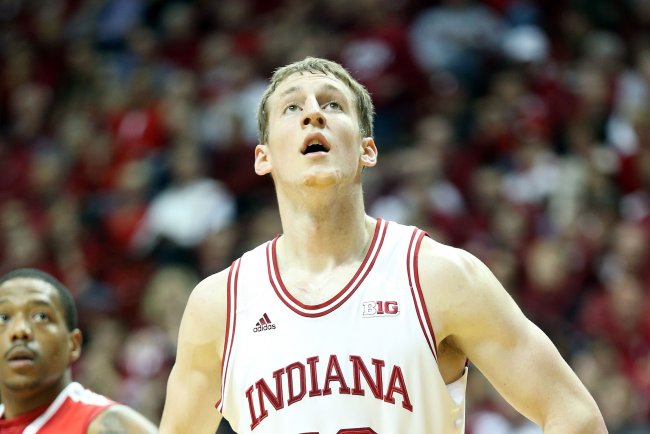 Andy Lyons/Getty Images
Perhaps the best big man in the nation is the Hoosiers' 6'11" sophomore Zeller. He's averaging 16.5 points and eight rebounds per game for a team that has been No. 1, or at least hovering near the top spot, all year.
Zeller has a great motor, and he'll give the Hoosiers a clear advantage in the middle against every team in the conference.
Victor Oladipo—Indiana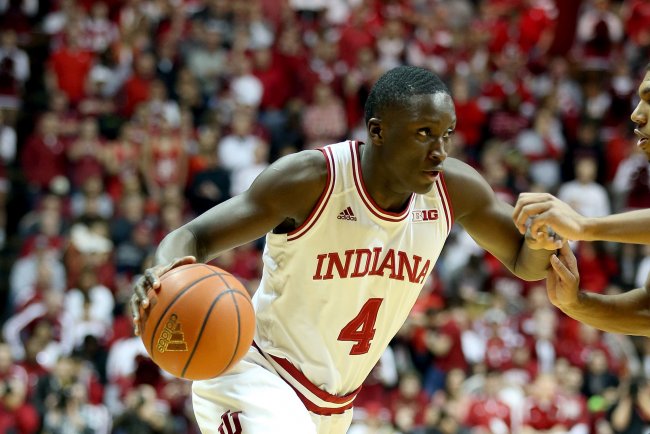 Andy Lyons/Getty Images
No potential NBA draft prospect has seen his stock rise like Oladipo's. The Hoosiers' versatile G/F is exceptionally athletic and efficient.
He's strong, quick and a very good on-ball defender.
Because the Hoosiers are so talented, Oladipo is only scoring 13.7 points per game, but he makes the most out of the shots he gets. He's shooting an amazing 63 percent from the field and a blistering 49.1 percent from three-point range.
Oladipo has a chance to raise his stock even higher with a great performance in the Big Ten tournament.
Trevor Mbakwe—Minnesota
Chris Chambers/Getty Images
Coming off a major knee injury in 2012, Mbakwe has rebounded well—literally. The 6'8" forward leads the Big Ten in rebounding with an average of 8.7 per game.
This will be the second time Mbakwe has led the conference in rebounding in his career. His 10.7 boards per game in the 2010-11 season was also tops in the conference.
The Minnesota Golden Gophers are a solid rebounding and defensive team, and Mbakwe anchors them in both aspects.
Favorites
Indiana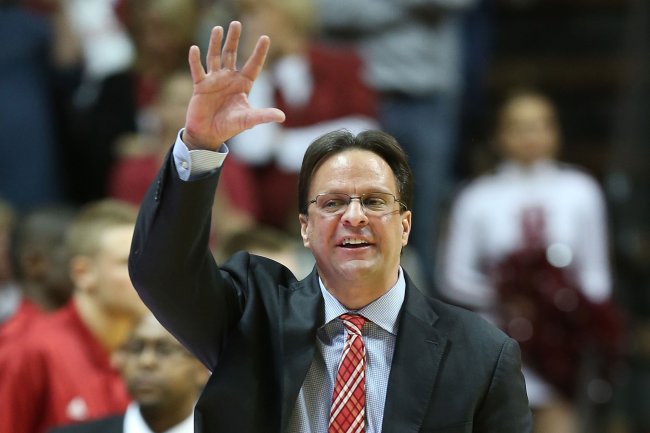 Andy Lyons/Getty Images
Even though the Hoosiers have dropped two of their last three games, this is still one of the four best teams in the nation.
They haven't lost a game by double figures all season. The team has two players that are likely lottery picks in the NBA draft in June in Zeller and Oladipo, and they are well coached by Tom Crean.
Unless the Hoosiers are throttled by Michigan in the regular-season finale, they have to be considered the team to beat in the tournament.
Michigan
Gregory Shamus/Getty Images
The Wolverines are the most talented team top to bottom in the conference. Burke, Glenn Robinson III and Tim Hardaway Jr. can all light it up.
Michigan has to crash the boards, as it is not a particularly strong rebounding team, ranking only eighth in the conference in that category.
This can sometimes put a lot of pressure on the team to shoot well from distance and force turnovers on defense.
Throughout the year, the Wolverines have done a good job overcoming this shortcoming, and along with Indiana, they are expected to be one of the toughest outs.
Sleeper
Ohio State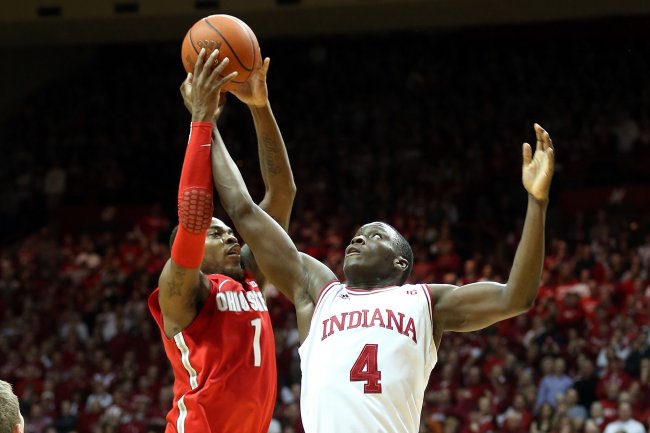 Andy Lyons/Getty Images
Aside from Thomas' scoring prowess, the Buckeyes' other primary quality is rock-solid defense. They hold teams to just 58.8 points per game.
Their win over the Hoosiers on Tuesday in Bloomington was huge.
It wasn't a big win simply because they took down a quality team like Indiana, but because they did on the road. The Buckeyes came into that game just 4-4 on the road in conference play. With the tournament held in Chicago, the Buckeyes needed to show they can beat good teams away from the Value City Arena in Columbus, Ohio.
Although they are a bit limited offensively, this is a team that owns victories over Indiana, Michigan and Michigan State. They could be very dangerous in the tournament.
Follow Brian Mazique and Franchiseplay on YouTube and Twitter for reactions, analysis and news from the world of sports and sports video games.