7 Offensive Players Who Will Provide the Most Value in the 2013 NFL Draft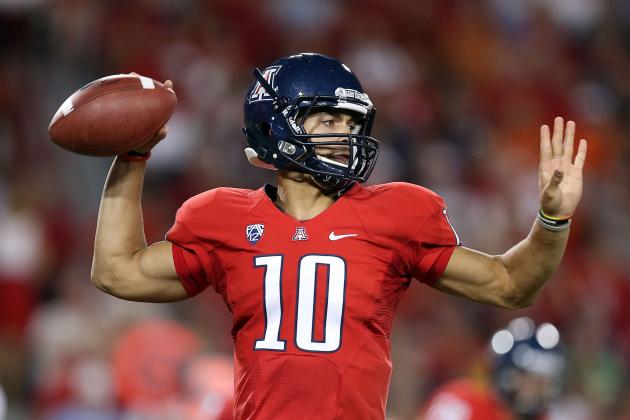 Christian Petersen/Getty Images

Bargain shopping in the NFL draft can be an incredibly rewarding experience when, and if, done correctly.
For the teams who are able to identify talent and strike on value, the rewards are endless and possibilities the same.
However, like clockwork, a handful of young men seemingly slip through the cracks of an otherwise diligent evaluation process each and every year.
Usually it's a small and otherwise over-analyzed characteristic, but decision-makers are notorious for letting industry standards cloud their overall judgment all too often.
After all, just last April it was Russell Wilson who fell all the way to the third round because of a lack of ideal height. This despite possessing otherwise key traits and the rare characteristics you look for a potential franchise quarterback.
So surely a year after the Russell Wilson oversight, NFL teams will have learned, right?
Well, not entirely.
Especially when you consider some of the names on the following list, who certainly have not received the attention and credit they rightfully deserve.
Which leads them to be some of the better values available in next month's NFL draft.
Begin Slideshow

»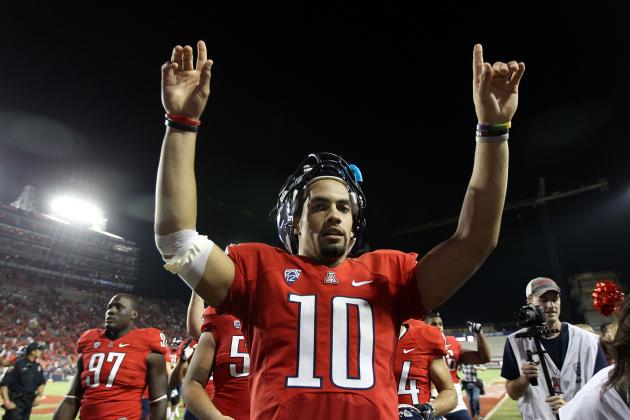 Christian Petersen/Getty Images

In the age of the dual-threat quarterback, Arizona's Matt Scott may trump all in this draft class.
With a quick efficient release to snap off throws with the simple flick of his wrist, Scott can sling it to all levels of the field.
Threading the needle in tight windows and spinning the football with favorable RPM's, Scott's arm talent causes fits for defensive backs looking to make a break on the football.
Couple this with his impressive athleticism and mobility, and it's hard to wonder why Scott hasn't garnered more buzz and attention from NFL teams. Especially after running an impressive 4.69 40-yard dash at last month's combine.
His recent pro day however, may have finally struck a cord with NFL talent evaluators.
Described as a marathon performance for a throwing session by Yahoo Sports, Scott threw 20-30 more passes than expected, showing off his willingness to compete and the gritty demeanor that allowed him to account for over 4,000 total yards this past season and pull out a bowl victory miracle versus Nevada—throwing two touchdown passes in the final minute of regulation.
Yes, Scott needs to bulk up at just 6'2" 213 pounds, and yes, he needs time to adapt to a pro-style offensive system, but Scott's raw talent is undeniable.
With read-option experience and the maneuverability to extend and make plays outside the pocket, Scott possesses rare traits optimally suited to today's NFL game.
If developed correctly and given enough time to mature, sit and learn, the results and return on investment could be extraordinary.
As one of the only quarterbacks with the ability to beat you with his arm or legs, Matt Scott is extremely overlooked. And for that, his value should be much, much higher.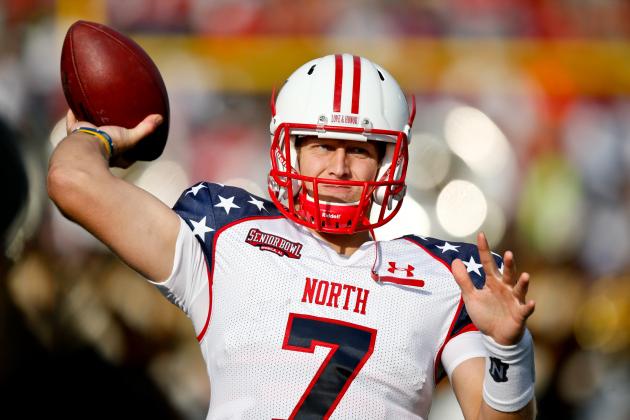 Derick E. Hingle-USA TODAY Sports

We all have those players that stand out and catch our attention the very first time we see them play.
For me, one of those guys was Zac Dysert back in 2011.
Wowed by his natural arm and throwing ability, I remember quickly devouring any and all information I could find on the young gunslinger who instantly made an impression on me.
Coming to find out he was chasing down and closing in on multiple records set by former Miami (OH) QB Ben Roethlesberger and my appreciation only grew fonder.
Having experienced three different head coaches and five different offensive coordinators during his time at Miami (OH) (via CBSsports.com), the lack of continuity could have drove Dysert mad—instead he chose to embrace it.
You see Dysert was never blessed with an exceptional supporting cast. Countless dropped balls and constant playing from behind plagued the team and forced Dysert to make something out of nothing more often than not.
However, as deeper film study showed, it was not Dysert that caused the RedHawks to struggle to a 4-8 record in 2012. There was plenty of things he showed that should have led to more wins overall.
Take for instance his ability to throw on the run and improvise when plays break down. With a strong arm and solid mechanics, Dysert consistently displayed superior ball placement skills and accuracy to all levels of the field—inside or outside the pocket.
His ability to drive the football into tight windows and hit his receivers in stride is nearly second nature, making him one of the more intriguing developmental QBs in this draft, with the added ability to create with his feet.
Certainly prospects like Landry Jones and Tyler Bray will garner more attention on name recognition alone; however it is Zac Dysert who you will want to remember.
He at least was able to produce with only below-average talent around him
An excuse Bray and Jones can't come close to using: having been spoiled with talented playmakers their entire collegiate careers.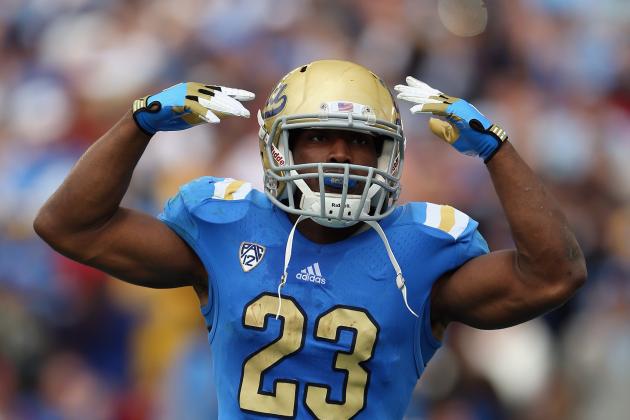 Jeff Gross/Getty Images

There's something to be said for players who set goals and have high expectations for themselves.
After all, Jonathan Franklin has a rather unique one, if you haven't already heard?
According to the Los Angeles Times, Franklin hopes to become mayor of Los Angeles one day.
And while certainly a very admirable, yet attainable goal, Franklin has one problem that's likely to put this dream on hold for quite some time.
He's an underrated back, with the skills to carve out a long and successful NFL career.
Considered to be undersized at 5'10" 205 pounds, Franklin is a tough-as-nails runner, who displays more power and competitiveness than he's otherwise given credit for.
In fact, coming off a season in which he broke UCLA's all-time rushing and all-purpose yard records, Franklin still finds himself flying under the radar despite all that he's accomplished.
One of the more balanced backs in this draft, Franklin's ability to find the cut-back lane and locate on-coming defenders makes him an ideal fit in a zone-blocking system.
Combine this with his great footwork and quickness, and not only is Franklin tough to handle in confined spaces, but he's a threat to take it the distance on any given carry.
Backs like that simply deserve more credit and recognition, and right now Franklin is flying much too far under the radar given his production and overall level of talent.
Perhaps Franklin is not only a sleeper for the position of future mayor, but a proverbial underdog you should keep an eye on as a change-of-pace type back.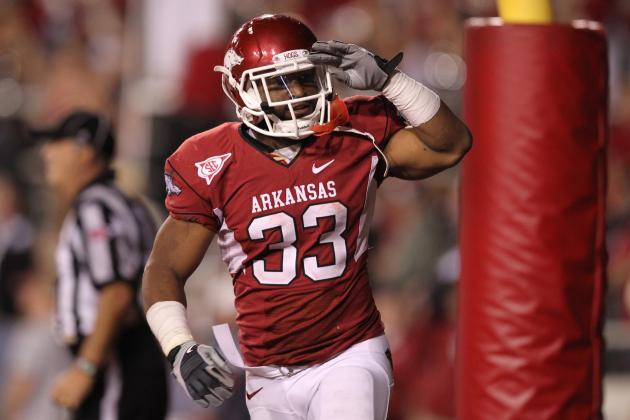 Nelson Chenault-USA TODAY Sports

One of the bigger NFL combine snubs, according to NFL.com, Dennis Johnson has long been an overlooked and undervalued player, both at Arkansas and now in the NFL draft.
Playing largely in the shadow of teammate and fellow draft prospect Knile Davis, Johnson struggled to receive national recognition despite outperforming his more physically gifted counterpart for the better part of his career.
And now, after Davis took the combine by storm last month, most of the country seems to have forgot about this versatile and talented mid-round gem.
But don't you do the same.
Built like a bowling ball at 5'9" 213 pounds, Johnson's low center of gravity and compact build gives defenders fits when trying to square him up, as Johnson has been known to truck defenders who stand in his way.
It's not easy to try and corral a player built so low to the ground, but this is not the only thing Johnson does exceptionally well.
He's also a valuable kick returner, having accounted for three career scores, while also owning the career record for most return yards in SEC history.
However, the buck doesn't just stop there either.
Johnson has also shown to be a dependable target out of the backfield, displaying the soft hands and concentration to consistently snatch passes outside his frame.
Add this together with his effort and success in pass protection and its hard to gauge why so many fans seem to know so very little about this ideal third-down back.
Concerns about his straight-line speed and ball security (14 career fumbles) are well warranted, but this is truly a back that can do it all.
How players like this get overlooked is beyond me, but in a deep and talented draft for running backs, don't you be the one to sleep on Dennis Johnson.
His well-rounded game is reminiscent of a much younger Michael Turner. Who, coincidentally enough, was selected in the middle part of the 2004 NFL draft—exactly where Johnson is currently projected to go.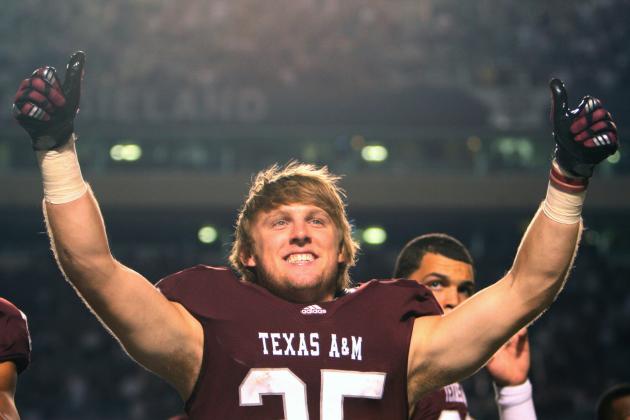 Thomas Campbell-USA TODAY Sports

After a record-breaking junior campaign, catching 89 balls for 1,207 yards and 11 touchdowns, Ryan Swope could have easily followed quarterback Ryan Tannehill into the 2012 NFL draft.
Instead, Swope chose to come back.
Going on to become an integral piece of Texas A&M's new conference success, despite an otherwise slow and rocky start with Heisman-winning quarterback Johnny Manziel.
However, despite the valuable role he played, Swope still seems to be overlooked, even after running a blazing 4.34 40-yard dash at the combine last month.
Unfortunately some consider Swope to be a product of the spread offensive system, while others hark on his lack of height as a limiting factor to his overall football ability.
Plus, there's also this...he's a white wide receiver.
White and extremely talented that is.
You see Ryan Swope is far from a product of the system and an exception to the claim that most white receivers struggle to produce at the NFL level.
Swope is different. He's smart, he's quick and he's reliable. But, above all else, Ryan Swope is simply a football player.
With an excellent set of hands and knack for finding holes in the zone, Swope's route-running efficiency wastes little movement and time in finding an open passing lane.
Also extremely quick with the agility to make defenders miss, Swope's background as a running back helps him create after the catch. A skill that's highly valued in the slot.
And, at a solid 6'0" 205 pounds, Swope is both physical and proportionately built to take on and dish out hits, where he excels as an aggressive downfield blocker.
Overall there's not much not to like when it comes to Ryan Swope.
A straight gamer with high football IQ, someone is going to be getting a very good football player on Day 2 or 3 of the NFL draft.
Which in my opinion is flat-out stealing.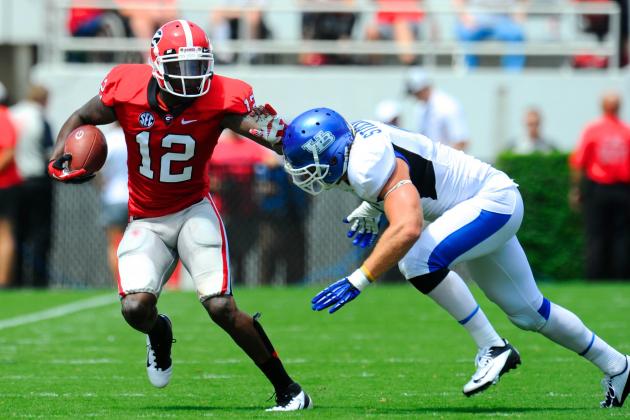 Dale Zanine-USA TODAY Sports

Tavarres King is a personal favorite of mine at the wide receiver position and in this draft.
At Georgia he spent the majority of his career playing in the background of other notable names such as A.J. Green and Mohamed Massaquoi. His production never quite stood out but that hardly negates all King did during his five-year career in Athens.
Not considerably big or fast, King is a try-hard talent, who, according to the Athens Banner-Herald was also well liked and highly respected within the locker room for his personality, charisma, charm and work ethic.
Standing 6'0" 189 pounds, King is hardly a physically imposing talent. With a slender looking frame and meager lower body definition, King could stand to add weight and strength in his lower half, but is otherwise much to advanced to be garnering so little attention.
With 33" arms and large 9.5" hands, King has a favorable catch radius to consistently snare passes outside his frame. One of the better and more craftier route-runners in this draft, King also excels at creating separation due to his high football IQ and knowledge of the game.
A receiver who understands coverage's and route development, not many pass-catchers are as well-versed as King when it comes to setting up his defenders.
Whether it is selling a double move, stemming at the top of a route or widening his defender, King is highly educated in using his body language to create space to work.
And, along with his route-running proficiency, King also presents a deep-speed threat, where his 22.6 yards per catch average this past season ranked first amongst all Division I receivers with at least 40 catches.
With a long and smooth running style, King doesn't just eat up cushions—his long speed forces defenders to respect his big-play ability. Pair that with his ability to sell and effectively execute a double move, and King is much more than one-trick pony.
He's a versatile weapon who you can move all over the field and feel comfortable knowing he is going to do his job and carry out his assignment.
Players with that skill set certainly deserved more accreditation, and King certainly has not received enough of it to this point in the process.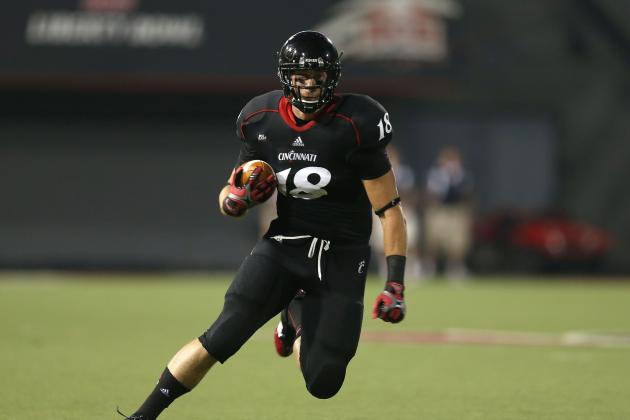 Andy Lyons/Getty Images

With only one season of solid production and a complete season lost in 2010 due to a violation of team rules, Travis Kelce finds himself somewhat overlooked in a deep and talented tight end class.
Fighting behind names like Tyler Eifert, Zach Ertz and even Vance McDonald, Kelce very well could end up becoming one of the better values somewhere on Day 2 because of his well-rounded game.
At 6'5" 255 pounds, Kelce is a jack-of-all trades kind of player with fantastic size for the position. With solid upper and lower body power, Kelce is able to sustain and finish blocks rather easily, sealing and pushing defenders off the ball with a high level of consistency.
However, Kelce is much more than strictly an in-line blocking tight end.
He also a valuable contributor in the passing game.
While he wasn't used often as a move tight end at Cincinnati, Kelce performed admirably when given the opportunity. Lining up in the slot, Kelce has both the speed and acceleration to push the seam and free up other receivers.
Presenting a huge and welcoming target over the middle, Kelce's large frame and strong hands also allow him to make tough catches in traffic, while using his body to shield defenders from the football. Skills surely to make him a red-zone threat early on in his career.
Surely it will take some time for Kelce to develop and adapt to the NFL game, but not many tight ends boast the combination of size and athletic ability that Kelce presents.
And, as the younger brother of Philadelphia Eagles offensive lineman Jason Kelce, Travis Kelce has more than just a name going for him.
He's also one of the most complete tight ends in the draft.
Something that deserves much more attention as we inch closer to April.