This Should Have Been the Final: UEFA Champions League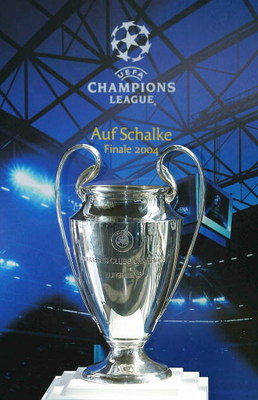 Over the last few years, The UEFA Champions League has grown in stature as a highly competitive and unpredictable tournament. The fact that no team has successfully defended their title after the rebranding speaks to the level of competition, and the present position of Manchester United and Liverpool, after the first round of quarterfinals illustrate its unpredictability.
In its short existence, it has turned out to be a fantastic remedy for mid-week boredom with some volatile matches in which genius players with subliminal skills have portrayed football as a highly refined art form. Very often, they've gone on to become worthy champions and held the coveted "Big Ears" high.
Every now and then, in the knockout stages, there has been a "clash of titans" involving two powerhouses of European football. As soon as you've seen the draws, you get this familiar but funny feeling.
Then there has also been what can be termed as football's equivalent of David vs. Goliath, played over an exhilarating or excruciating 180 minutes, depending on which side you are supporting. Now as you're watching these matches happen before your eyes, you get this feeling once again.
The feeling I am talking about is "This Should Have Been The Final."
Here are a few such fixtures from the last five completed seasons (2003-04 to 2007-08) that have invoked that feeling in me. I have filtered the list to matches that either turned the championship around or made history, or simply brought two giants together in an unpredictable plot.
Season 2003-04 Manchester United vs. FC Porto (Second Round)
I know what you're thinking. Manchester United; not again! I must admit, I am a United supporter. However, this game was not destined to go the United way.
On paper, this should have been a cakewalk for Manchester United, who had conceded only two goals in the group stages and scored 13, thus boasting the best goal difference of plus-11. On the other hand, Porto had only won three games, drawn two, scored nine goals and conceded a massive eight.
The first leg happened in Portugal, from which Manchester United grabbed a crucial away goal, despite the 2-1 defeat. Then it was all going to plan at Old Trafford, 'til the very last minute, when Costinha curved one into the back of Tim Howard's net and introduced Jose Mourinho to England.
This game not only turned the championship around, but it also turned heads. It made people sit back and take notice of the charismatic Jose Mourinho.
Oh, by the way, Porto went on to win the Champions' League that season.
Season 2003-04 AC Milan vs. Deportivo La Coruna (Quarterfinals)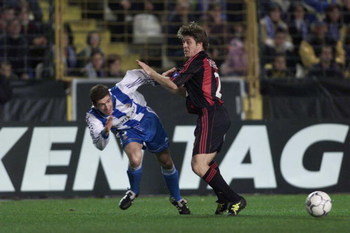 A football match is mainly about goals and if you have a fetish for goals, this is a tie for you. Why? Please read on.
I have always considered AC Milan to be European giants for obvious reasons. So when they drew a relatively lesser team, Deportivo La Coruna, it was going to be an obvious result. A clean passage for Milan to the semifinals for a meeting with Lyon or Porto was predicted.
From there, if all went to plan, Porto would be vanquished with Roman flair, Real would fail to make it to the finals by some miracle, and Milan would be the first team to retain the Champions League.
Even the first leg result, a 4-1 thrashing of Deportivo after an early Pandiani lead at San Siro, meant it was all smooth sailing. The return leg at the Riazor was only going to be a formality, and I believe complacency crept in.
Three first half goals meant Milan were out on away goals. The dream that lay cracked was all but shattered by Fran's goal, which meant over two legs, Deportivo would go ahead 5-4.
That is the way it would stay 'til the final whistle and the defending champions crashed out, under the most unpredictable circumstances.
Deportivo became the first ever team to overcome a first leg deficit of three goals and go through.
This second leg game was Milan's biggest defeat in Europe in terms of goal difference.
This shock result probably made Porto stronger as they now had to face the team that had beaten AC Milan.
Season 2003-04 AS Monaco vs. Real Madrid (Quarterfinals)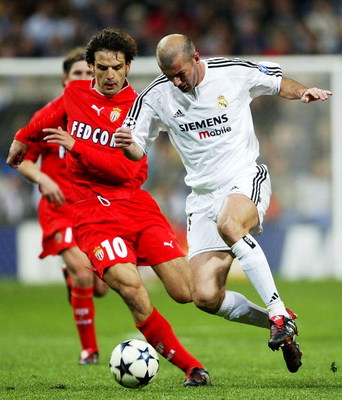 AS Monaco, based in the principality, probably have the most glamorous hometown of all teams. They play at the Stade Louis II, which is famous for hosting UEFA Super Cup matches every year.
In the 2003-04 season, they found themselves topping their group, which consisted of the more famous and successful Deportivo and PSV Eindhoven. This included a record 8-3 thrashing of Deportivo.
This would have felt like a flash in the pan going by their modest progression to the quarterfinals against Real Madrid.
Let's now trace Real's path in the Champions League so far. Surprisingly, Real had beaten Porto at Porto and topped the group. They overcame Bayern Munich 2-1 on aggregate.
Monaco were managed by French World Cup legend Didier Deschamps. They had in their squad Dado Prso, Ludovic Giuly, Patrice Evra, Emmanuel Adebayor and Fernando Morientes, ironically, on loan from Real Madrid.
The first leg at Madrid proved to be what it was predicted to be: Real winning 4-2. However, in the process, they'd conceded two valuable away goals. In the return leg, Beckham was absent, suspended.
Real struck through Raul and extended their advantage. However, it was short lived, as Morientes(1) and Giuly(2) did the damage, thereby shattering Real's hopes.
It was a dream run for AS Monaco, their best ever result, until they defeated a resurgent Chelsea, and booking a final berth against eventual winners FC Porto.
I will remember this season for all the twists and turns and for the way the "big names" were taught a lesson in equality by the "small clubs." All in all a fantastic Champions League!
Season 2004-05 Chelsea vs. Barcelona (Second Round)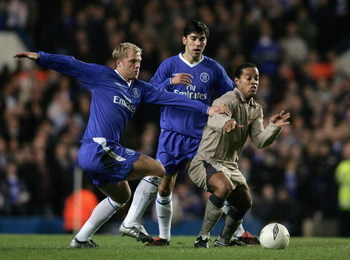 In the previous two encounters between them, Barcelona had comfortably done the business. In a way, this was an opportunity for Chelsea to prove a point. Both Chelsea and Barcelona had a huge lineup of talent, and both wanted domestic and European glory.
Barcelona, for all their history, had conquered Europe only once. In recent days, they were being hugely shadowed by Real's galacticos. Chelsea was on the road to establishing themselves as a dominant force in England and to upset the United Arsenal equilibrium.
In the group stages, Barcelona had come second in a group that consisted of AC Milan. Nothing impressive about them, they just went about business as usual. As luck would have it, Jose Mourinho, now famously at Chelsea, would face his former club in the group stages.
No heroics, only results.
The first leg in Barcelona saw Chelsea squander an early lead to go down 2-1 at full time. In European games, winning is not enough, thanks to the away goal rule. Chelsea had gotten the all-important away goal, to take to London.
Barcelona had their task cut out. All they needed was a draw. The first 20 minutes, however, saw their dream shattered by Gudjohnson, Lampard, and Duff. The next 20 minutes saw Barcelona come back into it. The tie read 4-4 on aggregate and Barcelona would cruise through on away goals.
What I remember about this match was Ronaldinho's goal. I cannot describe it well enough, but here goes.
He is in possession, looks up, all he sees is a sea of blue shirts, maybe he sees a hole somewhere, all he does is a little dance step with his right leg and BOOM!!! Barca have equalised!
Even today, I talk to my best mate about it. Oh, he is an incurable Chelsea supporter.
The job seemed done, but John Terry had other plans and he scored later on in the game to pull Chelsea through to the quarterfinals. So, this tie would be third time lucky for Chelsea, who finally broke the Barcelona spell and moved on.
Season 2004-05 Liverpool vs. Juventus (Quarterfinals)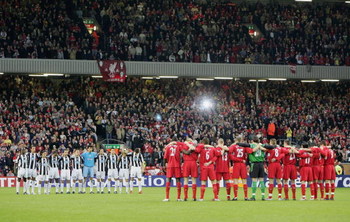 Whilst Jose Mourinho was making headlines in domestic tabloids, another man, also in his first season in England, was quietly restoring pride in the North West.
Rafael Benitez he is called, and he was Houllier's replacement at Liverpool. He said adios to Michael Owen, sending him to Real and went about rebuilding Liverpool and trying to restore them to their glory days.
Juventus, on the other hand, had surrendered their Serie A crown to AC Milan and were runners-up to them in the Champions League in 2002-03 at Old Trafford. They were knocked out by Deportivo in the second round in the 2003-04 season.
There was a little bit of history being made here. The last time Juventus and Liverpool met in Europe proved very costly for Liverpool in particular and English clubs in general. I am sure all of us know about the Heysel tragedy.
In his first season as manager, Rafael Benitez had come face-to-face with what Liverpool stood for and got more than a fair share of history. "Fate has a way with things," it makes you think, when you see fixtures like this.
The tie itself was a drab affair, which Liverpool buried at Anfield with a 2-1 win. However, in this case, the all-important home goal did nothing to revive Juventus.
Liverpool defence certainly deserves credit for a tenacious performance and for holding Juventus barren for 90-plus minutes.
Season 2004-05 Liverpool Chelsea (Semifinals)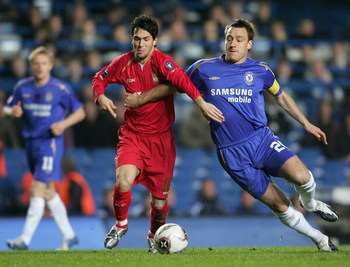 History was made in the first ever all English semifinals. At this point, who would have known this was going to become a trend setter?
Chelsea resumed from where they had beaten Barcelona, and this time, they were up against the mighty Bayern Munich. Both legs were more like a cricket match. See the last 30 minutes or so and you know the plot.
This is what happened in the first leg: The last 30 minutes saw an impressive four goals being scored. Chelsea won 4-2, but Bayern had two priceless away goals to take home. They waited 'til the last 25 minutes in the second leg before scoring.
Two last-minute goals for Bayern, however, would not see them go any further, leading Chelsea to their second semifinal appearance in as many years.
Liverpool overcame a bit of history and an old adversary, thanks to a 2-1 home win and a resolute defence in Turin to make this the first ever all English semifinal.
The most important bit in the match was the goal. Whether it was legitimate or not, I still have my doubts. However, that Luis Garcia goal sent Liverpool through to Istanbul and they would bring back "Big Ears" for good.
Season 2006-07 AS Roma vs. Manchester United (Quarterfinals)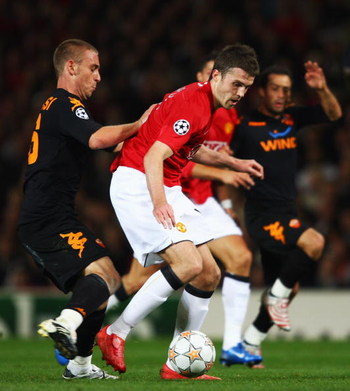 Traditionally, Manchester United has won the domestic league in the season that starts soon after the FIFA World Cup ends. The only exception being 1994-95 when Blackburn Rovers were crowned champions.
Maybe this is a coincidence, but see for yourself: 1998-99, 2002-03 and then 2006-07. United were well on their way for a domestic double.
They did not make it past the group stage in the previous season. In fact, they were at the bottom of the group.
This time, they did well by topping their group and getting a modest win over Lille. Roma, on the other hand, had come second in their group and beaten Lyon in a similarly modest way.
Being group winners, United had the advantage of playing the first leg away. But this advantage was soon neutralised by a 2-1 defeat. The only consolation was Rooney's away goal. This, however, did not stop questions from being asked of United's ability to step up to the pressure, to hold their own, and carve out a win.
Second leg at Old Trafford and in a tense atmosphere: What was one supposed to expect from United? Fireworks, your answer!
Michael Carrick lit the fuse, with a screamer that set up the night for a rout. The United crowd sensed blood, and they extracted sweet revenge by way of a 7-1 thumping.
United set up a date with destiny with Milan, but suffered again from what I like to call "choke in the big smoke" syndrome.
The one reason why they've been unable to collect as many European trophies as they should have? Choking in big games, reducing to a shadow of their great selves.
Eventually, it would be Milan that would have the last laugh in Athens, beating Liverpool 2-1 and making up for 2005.
Season 2007-08 Arsenal vs. AC Milan (Second Round)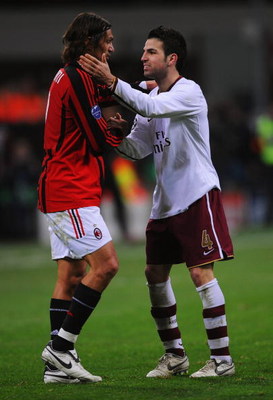 I once read somewhere that if your memories exceed your dreams, the end is near. This couldn't have been more appropriate anywhere else.
On the one side were a young Arsenal side managed by the professor Arsene Wenger who was rebuilding. This side was devoid of all stars and legends who'd made Arsenal worthy champions of England in the past.
Arsenal had made it past their group stage with their goal difference(plus-11) bettered by only Liverpool(plus-13).
They had a bunch of young stars waiting for their shot at glory. The likes of Fabregas, Van Persie, Adebayor, and Walcott, to name a few. This was a team with dreams of the future, dreams of becoming world beaters, ready for their next challenge.
In their way stood AC Milan, reigning champions with all the experience. However, experience comes with a high price: age. This team had most players in their 30s and Maldini pushing 40. This was a team with memories of glory and of the days when they were unbeatable.
The first leg in London was a 0-0 affair. This was largely a story of missed opportunities and excellent goalkeeping by Milan. Old, but not weak, is the message Milan sent across to Arsenal.
Now Milan are a team that have rarely been beaten at San Siro. Arsenal had a huge task ahead of them. Things wouldn't change, however, 'til the dying minutes of the game.
In the last six minutes, Arsenal got two goals and ended Milan's title defence hopes.
Like I said, when memories exceed dreams, the end is near. However, the Arsenal dream would not last long, as it would be shattered by the reality of the Kop as Liverpool set up another semifinal encounter with Chelsea that Chelsea would win and go to Moscow.
Season 2007-08 Manchester United vs. Barcelona (Semi Finals)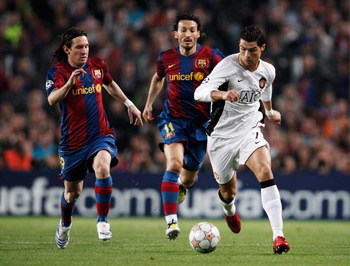 The last time United met Barca, it was in 1998-99 and both games ended up being 3-3 draws. The last time United played at Camp Nou, they were crowned champions of Europe in the famous treble season.
United were reigning champions of England, on course for a successful defence of their title, and this was the 50th year of the Munich tragedy and 40th anniversary of their first European Cup win.
They had made a mess of their games against Manchester City and needed to do something to commemorate this historic season.
Barcelona, on the other hand, were on the decline after their peak in 2006 when they did the league and European double. They had lost the title to Real Madrid in 2007 and were knocked out by Liverpool in the Champions League. Internal problems added to their woes.
Now coming to the football, the highlight of the first leg was an early penalty to United and Ronaldo's miss. The second leg would happen at Old Trafford, and no better stage than home to book their berth to Moscow.
I said earlier that fate has strange ways of making its presence felt.
Paul Scholes, one of United's exceptional players, had missed the 1998-99 finals due to suspension. Sir Alex had already said, despite being pampered for choice, if United made it through to the finals, Scholes' name will be the first on the team sheet.
It was by a stroke of destiny that the ball fell to Scholes' feet, and he fired a trademark volley to send United through to Moscow.
The rest, as we say, is history, as United lifted the European trophy after beating Chelsea in the first ever all English finals.
Footnote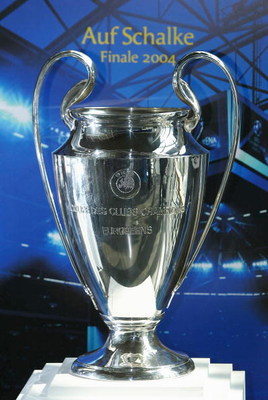 Now that you've been through my compilation, I must admit that I have not seen every champions league game. I may have left out a few games that are close to your hearts, in which case please let us hear your matches and your reasons. It'll be interesting, entertaining, and informative to discuss this.
Also, I value your feedback. So, please, if you have anything good or otherwise to say, please go ahead.
Regards,
Raam
Keep Reading

Manchester United: Like this team?