Minnesota Vikings' Blueprint for Winning Free Agency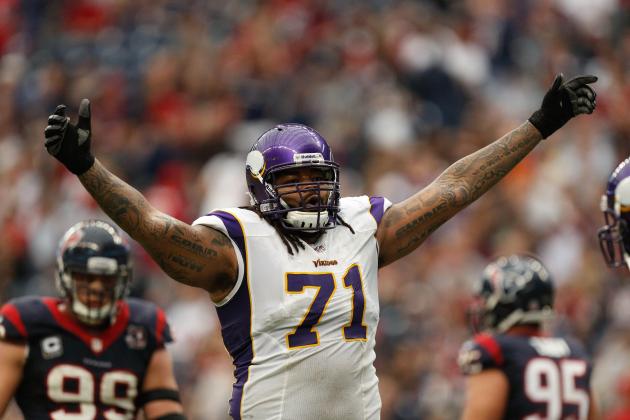 Thomas Campbell-USA TODAY Sports

NFL free agency starts Tuesday, March 12, and fans of the Minnesota Vikings shouldn't get their hopes up that the team will be signing any big-name players to the roster. The success of last season saw the Vikings improve by seven games from their low of 3-13 in 2011. That improvement came from an effective draft and the addition of free agents that improved the roster.
General manager Rick Spielman has stated that re-signing the players you know the most about is key to being successful in free agency. There have been reports that the Vikings are in contention to sign wide receiver Mike Wallace. The problem with those reports are that the odds of Spielman spending that kind of money on one player in free agency are unprecedented at this point.
That doesn't mean that Minnesota Vikings won't be active in free-agent market, after all, there are more than a dozen free agents from the Vikings' 2012 roster that need to be considered.
Here's a look at what the Vikings need to do in order to continue to build on their success from last season.
Begin Slideshow

»
USA TODAY Sports

There are two parts to NFL free agency—managing those who played last season with the Vikings and assessing those from other teams. On one hand you know exactly what you're getting, and on the other it can sometimes be a total bust (remember Bernard Berrian?)
The Minnesota Vikings have 18 free agents from their 2012 roster—12 unrestricted free agents, four restricted free agents and two exclusive rights free agents. In order to build on the momentum from last season, and to maintain some consistency, they need to re-sign several key free agents.
Five of the Vikings' free agents started at least seven games last season. Topping the list is right tackle Phil Loadholt. Loadholt has started 63 games since being drafted in the second round in 2009, missing a game his rookie season. The Vikings had a chance to use their franchise tag on Loadholt and could have secured his services for the 2013 for $9.66 million. Instead they hope to agree to a multi-year contract.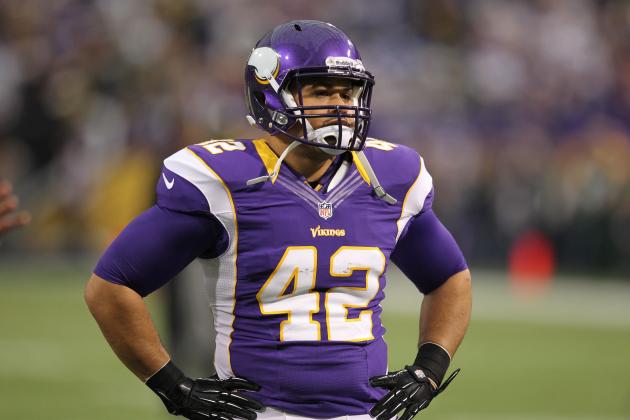 Brace Hemmelgarn-USA TODAY Sport

Next on the Minnesota Vikings' retention list should be fullback Jerome Felton. A fifth-round draft pick of the Detroit Lions' in 2008, Minnesota is Felton's fourth team over his five seasons. After playing three years with the Lions, he split time between the Panthers and Colts in 2011 before landing with the Vikings last season.
He played a key role as Adrian Peterson's lead blocker in a near, record-breaking season. So key in fact, that he was named to the Pro Bowl. The Vikings should be able to lock him up with a reasonable contract. The top five paid fullbacks will average $1.98 million in base salary in 2013.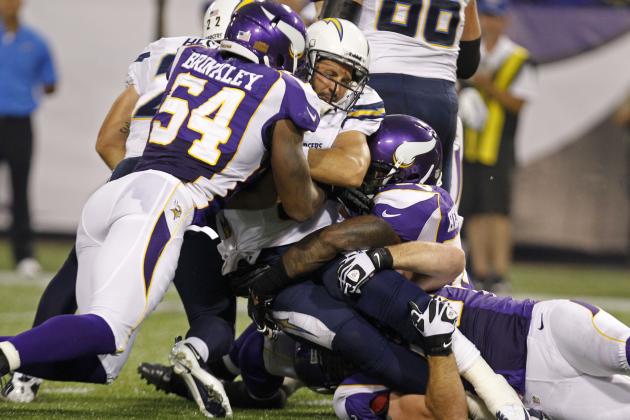 Bruce Kluckhohn-USA TODAY Sports

On the defensive side of the ball the Vikings have linebackers Jasper Brinkley, a first-year starter, and Erin Henderson, a two-year starter, to re-sign. While the Vikings will be looking to upgrade the position, there's something to having the familiarity of playing together.
Over the past 10 years the Vikings have had the same three starting linebackers in consecutive seasons only once. In 2009 and 2010 Chad Greenway, E.J. Henderson and Ben Leber played alongside each other.
Erin Henderson, Greenway and Brinkley helped to improve the defensive ranking from 21st in the NFL in 2011 to 16th in 2012 in yards allowed.
The key here will be if either Henderson or Brinkley get any interest from other teams. If not, it could be another couple one-year contracts that gives these two a chance to prove they are legitimate starting linebackers in the NFL. Even if both agree to contracts it won't mean the Vikings are done looking at linebackers.
It just means that one of these two could take the role that Marvin Mitchell had last season as a backup.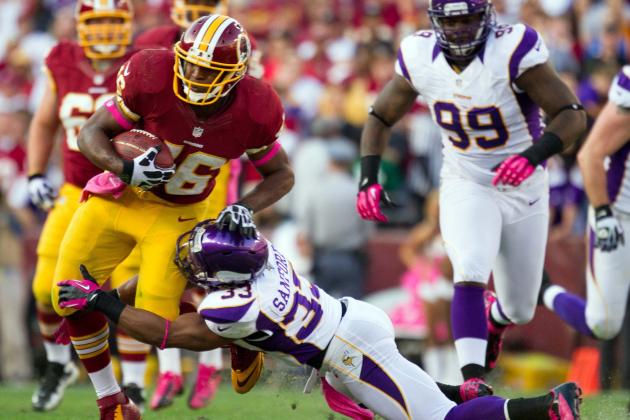 Paul Frederiksen-USA TODAY Sports
Jamarca Sanford has started 28 games the last two seasons.
Jamarca Sanford was supposed to be demoted to special teams in 2012, yielding his starting spot in the defensive backfield to Mistral Raymond. An ankle injury suffered against the 49ers in Week 3 put Raymond on the sideline for a month, and Sanford in the starting role.
Sanford played well enough that the Vikings really need to retain his services. Even if Raymond reclaims the starting job, Sanford has shown he can serve as an effective backup at safety. Over the past two years he has 28 starts, averaging 70.5 tackles per season.
He started his career on special teams and will be a valuable member of the coverage teams. The problem will be whether they can come to an agreement.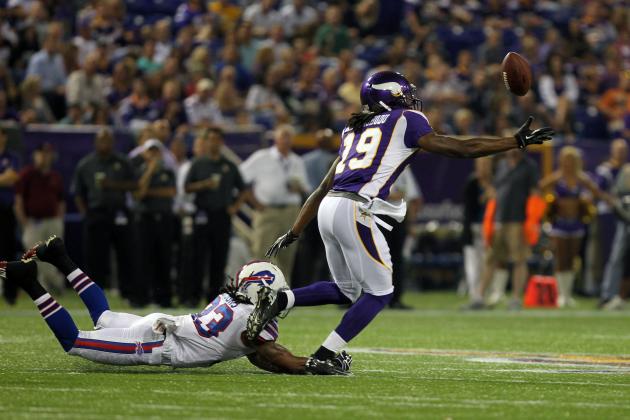 Brace Hemmelgarn-USA TODAY Sports

Among the Minnesota Vikings' 18 free agents, there are plenty they shouldn't even waste a second thought on—wide receiver Devin Aromashodu tops this list.
The Vikings have given him two years to prove that he can play in the NFL. In 2011 he had 26 catches and made six starts—both career highs for the Dolphins seventh-round draft pick in 2006. Last year would have been a great time for him to raise his game when the Vikings were desperately searching for someone to step up when Percy Harvin was injured in Week 9—but he failed.
Instead, he finished the season with only 11 catches, averaging less than one catch per game.
The Vikings already jettisoned some payroll at wide receiver when they released Michael Jenkins who was due a $2.42 million roster bonus in March. In his two seasons with the Vikings he has averaged eight starts, 39 catches for 458 yards and two touchdowns.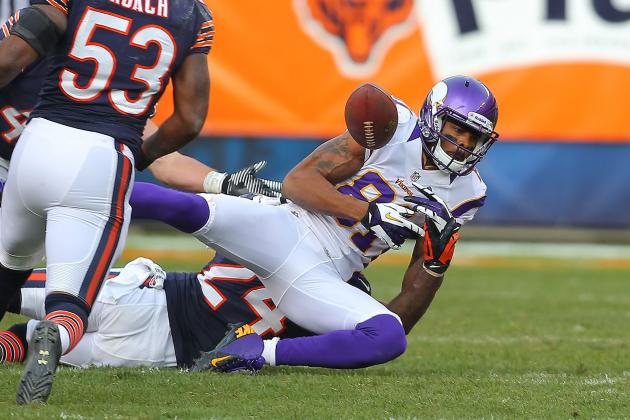 Dennis Wierzbicki-USA TODAY Sports

After catching 50 passes for the 725 yards and four touchdowns for the Bengals in 2011, it seemed like a safe bet to sign Jerome Simpson for one year and $2 million.
Unfortunately for both parties, things didn't work out as planned. This was supposed to be an audition for Simpson to prove after after four seasons as the third receiver he was ready to be the guy.
He missed the first three games serving a suspension. Upon his return he suffered a back injury that caused leg weakness and slowed him for most of the season. He finished with 26 receptions in 12 games for 274 yards and no touchdowns.
He may be an effective third or fourth receiver, but the Vikings don't need any more of those.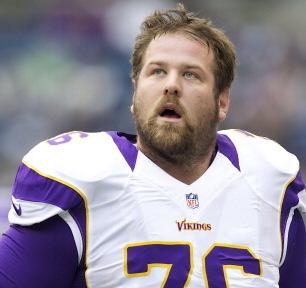 Stephen Brashear/Getty Images
Geoff Schwartz missed the entire 2011 season with hip injury playing for the Panthers.
Another free agent the Vikings should let walk is guard Geoff Schwartz. He started all 16 games for Carolina in 2010, and he only cost the Vikings $550,000 last season.
The plan was for him to compete with Brandon Fusco for the starting right guard position—in the end there was no competition. He suffered a sports hernia during training camp that required surgery and put him on the shelf to open the season. After missing the entire 2011 season with a hip injury, Schwartz was not able to break into the starting lineup.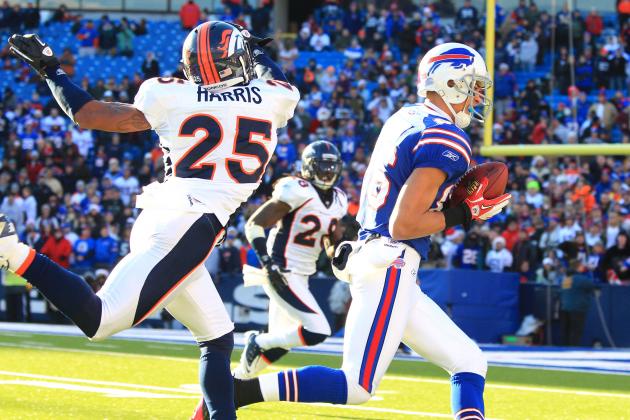 Kevin Hoffman-USA TODAY Sports

The Minnesota Vikings desperately need a No. 1 wide receiver. There have been reports that the Vikings are in the mix to sign free agent Mike Wallace. The problem is that Wallace will be seeking money that makes him the highest paid receiver in the NFL.
According to a story from National Football Post, Wallace could wind up earning an average of $13 million per season. That's not the kind of contract that general manager Rick Spielman is going to offer.
The definition of a starter doesn't mean overpaying a veteran. The Vikings will look to find one starter in the draft. Spielman will look for a potential starter among the second tier of free agents that won't require winning a bidding war.
A lot like John Carlson and Geoff Schwartz, Spielman's free-agent signings from last season, David Nelson of the Buffalo Bills was limited to one game because of an injury. In Week 1 last season against the Jets he suffered a torn ACL. At 6'5" and 215 pounds he has the size to line up at split end.
In 2011 Nelson was second for the Bills with 61 catches for 658 yards. He also caught five touchdowns. That would be enough to rank second on the Vikings in either of the last two seasons.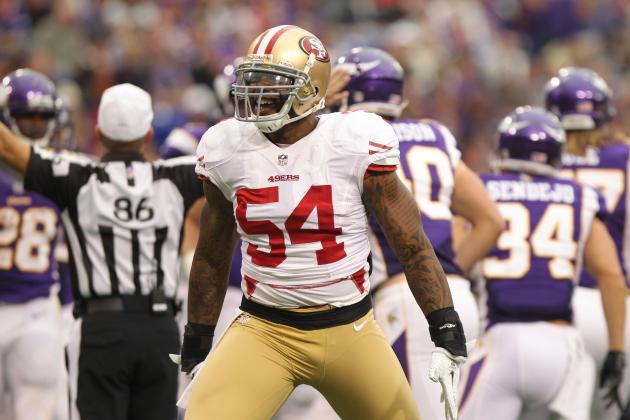 Brace Hemmelgarn-USA TODAY Sports

Even if the Minnesota Vikings re-sign both starting linebackers Jasper Brinkley and Erin Henderson, they still need to find some depth at the position.
Larry Grant spent the last two seasons with the San Francisco 49ers. Although he was a seventh-round draft pick of the 49ers in 2008, he spent his first three seasons with the Rams. He started eight games on defense in 2010 before joining San Francisco in 2011.
He filled in for Patrick Willis, starting three games that season. He finished with 35 tackles and two sacks playing on one of the best defenses in the NFL. Unfortunately for Grant, he only played 21 defensive snaps last season. Fortunately for general manager Rick Spielman that will keep his free-agent value down.
With the chance of competing for a starting role with the Vikings, Grant would bring just enough experience to help the Vikings defense. Walter Football has him ranked as the fourth-best inside linebacker available in the free-agent market. Compare that to Brinkley who is ranked 12th.
Even if he doesn't replace Brinkley, he would provide an upgrade over Marvin Mitchell.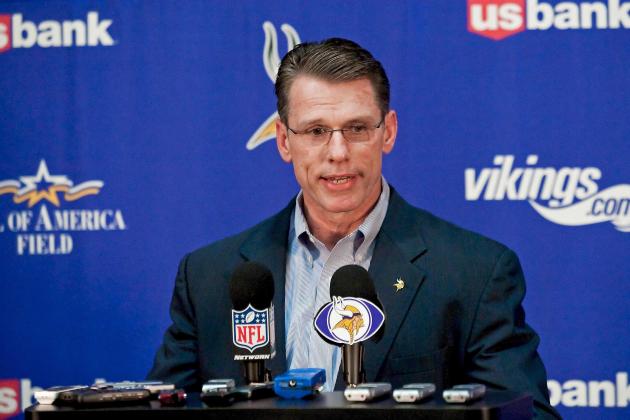 Greg Smith-USA TODAY Sports

I know that Vikings fans won't find a whole lot of hope in this blueprint, but they need to be realistic. It's not been Rick Spielman's mode of operation to sign high-priced free agents.
While I could speculate that the Vikings would add Pittsburgh's Mike Wallace at wide receiver, Green Bay's Brad Jones at middle linebacker or Buffalo's Andy Levitre at guard, it's not going to happen.
With the success of last season Spielman will look to continue to build through the draft and sprinkle in some low risk free agents with potential to build the roster.
In an article published Saturday in the Pioneer Press he was quoted:
I think you have a lot more success when you sign your own players as unrestricted free agents. You know them the best. And if you screw up signing one of your own guys and he doesn't pan out, then that's a fault on you. I think it's a little riskier when you try to sign other teams' UFAs.
If that doesn't dampen one's free-agent frenzy for the Vikings, then you're really looking at the world through purple-colored lenses.