Power Ranking the Philadelphia Flyers' Players by Importance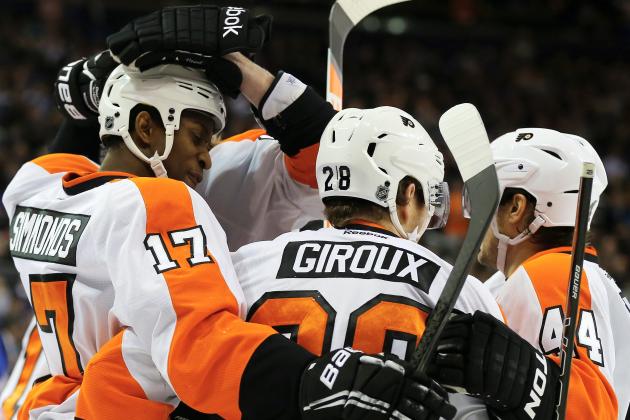 Elsa/Getty Images

The Philadelphia Flyers have had an extremely up-and-down season. The lack of a training camp and preseason really seems to be hurting some of their younger players and the team in general does not appear to have the chemistry they enjoyed last season.
There's no questioning how talented the Flyers are, especially their special group of young forwards, but the depth and cohesion just is not there this year.
They are especially thin in the back, and are just really in need of a boost. But they have a lot of valuable pieces now, and as the trade deadline looms, it's time to look at just how valuable each player is to the Flyers.
This is not necessarily immediate value, but it also is not long-term (3+ years) value either. I tried to take both factors into account, and look more at the near future.
I also did not rank Ilya Bryzgalov here because comparing a goalie to position players is too difficult, and Bryz isn't going anywhere this season anyway.
Begin Slideshow

»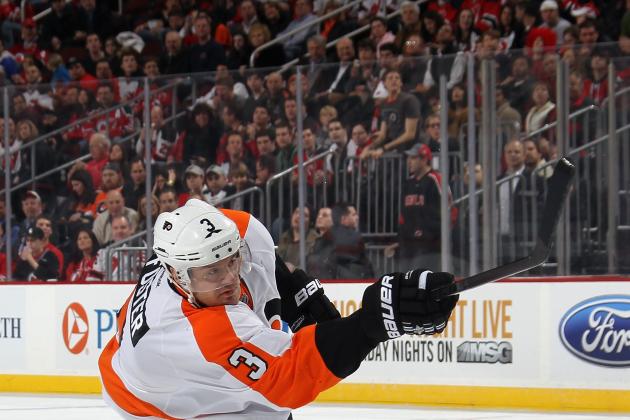 Bruce Bennett/Getty Images

These guys have all played some portion of the season with the Flyers, and did their part when called upon, but just are not anything special.
Foster filled the team's hole defensively, but has only suited up for half of the games this season. Harry Z is a good energy guy but just does not have enough skill to stick.
Wellwood and Gustafsson probably have the most value in terms of trades because they're really young and have some speed, but neither are going to be big-time contributors in the NHL.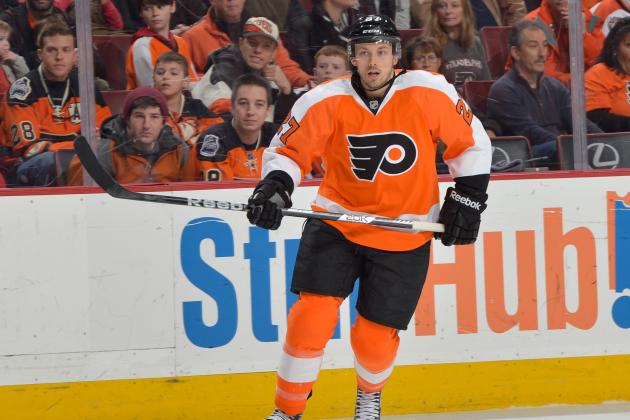 Drew Hallowell/Getty Images

Gervais does not really have any business being an every-day starter in the NHL, but that's what he's had to do for the Flyers with their depleted blue line.
He isn't the kind of player who will constantly turn the puck over or make glaring mistakes, but he just doesn't bring that much to the table talent-wise.
Three points and a -10 plus/minus rating in 23 games is not exactly what you'd hope for, but I guess it could be worse.
Elsa/Getty Images

Fedotenko is loved by fans who remember his early days in orange and black fondly, but Rusty is not the player he used to be.
He can still be counted on to give you some hard minutes every night and is decent on the penalty kill, but he is a pretty replaceable role player at this point in his career.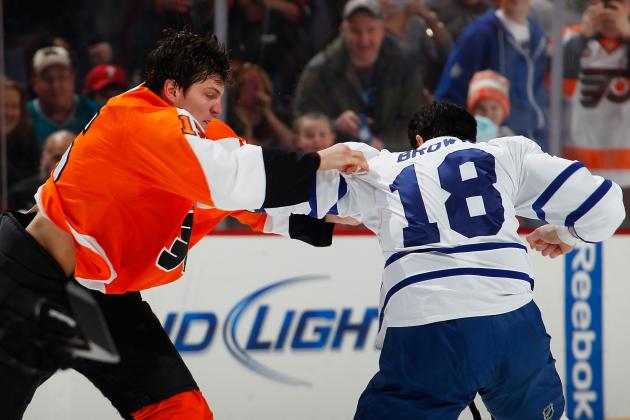 Paul Bereswill/Getty Images

McGinn was shaping up to be one of the bright spots in a rough start for the Flyers before breaking a bone in his face after a fight with Mike Brown on February 25th.
At only 22 years old, McGinn got his chance right away and stepped up enough to stick around, playing in 16 games and making a lasting impression.
He's a big, strong kid who brings a lot of energy but has some skill too, scoring three goals and winning a couple of big fights that swung momentum the Flyers' way.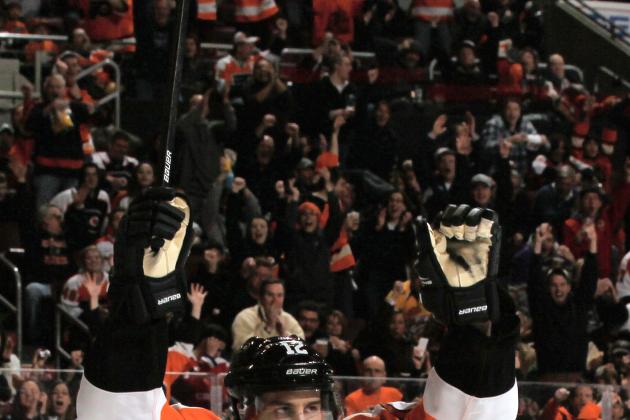 Elsa/Getty Images

It's great to see Gagne back in a Flyers uniform, but he is not the scoring threat he used to be. At 32 years old he still has a little left in the tank, but he is just a role player at this stage in his career.
He does play his role well, and gets off a couple quality shots per game, but he just doesn't have that dynamic aspect that he used to. But his leadership and veteran experience will be great for the Flyers' young forwards.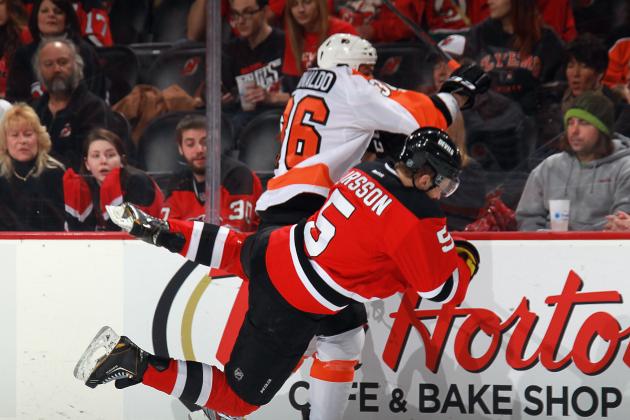 Bruce Bennett/Getty Images

Rinaldo has really been outstanding for the Flyers this season. He is one of the best fighters in the game, but he has really developed into way more than an enforcer. At only 22 years old, he has to be a pretty big part of the Flyers plans moving forward.
He is actually a good skater and brings a relentless energy every shift. He's learned to be more disciplined and aggravate without going over the top and taking bad penalties.
Rinaldo has the capability to change the game every time he steps on the ice, whether it's by delivering a big hit, getting in and winning a fight, or drawing a penalty, which he has become extremely good at this year.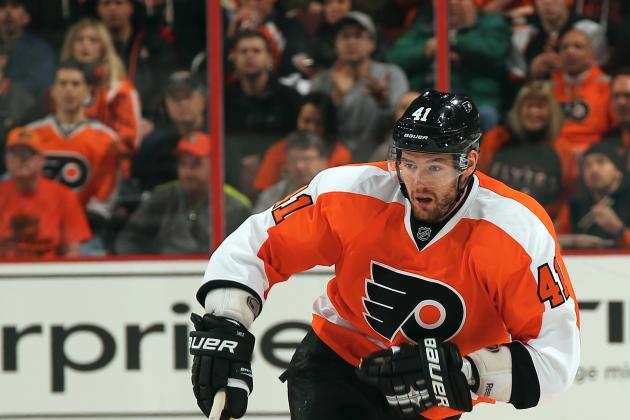 Elsa/Getty Images

If Meszaros could stay healthy, he would be far higher on this list. He's exactly what the Flyers lacked during this season: a strong-skating defenseman who can move the puck up the ice.
Meszaros is solid defensively, and can start the rush from the back. He also plays the point on the power play, and has a deceptively good shot. He's also hypothetically in the prime of his career, but he just can't stay on the ice.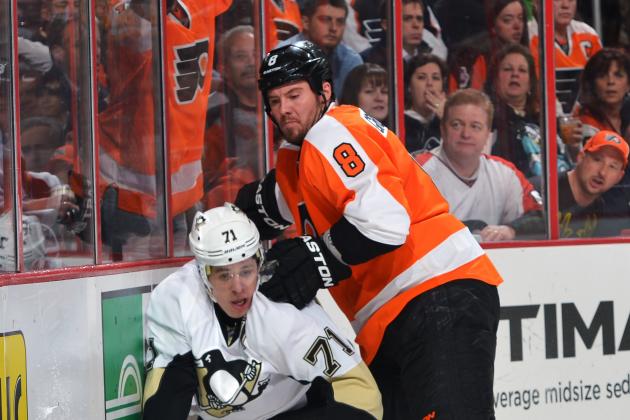 Drew Hallowell/Getty Images

Grossmann is solid for what he is: a big, strong, stay-at-home defenseman. He can eat up minutes and is solid on the penalty kill, but he is being asked to do too much right now for the Flyers.
He is shaky with the puck when he has to handle it for too long and has just one goal so far this season to go along with three assists.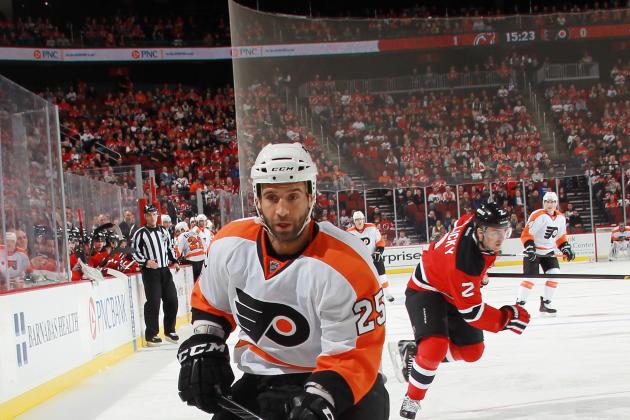 Bruce Bennett/Getty Images

Talbot has only seven points so far this season, far off his pace from last year's career high, but he brings a lot more than just point production.
He's one of the best penalty killers in the league, and plays hard and smart every single game. He's also a great leader and valuable part of the locker room.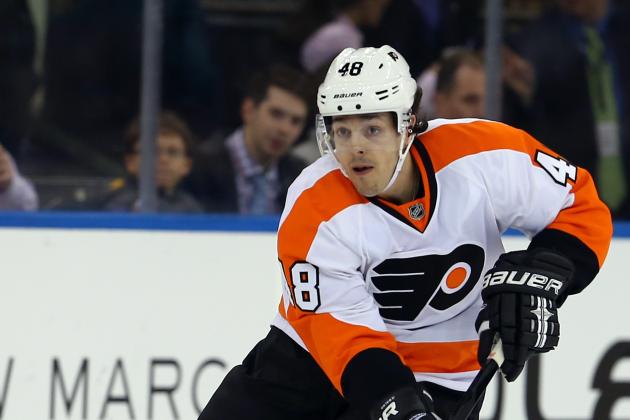 Elsa/Getty Images

Some people have speculated about Briere being used as trade bait this spring, but I think he's too valuable right now for the Flyers to let go of.
Even though he doesn't produce like he used to, he's still a skilled play maker in the offensive zone and contributes on the power play. He's also a good veteran presence on and off the ice, which the Flyers need more than ever right now.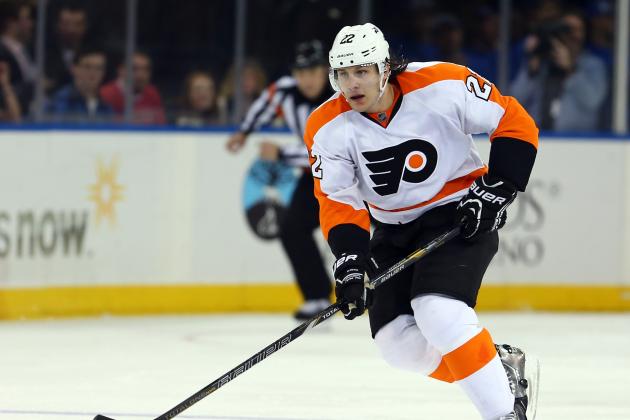 Elsa/Getty Images

Schenn doesn't contribute much offensively, but he logs a ton of minutes and leads the team in hits. He's strong, physical, and great both along the boards and in front of the net.
He isn't the fastest skater and isn't overly skilled with the puck, but he brings a valuable right-handed shot from the point. He's also only 23, and should continue to get better.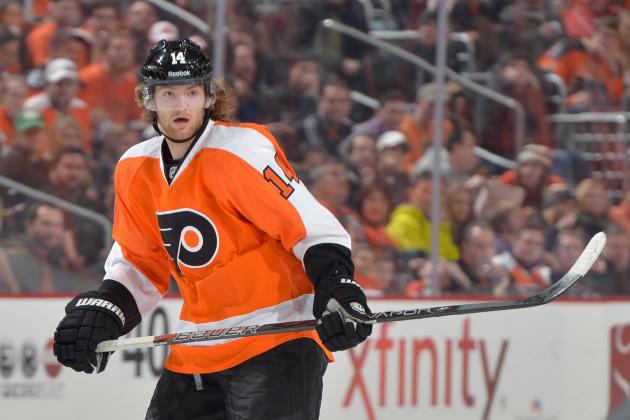 Drew Hallowell/Getty Images

Couturier should be higher on this list, but his play has regressed a bit this year instead of leaping forward like many hoped it would. But at only 20 years old, Couturier still has a ton of room to grow.
He's 6'4" with a great hockey sense and ample skills to go with it. But he is not an extremely fast skater, and doesn't have that dynamic offensive skill that gets him noticed.
His fundamentally sound style is valuable, but he just needs to bring a little more firepower and elevate his game to reach his full potential.
Elsa/Getty Images

Coburn may not be the elite defenseman we hoped he could become, but he's still a very solid player who is on the ice more than anyone else for the Flyers.
He's big and aggressive in his own end, but is also an underrated skater who can bring the puck up to start something offensively. The 28-year-old is a -10 this season, but his overall play has been better than that.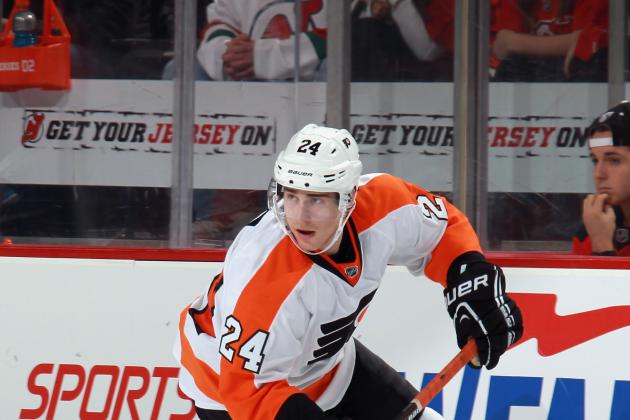 Bruce Bennett/Getty Images

In his second season in the NHL, Read has not slumped at all. In fact, at the beginning of the season he was one of the players carrying the offense as the rest of the team got off to a slow start.
Read is one of the best skaters in the league, and has a quick wrist shot that has helped him score seven goals in 20 games. He missed a couple weeks and has been slowed recently due to a rib injury, but he should get going again as he continues to recover.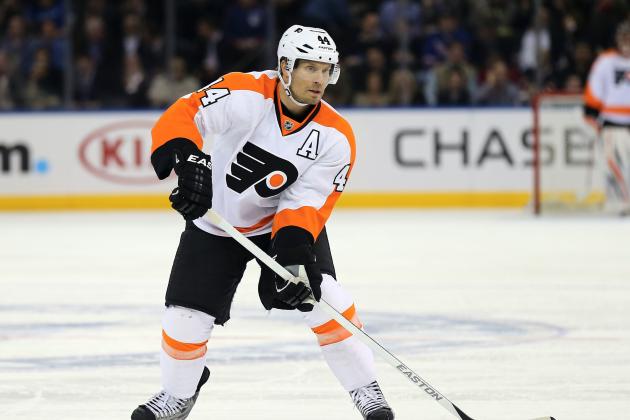 Elsa/Getty Images

I fully expect Timonen to retire after next season, but he is still one of the steadiest defensemen in the NHL even at age 37.
He is definitely slower than he was a few years ago, but his positioning and hockey IQ are still off the charts. He is also an exceptional stick handler who is great at the point on the power play.
Even though he doesn't hold much long-term value for the Flyers, he is still an integral part of the team and does a lot more than people realize.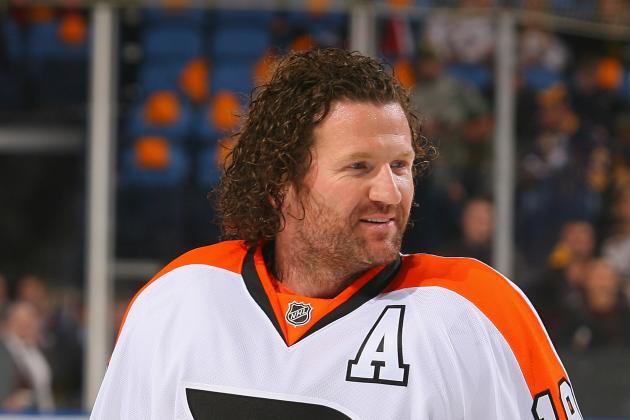 Rick Stewart/Getty Images

Hartnell unfortunately has only played in 10 games this season after breaking his foot a couple months back, but he's starting to really round into shape and getting his chemistry back with Claude Giroux.
He doesn't always make things look pretty, but he's as effective as it gets when it comes to scoring. He's also a strong presence around the net who always sticks up for his teammates and is a great presence in the locker room.
Elsa/Getty Images

After a rocky rookie season, Schenn has really taken a huge step forward this season. He's playing over 15.5 minutes per game, and is tied for third on the team with 19 points.
There's a lot to like about the 21-year-old's game. He isn't that tall but he has a sturdy build and throws his body around like a wrecking ball. He's a great skater and gives full effort on every shift, so you really notice him throughout the entire game.
While he's drawn some comparisons to Mike Richards, Schenn definitely has more offensive talent than Richards does. Schenn can make some phenomenal plays in the offensive zone and should continue doing that more often as his confidence increases.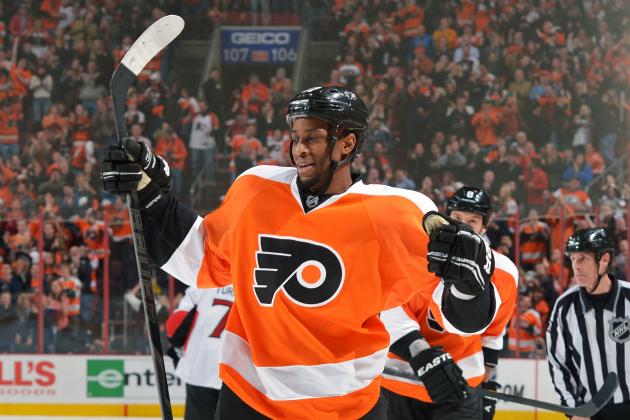 Drew Hallowell/Getty Images

Simmonds doesn't get nearly as much credit as he deserves. He has become one of the best power forwards in the NHL, and at 24 years old there's no reason to think he won't keep getting better.
He does a little bit of everything for the Flyers: he's great in front of the net, works hard along the boards, and stirs things up when need be. He's a great fighter, and will square off with anyone.
He has also shown a great scoring touch this year, netting 10 goals in just 23 games. Simmonds has really turned himself into a big-time player this year.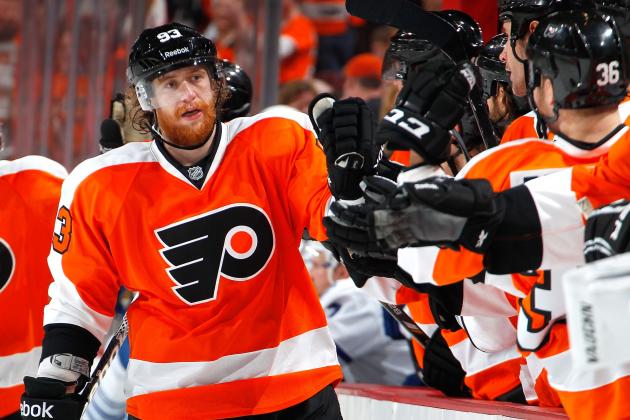 Paul Bereswill/Getty Images

Now for the Flyers 2012 mid-season MVP...Jakub Voracek. At 23 years old, Voracek is finally showing why Columbus took him seventh overall in the NHL draft.
He has 29 points in 26 games for the Flyers, by far the most on the team. He's been outstanding on the power play, and has really shown a commitment to being a good all-around player for the first time in his career.
His 12 goals are also most on the team. Philadelphia fans should really be excited about Voracek's potential.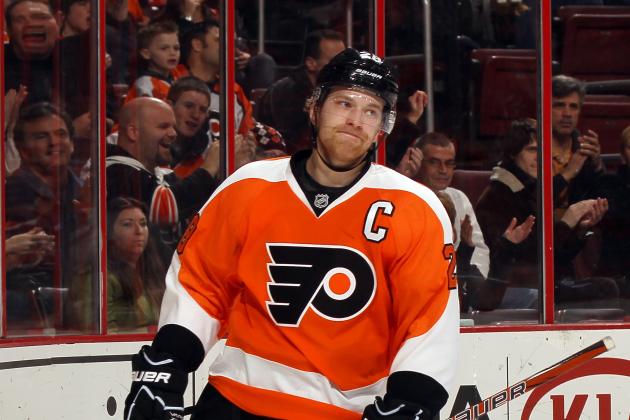 Elsa/Getty Images

An obvious selection here, Giroux is the team's most talented and most valuable player, even though he hasn't had an outstanding year so far.
Seven goals and 17 assists is not too shabby, but a -7 rating from your captain and first line center is not exactly what you hope for.
Giroux was obviously struggling a bit without Jaromir Jagr and with Hartnell being out for a big chunk of the season, he was just not playing with the right guys. But he'll get it together and pick his play back up for the remaining 20 games of the season.