Top 10 Husker Football Players of All Time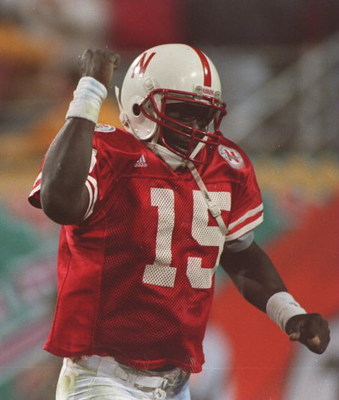 As a member of Husker Nation, and avid reader of top 10 lists, I decided I'd take a little break from current Husker mania and try my hand at my own top 10 list.
At a program as rich as Nebraska's, this is no small task. Many players are deserving of mention. These are the ten I narrowed it down to. Enjoy and feel free to be a critic.
10. Grant Wistrom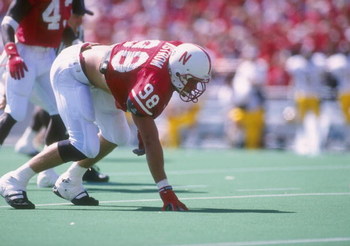 Grant Wistrom was, in a way, the face of the 90's Blackshirts. The defensive end was the heart and soul of the 1997 National Championship defense, which ranked second nationally in rushing yards allowed and was fifth in total defense.
The Webb City, MO product started only thirty five games in his career, but he played extensively even in his freshman campaign in '94. He was a member of three national title teams.
Nebraska was a remarkable 49-2 during the Wistrom era. He finished his career as the school's all time leader in tackles for loss at 58.5 and second in sacks with 26.5.
He was a two-time Big 12 Defensive Player of the Year and a two-time First Team All-American. Following his senior season in '97, he became Nebraska's forth Lombardi Award Winner for the nation's top lineman.
9. Turner Gill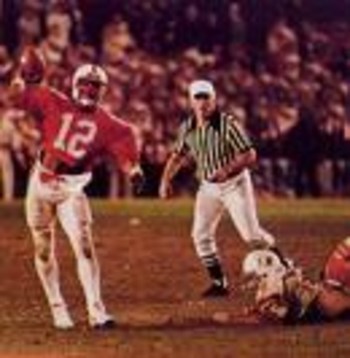 Gill was just one of those quintessential winners. His record doesn't lie. He was 28-2 as a starter and 20-0 in conference games.
He orchestrated one of the greatest offenses of all time as the signal caller for the "Scoring Explosion" in 1983. Although, Gill didn't throw the ball around a whole lot, he did it at an alarming rate of success.
He led the conference in passing efficiency as a senior (152.7). When it was all said and done, Gill had the second lowest interception percentage in NCAA history (11 int's in 428 attempts).
He had a streak of 125 passes without an interception, which is a school record. He was also proven rushing threat out of the option offense, running for 1,317 yards in his career.
The three-time All Big Eight honoree led the Huskers to a number two national ranking in '83-'84 after his two-point conversion pass was broken up by a Miami defender to lose the Orange Bowl. Although, it was one of if not the most disappointing play in Nebraska history, it exemplified what Coach Tom Osborne and Turner Gill were all about after not settling for the tie in wanting a clear-cut National Title.
8. Dean Steinkuhler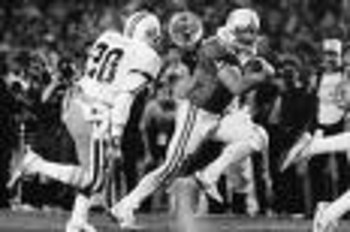 The ultimate small town Nebraska dream story, Steinkuhler gave tiny Burr, NE (pop.110) the honor of being the smallest town ever at the time to produce a unanimous All-American. After playing alongside Dave Rimington and two other all-conference selections in 1982, Steinkuhler paved the way for the nation's highest scoring and top rushing offense in 1983.
After blowing open holes for Mike Rozier from his offensive guard spot, he went on to win the Outland and Lombardi trophies. His famous Fumblerooskie in the '83 Orange Bowl is remembered as one of the greatest plays in school history.
7. Rich Glover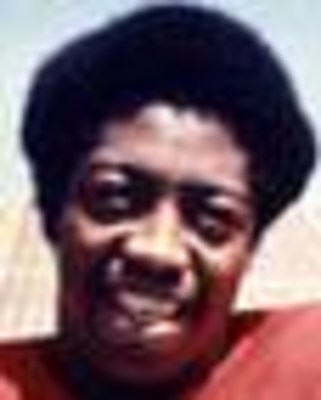 Glover is widely considered as one of the greatest defensive linemen to ever play college football. He was a unanimous All-American in 1972 when he won the Lombardi and Outland Trophies and incredibly finished 3rd in the Heisman Voting.
He was an instrumental part to the 1971 national championship team. Glover had one of the better defensive performances in school history that same year against Oklahoma in the Game of the Century, when he collected twenty-two tackles in the victory.
His senior season, he finished with 100 tackles, an unheard of number for a defensive lineman. He was inducted into the College Football Hall of Fame in 1995.
6. Lawrence Phillips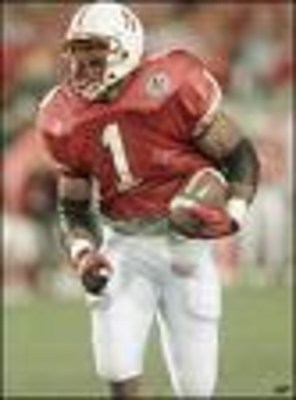 If this list were based on ability alone, Phillips would probably claim the top spot. If this list were based on wasted ability, Phillips would again probably claim the top spot.
"LP" was truly a tantalizing talent. He was almost flawless as a runner and I've yet to see a back who combined the size, speed, vision, cutting, and power that Phillips had.
I think Ray Lewis said it best when he said that Lawrence was the hardest back he's ever tried to tackle. As a sophomore, Phillips was dominating.
He rushed for 100 yards in 11 straight games. He did this against a good deal of eight to nine man fronts due to the absence of Tommie Frazier.
He finished the season with 1,722 yards rushing which is third all time on the school's charts while leading Nebraska to their first National Title since 1971 over Miami in the Orange Bowl. He wasted no time the following year, rushing for 220 yards and four TD's in the second game of the season and averaging over 10 yards per carry through the first two games of the year.
It wasn't until after that his behavioral exploits got him suspended for the rest of the regular season, only to return for the Fiesta Bowl for the National Championship game. This caused some of the worst controversy involving coaching decisions in recent memory.
None the less, Phillips shredded the Florida defense for 165 yards and two touchdowns in route to a second consecutive national title. It turns out his '95 altercation was just the beginning of his brushes with the law as he left for the draft early.
It's a shame we never got to see how good he truly could have been not only his entire junior year but in the NFL as well.
5. Dave Rimington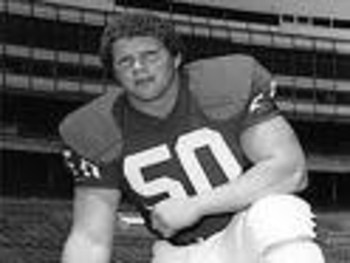 Widely regarded as the greatest center to ever play college football, Rimington is the only player to ever win the Outland Trophy twice—'81 and '82. Rimington won the Lombardi as well.
He created holes for very potent rushing attacks led by backs such as Roger Craig and Mike Rozier. He was the only offensive lineman to ever be named the Big Eight Offensive Player of the Year and finished fifth in the final Heisman Ballots in 1982 after leading the Huskers to a one point Orange Bowl win over LSU.
He was a two time first team All-American and was named to the Walter Camp All Century Team. The Rimington Trophy is now awarded to the nation's top center.
4. Johnny Rodgers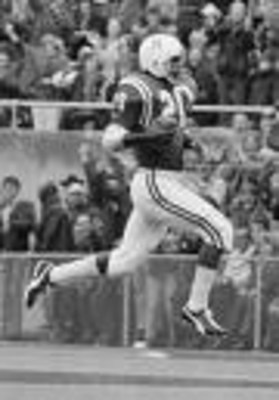 One of the greatest kick returners in college history, the versatile Rodgers captivated the nation with his stop and start elusiveness and darting creativity. The "Jet" helped ignite the Huskers first two national titles in 1970 and 1971.
Giving one of the most memorable performances in the Game of the Century against Oklahoma in a 35-31 thrilling victory, Rodgers had one of the greatest punt returns for a touchdown in NCAA history. As a senior during the 1972 season he led the Huskers to an Orange Bowl victory over Notre Dame.
Proving he could truly do everything, he ran for three touchdowns, caught a touchdown, and passed for another in the game to cap off his career at Nebraska. He was awarded the Walter Camp and Heisman Trophy as a senior.
Wide receiver being his true position, he hauled in 143 career passes, which was a school record until Nate Swift broke it this last year in a contradictory pass heavy offense. He holds 40 school records and 7 Big Eight records.
He is second in NCAA history with seven punt return touchdowns. He is first in career all-purpose yardage in Nebraska history and held the former NCAA record for this category. Rodgers averaged 13.8 yards per touch for his career.
3. Tommie Frazier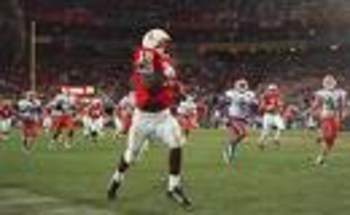 I'm probably going to catch some flak for having Tommie ALLL the way down at number 3, but this is just one guy's opinion. It is true, there is probably no more beloved player in program history.
When you're the quarterback on back to back national championship teams, it's understandable. Frazier is considered one of, if not the greatest "winner" in college football history.
He compiled a 33-3 career mark at the helm and nearly won three consecutive national titles. He is 6th all time on the school's career passing charts and third in total offense with 5,476 yards.
He won the Johnny Unitas Award in 1995 and by many accounts was snubbed for the Heisman Trophy. A blood clot sidelined him for seven games of the '94 season.
Brook Berringer took over and led the Huskers to the national title game, a game that saw Frazier return midway through and give a heroic performance. The reason I don't rate Tommie at number one is because his teams were so talented that I feel we could have won a title with a number of quarterbacks.
In fact, I was at a banquet where Coach Osborne spoke and he said that the '95 team, widely considered the greatest team ever, would have won the national title with their third string quarterback. Frazier's career completion percentage was a less than dazzling 49.5 percent, although his touchdown to interception ratio was a healthy 43-11 for his career.
He had 1,955 career rushing yards. I don't mean to discredit Frazier by any means because he did so much for this program and his legacy is tremendous.
I am just making my claim as to why he is not the number one or two player on this list. All aside though, Frazier's career will live on in college football lore for years to come.
2. Eric Crouch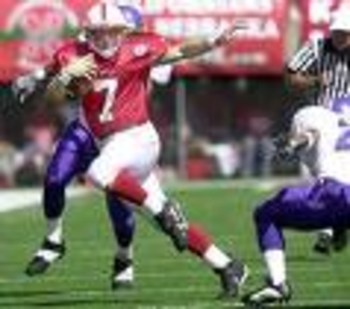 Yes, I put Eric in front of Tommie. Put aside the abysmal 29-25 touchdown to interception ratio for his career.
Put aside his criticised professional career, or lack thereof. Put aside his wardrobe debacle at the 2004 Heisman Trophy Presentation.
If you do this, you can't help but marvel at Crouch's career at Nebraska. You want wins?
Crouch was 35-7 as a starter, and he did so on offenses that weren't littered with the talent of the mid-90's. You want numbers?
Where do I start. Crouch holds 32 school records.
He is 5th all time in passing yards and first in all time touchdowns with 59. He is third on the all time charts in rushing with 3,434 career yards, trailing only Rozier and Ahman Green.
He is the all-time Big 12 rushing leader for a quarterback and only one of three quarterbacks in NCAA history to pass for 4,000 yards and rush for 3,000. He is the school's all time leader in total yards at 7,915.
You want accolades? As a senior Crouch stole the Davey O' Brien, Walter Camp, and Heisman Trophy.
You want excitement? Go ahead and youtube his 95 yard scramble against Missouri, or his touchdown reception against then number one Oklahoma to seal the game.
He was an electrifying athlete who could do things that quarterbacks just weren't supposed to do. In the 2001 season, he led the Cornhuskers to the Rose Bowl to play for the national title against Miami.
Nebraska was overmatched, but Crouch gave a gutty 114 yard rushing performance. Okay, so I'm a big Crouch fan.
I'll never forget sitting at a packed downtown Lincoln Brewsky's with my family for the 2001 Heisman Presentation. Just 11 years old at the time, I'll never forget the silent stillness as we painfully waited followed by the uproar of the hundreds of fans after they announced Eric's name as the winner.
It captured my love and pride for the Husker Program.
1. Mike Rozier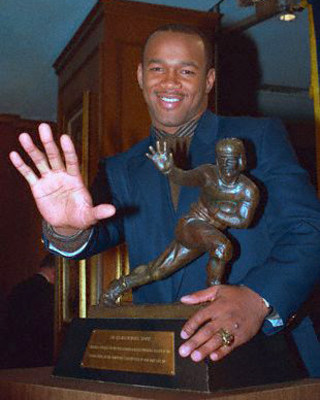 Rozier is one of the most accomplished running backs in NCAA history. Now I'm not old enough to remember his playing days, but I've seen the games on ESPN Classic, I've seen the Youtube highlights, and I've heard my dad's stories.
Rozier was truly something special to watch. Powerful and explosive, Rozier is the all time leading rusher in Nebraska history by a longshot with 4,780 yards.
As a junior he rambled for 1,698 yards. As a senior in 1983 he led the nation's leading offense by rushing for a remarkable 2,148 yards and 29 scores.
He captured the Maxwell and Walter Camp awards as well as being named the second Heisman winner in school history. He is the Big Eight's all-time leading rusher and his 2,148 yards as a senior is the 5th highest single season total ever.
His 29 touchdowns was a former NCAA single season record. He averaged a stunning 179 yards per game as a senior.
Rozier's name will forever live in the annals of college football. Was he the greatest Husker ever?
It's hard to argue at a deep examination of his career. Like I said though, Nebraska's a tradition rich program with many great players, and no player is bigger than the program.
Honorable Mentions
Ahman Green
Zach Wiegert
Irving Fryar
Bob Brown
Tom Novak
Keep Reading

Nebraska Huskers Football: Like this team?