Everton saw its chances of advancing to the English FA Cup semis go from golden to hopeless in a flash at Goodison Park on Saturday, falling 3-0 to Wigan Athletic after surrendering three goals in a span of four minutes.
With Tim Howard out recovering from a back injury, David Moyes started Jan Mucha in goal. After nearly 30 minutes of scoreless play, Howard's absence was felt as the Latics poured in three goals in just four minutes.
Maynor Figueroa broke the deadlock in the 30th minute. Then, just seconds later, Callum McManaman put the visitors ahead 2-0 in the 31st minute. Finally, Jordi Gomez would seal the deal with a 33rd-minute goal, capping off an extraordinary series of events and essentially locking up the win before the halftime whistle (via FOX Soccer):
Rapid fire, indeed! Wigan have a third! Now it's Gomez among the goals! Everton trailing 3-0 at home. The FA Cup dream fades. #FACUPonFOX

— FOX Soccer (@FOXSoccer) March 9, 2013
Journalist Dimitris Vergos described the scene almost perfectly:
Everton are literally all over the place. No cohesion, poor passing, dreadful defending. Great game plan by Martinez. Wigan are stunning.

— Dimitris Vergos (@dimitrisvergos) March 9, 2013
Like many who watched Saturday's quarterfinal unfold, Alan Jaye couldn't believe his eyes:
Can't believe what I am seeing at Goodison Park. Everton have fallen to pieces. Wigan are three nil up and people are leaving the ground

— Alan Jaye (@GreenGuv) March 9, 2013
The second half saw a trio of yellow cards handed out and plenty of boos from the home crowd but no goals, as Roberto Martinez's club held onto its massive lead to advance to the FA Cup semifinals.
Grades
Joel Robles, Wigan: B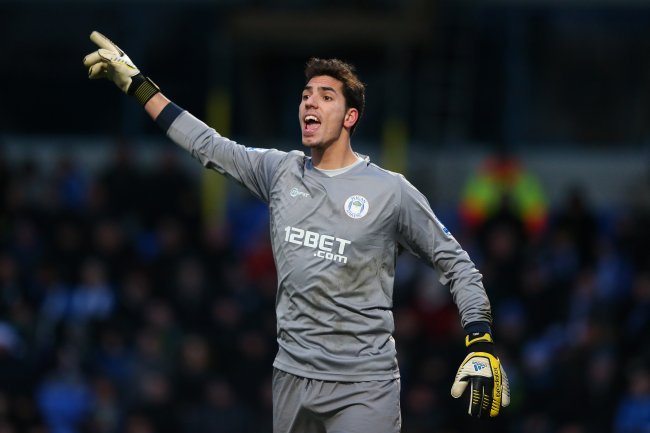 Alex Livesey/Getty Images
While Jan Mucha had a nightmare day in goal, Wigan's Joel Robles stopped every shot he saw on Saturday, stepping up and making six saves to stop Everton from seizing even an ounce of momentum.
Phil Neville, Everton: D
Let's just say the veteran Phil Neville wasn't at his best on Saturday. The 36-year-old will want the first 45 minutes of Saturday's match back as he struggled mightily in defense, picking up a yellow card before being subbed out in exchange for Victor Anichebe at halftime.
Dan Clifford summed up Neville's play best:
Phil Neville has had a pretty shocking first half

— Dan Clifford (@DanCliffordCTFC) March 9, 2013
Maynor Figueroa, Wigan: A
Figueroa ignited Wigan's offense a half hour into the match, leading to a flurry of goals that would ultimately see Roberto Martinez's side through to the FA Cup semifinals.
In the end, his header turned out to be the match-winning goal as he and Wigan simply outclassed Everton at Goodison Park on Saturday.
Jan Mucha, Everton: D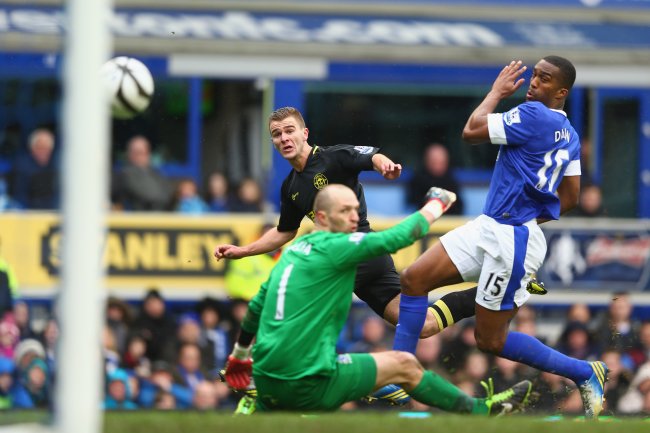 Michael Steele/Getty Images
We've got to give Jan Mucha some credit for attempting to fill Tim Howard's boots in goal on Saturday, but that's about it. The Everton goalkeeper was awful at the worst possible time, letting by three goals in four minutes to crush any hopes the Toffees had of advancing to the FA Cup semis.
Mucha, who was filling in for an injured Howard in between the posts, recorded a handful of saves, but his poor play during that four-minute span defined his day.
Callum McManaman, Wigan: A
The argument can certainly be made that McManaman's goal was the most important for Wigan, as it extended the Latics' lead and likely broke Everton's spirit.
McManaman came off late in the first half. He was replaced by Ryo Miyaichi in the 40th minute but not before leaving a significant mark on the match. Figueroa's opening score proved to be the match winner, but McManaman's 31st-minute strike was the cake that made Gomez's icing possible.
Follow Bleacher Report Featured Columnist Patrick Clarke on Twitter.