The 2013 World Baseball Classic has officially entered its second week. Twelve countries were still alive coming into Saturday's action in what's been a thrilling first round.
Day 8 began with a high-stakes second-round clash between Cuba and Chinese Taipei. But it will be highlighted by four first-round games from Pools C and D, including the Dominican Republic, Mexico, Venezuela and the United States, among others.
The Americans are already off to an 0-1 start in Pool D but can right the ship with a win against Italy on Saturday night.
Here we'll recap all of the day's action, updating scores and results.
United States 6, Italy 2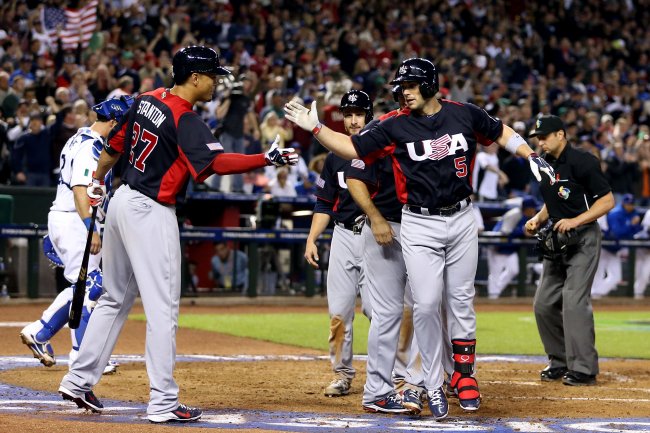 Christian Petersen/Getty Images
David Wright's fifth-inning grand slam provided the big spark the United States needed to secure its first win of the 2013 World Baseball Classic.
Before Wright could play the hero, starting pitcher Ryan Vogelsong had to do some early crisis management. The San Francisco Giants pitcher didn't have his best stuff out of the gate, giving up one run in each of the first two innings.
Italy had the momentum early and chances to put the game away, but Vogelsong really settled in at the third inning. He struck out four consecutive hitters between the third and fourth innings, even coming out to start the fifth before giving up a leadoff single and being pulled.
The bullpen for Team USA was terrific, allowing just one hit in five innings of work. Jeremy Affeldt and Ross Detwiler combined on the dominating effort that also included three strikeouts.
Despite the loss, Italy really didn't lose. Because of Mexico's loss to Canada earlier on Saturday, Italy locked up a spot in the second round.
The win for the United States was huge, as it keeps the team alive heading into the final game of Pool D on Sunday afternoon against Canada. The winner of that game will advance to the second round, while the loser will have to wait another four years to get a crack at the WBC title.
Team USA (1-1) will start Texas Rangers lefty Derek Holland. Canada (1-1) will counter with Pittsburgh Pirates right-handed prospect Jameson Taillon. The game starts at 4:00 p.m. ET and can be seen on MLB Network.
Puerto Rico 6, Venezuela 3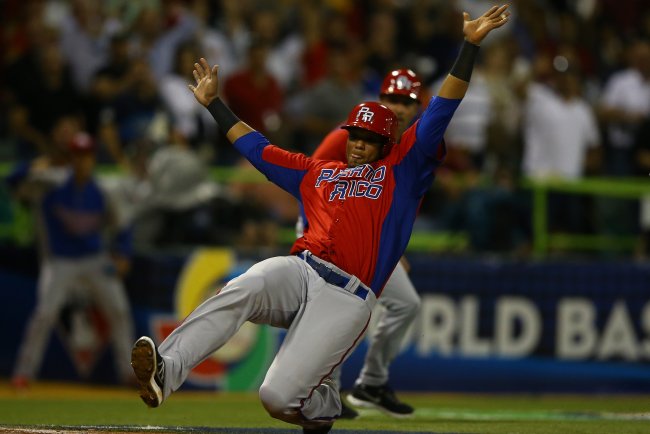 Al Bello/Getty Images
One day after putting forth a lackluster effort in a 3-0 win against Spain, Puerto Rico proved that its run in Pool C was not a joke. The powerful Venezuelan lineup could muster just seven hits and three runs against this pitching staff.
The victory for Puerto Rico took all of the drama out of Sunday for Pool C, as its game against the Dominican Republic will just determine seeding in the second round. Both teams enter the matchup 2-0 and locked up berths in the next round, which begins on Tuesday.
Coming into the World Baseball Classic, Venezuela looked like it might have one of the most potent lineups in the event with Miguel Cabrera, Pablo Sandoval and Carlos Gonzalez hitting 3-4-5.
But Puerto Rico's pitching did a masterful job of keeping players off base before those three came up to bat and held them to just 2-for-11 with one extra-base hit.
Venezuela did start the game strong, taking a 2-0 lead in the third inning. Carlos Zambrano was cruising into the fourth inning, then it all fell apart when he had issues with the home plate umpire's strike zone.
Puerto Rico took a 3-2 lead after five innings and never looked back, tacking on three insurance runs in the eighth inning to preserve the win.
Up next, Venezuela (0-2) and Spain (0-2) will try to salvage what's left of the World Baseball Classic when they meet at 12:30 p.m. ET on Sunday. Puerto Rico (2-0) and the Dominican Republic (2-0) will get a final tune up before moving on to the second round at 7:30 p.m. ET.
Canada 10, Mexico 3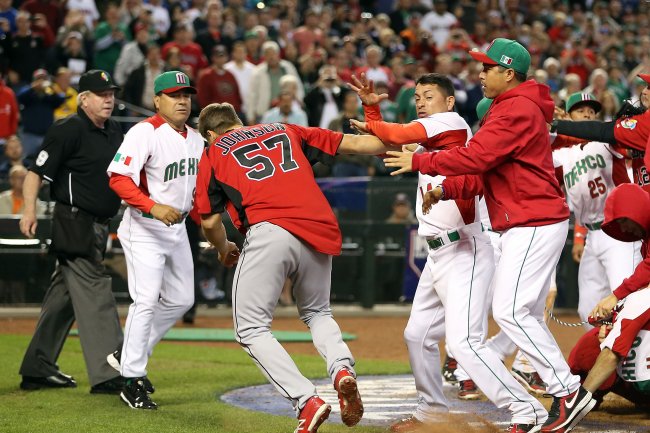 Christian Petersen/Getty Images
Even though Canada's offensive attack gave the country its first win of the 2013 World Baseball Classic, the story of the game was the benches-clearing brawl that happened in the top of the ninth inning.
Canada's Chris Robinson bunted for a single with his team already up 9-3 because run differential does matter for tiebreakers in the event. Mexico third baseman Luis Cruz apparently told pitcher Arnold Leon to send a message to Alex Tosoni, the next hitter.
After Arnold's first pitch was at Tosoni's knees, the umpire warned both benches. Arnold's next pitch hit Tosoni square in the back and all hell broke loose. Both benches cleared, several brawls broke out on the field, fans in the stands started throwing things onto the field and at players.
The whole situation was a complete mess that really took away from the game, which was an impressive win for Canada and kept its hopes of getting into the second round alive.
Michael Saunders had an outstanding day at the plate, with four hits and three RBI. Justin Morneau also had four hits and drove in three runs in the Canadian romp.
Canada (1-1) will take on the United States in an elimination game for both countries on Sunday. Mexico (1-2) has to hope for a lot of help if it wants to advance, as it finished Pool Play 1-2 with its lone victory over the United States.
Cuba 14, Chinese Taipei 0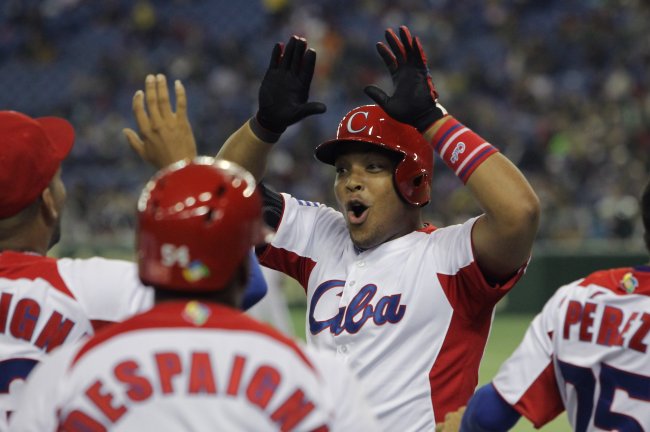 Chung Sung-Jun/Getty Images
Things went from bad to worse for Chinese Taipei in Tokyo on Saturday, as it dropped its second game in as many days, falling to Cuba 14-0 in seven innings.
The brutal loss eliminates Chinese Taipei from the WBC.
Cuba blew the game wide open in the bottom of the fourth inning, when Yasmany Tomas blasted a home run that doubled the Cubans' lead, putting it up 6-0. Cuba would add eight more runs in the bottom of the sixth to put Chinese Taipei away for good.
Jose Fernandez, Frederich Cepeda and Tomas each recorded three RBI in the rout. The win pulls Cuba to 1-1 in the second round following Friday's loss to the Netherlands. It will conclude the second round against the loser of Sunday's Japan vs. Netherlands matchup.
Chinese Taipei threw all sorts of pitchers at Cuba on Saturday, but nothing was working. The Cuban lineup played one of the best offensive games of any team at the WBC this March. Four different players homered for Victor Mesa's squad, including Jose Abreu and Alfredo Despaigne to close out the sixth inning.
Meanwhile, Danny Betancourt was brilliant on the mound for Cuba, striking out three and allowing just three hits in six innings of play.
Chinese Taipei's ugly defeat comes just one day after it fell 4-3 to Japan in 10 innings to begin the second round in bitter fashion. Following Saturday's embarrassing performance against Cuba, many will be wondering whether the hangover from Friday's crushing loss is to blame.
Dominican Republic 6, Spain 3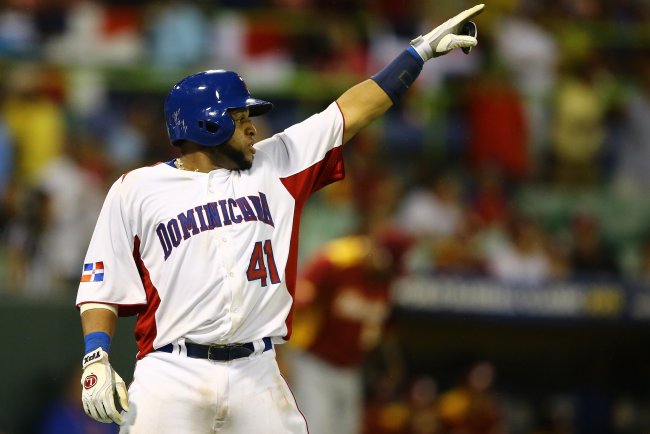 Al Bello/Getty Images
Robinson Cano and the Dominican Republic jumped out to an early lead on Saturday against Spain and never let off the gas pedal, winning 6-3 in San Juan, Puerto Rico
Nelson Cruz and Carlos Santana each recorded two RBI for the Dominicans as they put themselves in position to advance from Pool C and into the second round.
Samuel Deduno was strong to start the game for the Dominican Republic, surrendering just four hits and zero runs in four innings pitched. He gave way to Alfredo Simon, who pitched three innings, allowing just one run from the Spanish.
While the Dominican pitching staff flexed its muscles all game long, the Spanish staff was plagued by a poor start. Starter Yoanner Negrin gave up five runs in just over two innings, putting Spain in a huge hole early on.
Engel Beltre helped put Spain on the board in the top of eighth inning thanks to a rare mistake by Cano. And then Yasser Gomez helped ignite Spain's final charge in the ninth with a single to center, which narrowed the gap. But it was a case of too little, too late for the Spanish, as they fell for the second straight day.
Follow Bleacher Report Featured Columnist Patrick Clarke on Twitter.